Thesis
Teva pharmaceuticals (NYSE:TEVA) is one of the pharmaceutical companies that have been under significant scrutiny because of their price hiking. The company missed the latest two quarter earnings guidance consensus and I expect them to do so again in the fourth quarter. Not necessarily because the company will be doing significantly worse, but rather that they are being too optimistic in their guidance. While revenue stood steadfast at around $4.8 billion before the acquisition of Actavis, the company is now expecting to report between $6.2 billion and $6.5 billion in quarterly revenue. Even if we take the 3Q16 revenue of $5.6 billion, which includes the Actavis business, at face value we're still left looking for $700-900 million. While some might argue that this is due to new drug approvals, I do not think this is possible. I explain why, at best, these new drugs could deliver around $149 million in added revenue. I stress that this is in an extremely positive scenario. In conclusion, I find enough evidence to conclude an earnings miss, but since the volatility is not what I'd like it to be, I'll be abstaining from any short position.
The illuminating question
My first thought is that we're looking at an earning miss presumably due to management's reactionary attitude when it comes to giving guidance. What I mean by that is that management misses their earnings estimates and then readjusts their guidance instead of simply providing the accurate in the first place. Randall Stanicky, a sell-side analyst, asked an illuminating question on the 3Q16 earnings call transcript. His question indicates that we might be looking at an earnings miss. We've seen situations like this with other pharmaceuticals like Valeant (NYSE:VRX), for example. Here's the quote:
I am just going to ask the question, I think a lot of people on the call are trying to understand. Numbers are coming down significantly since July. So if the environment and the outlook for Teva generics and the rest of the business is relatively unchanged. What are we missing? What's changed since -- from July when you looked at the business and provided that three year guidance? Whether it'd be on the generic side or the brand side? What's changed that has brought numbers lower than we initially thought?"
Of course, there are a couple of things we need to do. The first and most obvious part is to assess Siggi Olafsson's answer, the company's CEO who plans to retire in 1Q17, and to see if his answer holds merit. Secondly, we need to understand the phrase "numbers are coming down significantly since July." So let's get to it. The CEO's answer is:
Well, costs throughout the numbers lower than we thought in July for 2016 are the revenue from new launches. That's very, very simple, we estimated a significantly higher. There were about three or four key launches that we expected to get by the end of this year, which are not coming in that would deliver hundreds of millions in revenue, which are not coming in. The good news on this path uses they will come later. "
This isn't really a surprising answer and helps us out. Not only because it validates the analyst's question, but it also provides much-needed context for actually getting to our own EPS number.
Management guidance history and current guidance
Since the CEO is upfront about the Q4 numbers being lower we'd like to see if they have actually guided lower in either Q2 or Q3. Indeed, we see that this is the case. While the company guided for full-year 2016 revenues of $22 billion to $22.5 billion in 2Q16, they lowered their guidance in 3Q16 to $21.6-21.9 billion. The non-GAAP EPS guidance was also revised down to $5.10-5.20 from $5.20-5.40.
What this tells us is that we're not necessarily looking at an earnings miss. Perhaps this is even a sign that management is now providing an accurate guidance. Let's look at what their guidance entails. The full-year guidance of $21.6-21.9 billion in revenue implies that management is expecting to earn $6.2-6.5 billion in this latest quarter. That means that management is guiding for a significant 16% sequential revenue increase and a 33% quarter-over-quarter increase. This is definitely a surprising number especially since the industry has been heavily scrutinized for "suspicious increases" in price. According to a study conducted by Fideres Partners LLP, Teva was ranked number two, with 27 price increases, on the list of companies with potentially 'suspicious increases.' Due to the political pressure it is unlikely that the company can continue which the said price increases.
Could the acquisition make up for the gap?
This makes me very interested in why they think their revenue will increase so much in the fourth quarter. So let's dive into the company's 3Q16 numbers and presentation. Our answer might be found in the completion of the acquisition of Actavis generics. This could definitely make up for the gap in revenue increase.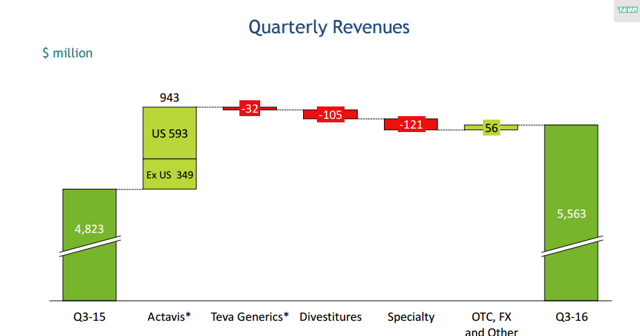 Source: Company 3Q16 presentation
As we can see from this slide, Actavis added $943 million in revenue in 3Q16. Still, this is already included in the 3Q16 revenues. It is becoming increasingly harder to justify this revenue increase. When looking at previous quarters, the company seems to hover at around $4.8 billion in revenue per quarter. This number repeats itself in 3Q15, 4Q15, 1Q16 and 3Q16 if we readjust for the added revenue. The only recent quarter where the company posted a higher revenue number was in 2Q16 when revenue came in at approximately $5 billion. So it is definitely not the acquisition. Perhaps the increase is due to new products.
Drug approvals
A couple of things that could justify this $700-900 million revenue gap are listed below:
1) Approval of a generic version of Tribenzor
2) Approval of a generic version of Azor
3) Approval of two new asthma products
1 & 2) Let's look at how these could add to the company's revenue. Tribenzor and Azor have annual sales of approximately $240 million and $354 million, respectively. For the sake of being generous to Teva, we'll just assume that their generic drugs will generate the same revenue. This amounts to a quarterly revenue increase of $149 million. Of course, this is extremely unlikely. It's widely known that drug sales take a while to ramp up and since these generics have a lower selling price, they would need to sell more for the same amount of revenue.
3) The most promising approval seems to be the two new asthma products. Even though these will be launched later this year, I wanted to touch on the subject since investors are closely looking out for this. These products contain the same active ingredients as GlaxoSmithKline's (NYSE:GSK) Advair and GlaxoSmithKline's Flovent. These could potentially bring in sizable revenues as Advair generated $1.9 billion in annual sales in the US, while Flovent sales came in at $471 million. Again, if we're being extremely generous and quite frankly a little bit ridiculous, we assume that the two new asthma products will completely replace Advair and Flovent which would net the company $594 million in added quarterly revenue. Of course, it's not as simple, because there are other competitors like Mylan (NASDAQ:MYL) accessing the market in 2017.
Keep in mind that all these approvals relate to generic drugs, which means lower margins. While these could add to the revenue gap it doesn't strike me as particularly likely. It seems I'm not the only one, since the 2017 conference call is filled with questions asking how the company bridges this gap. Consider this quote from Umer Raffat, an analyst at Evercore:
So, if I compare the guidance given today on the top line and on EPS, versus the guidance given six months ago….how do you bridge that?"
It is indeed hard to understand how they do so, but I'll be trying anyways as I conclude my analysis.
GAAP vs. non-GAAP
The company uses non-GAAP estimates, which differ a lot from actual GAAP numbers. The GAAP EPS in 3Q16 was $0.35, while the non-GAAP EPS was $1.31. This seems to be a recurring theme. Long-term investors should keep in mind that the Company hasn't posted a GAAP profit higher than 62 cents in the last 6 quarters. Of course, when looking at the non-GAAP number their profits suddenly jump to above a dollar per share. Again, I'm focused on the upcoming quarter specifically, but I do feel inclined to point that out to longer term investors.
Let's take a look at the 3Q16 adjustments to try and get a handle on what we can expect in 4Q16.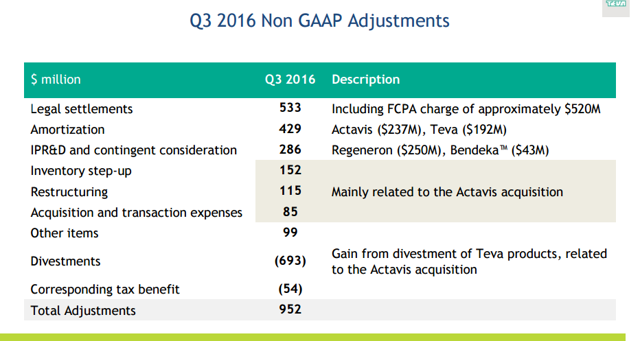 Source: company 3Q16 presentation
Let's assume that legal settlements will not re-occur, which means we can indeed add this back which results in a net positive. I don't really see why a company would adjust for amortization since amortization is a common and recurring cost. We'll contend with the IPR&D and contingent consideration adjustment as well as the inventory step-up, restructuring, acquisition and transaction expense and final other items. While I do not agree here with most items, we need to estimate the non-GAAP number, since that is what investors and analysts will be looking at. One thing we'll add back are the divestments of $693 million since this won't be reoccurring. This results in a $160 million downward adjustment of non-GAAP income. Again, this is how I think the company will probably present it. Typically, one would subtract all the adjustments.
Conclusion: Adding it all together
The result is a non-GAAP net income of $1,250 million which results in an EPS of $1.16. This is significantly lower than what Wall Street is expecting as the consensus is earnings of $1.36 per share and it is definitely lower than the company's own guidance of $1.34-$1.44. In other words, the company is guiding for an adjusted non-GAAP income of $1,443-$1,550 million, which means we're about $193-300 million short. The Wall Street consensus is arguably more important and we're about $214 million short on that. As I've shown earlier, in the best case (ridiculous) scenario, Teva could expect an additional $149 million in revenue, which would put the EPS at $1.30, which is still 6 cents short when compared to the Wall Street estimate consensus. I simply do not see how the company guidance holds up and therefore I am expecting an earnings miss.
Disclosure: I/we have no positions in any stocks mentioned, and no plans to initiate any positions within the next 72 hours.
I wrote this article myself, and it expresses my own opinions. I am not receiving compensation for it (other than from Seeking Alpha). I have no business relationship with any company whose stock is mentioned in this article.