By Parke Shall
When retail brands perform poorly in their earnings reports, often times retail chains are hit alongside of these brands. In the case of today, we have seen another major retail brand miss earnings and it is likely to drag down other retail stocks. Rather than panic or let Michael Kors (NYSE:KORS) be the litmus test for the entire sector, we may actually use it to find opportunity today.
Michael Kors reported an extremely poor quarter this morning that has the stock trading lower by more than 7% in the premarket session. Seeking Alpha reported the company's grim outlook,
Kors is cautious on 2017. "Overall, we were disappointed with our North American and European comparable store sales performance during the quarter. We believe that headwinds in these markets will continue throughout the Spring season as we face reduced traffic trends in shopping malls, currency fluctuation, uncertainty surrounding certain political changes in European countries and the implementation of our reduced promotional cadence in North America," observes CEO John Idol.
The company sees Q4 same-store sales down in the low-teens range. Q4 revenue of $1.035B-$1.055B vs. $1.11B consensus and Q4 EPS of $0.68-$0.72 is expected.
And just like that, analyses both online and on television have automatically come to the conclusion that all retail stocks in general will have a tough day because of this sizable mess by KORS. We wanted to discuss why we don't think KORS may actually be a perfect litmus test for the sector and also what we would be looking at today on pullbacks.
First things first, we don't think KORS is growing enough anymore and has enough of a runway for saturation left to be a proper indicator for the entire sector. The KORS brand has essentially been supersaturated across all different types of retail establishments. The products are available at high-end stores like Macy's (NYSE:M) and Nordstrom (NYSE:JWN) for full price but they also can be found at your local T.J. Maxx (NYSE:TJX) or Ross (NYSE:RST) severely marked down at discounted prices.
One would actually think that this gives them more of an opportunity to be a litmus test for the sector since they have their feet in a wide range of stores across the sector. If KORS is sold online, in brick in the mortar stores and in discount stores, why wouldn't it be a good indicator of how the overall retail climate is performing?
Kind of. With the good comes the bad, and the company's saturation also may mean that it is simply starting to see disinterested consumers and that the brand itself could be struggling on its own regardless of which type of retail store it is being sold in. KORS is well past its explosive growth phase and has now become somewhat of a household name. Growth has leveled off significantly,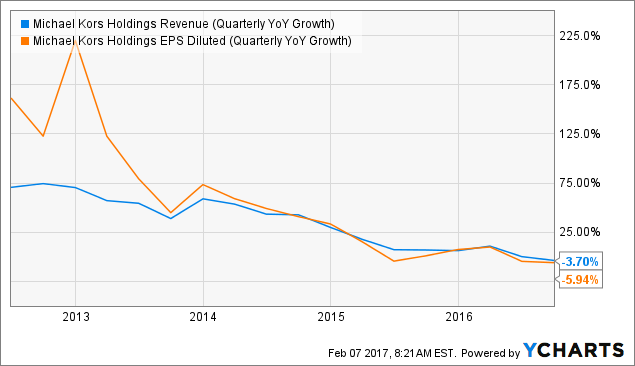 KORS Revenue (Quarterly YoY Growth) data by YCharts
When that happens, the exclusivity of a brand starts to dip and it becomes a little less desirable and a little more common. This, in turn, quells the appetite of the consumer that is looking to buy the latest up-and-coming brand and this, in turn, may also result in lower sales and some saturation across the board.
We are not sure that KORS is the best brand to judge the entire sector by right now. With that said, we will be the first to admit that retail faces some extremely robust challenges over the coming years. We have stated on more than one occasion that brick-and-mortar retail is fighting a large uphill battle, but we have also stated that we believe there to be a recipe between brick-and-mortar and online that will be the terminus for the sector. In other words, we don't think brick-and-mortar retail is simply going to go away completely and we don't think that online retail is going to simply take over completely.
So while the rest of the world writes a story about impending doom for the entire sector based on KORS' results this morning, we are actually going to look across the retail sector and try to identify any opportunities on pullbacks. We like looking for pullbacks in retail because the entire sector is depressed and there are actually some very cheap bargains despite the overall market almost being priced with a PE of 30X. As we said in a previous article, what we look for in retail are names with great balance sheets like Francescas (NASDAQ:FRAN) and possible catalysts or value pockets to unlock like Macy's (M).
We will follow up in an article over the next day or two if we identify any opportunities today. However, we believe investors will be better served looking for opportunities on the pullbacks rather than piling on selling the sector with everybody else.
Disclosure: I am/we are long M.
I wrote this article myself, and it expresses my own opinions. I am not receiving compensation for it (other than from Seeking Alpha). I have no business relationship with any company whose stock is mentioned in this article.