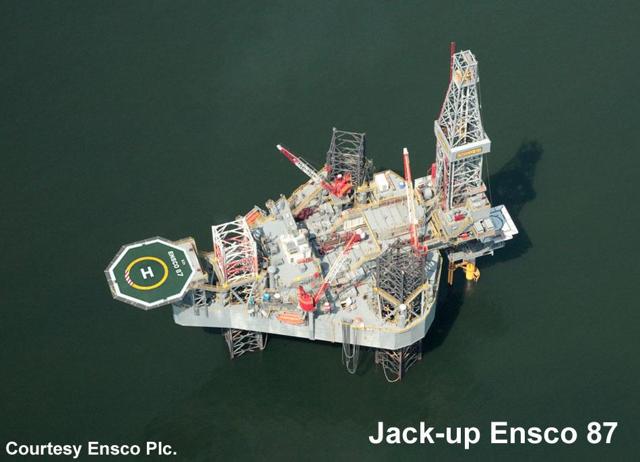 Design:MLT 116-C Water Depth:Jackup: 301' - 350' (1982).
Ensco PLC (NYSE:ESV)
This article is an update of my preceding article on January 24, 2017.
Investment Thesis:
Ensco is one of my main long term offshore drillers. The company is well balanced between the floaters segment and the Jack-ups segment. Approximately 30% of the revenues comes from the Jack-ups segment and this is a strong advantage during a terrible bear cycle that we are seeing right now.
Backlog is going to be the main issue in 2017, because it is the backbone of any offshore driller. Without a sufficient level of new contracts the whole organization will not stand a chance and will collapse before any recovery will take effect.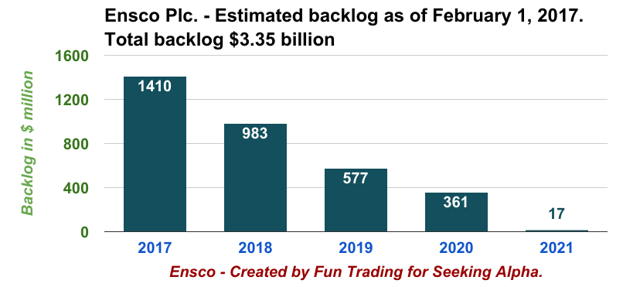 Oil prices are trading solidly above $50 a barrel now, which is not enough for a recovery in the deepwater/floater segment yet. However, it may eventually trigger an early recovery for the Jack-ups in 2017. This is an important advantage for ESV, because it will allow the company to sail through this downturn more comfortably and will provide likely the extra-cash to survive.
This is the subject of my article today, with this small new Jack-up contract.
Commentary:
On February 3, 2017, we learned the following from OffshoreEnergyToday:
The UK-based offshore driller Ensco has reportedly found work for one of its Jack-up drilling rigs for a three-month period.

Data from VesselsValue shows that the company's Ensco 87 Jack-up rig was chartered on February 1 by an undisclosed client.

The site did not reveal any data regarding the dayrate for the rig, but it did say that the work on the contract would begin on February 28 and end on May 27.

Classified by ABS, the rig had previously worked for Talos. The contract expired in mid-December 2016, and Ensco them warm stacked the Ensco 87, along with Ensco 8503 and Ensco 68 rigs to maintain availability in the U.S. Gulf of Mexico region [...]
The Jack-up is actually located about 150 Kms South East of Galveston Texas.
Contract backlog:
The Ensco 87 worked previously in the Gulf of Mexico with Castex and later for Talos. The contract was from September until October 2016, and the day rate was in a low 50's range. Then until December 2016, at a day rate of $42k/d.
Based on 89 days and a day rate of $45k/d, it is a small additional backlog of $4 million.
We will have to get accustomed by these short contracts at low day rate for Jack-ups, because it seems that it is what is left available for the offshore drilling for the time being in the Gulf of Mexico.
Fleet composition estimated as of February 2017:
| | | | | | |
| --- | --- | --- | --- | --- | --- |
| | Total | Drillships | Semi-subs | Jackups | Under management |
| Under-construction | 2 | 1 | 0 | 1 | - |
| Total working rigs | 34 | 3 | 5 | 24 | 2 |
| Cold-stacked/Warm-stacked/Available | 29 | 5 | 8 | 16 | - |
| Held for sale | 3 | 0 | 1 | 2 | - |
| Total | 68 | 9 | 14 | 43 | 2 |
Ensco has only three rigs held for sale left, right now, whereas the company owns about 8 rigs cold stacked that should be sold, in my opinion.
Recently Hercules offshore sold 13 Jack-ups and Paragon Offshore (OTCPK:PGNPQ) is about to sell 15 Jack-ups and one semi-submersible at scrap value. Most of them are located in the Gulf of Mexico.
The scrap value for an old Jack-up is about $200k to $250k excluding the cost of towing to the yard that could be significant. Basically, the company is saving $2k/d cost.
For example, Hercules Offshore got $22.25 million for 13 Jack-ups with a mix of cold stacked (5) and ready stacked (8) for an average of $1.72 million per rig.
I see the Jack-up attrition strongly accelerating in 2017, and it is a real positive for the offshore drilling industry, in general, who is suffering from a tremendous Jack-up oversupply which puts pressure on day rates.
Another market that may increase in size is the "distressed Jack-up/floaters" market which is quite different.
It is the quality Jack-ups that are competitive, recent and maintained in good condition, owned by companies in the process of liquidation mostly (not chapter 11), such as Hercules offshore, or owned by banks who do not want to keep such rigs in their portfolio and see no immediate interest to wait for a recovery.
Hercules offshore sold two good quality Jack-ups recently to Borr Drilling in Norway [recently formed in Norway from ex-executives from Seadrill (NYSE:SDRL)]. If you want to read my article about it, please click here.
Note: The Hercules Triumph and the Hercules Resilience, ready stacked, were sold for $130 million. Now, called the Borr drilling Ran and Borr drilling Frigg.
This market will be the most interesting going forward, but will close very fast, unless prices start to move up significantly. Many companies will probably be interested such as Ensco, Noble (NYSE:NE), Transocean (NYSE:RIG), Rowan Companies (NYSE:RDC), Diamond Offshore (NYSE:DO) and others. Demand will be high and supply low, which may force the industry to consolidate through strategic mergers instead, later in 2017? Atwood Oceanics (NYSE:ATW) in particular could be an excellent target in 2018 or Ocean Rig UDW (NASDAQ:ORIG) and Pacific Drilling (NYSE:PACD) in H2 2017.
Important note: Do not forget to follow me on Ensco and other offshore drillers. Thank you for your support.
Disclosure: I am/we are long ESV.
I wrote this article myself, and it expresses my own opinions. I am not receiving compensation for it (other than from Seeking Alpha). I have no business relationship with any company whose stock is mentioned in this article.
Editor's Note: This article covers one or more stocks trading at less than $1 per share and/or with less than a $100 million market cap. Please be aware of the risks associated with these stocks.