Analyst: Alexa Wu
Company Profile
Citi Trends, Inc. (NASDAQ:CTRN) is an American retail chain headquartered in Savannah, Georgia, that offers apparel, accessories and home products for family-oriented shopping. It currently operates approximately 533 brick-and-mortar stores across 31 states in the U.S. and also offers limited online shopping through its website, which was launched in 2014. Its products, which include national and in-house brands, are sold at significant discounts compared to the regular prices that are charged at department and specialty stores. Its target market consists of fashion-conscious and price-conscious consumers, specifically African-American shoppers.
Unstable Performance but Potential for Growth
Citi Trends has faced challenges meeting its performance targets in recent years. Incorrect timing of apparel releases that are not appealing to customers and consumers' tax refund delays are examples of issues that have contributed to its dismal growth. However, its home products and accessories segments have experienced a surge in popularity that presents a positive opportunity for improved net income margins. If its merchandising staff takes further initiative to improve its product offerings to better cater towards its customers, then Citi Trends can remain a competitive force in its industry.
Valuation & Recommendation
After calculating a share price of $16.08 through a DCF analysis and a price of $20.46 using the EV/EBITDA multiple from the comparable companies analysis, an average share price of $18.27 is predicted. While this is higher than its current share price, a Hold recommendation has been given for this company because of its unstable performance in recent years and its dismal projected future growth.
Business Overview
History
Citi Trends' predecessor, Allied Department Stores, was founded in 1946 and offered apparel for families in Southeast America. After being acquired by a private equity firm in 1999, the company was rebranded as Citi Trends and remodeled all 85 of its acquired stores. It also launched growth strategies in Houston, Norfolk, Baltimore, and Washington, D.C. to help improve its operations, and completed an initial public offering of its common stock on May 18, 2005.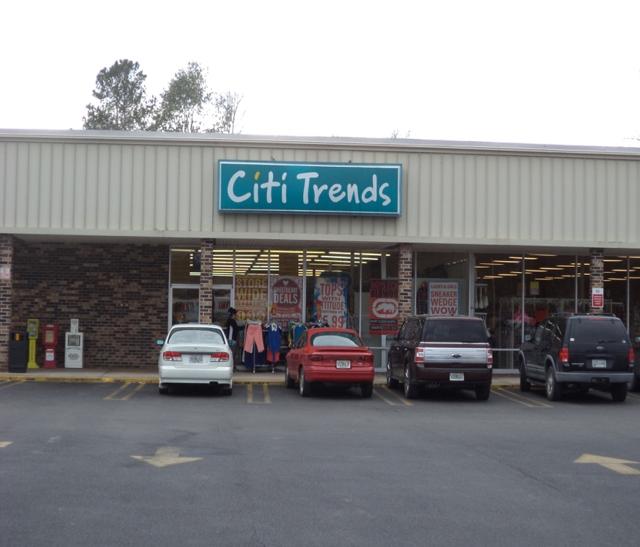 Products
Citi Trends offers clothing, accessories, home products, and other miscellaneous items for men, women and children. These products include: sportswear, intimate apparel, scrubs, sleepwear, handbags, jewellery, belts, footwear, home products, beauty products, books, toys, and electronic accessories. Citi Trends differentiates itself from its competitors by selling national-branded products at prices that are 20% to 70% lower than department and specialty stores and also offers its own proprietary brands, increasing its flexibility to provide a larger variety of products at cheap prices. Offering items for whole-family shopping at competitive prices helps its consumers save time and money.
Customers
Citi Trends targets price-conscious and urban consumers, specifically African-American men, women and children. Its stores are located in neighbuorhoods of low to moderate income to attract this target market. Its target market is unique from its competitors, which allows it to capture a larger portion of the consumer market in America. Statistics have shown that the ethnic group's buying power is expected to increase from $1.2 trillion in 2016 to $1.4 trillion by 2020, signalling an opportunity for the company to increase its sales. Furthermore, the African-American population is projected to represent 18% of America's total population by 2020, an increase of approximately 4.7% from 2015. However, a negative aspect of targeting price-conscious consumers is that events such as tax refund delays for households or reduced governmental assistance can severely impact the company's sales.
Revenues & Costs
Sales in Citi Trends' accessories, children's, and ladies' business segments each contribute roughly 24-30% towards total annual revenue. In 2015, products in its men's segment contributed 17% and products in its home segment contributed 4%. The company typically experiences higher revenues in its first and fourth quarters due to the seasonal nature of the retail industry.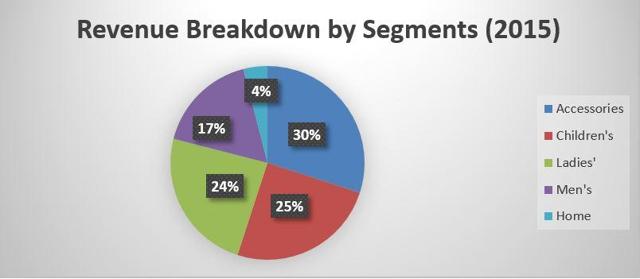 Source: Company filings
Its cost of sales and its selling, general and administrative expenses contribute to the majority of the company's expenditures. Its cost of sales, as a percentage of revenue, has experienced a steady annual decline since 2012, likely attributed to the company's strong supplier relations, while its selling, general and administrative expenses margin has been slowly improving after a weak performance in fiscal 2013.
Fundamentals
Competitive Advantage
Citi Trends is able to offer extremely low prices for national-branded and in-house-branded products due to its ability to buy inventory at large discounts from approximately 1,600 vendors annually. To achieve this, it purchases inventory at discounts from vendor close-outs and planned programs. It also has flexibility in purchasing inventory either earlier in the season or later, which results in greater discounts when manufacturers face an oversupply of products. Its buying team consists of more than 45 employees located in New York, Los Angeles and Georgia. Due to these advantages, Citi Trends is able to continually attract customers with its low prices compared to other retailers and can adapt quickly to new fashion trends through flexible purchasing from its vendors.
The company's stores are also located in shopping centers of low-to-moderate-income neighbourhoods, and the majority of them are located in previously occupied store sites. This results in cost-effective rent payments, while targeting the appropriate market of low-to-medium-income consumers.
Growth Strategy and Dividends
Citi Trends' main growth strategy has consisted of expanding its store count. In fiscal 2015, there were 13 new store openings, and approximately 18 new openings are expected in fiscal 2016, which can be viewed in the table below. While its aggressive expansion strategy has contributed to an increase in overall sales, it will not be a sustainable long-term strategy unless management makes an effort to improve its comparable stores' revenue growth as well. This metric has been unstable in the past five years, and realized negative growth in 2012, 2013 and 2015. This negative trend can be mainly attributed to less-than-anticipated customer transactions and underperformance in its clothing sales across its women's, men's and children's segments. Despite its wide network of vendors that it can choose from, the company has struggled to provide customers with products that they want, which is mainly attributable to timing issues that merchandising staff have faced.
Total Stores Summary

Fiscal Year

Stores Opened

Stores Closed

Total Stores

2012

4

2

513

2013

1

9

505

2014

8

2

511

2015

13

3

521

2016 - Expected

18

5

534
Citi Trends recently began issuing quarterly dividends in the third quarter of 2015 at $0.06 per share, and has continued this trend in 2016. Its current dividend yield is 1.48%, which is low in comparison to some of its competitors since the company only started issuing them in 2015.
In August 2015, it introduced a share repurchase program where up to $15 million of its common stock could be bought back. That same year, the company repurchased the full amount of the $15 million authorization, and any additional repurchase authorizations in the future have not yet been confirmed.
Macro Environment
The retail industry is highly competitive due to its low barriers to entry, low switching costs, mostly undifferentiated products, and attractive opportunities for profits, as retail consumption makes up approximately two-thirds of America's GDP.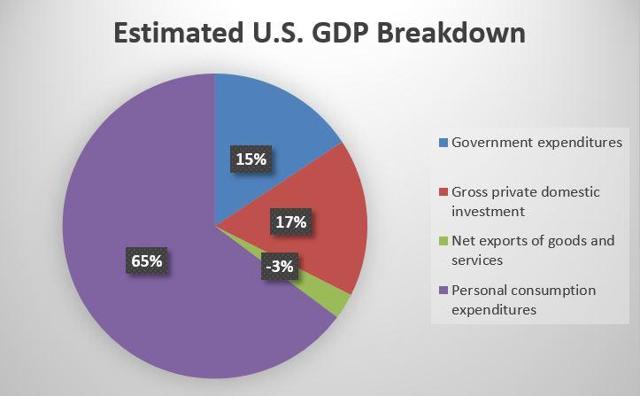 Although the apparel industry has struggled with bankruptcies and store closings in the past two years, there will always be demand for clothes, especially ones that are fashionable. The dynamic changing of trends and consumer preferences is something that Citi Trends has struggled to keep up with, and trying to compete with much larger companies is difficult. On the positive side, disposable personal income in the U.S. is expected to grow by approximately 8.79% from 2017 to 2020, signalling an opportunity for Citi Trends to increase its sales and attract more customers.
Online retail sites have been gaining popularity in recent years and pose a threat to traditional brick-and-mortar stores. The e-commerce industry produced more than $342 billion in 2015, and this is expected to double by 2020. Thus, Citi Trends' limited online shopping offerings will not be able to compete with more developed online sites, implying that it will have to focus on improving its in-store offerings in order to remain competitive. In addition, a political factor that Citi Trends should be prepared to face is the potential for U.S. trade restrictions or policies to be imposed, which could increase its inventory costs and reduce its profitability. One of Citi Trends' greatest competitive advantages is its ability to purchase inventory at low costs due to its strong supplier relations, and new trade laws could negatively impact this.
Catalysts
Home Products Sales Growth
Recent quarters have shown significant growth in the company's home products sales, as it has achieved 16 consecutive quarters of comparative store sales increases, and this segment has shown potential to improve in the upcoming years. The segments' year-over-year growth for the first three quarters of fiscal 2016 is shown below.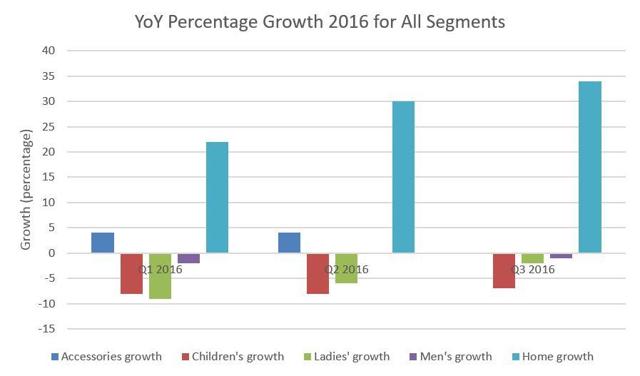 Source: Company filings
Home products are not as weather-dependent or seasonal as apparel sales, so its transactions are less likely to fluctuate and decline compared to Citi Trends' recently underperforming apparel segments. Due to the success of management experimenting with new home product offerings, the division shows strong potential for growth. However, it contributes little as a percentage of annual sales revenues compared to the company's larger ladies' or accessories segments.
Buy-Now, Wear-Now Strategy
To offer more fashionable and in-style products to customers, management has increased its focus on its "buy-now, wear-now" strategy. In the previous fiscal year, the company faced issues of releasing cold-weather items too early in the fall season, resulting in a loss of sales and lower profits. Thus, this long-term strategy will support its merchandising staff in releasing products that hit the key fashion trends in a timely manner. It is projected that the ladies' clothing segment will achieve the most growth from this strategy, followed by conservative growth in the Men's clothing segment. The following chart shows forecasted growth for each business segment and growth of total revenue in the next five years.

Source: WPRA Estimates
Management Team
Summary
Citi Trends' senior management team underwent significant changes in March 2015, which was likely a factor in the significantly higher EBITDA margin that year compared to the previous year. Specifically, Jason T. Mazzola replaced R. Edward Anderson as the president and CEO, and Mr. Anderson now serves as the executive chairman of the board. In addition, Bruce Smith, who was formerly the executive VP and CFO, also took on the COO title. Overall, the members of the senior management team have had many years of experience in roles related to their current ones at Citi Trends, with most of them having worked in other retail companies. On the downside, they are oftentimes ambiguous in giving future projections or plans on how they will improve company performance.
Updated Management Team
Jason T. Mazzola - President and Chief Executive Officer (CEO)
After serving as the executive VP and chief merchandising officer for four years at Citi Trends, Jason Mazzola was promoted to the roles of president and CEO in March 2015. Before working at Citi Trends, he held numerous merchandising positions in other retail companies. He was the senior VP and merchandising general manager at TJX Companies for eight years, and was the chief merchandising officer at Ideeli, an online retailer. It is likely that Mr. Mazzola will be able to leverage his extensive experience in the retail industry in order to identify key trends in urban apparel. Given his extensive experiences in the retail industry, as well as Citi Trends, it is anticipated that he will help the company boost its future performance. He currently owns 88,056 shares in the company compared to the 237,572 shares that the previous CEO, R Edward Anderson, holds. In 2016, he was compensated with a salary of $486,538, stock awards of $442,189, non-equity incentives of $575,000 and other miscellaneous payments for a total of $1,554,275.
Bruce D. Smith - Chief Financial Officer (CFO), Chief Operating Officer (COO) and Secretary
Bruce Smith has had ample experience working in accounting and financial roles. These include his positions as senior manager at PWC, CFO and executive VP of Fred's, a discount retailer, and principal accounting officer and CFO of Hancock Fabrics. After working at Citi Trends for more than nine years as CFO, he took on additional roles as COO and secretary in March 2015. He currently owns 87,588 shares in the company. In 2016, he was compensated similarly to Mr. Mazzola; he earned a salary of $437,750, stock awards of $318,375, non-equity incentives of $414,000 and other miscellaneous earnings for a total of $1,174,322.
Shareholder Base and Liquidity
Ownership Summary
Currently, Citi Trends has 14,901,613 shares outstanding, with more than 94% of its shareholders based in the U.S. A total of 96.51% of its shares are held by 145 institutions, with investment advisors holding 75.96% and hedge fund managers holding 15.94%. The top 5 shareholders consist of FMR LLC (10.41%), Alliance Bernstein (10.03%), Paradigm Capital Management (9.29%), Nantahala Capital Management (8.02%) and Dimensional Fund Advisors LP (7.85%). Currently, 11 company insiders own a total of 2.81% of shares. Specifically, James Dunn, senior VP Store Operations, owns 77,020 shares and Charles Crowell, senior VP Supply Chain, owns 15,631 shares.
There were several instances of noteworthy insider trading in 2016. In March, a group transaction consisting of 10 management members bought 77,034 shares and three days later, six of these members sold 40,058 shares. On the positive side, the CEO bought 5,000 that same month, likely indicating some more confidence in the company. In April, the previous CEO, Mr. Anderson, sold a reportedly high 8,421 shares and in December, Charles Crowell also sold a significant number of shares.
Liquidity
The average daily volume of trades in the past 12 months was 87,117, which has declined to 83,657 within the past three months. In April, 2016, there was an unusually high number of trades with almost 781,000 shares on the market, which can be seen in the graph below. The only newsworthy event was the burglary of a Citi Trends store in Beaumont, Texas, where the store's safe was stolen. Mid-May and mid-August also experienced high volumes of trading, with subsequent declines in the share price.

Valuation
Projections and Considerations
Overall, Citi Trends has underperformed in the first three quarters of fiscal 2016, which is why a dismal total revenue growth of 0.3% for the fiscal 2016 year is forecasted. However, due to the company's recent experimentations with products in its home segment, and management's optimism of its continued growth, this division's sales growth for fiscal 2016 is projected to reach 20%. While the company has already begun implementing its "buy-now, wear-now" strategy, it does not seem to have had a significant positive impact on clothing sales. However, its dismal earnings in fiscal 2016 can also be attributed to Hurricane Matthew, which affected states in southeastern U.S. This event resulted in Citi Trends closing approximately 100 stores, and having an estimated negative impact of $1 million on its business.
It is predicted that ladies' clothing sales will achieve a growth of 2% in 2018, after recovering from a tough 2016 year. The company's "buy-now, wear-now" strategy will likely have a positive effect on men's products as well, but with lower impact. The growth of the children's segment has not been the main focus of management in the past, so a modest 1% annual growth is expected to occur after fiscal 2017. The accessories segment is forecasted to perform well for the next five years due to management's recent focus on changing store displays and items to push sales of those products. Details on these projections can be viewed in Appendix 4.
Its annual cost of sales margin has been steadily decreasing since 2012, which signals that the company has been improving its ability to buy inventory at better deals through its suppliers. While this is a good sign for the company, there are political uncertainties in the U.S. that could negatively impact this margin in the future. Due to potential trade restrictions that may be put in place between the U.S. and foreign countries, we have projected annual cost of sales to be 60% of sales after fiscal 2016.
Comparable Companies Analysis (CCA)
The comparable valuation was conducted with the following set of six companies:
These companies are American retail chains, with the majority of them having a main focus on apparel. Out of these six companies, Target is Citi Trends' main competitor in terms of being able to offer the lowest prices to its customers. Using the EV/EBITDA multiple, a target price of $20.46 was implied and using the P/E multiple, a target price of $15.55. Several companies had extremely different P/E ratios compared to its peers, such as Tilly's ratio being 30.7x, and Buckle's ratio being 9.6x. Due to the wide range of P/E ratios among the comparable companies, its calculated share price was not taken into consideration when forecasting the final share price of Citi Trends.
Discounted Cash Flow Analysis (NYSE:DCF)
Due to its zero debt, projected 32% tax rate for the fourth quarter of 2016 and an assigned cost of equity of 10%, a WACC of 10% was determined. Additionally, the DCF employs the perpetuity growth model and uses a growth rate of 2%, which is based on the historical GDP growth rate of the U.S. Thus, the DCF analysis implies an intrinsic value of $16.08.
The final share price valuation is an estimate of $18.27. This was forecasted by taking the average of the projected share prices from the DCF and CCA, $16.08 and $20.46, respectively.
Risks
Importing Inventory
A significant amount of Citi Trends' inventory is imported from countries abroad, such as China. Any trade restrictions imposed by the United States or other foreign governments may have adverse effects on the profitability of Citi Trends. Examples of trade restrictions include tariffs or quotas against apparel items, as well as labour shortages or stoppages.
Seasonal Nature of Retail Industry
Sales for Citi Trends are typically higher in the first and fourth quarters of the fiscal year, due to wide-scale events and national holidays, such as Easter and Christmas. Any factors that affect the buying patterns of consumers in those quarters may negatively impact the profitability of the company, such as negative economic conditions, unexpected weather changes, reduced governmental assistance, and delayed tax refunds for customers.
Rise of Online Shopping
The popularity of online shopping amongst American consumers has been rising and is expected to continue in future years, which has increased the competition for traditional brick-and-mortar stores. Although Citi Trends has recently introduced limited online shopping through its website, it is unclear whether management intends on expanding its e-commerce platform in the near future. Thus, Citi Trends may lose a portion of its customers in the upcoming years due to the growth of online retail sites.
Recommendation
Citi Trends has faced numerous challenges in recent years, mainly related to the incorrect timing of releasing apparel in the fall seasons and overall underperformance in clothing sales. This, along with its recent change of president and CEO, has resulted in uncertainty for the company's future.
Despite these setbacks, it appears that the management team will continue to try and improve its operations in order to increase sales and market share. There is still much projected optimism for its home products sales and potential for its "buy-now, wear-now" strategy to help performance in its clothing sales stabilize over the next few years. After conducting the DCF analysis and CCA, we believe that the market has already priced in the aspects of the company that were discussed in this report. Thus, Citi Trends is given a Hold recommendation.
Appendices
Appendix 1: Balance Sheet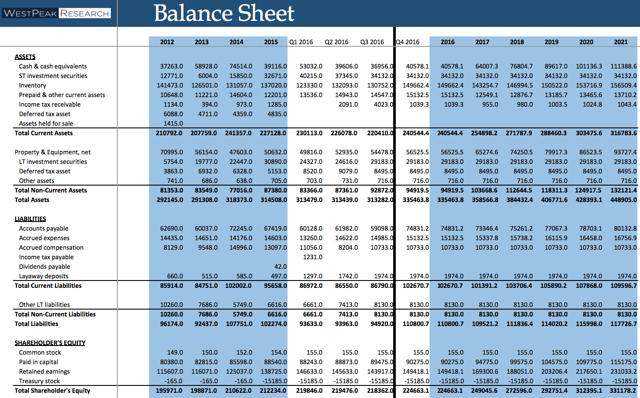 *Figures in thousands*
Appendix 2: Income Statement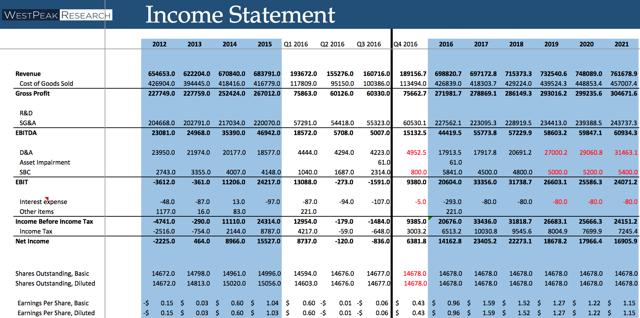 *Figures in thousands, excluding "Earnings Per Share, Basic" and "Earnings Per Share, Diluted"*
Appendix 3: Cash flow Statement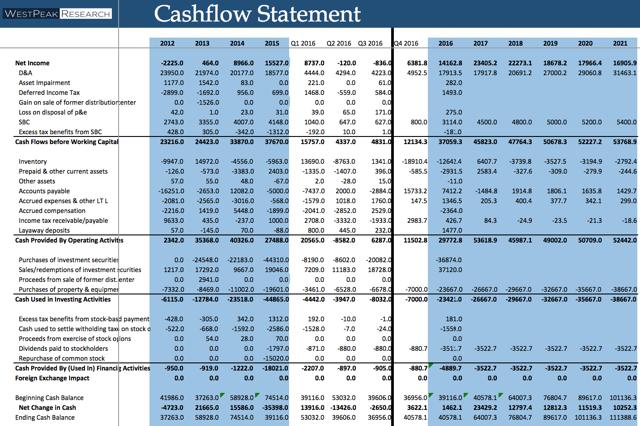 *Figures in thousands*
Appendix 4: Revenue Analysis

Appendix 5: B.A.S.E

*Figures in thousands*
Appendix 6: Assumptions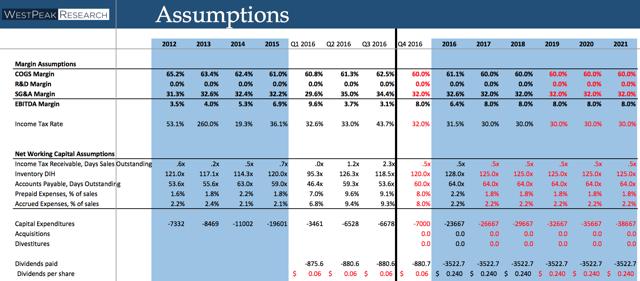 *Capital expenditures and dividends paid in thousands*
Appendix 7: Discounted Cash Flow Analysis (DCF)

*Figures in thousands*
Appendix 8: Comparable Companies Analysis

*Figures in millions*
Disclosure: I/we have no positions in any stocks mentioned, and no plans to initiate any positions within the next 72 hours.
I wrote this article myself, and it expresses my own opinions. I am not receiving compensation for it (other than from Seeking Alpha). I have no business relationship with any company whose stock is mentioned in this article.