This last week saw another uptick in awarded contracts amidst some more geopolitical saber rattling from inside the United Nations and also from Iran. Pundits used words like "uncertainty" and "instability" to describe what was happening in the world. I always find this comical, and we will discuss a powerful theme with many ways to invest. But first, let's take a look at how our eight focus companies did this week with contract awards.
Taking a look back at the last week figures, you will notice the only company not to have an award is Huntington. That isn't uncommon, the ship builder typically won't see several contracts a week and there are usually larger than others. Since October 1, 2016, Huntington has only been formally awarded seven contracts from the DoD with an average award of about $247 million. Compare this to Raytheon, which has gotten 60 awards this fiscal year with an average award at slightly above $57.6 million. Boeing was a big winner this week, adding over $1 billion to their FY total.
Significant Contracts
On January 31st, Boeing was awarded a $983 million contract (FA8106-17-D-0002) to provide service and support for the VC-25, E-4B, C-32A, C-40B/C, E-8C and NT-43. If you clicked the links, you'd have seen that the VC-25 is Air Force 1. The other aircraft are mostly used to ferry US dignitaries from country to country but the NT-43 is especially interesting.
Sikorsky was awarded a $23 million contract (N00019-14-G-0004) for support of the CH-53K project. I've discussed this helicopter previously, and it is encouraging to see the amount of contracts awarded in support of it to tick up in pace.
Orbital ATK (NYSE:OA) was awarded a $78 million contract (FA8817-17-C-0001) for the Space Test Program Satellite-6 (STPS-6) integration and testing. Back in July of 2016, I wrote a piece on how space was the next area that the DoD would be headed and Orbital was the company positioned to take it there. The STPS-6 will hopefully be used for the detection of nuclear blasts and will carry out a host of other tasks for the Pentagon.
Weekly Performance
Most of the companies reported earnings in the week prior, so this week's trading was much more subdued.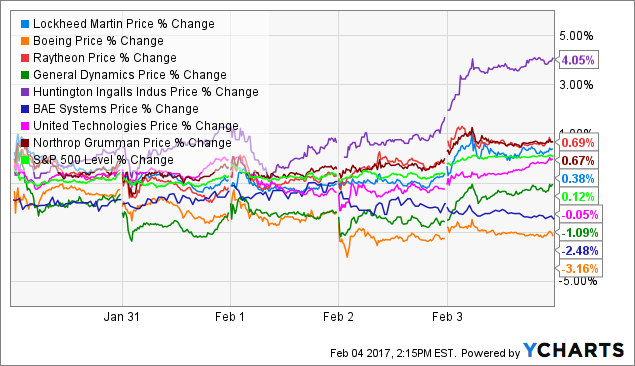 Huntington had a good week going up 4%, and on the other end of the spectrum is Boeing, which suffered a 3% loss. There wasn't much movement overall, even from Lockheed, which found itself in the news again thanks to President Trump and the F-35, of course.
Let's take a quick look at how these companies have performed since the election.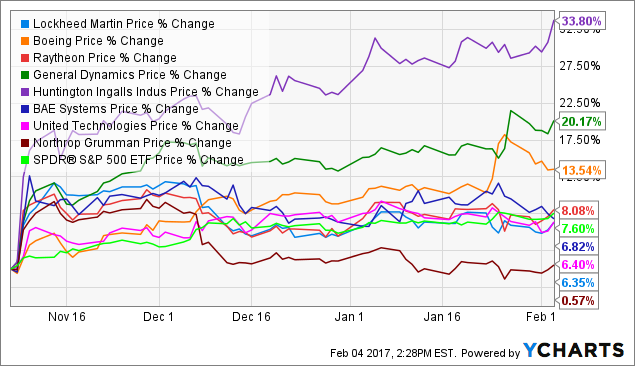 There isn't much to say about this, but it appears the companies with the most to gain from shipbuilding, General Dynamics and Huntington, are beating everybody by quite a bit.
Missile Defense
Last week Iran test-fired a ballistic missile and also began military exercises to test their missile and radar systems. It was also reported that Yemen-based Houthi rebels launched a SCUD type ballistic missile toward Riyadh, Saudi Arabia. Israel is under constant threat from Hezbollah and their rockets. Ballistic missile and rocket threats also exist from North Korea, Pakistan, China, and Russia, just to name a few.
The cost to fire powerful missiles is coming down and the technology is becoming easier to obtain. As missiles and rockets find themselves in the arsenals of more state and anti-state factions, the capability to shoot them down is becoming more valuable. At the same time, it is much easier to launch a missile than it is to launch a missile to kill a missile. This has created an interesting market for missile defense and we will go over some of the different systems and ways to invest in this technology.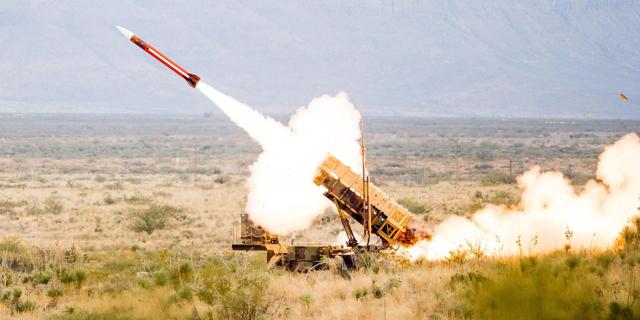 The Iron Dome
The most successful and well-known missile defense is Israel's Iron Dome. (A great video worth watching put out by Bloomberg is here.) The state-owned Rafael Advanced Defense Systems is the primary manufacturer, but US-based Raytheon also provides Israel with the batteries. The Iron Dome isn't a classic missile-defense system, but is mostly geared to defending against rockets, mortars and artillery shells.
Back in June, the Israeli Defense Forces were actively seeking to increase their batteries to respond to the ever-increasing threat. They are also incorporating several new technologies into their overall defensive capabilities, to include shooting down drones and larger missiles.
Patriot
The second-most well-known missile defense product is the Patriot manufactured by Raytheon. This system was initially designed for anti-aircraft service in the 1970s, but during the 1980s, was upgraded to serve as an anti-ballistic missile battery as well to counter short and medium range threats. During the 1991 Gulf War, when Iraq was firing SCUD missiles at Israel and Saudi Arabia, the Patriot boasted a nearly 70% success rate in many cases. That level of success cemented the Patriot as a reliable and cost-effective solution and its usefulness continues to today.
The Patriot is a very big driver of revenue for Raytheon, and they have successfully leveraged the lessons learned from this system into the Aegis weapon system, the design of the SM-3 and SM-6 missiles, and the THAAD system (which we will also discuss below). In their last quarter, Raytheon reported booking over $1 billion in orders to international customers for the Patriot, and in 2015, Saudi Arabia contributed $2 billion alone.
THAAD
The Terminal High Altitude Area Defense system has been in the news recently with China protesting the THAAD being deployed to South Korea. This system is designed by Lockheed Martin but uses a Raytheon radar system for its detection, acquisition and guidance. THAAD takes missile defense out of the atmosphere and seeks to destroy long-range threats as they begin their descent phase of the upper atmosphere towards its target.
The THAAD system is significant because it allows a country or entire region to defend itself against advanced ICBMs that are launched from a significant distance away. The system is also in its infancy when compared to the Patriot, but its importance cannot be understated.
MEADS
Another systems from Lockheed, the Medium Extended Air Defense System is a competitor to the Patriot and boasts increased capabilities. The system is designed for the same short and medium range threats as the PATRIOT, but promises 360-degree radar (which Raytheon now has available for the Patriot) and a more inclusive command system.
Investors may recall the MEADS had been competing against the Patriot for the business of the Polish government in their quest to upgrade their missile defenses. Recently, the system has found itself back in the news. Now that MEADS is closer to reaching operational status, Poland is considering it; that decision made easier by Germany's own decision to procure the MEADS in place of the Patriot.
Lasers
Though the technology is far from being scaled up enough to knock out ballistic missiles, this appears to be the future of the space. From a cost perspective, lasers offer incredible economy compared to missiles. A laser only costs as much electricity as it requires to fire, and is also able to be fired so long as electricity is flowing.
Right now, Kratos (NASDAQ:KTOS) owns the only operational laser in service which is aboard the USS Ponce (link is a video, worth watching) and was in the news thanks to Houthi rebels firing at US ships off the Yemen coast. The 30kw laser weapon is designed to be able to destroy small boats, incoming aircraft to include drones, and cruise missiles and other projectile threats.
The United States Marine Corps is also actively seeking to replace their Stinger missile batteries with laser equipped troops to conduct low altitude air defense. Though the Stinger is used strictly against aerial targets like low-flying jets and helicopters, the laser weapons could give troops the ability to defeat incoming projectiles as well.
The Air Force also wants to put laser weapons on airplanes, opening a host of possibilities. Lockheed Martin is making inroads in tandem with DARPA on mounting lasers to aircraft including drones. Boeing also has a very ugly flying laser test-bed it has dubbed the YAL-1, which famously shot down a ballistic missile. The laser was from Northrop Grumman with the fire control program from Lockheed.
This technology I view the most promising because I ultimately see it being placed on satellites to destroy ballistic missiles as they crest into the upper reaches of the atmosphere. The STPS-6 mentioned above looks like a great candidate, but the technology would have to be scaled down significantly.
So Where to Invest?
Raytheon or Lockheed are the easiest ways to invest in missile defense today. Their systems are state of the art and see action all over the world. Raytheon is easy to invest in even if the Patriot isn't chosen over the MEADS because they provide the PAC-3 interceptor missile to Lockheed. If you're looking decades out and think lasers will eventually overcome traditional defense technology then a play on Kratos may be your best, albeit risky, bet. Don't count Northrop and Boeing out either, the YAL-1 is remarkable in what it has proven.
Many investors may choose to forego defense contractors as an investment much like they may pass on tobacco companies. But missile defense could possibly justify an investment. This is technology meant to save, not to hurt, and as we see year after year in Israel, this capability has saved countless lives. Missile defense is rising in prominence thanks to what appears to be growing capabilities of our less stable and friendly fellow nations.
In Other News
Iraqi Police are dealing with drones and well-trained snipers in their fights against ISIS adding complexity to the situation.
Syrian peace talks are ongoing with Russia taking the lead.
Peace talks between rebels and the Philippine government collapsed.
Israel has so far unsuccessfully lobbied the UK to join it in issuing new sanctions on Iran.
On Seeking Alpha
William Stamm approaches United Tech from a total return perspective and raises several valid issues.
Best Day Ever highlights the role Huntington will play amidst rising demand for more Navy ships.
Michael Vellucci argues that United Tech is undervalued compared to others in the space.
Dhierin Bechai goes over the cost cuts that were applied to the F-35.
The Coming Week
Not expecting a whole lot this week. It appears the worst may be behind us when looking at the F-35, and I'm happy it may finally be out of the news. The T-X contract for the new Air Force trainer is down to just Lockheed, Boeing and Sierra Nevada now; I'll be interested to see if Sierra Nevada sticks it out. I'm still waiting to see what an increased spending bill for the DoD will look like and just when that will be delivered.
I appreciate you reading, please leave your thoughts and questions in the comments. If you don't already follow me and would like to receive the (mostly) weekly updates on this sector along with my other posts, please hit "follow."
Disclosure: I am/we are long RTN, BAESY.
I wrote this article myself, and it expresses my own opinions. I am not receiving compensation for it (other than from Seeking Alpha). I have no business relationship with any company whose stock is mentioned in this article.
Editor's Note: This article discusses one or more securities that do not trade on a major U.S. exchange. Please be aware of the risks associated with these stocks.