A lot has gone wrong at IEC Electronics (NYSEMKT:IEC) since my last update. I previously praised the CEO for executing a solid turnaround with a superb margin profile and impressive debt repayment. Unfortunately that has all since been forgotten as the company's concentrated customer base has caused major near-term problems. In early October, news broke that IEC was laying off staff at its Newark, NY facility as a result of weakness in its near-term backlog. The stock was immediately pummeled - falling from $5/share down to $3.50 a few weeks later. Ouch. Clearly the honeymoon is over for CEO Jeff Schlarbaum. The company did not provide many details when the news of the layoffs broke - investors had to wait until the fiscal Q4 earnings call in December to see what this meant in terms of lost revenue.
On the Q4 call the company put the blame squarely on its two largest customers, both in the healthcare space (Baxter and Zoll Lifecor). These two all but stopped orders for the next 6-7 months. IEC says this is simply due to each wanting to clear excess inventory. Management does not believe these programs are being cancelled or worse, that IEC is losing them as customers.
This perfect storm caused fiscal Q4 revenues to decline 16% YoY. The company maintained profitability (though reduced) and repaid another $1.7M in debt. Unfortunately a much larger hit to revenues and profitability is coming in fiscal Q1 and Q2. On the Q4 earnings call, the company estimated that in the first half of fiscal 2017 revenues would be down by $20M-$25M due to reduced volumes from these two customers. On a base of ~$130M in annual revenues, this is very meaningful. However, IEC does fully expect to resume normal volumes to these two customers in the second half of the fiscal year.
In the 2016 10-K, IEC noted that both Baxter and Zoll represented 15% of total revenues during the fiscal year. That equates to $19M for each. With this information in-hand, it seems fairly safe for one to assume that IEC expects ZERO orders from these two customers in the first half of the year. Why would both of these customers stuff volumes through in FY2016 only to all but eliminate orders for the next 6-7 months? The timing is odd for sure. At this point investors can only take management at its word when it says that IEC has not lost any programs or that these programs are not being discontinued. A prudent approach for investors is certainly to take a wait and see attitude going into Q1 earnings. We should get more color on management's expectations when the company reports results this Friday. IEC already warned that it will not be profitable in Q1 or Q2 due to the need to retain key talent despite this temporary setback. Revenue will likely fall from $32.9M in Q1 FY2016 to the low $20M range this Q1. The question then becomes how much cash does the company burn in the first half of the year? I would expect the company to post at least a $2M operating loss in Q1. I will be listening intently to the call to see if the CEO starts to change his tune (in a positive or negative way) when he discusses the resumption of orders to these large customers.
One positive to note is that the company completed the sale and leaseback of its New Mexico facility in November for $5.8M. The proceeds were used to reduce debt.

Source: 2016 10-K
The company will likely book a $1.2M gain on the sale, which will help Q1 profitability. However, IEC will now have an additional $474K in annual rent expense. About half of this will be offset by lower interest expense. As a result of this transaction, debt could be reduced to ~$15M in Q1, which would be less than 1.5x FY2016 EBITDA.
Last week IEC presented at the Noble Capital Markets conference. For long-time IEC followers, there was not much new in the presentation. The one notable tidbit that I picked up on was the CEO stating that IEC previously missed out on new program awards from existing customers due to its poor financial performance in the twilight of previous CEO Barry Gilbert's tenure. In FY2013 and '14 the company maintained healthy topline performance but was not able to generate much in the way of profits. Nor was it able to reduce debt, which hit ~6x EBITDA in FY2015. The company is clearly on much firmer financial ground today having done an excellent job at reducing debt though both solid earnings and tight inventory controls, which should alleviate any concerns from customers as to IEC's solvency. Though the company remains dependent on too few customers.
This fiscal year IEC is focused on acquiring new customers.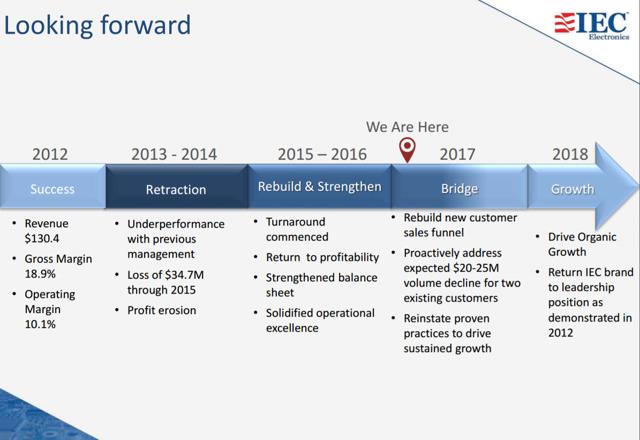 It has revamped the sales team and the go to market strategy - presumably back to what it was when they had so much success during Mr. Schlarbaum's time as company President. Investors should, however, be cautioned to not expect much in the way of revenue from new customers in FY2017. The company notes that the onboarding process takes 12-18 months. Investors will likely not know if IEC is able to bring in new, meaningful customer programs until at least the second half of 2017. The pressure is on the CEO to deliver results and diversify the customer base so that the next time a major customer pauses orders or worse moves its business elsewhere, the impact will be muted.
I still believe in IEC and have not sold any of my shares. I added marginally after the initial big drop in October and November. But for now I think it is prudent to take a wait and see approach. The $20M-$25M revenue shortfall as a result of the Baxter and Zoll order stoppage was much larger than I was expecting, but it appears to be baked into the stock price at this time. When the company reports Q1 results this week, investors will be looking for confirmation that IEC expects sales to normalize in the second half of the year. Any push back of the expected normalization will likely not be well received by the market.
Of note, long-time IEC owner Tocqueville Asset Management significantly reduced its stake recently. It went from a nearly 9% position to 2% at year-end. It likely has subsequently sold out completely. This certainly put pressure on shares over the past several months, which seemed to have eased in recent days as shares hit a level not seen since early December.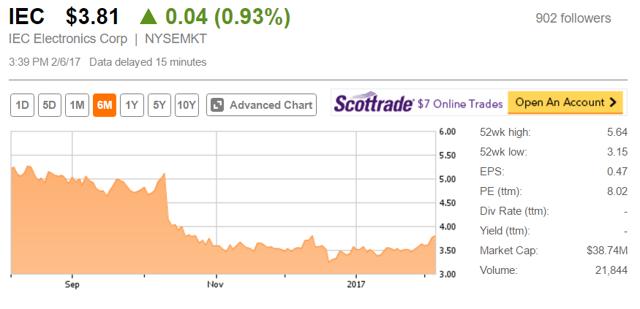 In conclusion, IEC's biggest risk (customer concentration) has clearly come into play of late. The company understands the need to diversify its customer base and is focused on laying the groundwork to do so in 2017. We will have to wait and see how successful they will be. At a minimum, orders from its two largest customers need to return in the second half of the fiscal year for shares to move higher. The pressure is on management to deliver, but the jury is still out. I would be careful about adding shares before earnings. We do not know how bad Q1 will be or if management will move back the goalposts for volumes from Baxter and Zoll to normalize.
Longer-term I think the story is still intact. If the company is successful in growing volumes and customers over the next few years, it can easily return to $0.60-$0.70/share in annual EPS - possibly more. With the balance sheet in very good shape, the stock could easily be a double from here under this scenario as net debt could fall to less than 1X EBITDA. I continue to believe the ultimate goal is to get IEC sold. I think it happens at $8/share or higher if the company can successfully return to growth and lower customer concentration.
One vote of confidence for shares could come from Vintage Capital - the IEC investor with two board seats that led the proxy fight which wrestled control of the Board of Directors away from former Chairman and CEO Barry Gilbert. Vintage has been restricted from purchasing shares since before the end of Q4, FY2016 last September. Once Q1 earnings are released the window will open for Vintage to purchase more shares. If they do so, it will be a major vote of confidence for the stock.
Disclosure: I am/we are long IEC.
I wrote this article myself, and it expresses my own opinions. I am not receiving compensation for it (other than from Seeking Alpha). I have no business relationship with any company whose stock is mentioned in this article.
Editor's Note: This article covers one or more stocks trading at less than $1 per share and/or with less than a $100 million market cap. Please be aware of the risks associated with these stocks.