Retail has a difficult time currently but one of the few bright spots left is the DIY market and especially Home Depot (NYSE:HD) and to a lesser extent Lowe's (NYSE:LOW). With its focus on growing sales at existing stores and through the Internet, profits have risen steadily and combined with an aggressive buyback program the returns to shareholders have been amazing.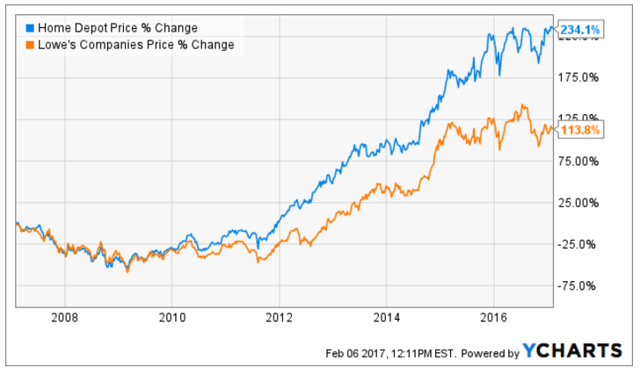 However Home Depot is currently expensive with an expected p/e for 2016 above 21. Its balance sheet has also been hurt by the buyback program which increased debt at Home Depot from $10.7B in 2012 to $23B currently while reducing equity from $17.8B to $5.6B. With its stores much more efficient however there is only so much more improvements that can be made. Still a 2% dividend yield and additional buybacks can deliver a decent return but even with a further improvement in the housing market the valuation is rich. Expecting past returns to repeat themselves for Home Depot or Lowe's stock seems like wishful thinking to me.
Europe vs. USA
While the US market seems to have the characteristics of a cozy duopoly with high profits and returns on equity the competition in Europe is cutthroat. Especially in Germany the competition is fierce with frequent price wars and bankruptcies of large players like Praktiker. New investments in online operations which are currently further harming profitability will benefit the larger operators since they can spread the cost and can have nationwide distribution. In the long run this change can potentially help to consolidate the market since the benefits of scale will become more prevalent.
Hornbach
Hornbach (OTC:HBAPF) is a strong operator in the German market with very high sales per store and square meter.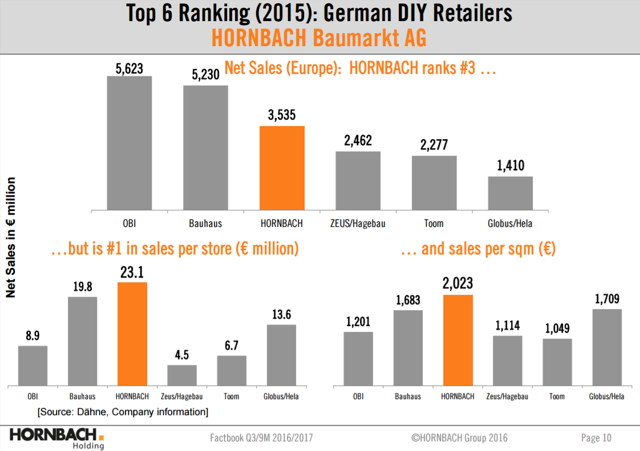 Source: Hornbach Factbook
Hornbach has consistently taken market share from its competitors.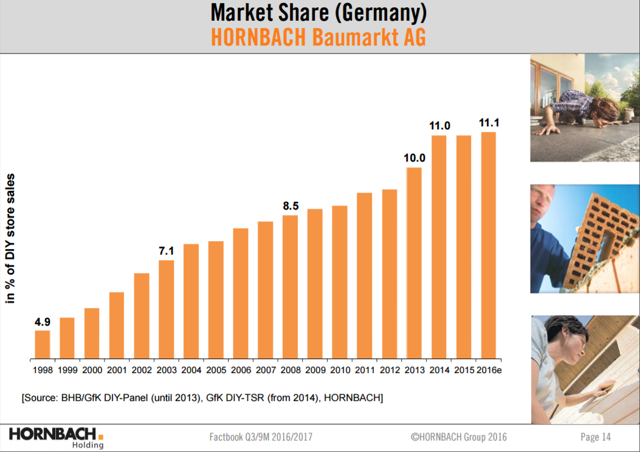 The balance of Hornbach is also very strong because it owns a large number of their own stores which are conservatively valued. The renewed sale of properties through sale and leaseback constructions can make the market more aware of the hidden reserves and free up capital for return to shareholders.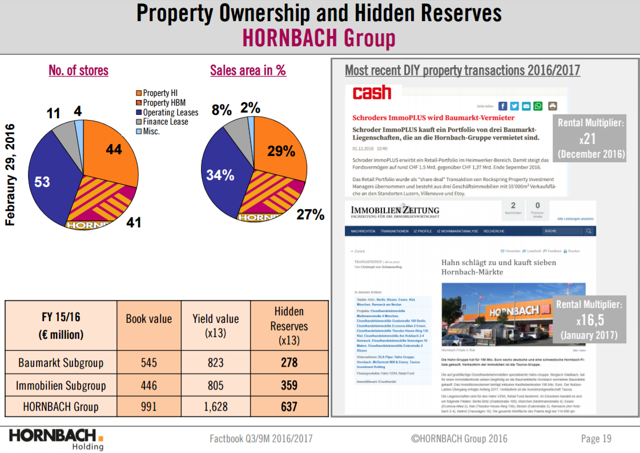 Debt is also limited which protects the company in case of a recession or other unexpected misery.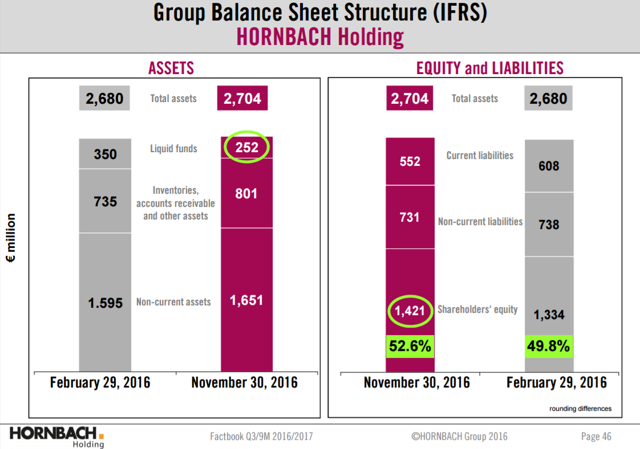 Hornbach is conservatively financed while holding a large portion of its stores. This hurts their efficiency when using metrics like Return on equity while investors in real estate find the store operations unattractive. Hornbach trades at a p/e of 12.5 which allows it to pay a higher dividend of 2.5% while having a payout ratio of only 30%. Furthermore it stock is trading below book value especially when the hidden reserves are taken into account.
Risk
Europe has its obvious risks like the potential collapse of the Euro. This will have a damaging effect to the economy but the operations of Hornbach are primarily in strong European countries thus American investors could probably even benefit from a stronger German currency if Germany had to reinstate the D-Mark. Expectations for European growth are low but this makes them easier to beat while the expectations for the American economy, housing market and infrastructure spending are very positive. Especially after the election of Trump while the influence of government in the US is actually more limited than some people want to believe.
Conclusion
While the European DIY market is more competitive and the European market in general thought of as more risky. A conservative balance sheet and valuation makes stock of Hornbach Holding a superior investment compared to American DIY companies like Home Depot and Lowe's.
Supporting Documents
Disclosure: I am/we are long HBAPF.
I wrote this article myself, and it expresses my own opinions. I am not receiving compensation for it (other than from Seeking Alpha). I have no business relationship with any company whose stock is mentioned in this article.
Editor's Note: This article discusses one or more securities that do not trade on a major U.S. exchange. Please be aware of the risks associated with these stocks.