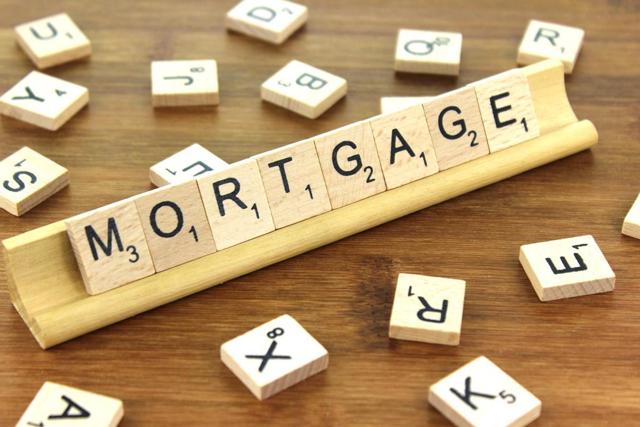 In the last few days, I've been trying to establish whether Walter Investment Management (NYSEMKT:WAC) is an interesting investment opportunity. This wasn't exactly an easy task, since there are many moving parts and the whole business ends up being complex.
In the end, I came to a bifurcated opinion. What I found was that Walter will soon:
Show a large improvement in "optics", that is, in reported revenues, net income and book value.
But, at the same time, might see its actual fundamentals deteriorate somewhat. By "actual fundamentals", I mean its adjusted earnings, which might even lag current consensus estimates depending on how the company might handle one-off gains.
Let me go over these two separate dynamics.
Optical Improvement
Walter has three main business segments:
Servicing mortgages.
Originating mortgages.
Reverse mortgages (originating and servicing).
In the context of servicing mortgages, Walter has a large MSR (Mortgage Servicing Rights) inventory, bought or originated in the past. These are the rights attached to each mortgage which determine who gets to service that mortgage, and thus who gets paid the fees for servicing it.
MSRs have value per se, because they have a component that's supposed to pay for the servicing of the mortgage, and a component above it to provide a return for the servicer. MSRs have more value the longer the underlying mortgage remains alive (not paid, not prepaid). As it were, when interest rates go lower, MSRs lose value because mortgages are prepaid faster (due to refinancings). And when rates go higher, MSRs gain value - since you'll be earning servicing profits for longer, as the mortgages will be prepaid slower (lower refinancings).
Interest rates had been heading significantly lower until Q3 2016. As a result, Walter had been taking charge after charge to reduce its values to the new, estimated fair values. These charges flowed through Walter's P&L, reducing revenues, producing extremely large losses, and then the losses reduced the company's book value (equity).
Ever since Q3 ended, and especially after Trump got elected, interest rates have been exploding higher. The 10-year bond, for instance, rose around 80 bps during that period. The process which previously led Walter to report gigantic losses thus turned on its head. Starting with Q4 2016, Walter is likely to report adjustments to the remaining MSRs it still holds, which will inflate revenues, reported profits and through profits, book value. The change can be significant; Moody's estimates the impact might amount to increasing Walter's TCE/TMA ratio by 170%. I estimate that we might see up to $200 million in write-ups, which is huge for a company expected to report $293.6 million in revenues. This is consistent with the company's sensitivity disclosure (taking into account that the move is across the curve, that MSRs have been sold in the meantime, etc.):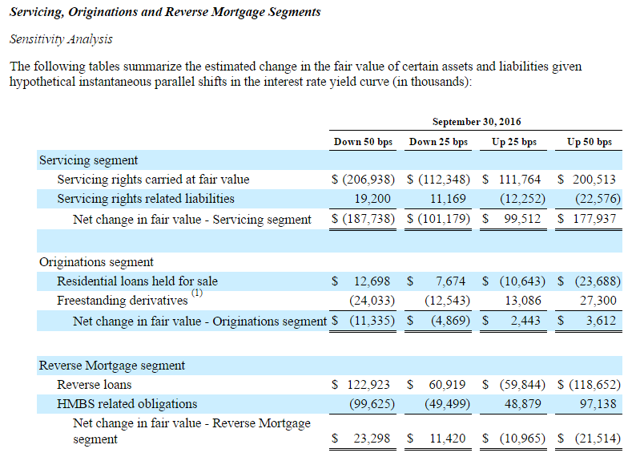 Source: Q3 2016 WAC 10-Q
Therein lies the optical improvement: When Walter reports Q4 2016, it's likely to post large GAAP earnings.
The gain isn't entirely optical, either. The MSRs are actually an asset, and the latest MSR transactions show New Residential Investment (NYSE:NRZ) paying much higher prices for the same type of asset (though there can be differences in the underlying mortgages, and New Residential Investment also left sub-servicing to Walter, which can make for a difference in price). Arguably, the increase in fair value Walter is going to register for its MSR portfolio could then translate into actual cash if Walter sold the remaining portfolio (which it has for now said it wouldn't do).
Actual Fundamentals Don't Improve
There are several problems with the optical improvement, however:
While Walter will report much higher GAAP earnings, such won't lead to higher non-GAAP earnings. Walter consensus estimates are based on non-GAAP earnings. On the way down, Walter didn't report such massive non-GAAP losses because changes in MSR valuation were ignored. Now, on the way up, non-GAAP earnings also won't reflect the gains. It's entirely possible that Walter can produce tremendous GAAP profits while actually missing non-GAAP (loss) estimates.
Walter's underlying business sees little gain from higher interest rates and higher MSR values, except perhaps in lower MSR depreciation.
Walter's moves to raise liquidity, such as selling MSRs and its insurance company, will lead to lower servicing revenues/profits as well as some decline in EBITDA from the absence of the insurance company.
Higher interest rates will over time lead to lower origination profits, at a time origination profits are MSR's largest earnings/EBITDA contributor.
Walter's balance sheet, which will see a gain from higher MSR values, still has several doubtful components. Walter had $303.4 million equity during Q3 2016. However, on the asset side of the balance sheet, we still see $65.3 million in goodwill, $68.1 million in intangibles and $425.8 million in deferred tax assets. These, put together, are worth $559.2 million and overwhelm equity.
Deferred tax assets are in a particularly precarious situation. Walter doesn't seem to have prospects for near-term sustainable profitability, so they're mostly worthless. An exception will be the large MSR fair value adjustment - it won't impact equity quite as much because it should consume some of these deferred tax assets**. Also, if President Trump really goes away with a lower corporate tax rate as promised, these deferred tax assets would have lower value even if the company reached profitability.
In spite of all these observations, there's something which caught my attention. Walter has been reporting consistently large and positive EBITDA, even if faced with severe declines over time. As of Q3 2016, it reported $93.8 million in EBITDA. Now, EBITDA is a proxy for unlevered operating cash flow (before taxes), and Walter does reconcile EBITDA to changes in cash on hand, which seems to validate its adjustments.
If we were to believe Walter's EBITDA, then the stock could be massively cheap even if facing fundamental headwinds. Let us see why:
While some consider Walter as having $2.15 billion in corporate debt and thus net debt, it should also be noticed that there are offsetting assets and debts in consolidated entities below. Overall, upon several adjustments, I consider net debt to be something more akin to $1.32 billion* (and this without considering the MSR portfolio).
If we take into account a $360 million EBITDA run rate ($90 million per quarter, below what it has been reporting), and with the market capitalization being just ~$135 million, we thus come to an EV/EBITDA of 4.0x (considering my net debt measure) or 6.3x (considering the $2.15 billion corporate debt).
At 4.0x EV/EBITDA, Walter would be very cheap for the point in the cycle. At 6.3x, it would be reasonable but very levered to any improvements.
However, I found a problem here too. I simply saw EBITDA as being too far from adjusted earnings, and kept on trying to find why. Ultimately, in spite of the complexity, I think I found the problem. The problem is that Walter's revenues and earnings, which flow into adjusted earnings and EBITDA, include a measure of non-cash income that's never adjusted away. What is this non-cash income?
Well, when Walter originates a mortgage and sells it, it keeps the associated MSR. Thus, it records the value of the sale but it also records the value of the MSR, which it then capitalizes into its balance sheet. This is never backed away, not from adjusted earnings nor from EBITDA, but this gain (while real) is non-cash. So, when Walter reconciles EBITDA to cash, here's what happens: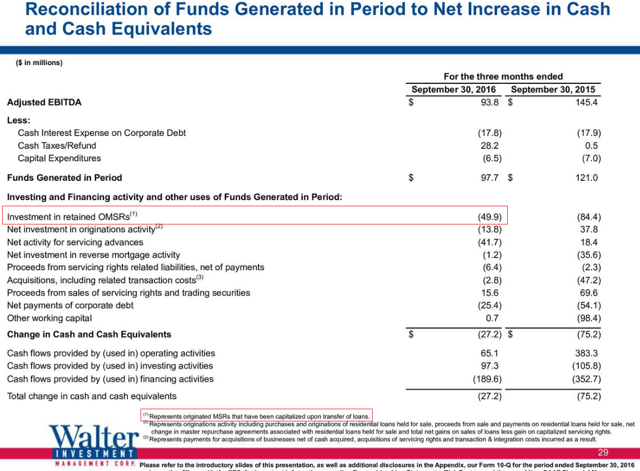 Source: Q3 2016 WAC Earnings Presentation
Since the cash never came, those capitalized MSRs have to be considered a cash outflow to get EBITDA to lead to a proper cash change. Remember, MSRs have value, but they represent future gains, not cash coming in right now or cash paid out right now. They're just values that weren't really paid for.
EBITDA would only be real if those MSRs were sold right away (which Walter might start doing, given flow-through agreements with NZR). If Walter did this, though, its pool of retained MSRs would then shrink much more rapidly and Walter would in large part be a wasting asset, albeit one trading at a low EBITDA multiple.
What we can't is have it both ways: reporting EBITDA as if the retained MSRs were monetized (but then backing them away in reconciling cash), and at the same time, presenting itself as an ongoing business.
To summarize:
If we consider Walter's EBITDA "as reported", then the seemingly low EBITDA multiples need to be considered as applying to a wasting asset (business) where MSRs would slowly vanish. This would make the low multiples less appetizing - especially since the company would be under continuous pressure to adjust costs to an ever-lower MSR base.
If we consider Walter as an ongoing business, then we need to reduce EBITDA by the value of those capitalized MSRs. In this case, EBITDA would be less than half what's reported, and EBITDA valuation multiples would more than double. This would make the multiples no longer be interesting.
Conclusion
For me, this one was close. My main conclusions are thus:
Walter is set to present a turn into GAAP profits, which will seem optically very positive.
However, the underlying business is not yet seeing any improvement. It will continue running at an adjusted loss, and even seeing pressure from the assets it sold (less servicing revenue, lower EBITDA from sold insurance operations). Management is supposedly making efforts to take costs out of the business, but practical results have not yet been seen and costs remain high.
The same factor (higher interest rates) which benefits MSR valuations and optics is a negative for the origination business.
Walter can seem very cheap on an EV/EBITDA basis, but EBITDA is misrepresented. EBITDA "as is" is not a good proxy for cash inflows, because part of it relies on an asset, originated MSRs, which is never monetized. If the asset was monetized, EBITDA would be real but Walter would then seem like a wasting asset, thus deserving lower EBITDA multiples.
There are many other considerations I did not make in this article, regarding:
The reverse mortgage business possibly being a risk for the company. The company is trying to deconsolidate it, which would also improve optics.
How the Trump administration might impact the GSEs in unknowable ways. Walter's business consists mostly of dealing with the GSEs, so it can be disrupted in unpredictable ways.
The sub-servicing business, towards which Walter is evolving, is a highly competitive business. Walter hasn't yet shown its cost competitiveness in the space.
Anyway, taking into account all the variables above, I evolved towards Walter as follows:
First, I thought it could be a bargain.
Then, I saw it as mostly a possible speculative idea due to the optical impact that's about to happen.
And finally, I just found it too speculative.
I am publishing this since others might weight the factors differently than I did.
* I arrive at $1.32 billion by taking into account financial debts (warehouse borrowings, corporate debt, mortgage debt and HMBS obligations) minus financial assets (cash, restricted cash, residential loans). This implies that the remaining assets and liabilities tend to be stable as part of business, the way working capital accounts would not be part of net debt calculations (with exceptions). Granted, here things are more subjective as Walter is something of a mixture between a financial business (earning spreads) and a services business (earning fees for service). Hence, I include both my own calculation and the simpler "just take corporate debt".
** It won't impact (increase) equity quite as much because, say, a $100 million pre-tax GAAP profit brought about by positive MSR valuation adjustments should then consume some of the deferred tax asset (but not pay tax) and thus increase book value by less than $100 million.
Disclosure: I/we have no positions in any stocks mentioned, and no plans to initiate any positions within the next 72 hours.
I wrote this article myself, and it expresses my own opinions. I am not receiving compensation for it (other than from Seeking Alpha). I have no business relationship with any company whose stock is mentioned in this article.