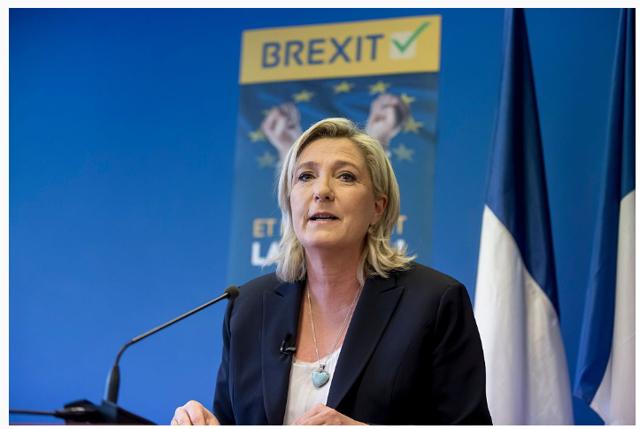 Marine Le Pen to win the first round of the elections
According to the latest opinion polls, Marine Le Pen is expected to win 25-30% of the vote in the first round of the French presidential elections. Notably, financial markets have already started pricing in the rising probability of a Le Pen victory. France's CDS spreads, which are a reliable indicator of sovereign default risk, have increased by 8bps since the beginning of the year.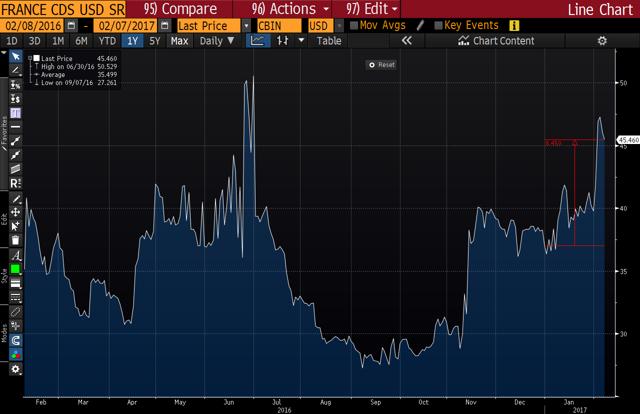 Source: Bloomberg
The yield on the 10-year French sovereign bonds has almost doubled YTD.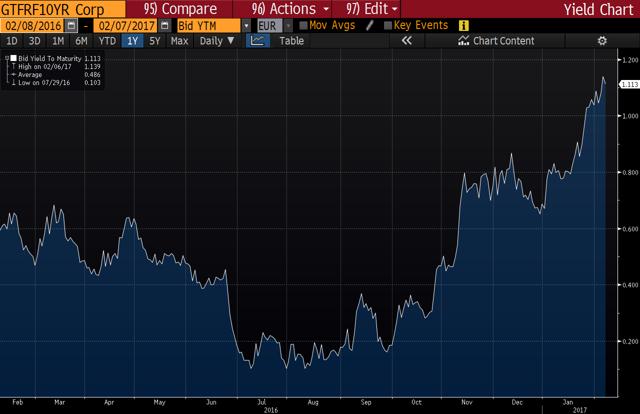 Source: Bloomberg
More importantly, as the chart below shows, the spread between French and German bonds has reached its historical maximum.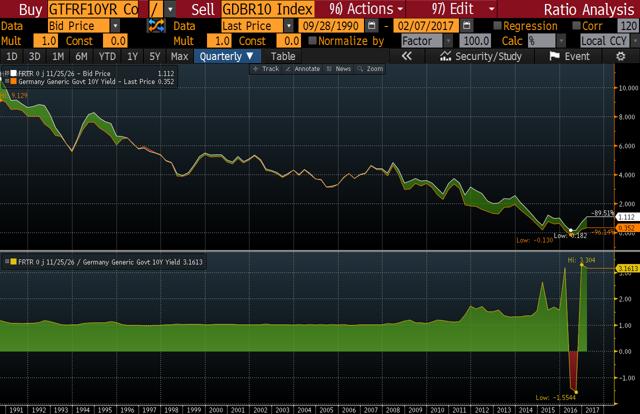 Source: Bloomberg
Ms. Le Pen has formally launched her presidential campaign, presenting the main themes of her program in a document titled the '144 presidential commitments'. Of most interest to us are Le Pen's proposals on "Banking and monetary system":
Scrap the 1973 law that secures independence of the Bank of France;

Restore a national currency to face "unfair competition";

Allow the Bank of France to directly fund the Treasury Restore "monetary, legislative, territorial and economic sovereignty";

Cut interest rates on loans and banking overdrafts for companies and households;

Scrap EU regulation that freezes or bans the withdrawal of deposits (life insurance and savings) in case of a financial crisis or bank run
Source: Bloomberg
According to Standard & Poor's,
France would default on its sovereign debt if it unilaterally converted its euro-denominated obligations into new francs following a National Front election victory.
Two rounds of voting
The caveat here is that the French election system is not like the American system. By contrast to the U.S., there are two rounds of voting in France. The opinion polls suggest that Ms. Le Pen would most likely lose in the second round.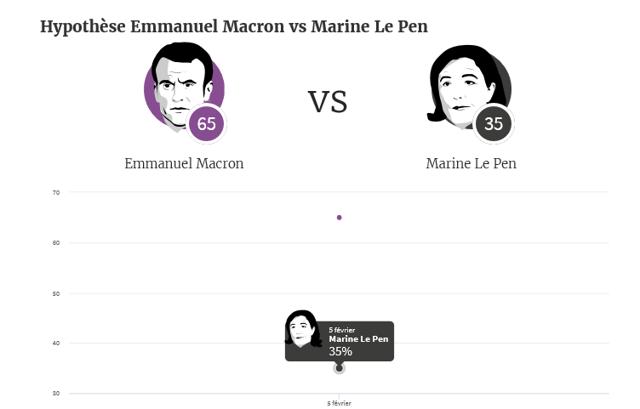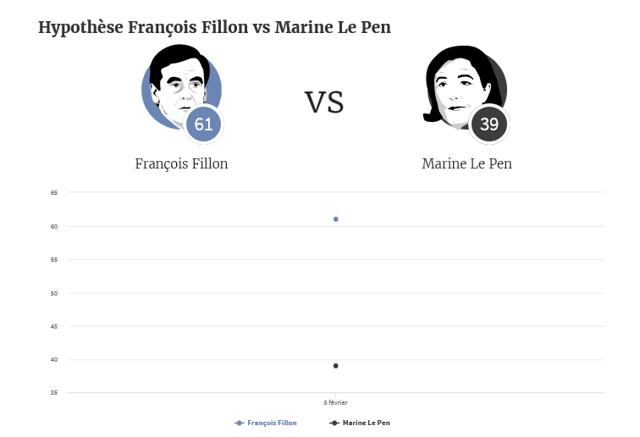 How to trade the elections
Our base-case scenario remains that Ms. Le Pen will win the first round of the elections, but will lose the second voting to a more moderate candidate, i.e. Francois Fillon or Emmanuel Macron.
We believe a Le Pen victory in the first round would spark a sell-off in European banks. With that being said, it would be an attractive buying opportunity, in our view, as a Fillon/Macron victory would most likely trigger a rally in French assets, especially in French banks. While BNP Paribas (OTCQX:BNPQF) (OTCPK:BNPZY) (OTCQX:BNPQY) and Credit Agricole (OTCPK:CRARY) (OTCPK:CRARF) remain our top picks in the French financials space, we believe Societe Generale (OTCPK:SCGLF) (OTCPK:SCGLY) is best positioned to benefit from the elections, given that the bank is more exposed to French Retail.
What if Marine Le Pen wins the presidency?
We would not entirely rule out the possibility of Marine Le Pen winning the French presidency. In fact, according to Financial Times, a report by UBS Wealth Management last week gave Ms. Le Pen a 40% chance of becoming president. If Marine Le Pen wins, we think the most immediate investor response should be to sell French banks, and within the European banking space, to hide in high-quality and defensive names: ING (NYSE:ING), KBC (OTCPK:KBCSF) (OTCPK:KBCSY), ABN Amro, Lloyds (NYSE:LYG) and Nordic Banks. One should keep in mind that there would also be a severe hit to the Euro. As such, even defensive European names would be negatively affected by FX revaluation effects.
As a buy-side analyst and a deputy portfolio manager, I oversee a financials-focused fund and will be continuously providing research coverage on developments with global banks and financial companies. If you are interested in the topic, consider following us by clicking the "Follow" button beside our name at the top of the page. Thank you for reading.
We also invite readers to check out our recently launched subscription service. Get in-depth fundamental research, stock recommendations, trading ideas, exclusive access to professional databases, sophisticated valuation models and expert commentary on Wall Street recommendation from a hedge-fund analyst with a proven track record. Go here to learn more or to sign up, we look forward to having you on board.
Disclosure: I am/we are long BNPQF, CRARY, ING, LYG.
I wrote this article myself, and it expresses my own opinions. I am not receiving compensation for it (other than from Seeking Alpha). I have no business relationship with any company whose stock is mentioned in this article.
Editor's Note: This article discusses one or more securities that do not trade on a major U.S. exchange. Please be aware of the risks associated with these stocks.