Welcome. A review of Sturm Ruger & Co (NYSE:RGR)'s earnings picture leads me to believe the company is presently overvalued. A combination of a trend in improving gun sales and stock buybacks appear to have put Mr. Market into a mania. The stock is 17.8% over valued according to my estimate in which I include generous estimates of future earnings compared to RGR's trackrecord. Here's the case against RGR's present price level.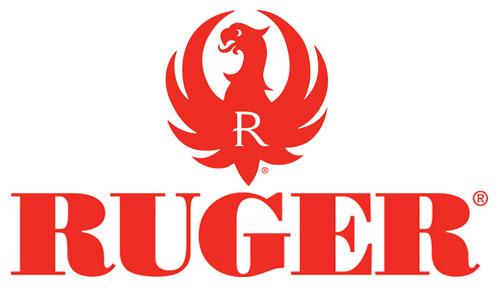 The following chart displays the five years history of free cash flow on a trailing twelve month basis in addition to the company stock price. The company's recent annual free cash flows have reached all-time company highs of similar magnitudes in years 2013 and 2015.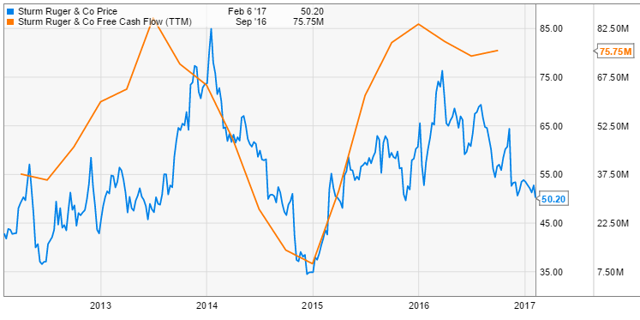 Meanwhile, quarter-over-over annual declines in sales are set to take place. 24% fewer gun purchase related background checks (lock and load checks (L&L)) were reported for January '17 compared to January '16.
Is it possible the gun buyers have filled their firearm lockers to a satisfactory level after 2016? There were after all 17 straight months of record year-over-year L&L checks as reported by Rudy Takala for the Washington Examiner during October of 2016.
Guns Sales Subject To Some Appearance of Reversion To The Mean
Its possible gun sales will retreat from recent all-time highs.
RGR is a pure play gun and gun component manufacturer, and their all-time highest annual sales records have coincided with the elevated levels of L&L checks since 2015, when the new records were breaking old highs set in 2013. Therefore RGR sales (and earnings) map pretty well to the way overall domestic gun sales have been going as inferred by the monthly L&L checks figure from the FBI.
We will rely on the fact that L&L checks are down 24% for January '17 to come to the conclusion that RGR's sales are likely to be down this year as well. The double top for gun sales may be in.
I valued RGR using the FI DCF Model as if the recent record earnings will not reverse trend, and the company will continue to grow earnings each year.
The model's output for the stable growth scenario follows, and it appears RGR is overvalued by 17.8% compared to the estimated fair value per share figure: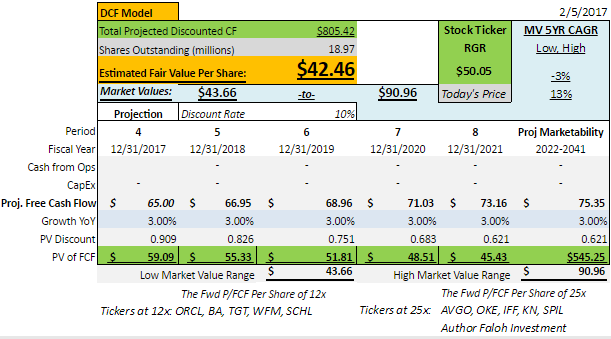 Source: Faloh Investment, YCharts
The combination of a price per share being somewhat overvalued and what may be the start of a trend in declining gun sales lead me to believe RGR's price level is fragile. If the negative month of gun sales evidences itself as a trend once we get figures for February and March, RGR investors will be in for some pain.
I rate RGR a sell with a target price of $42.46. The price may dip below my target price as long a visible negative trend in gun sales persists.
Appendix: Sturm Ruger & Co Inc
Source: Faloh Investment, YCharts
RGR Chart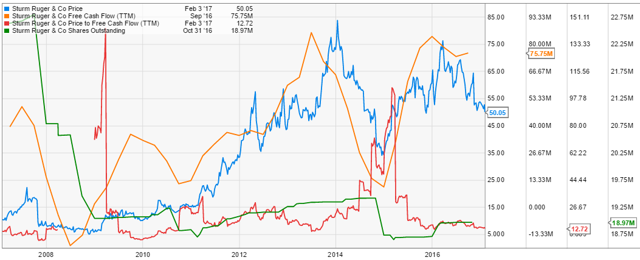 Trial YCharts and make charts like these.
Disclaimer: This article represents the opinion of the author as of the date of this article. This article is based upon information reasonably available to the author and obtained from public sources that the author believes are reliable. The author does not guarantee the accuracy or completeness of this article. This presentation is the author's interpretation of the information contained in the article. The author may close his investment position at any point in time without providing notice. The author encourages all readers to do their own due diligence. This is not a recommendation to buy or sell a security.
Please click the + icon next to my user name and follow me, Faloh Investment, as I work to keep you informed on further developments as the market continues to present major value opportunities.
Disclosure: I/we have no positions in any stocks mentioned, and no plans to initiate any positions within the next 72 hours.
I wrote this article myself, and it expresses my own opinions. I am not receiving compensation for it (other than from Seeking Alpha). I have no business relationship with any company whose stock is mentioned in this article.