Medpace Holdings Incorporated (NASDAQ: MEDP) - Strong Sell or Short Recommendation
February 20, 2017 concludes the IPO lockup period on Medpace Holdings, following earnings results on February 2nd.
When this period ends for MEDP, its pre-IPO shareholders, directors and executives will have the chance to sell their 32.6 million shares.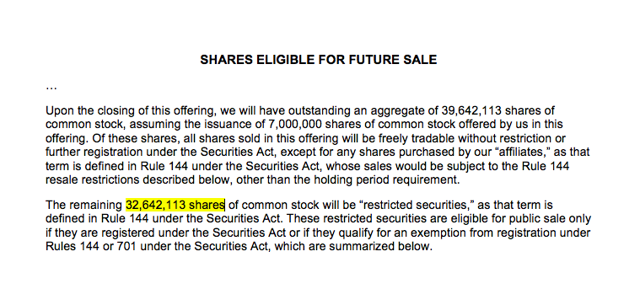 (Source: SEC Filings)
The potential for a sudden increase in stock available in the open market may cause a significant decrease in the price of Medpace shares. The event opens a short opportunity for aggressive investors.
We previously highlighted this event on our IPO Insights platform.
We also previously published on MEDP at its IPO and IPO quiet period expiration.
Business Overview: Provider of Clinical Development Services
According to company filings, Medpace Holdings provides clinical development services to the biotechnology, pharmaceutical, and medical device industries. The company offers a suite of services supporting the clinical development process from Phase I to Phase IV, including medical affairs, clinical trial management, study feasibility, study start-up, clinical monitoring, global regulatory affairs, medical writing, biometrics, pharmacovigilance, core laboratory, and quality assurance.
Within clinical trial support, Medpace offers services along the lines of: anti-infective and anti-viral (AVAI), central nervous system, endocrinology, oncology, metabolic disease, psychiatry, women's health, gastroenterology, hematology, neuroscience, nephrology, pediatrics, rare and orphan diseases, cardiology, and medical devices. Medpace has approximately 2,300 employees across 35 countries, which gives the company the capability to provide clients with broad access to diverse patient populations, market knowledge, and local regulatory expertise.
Medpace Holdings, Inc. was founded in 1992 and is headquartered in Cincinnati, Ohio.
Quarterly Financial Highlights
Medpace Holdings reported the following financial highlights on November 3, 2016, for the third quarter of 2016:
Net service revenue was $94.8 million, representing an increase of 16.1% from net service revenue of $81.6 million for the same prior year period.
The backlog conversion rate reached 20.4%. The net book-to-bill ratio was 1.15x.
Net new business awards totaled $109.1 million, +7.6% from $101.4 million for the same prior year period.
GAAP net income was $5.0 million, or $0.13 per diluted share, up from a GAAP net loss of $0.1 million for the comparable prior year period.
Medpace next reports results on February 27th.
Overall, we see a solid growth story for the company, from its IPO and now into 2017. Steadily increasing revenues and income pre-IPO 2015-2016, followed by continued profitability in its early results as a public company give us reason for optimism.
While political volatility has had some effect on the biotech industry, the market appears to remain encouraged by MEDP as we are (see conclusion). MEDP reported that it has seen an uptick in clinical trial activity, which corresponds with its generated additional revenue.
Management Team
President and CEO August Troendle, MD founded Medpace in 1992. He previously worked for Sandoz (Novartis (NYSE:NVS)) as head of clinical development of lipid-altering agents and for the U.S. Food and Drug Administration (FDA) as a Medical Review Officer in the Division of Metabolic and Endocrine Drug Products. Dr. Troendle received his medical degree from the University of Maryland, School of Medicine.
CFO and COO Jesse Geiger joined Medpace in 2007. He began his career at Medpace as the Corporate Controller and was appointed as CFO in 2011 and COO in 2014. His previous experience includes positions at: SENCORP, Cincinnati Bell, Symplmed Pharmaceuticals, CinRx Pharma, and Arthur Andersen LLP. Mr. Geiger received his Bachelor of Business Administration in Accounting from the University of Cincinnati and is a Certified Public Accountant.
Competition: Public Research Organizations, Teaching Hospitals, and Universities
Medpace Holdings competes with full-service contract research organizations including Covance Inc. (NYSE:CVD), Quintiles Transnational Holdings (NYSE:Q), PRA Health Sciences (NASDAQ:PRAH), Pharmaceutical Product Development, PAREXEL International Corporation (NASDAQ:PRXL), and ICON plc (NASDAQ:ICLR). Additionally, Medpace competed with R&D departments at biopharmaceutical companies, teaching hospitals, and universities.
Conclusion: Short Opportunity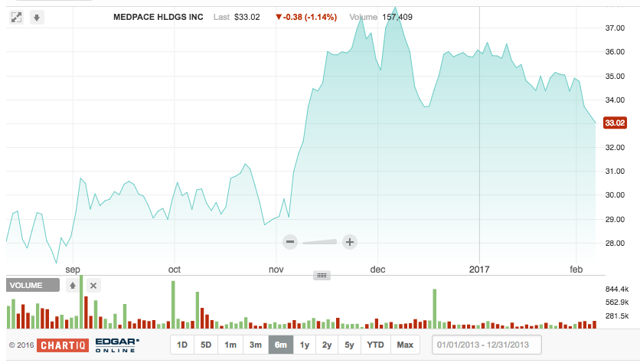 Medpace Holdings' is up nearly 44% from its IPO price (early market session 2.7). With such high returns, we believe early investors will be eager to take initial profits once lock-up restrictions are lifted on Feb 20th.
As noted above, major pre-IPO shareholders hold 32.6 million shares (~82% of total shares outstanding). Even if these firms and individuals decide to hold onto a large portion of shares, given MEDP's momentum, any sale could have a significant downward impact on stock price. Only 7M shares are currently free for trading.
We recommend shareholders sell their position or short Medpace Holdings before these pre-IPO shareholders are able to on Feb 20.
As we've highlighted previously, we have observed abnormal negative returns in the two weeks surrounding many lockup expirations. Following the event, given the likely pullback in price, we might consider a buying opportunity.
Don Dion's IPO Insights provides up-to-date information and analysis on the major IPOs each week, along with additional opportunities to invest and short these stocks at their quiet period and lockup period expirations, respectively. Consider following us at the link above. We will continue our PRO offerings on Seeking Alpha alongside our more exclusive research.
Disclosure: I am/we are short MEDP.
I wrote this article myself, and it expresses my own opinions. I am not receiving compensation for it. I have no business relationship with any company whose stock is mentioned in this article.