I take to heart Warren Buffett's first two rules of investing. Those of course being:
Rule #1 - Don't lose money
Rule #2 - Don't forget rule number one
When managing my portfolio I keep those two rules in mind at all times.
However, like many people I also love trying to find small-cap with outsized growth potential before the rest of the market figures out the story. I keep a separate small account that I allow myself to invest (more like speculate) with on these kinds of businesses.
With that in mind, I would like to present Patriot One Technologies (OTCQB:PTOTF) for further discussion. Not a low risk, moat protected, cash flowing business to be sure, but certainly a company that appears to have tremendous potential.
All of the public filings for Patriot One can be found here. I've also put the initial filing statement here because it contains most of the important details on the company and getting information out of the Sedar website is a real pain.
So let's dig into what this company is all about.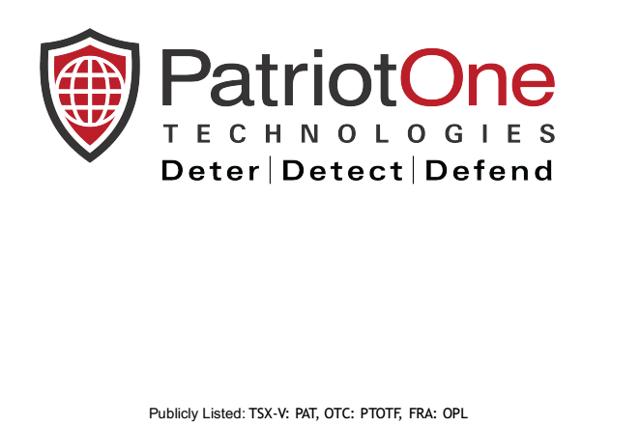 Background
Patriot One became a publicly traded company within the last three months. First came the primary listing on the Toronto Stock Exchange on November 11, 2016. Then came the OTC listing on December 28, 2016.
The newness of the company as a publicly traded entity would explain the current lack of Seeking Alpha coverage.
Patriot One has a new technology that could make a big improvement in how safe we all are in public places.
The technology is designed to detect weapons being carried on people in public places using radar. Given the regular shootings (and worse overseas) that we have become accustomed to hearing about on the news, an upgrade in our ability to detect concealed weapons is clearly a marketable product (assuming it works effectively) with widespread appeal.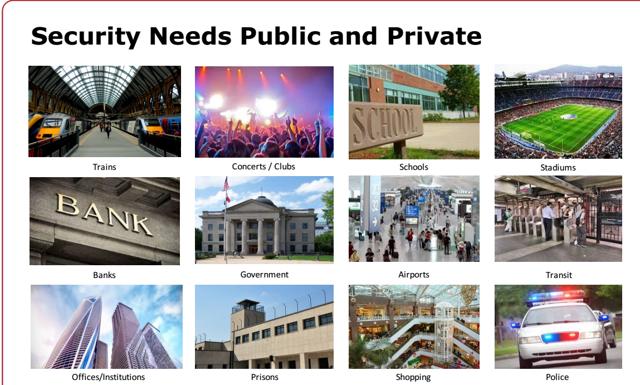 This radar technology is called NForce Cognitive Microwave Radar ("NForce CMR1000") which Patriot One has licensed from McMaster University.
I dug into the initial filing of Patriot One and the text below explains the royalty that McMaster University has retained on the technology:
On March 24, 2016, Patriot (licensee) entered into a contract with McMaster University (the "McMaster Agreement"). This is a standard license agreement and includes a 3.5% net sales royalty. The termination date is 20 years from the effective date (March 24, 2036) or upon the last to expire or become abandoned of the licensed patents.
Pretty simple, McMaster will get a 3.5 percent of the gross sales. Patriot One gets a license to develop, license, manufacture and market the NForce CMR1000 globally.
The intent of the technology is to have it create an automatic warning system that screens for on-the-body weapons like knives, grenades, explosive vests and guns. The system by itself would do the detecting rather than have security personnel try and find the weapons with a "hands-on" approach.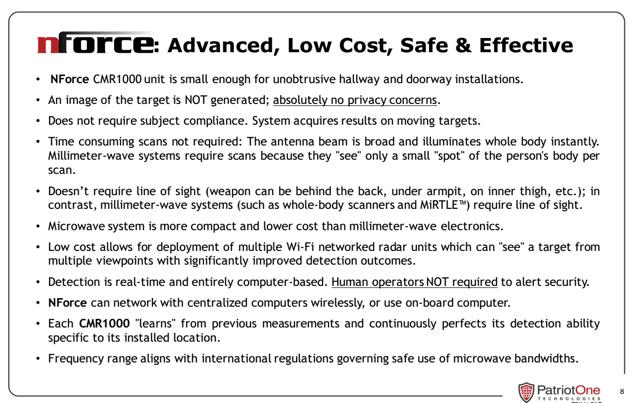 People in public places could go about their business without being subject to "pat-downs" and the monitoring could be done on a very large scale at public places with vast amounts of human traffic. A perfect example would be the entrance to the New York subway where thousands of people are moving in and out.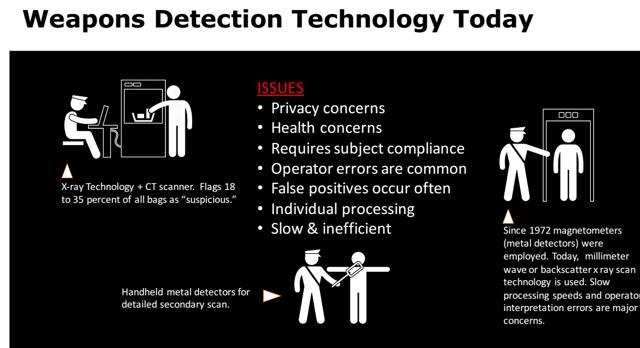 A manual approach can't possibly monitor everyone in a time-effective manner, but an automated system possibly could.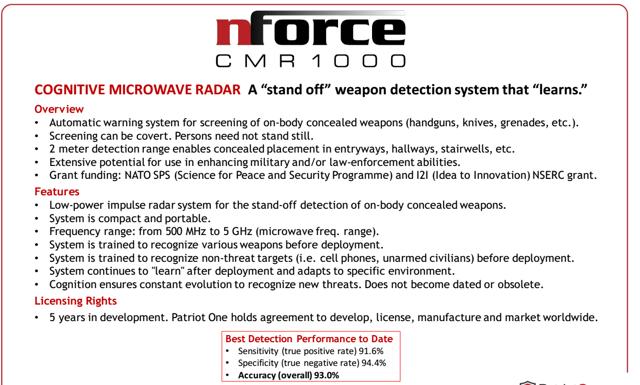 In Patriot One's initial public filing, the company identified the following as having "compromised entrance points" for which the technology could be a solution:
(1) Public schools and school buses;
(2) Subway and other general public transit stations;
(3) Embassies, consulates and trade offices; and
(4) Athletic and entertainment-focused stadiums/arenas.
The first step for Patriot One will be getting regulatory approval for the CMR-1 as a "Radar Instrument". When/if the CMR-1 gets to the commercial stage, Patriot One will outsource its production in order to minimize capital expenses.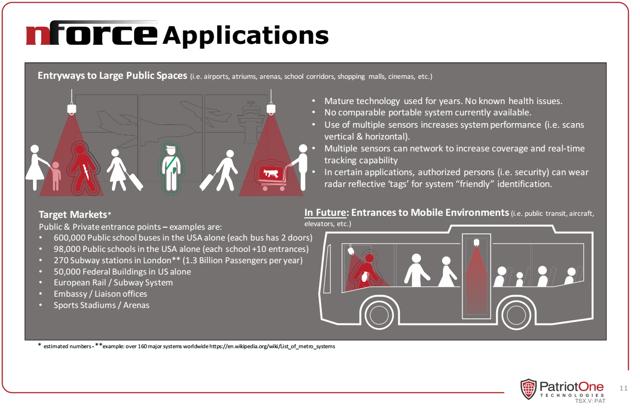 Revenue Sources
Once/if the CMR-1 reaches commercial development, Patriot One expects that there will be three different sources of revenue generation.
1 - The hardware itself will be sold at a price of $5 to $10 thousand per unit. Patriot One indicates that this is competitive with walk-through metal detectors.
2 - There will be an ongoing $10 per month subscription fee for each device to cover software updates.
3 - Patriot will supply training related to the security procedures involved in active threats of a shooting or weapon incident arises.
My take - With production being outsourced and the monthly subscription fee, Patriot One has the potential for being a very high margin cash flow generator. These businesses attract rich multiples for good reason. The "stickiness" of the monthly fee is especially attractive.
Size Of The Market
I haven't verified it independently, but in its filing documents, Patriot One identifies the transportation safety and security market as generating $38 billion in 2013 and growing to $63 billion in 2018.
I think common sense would tell us that obviously the market for safety in public places, subways, airports and so on is huge. I wish it wasn't so but it is a reality that we have to deal with.
The size of this market is obviously what intrigues me about Patriot One. I'd be interested in hearing your opinion on this in the comment section of the article, but here is my take on this company's potential:
My take - Usually when I look at a small company trying to crack a big market my line of thinking is that if only the company gets 2% of this billion dollar market then the company will be worth XXX dollars.
For Patriot One though, isn't this a case of the company reinventing the wheel? If this technology works, it isn't going to get 1 percent of this big security market. It is going to get the vast majority of it.
I'm not sure that I'm thinking correctly on this, but right now the best practice everywhere is having a walk-through metal detector stationed at the entrance way of a public gathering (football game, airport entrance, etc.). The Patriot One Technology is clearly a step beyond the walk-through metal detector.
Patriot One is just going to replace a couple of airport or stadium metal detectors. It isn't going to replace all of them.
Again, I don't know if I'm correct about that, but this technology seems to have true homerun potential.
To be clear, I don't mean to sound overly bullish. I have no idea how effective the technology actually is going to be. I'm just trying to get my head around what the potential is here if it lives up to what the company hopes.
Pilot Project Underway
A pilot project is underway that will install the CMR-1 at two different facilities and test it with real security teams. The pilot locations will help improve the product design as Patriot gets ready for an April 2017 alpha launch.
The first pilot will take place through a partnership with VGroup Concepts of Orlando, Florida. Details released as follows:
The partnership will create a demo showcase of the Company's NForce CMR1000 software solution and radar device from January 2017 through January 2018. The parties furthermore agreed to install the NForce CMR1000 solution and radar device at VGroup entertainment properties around the Orlando area before the end of the term with the ultimate goal of establishing a "safe districts" initiative.
My take - Obviously, the fact that this is being launched in Orlando is no coincidence given what transpired there this year. The leading parties at VGroup Entertainment are charged with making the Orlando entertainment district as safe as possible. The shooting of last year prompted them to contact Patriot One given its potential to be a next level solution. Orlando was looking for the best next level option and this is what they turned to.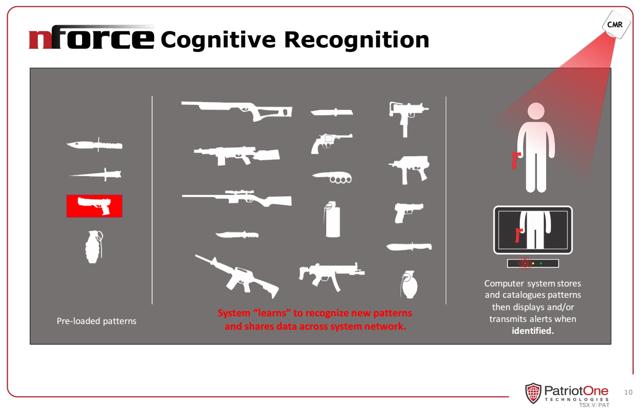 A Name We Recognize Will Help Sell The CMR-1
As we all know, a company can have a revolutionary product, but if it can't get it in front of the right people, then it isn't ever going to result in any significant financial success.
On that front, Patriot One has signed up the following individual who you will recognize. In fact, when it comes to American Security, the name is one of the few that most people would recognize.
Here is the relevant piece from Patriot One's CEO who wrote a letter to shareholders recently:
December 2016 saw us enter a strategic partnership with the expert security team at Ridge Global LLC.

Gov. Ridge, chairman of Ridge Global and the first U.S. Secretary of Homeland Security, endorsed our platform stating, "As we have seen in the Western world, our adversaries will continue to pursue so-called 'soft targets' such as transportation hubs, sporting venues, restaurants and office buildings. Almost by definition, democracies are soft targets.

Patriot One has developed powerful technologies to mitigate these ongoing challenges while at the same time being less obtrusive to event attendees. Ridge Global is proud to work with Martin and his team to bring these innovations to the marketplace."
Here is Mr. Ridge who came on the job as Secretary of Homeland Security at a key moment in our country's history: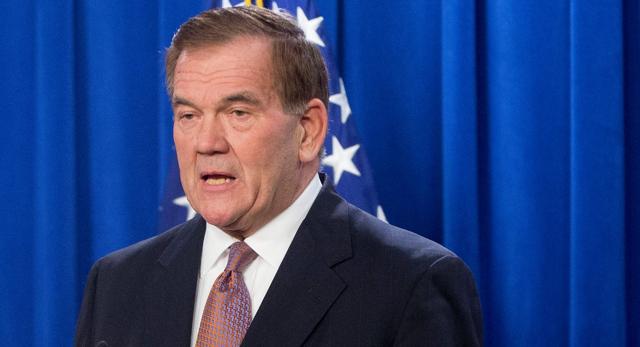 Source: Politico
Here is Ridge's financial motivation for selling the CMR-1:
The Company's agreement with Ridge Global provides for the payment of a monthly retainer, as well as performance-based bonuses and success fees payable on revenue and market capitalization-based milestones. The Company further announces the grant of 200,000 incentive stock options to Governor Ridge at an exercise price of $1.44, exercisable for a term of four years and vesting in 25% tranches every three months beginning on March 14, 2017.
My take - Not that I know much about this business, but he certainly seems like a great guy to have selling your security technology. Just think of the contacts that he has generated in the security business during his time as Secretary of Homeland Security. Those contacts would be people who are in charge of huge contracts.
I believe Ridge could be a key advantage for this company.
Management, Board of Directors, Insider Ownership
I wouldn't mind seeing insiders having a larger percentage ownership than what is disclosed below. That said, they do own enough to be financially motivated.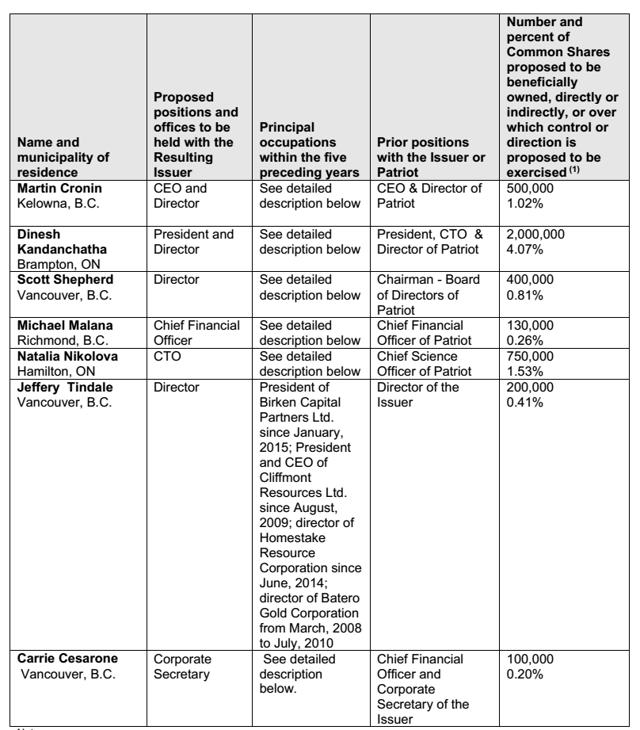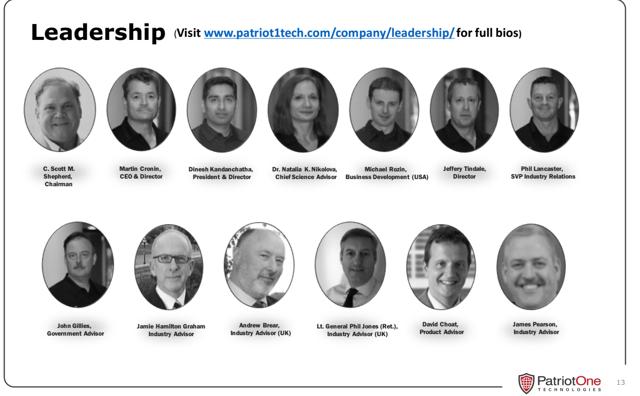 The Financials
Patriot One is at the development stage. The business is generating no positive cash flow with the alpha launch of the CMR-1 scheduled for this spring.
The company has $3 million of working capital, and based on roughly 91 million fully diluted shares outstanding, a market capitalization of $140 million.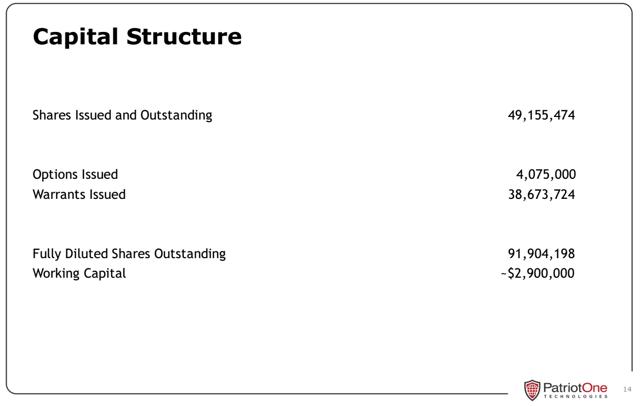 My take - The good news is that this shouldn't be a very capital intensive business. The assets are intellectual properties and the only real costs are G&A, marketing and regulatory related.
If successful, given the free cash flow that this business will create, the company could be a decent dividend payer given that there won't be much of a need to reinvest capital (obviously a large "if" at the front of that).
Unless sales start rolling in immediately (the alpha launch is soon), there is likely to be a need for the company to raise more capital over time. This is not a cash flowing, balance sheet rich widows and orphans business so external capital will be required to keep things moving along.
Risks, Risks and More Risks
That is my introductory effort on Patriot One Technologies. I have to admit that the company has an extremely interesting technology with potential to grab a big share of a very large amount of revenue.
It is not hard to understand the need for something like the technology that Patriot One owns the rights to.
If society had the technology to automatically detect hidden weapons in high-traffic public areas, we would save countless lives. Not only because we would quickly detect the danger, but because knowing this technology exists would dissuade individuals from attempting these terrible acts.
Huge potential obviously, but the big caveat from me is that realistically I have no clue whatsoever how successful this company will be. There is a very real chance that this company will never generate a dollar of positive cash flow. That is the nature of such development stage companies that are trying to accomplish something big.
Big risk and big reward. Please keep that in mind.
One thing to keep in mind is that the pilot phase that is currently underway could become a pretty major catalyst (or negative event) in the next few months. Interested readers should keep an eye on how that pilot goes.
Click the follow button at the top of this article and I'll keep you updated.
About The Superinvestor Bulletin
Our subscriber service is all about trying to maximize return while taking as little risk as possible. That is why we focus exclusively on the highest conviction investments of the world's greatest investors. We aren't homerun swingers, we have a formula that we think works extremely well.
For a free trial of our service which currently has a double-digit lead on the S&P 500 just click here.
Disclosure: I/we have no positions in any stocks mentioned, and no plans to initiate any positions within the next 72 hours.
I wrote this article myself, and it expresses my own opinions. I am not receiving compensation for it (other than from Seeking Alpha). I have no business relationship with any company whose stock is mentioned in this article.