It's been reported that Disney (NYSE: DIS) is considering keeping current chief executive officer Bob Iger in place beyond his scheduled departure at the end of June 2018. The reason: the board can't find someone qualified enough for the position.
Two observations. First, I find it difficult to believe this story; I don't see why Disney would want to keep Iger as CEO, mainly because it already extended his contract past a previously scheduled retirement date. Second, if the board really is considering retaining Iger, then -- and I say this in the most constructive, best possible way -- the board is acting in a ridiculous manner and I question what it is doing and whether or not it is acting in the optimal interests of shareholders regarding succession.
Again, though, maybe there is nothing to this story, and there is nothing wrong with the board. However, it is worth investigating the concept of an extended contract for the current CEO because many shareholders probably would enjoy seeing Iger stay.
While I respect that opinion, I argue that, first and foremost, Iger has communicated very clearly that he is ready to leave. Why would the board want to keep him on if he seems like he's interested in exploring a different set of activities at this point in his life? It doesn't make sense. If he no longer has passion for Disney, then it is time to move on to someone else.
A reasonable person would ask at this point, why would you make such a statement about his mindset? True, there's no way for me to know. But consider this: Iger did his best work at managing acquisitions; many consider him a genius for buying Pixar, Marvel, Lucasfilm. When I look out at the media landscape as it exists today, I really don't see any logical acquisition targets for Disney; I don't see a typical "Iger play" in this area. The last one I saw was DreamWorks Animation, and that company is off the market thanks to Comcast (NASDAQ: CMCSA). No company comes to mind that owns a compelling portfolio of intellectual properties composed of characters Disney would want to explore and stories Disney would want to tell, and in both cases to which Disney could add significant value above and beyond what it would pay. I just don't see any company like that at all. If that is the case, and if we agree that Iger works best when he is striking a deal with a Jobs or a Lucas, then it becomes easy to speculate that he might not necessarily have the same interest in Disney he once possessed.
The next thing to consider is that the media landscape is evolving at a rapid pace. Companies like Apple (NASDAQ: AAPL) and Facebook (NASDAQ: FB) may eventually produce original content and compete with Disney. Getting a fresh perspective and a new set of ideas for growth in shareholder value is crucial at this stage for Disney. The company is doing well under Iger. The following chart proves this: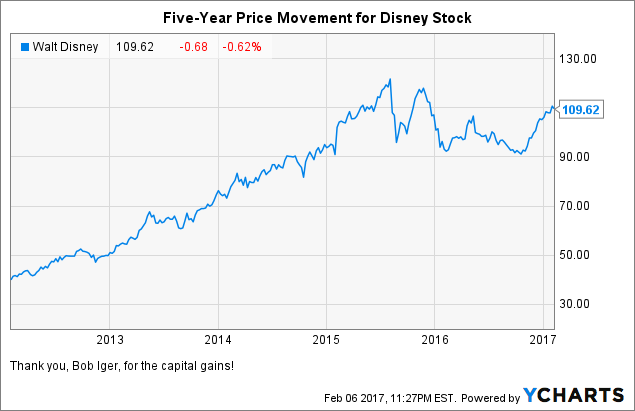 But can the stock continue its run higher with the same leadership, the same protocols? Sure, it could. The argument that Iger's quality as a leader is high is a strong one. Reality is reality, though, and there may be, at the very least, opportunity costs that have not been monetized because they have eluded Iger's intellectual radar. For instance, maybe he isn't pushing Pixar enough in terms of producing more movies in a calendar year -- perhaps a new chief executive will do that. Maybe he hasn't cut content costs as much as they could be cut -- a new CEO might be willing to do that. After you've bought Pixar/Marvel/Lucasfilm, you have to have a different set of strategies in place, a way of adjusting to the current media landscape that focuses on innovation and superior plans for efficiencies. Also note that there is one area in which Iger's performance has been sadly lacking: interactive. Disney Infinity, Club Penguin, and other video-game investments have not done much for the company, and I believe that interactive can help to drive shareholder value significantly if it is managed properly. For this reason alone I say give someone else a chance in the CEO position.
This idea of who is going to be the next leader of Disney is important. It can affect the stock. The board should not overthink its succession search -- in other words, don't look for someone like Iger, look for someone who is qualified to lead the company through the next era of consolidation and original-content generation. I write this ahead of the next earnings report. I don't expect Iger to say much about the subject, except that the CEO search is going well and that, contrary to reports, he is leaving as scheduled. Let's hope that's true.
None of this is to suggest that the stock should be sold right now. It's still, in my mind, a long-term investment based on its ability to increase cash flows from the company's content, consumer products, broadcast platforms and theme parks.
Nevertheless, I probably will become concerned if it is announced that the rumors are true that Iger will be staying on. That will tell me that Disney and its board can't complete what is probably one of the most important tasks within a corporate system; announcing, as well as preparing a new CEO, should be done in a timely manner. I know Disney is a complex business, but it probably isn't as complex as an oil company or a biotechnology concern. The board just needs to find a competent, experienced individual that respects the idea that content produced at a good price drives Disney's theme parks and dividends. It can't be that difficult.
Disclosure: I am/we are long AAPL, CMCSA, DIS, FB.
I wrote this article myself, and it expresses my own opinions. I am not receiving compensation for it (other than from Seeking Alpha). I have no business relationship with any company whose stock is mentioned in this article.