Taking a Look at the Operating Segments
Below is a chart breaking down the operating profit of Worthington Industries (NYSE:WOR) over the past four quarters. The data was pull from fiscal third quarter, fourth quarter, first quarter and second quarter earnings report transcripts.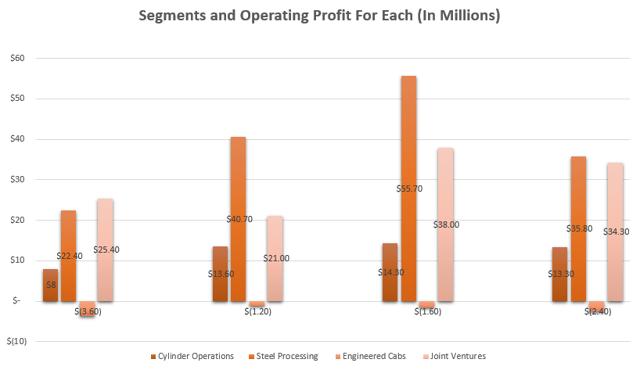 As evident from the chart above, Worthington profits from four segments: Cylinder Operations, Steel Processing, Engineered Cabs, and Joint Ventures. The Cylinder operations segment manufactures cylinders for compressed gases. These cylinders hold everything from helium to natural gas. The next segment is steel processing, which provides steel parts for major automakers such as General Motors (NYSE:GM) and Ford (NYSE:F). The engineered cabs segment manufacturers' operator cabs for heavy equipment. Then the joint ventures segment of the business comes from businesses that Worthington owns equity in. They produce things such as automotive parts, and steel for construction purposes.
The two best performing segments of the business are steel processing, and the joint ventures. Engineered cabs have been in negative territory for quite some time and have been a drag on the corporation's bottom line. The cylinders operations segment of the company has been negatively impacted by the fall in oil prices in recent years, but is still profitable.
Positive Environment Moving Forward
The steel processing and joint ventures parts of Worthington both generate a significant amount of revenue from the United States auto industry. The auto industry has been increasing sales at a fairly steady rate ever since 2009. So it is reasonable to expect these segments to continue to perform fairly well so long as this trend continues.
The joint venture segment of the business also benefits from new construction. This gives the company solid exposure to promises by the Trump administration to increase infrastructure spending. Not only will increased infrastructure spending help the joint venture segment of the business, but it could also prove to be a catalyst for the engineered cabs segment of the business. A large increase in new construction could bring a sizeable increase in demand for heavy machinery which would cause orders for engineered cabs to increase. This could help this otherwise non-profitable segment of the company return to profitability.
The cylinder operations business also has its own catalyst on the horizon. It used to provide a significantly larger chunk of the Worthington's profits, but it saw profits decrease as the oil industry stopped expanding. In 2017 the oil industry is expected to start expanding once again and this should cause this segment to perform significantly better than it has in recent quarters.
Why Worthington's Stock Will Perform Better Than Competitors
The steel industry has faced some challenges in recent quarters from cheap steel from overseas, and also from a decrease in sells to oil companies. Some such as United States Steel Corporation (NYSE:X), ArcelorMittal (NYSE:MT), Alcoa (NYSE:AA) and AK Steel Holding Corporation (NYSE:AKS) have had one or more quarters with negative earnings. Worthington however has had some very successful quarters even with the challenging operating environment. Compared to several other peers Worthington has a more attractive trailing price to earnings ratio. All statistics were pulled from Yahoo Finance.
| | |
| --- | --- |
| Company | Trailing P/E Ratio |
| Worthington | 17.48 |
| Nucor Corporation (NYSE:NUE) | 36.25 |
| Reliance Steel & Aluminum (NYSE:RS) | 19.27 |
| Steel Dynamics Inc. (NASDAQ:STLD) | 76.60 |
| Commercial Metals Company | 19.26 |
Commercial Metals, and Reliance Steel & Aluminum have price to earnings ratios that are comparable to Worthington's, and they will also benefit from some of the same catalysts as Worthington. In my opinion these two stocks will also perform well this coming year, but at the current stock prices I believe Worthington is the greater value among the three.
Conclusion
Worthington should perform well this year. The company has shown the ability to operate profitably in challenging environments in previous quarters, and they should be able to excel in more favorable operating conditions. With the new United States administrations plan to ramp up infrastructure spending, and oil companies planning to begin expanding once again in 2017 there is a clear path for growth. Lastly, Worthington has some of the most favorable valuation measures in this sector. Worthington should lead the steel sector in above average returns through 2017.
Disclosure: I/we have no positions in any stocks mentioned, and no plans to initiate any positions within the next 72 hours.
I wrote this article myself, and it expresses my own opinions. I am not receiving compensation for it (other than from Seeking Alpha). I have no business relationship with any company whose stock is mentioned in this article.