Shares of Cabot Oil & Gas (NYSE:COG) soared on Feb. 6, climbing around 11% after news broke, just a few days earlier, that a project expansion for Williams Companies (NYSE:WMB) had been approved that would allow the company to meaningfully increase its exposure to the Marcellus Shale region. In what follows, I will dig into why this is relevant for not only Williams but for Cabot as well, and what it likely means for investors moving forward.
Upgrades
After Williams announced that it had received approval from the Federal Energy Regulatory Commission, commonly referred to as FERC, to add an extension to its Transco pipeline dubbed the Atlantic Sunrise pipeline project, JPMorgan Chase (NYSE:JPM) and Susquehanna both elected to upgrade shares of Cabot to their equivalent of a buy recommendation, pushing share price targets to $27 and $26 per share, respectively.
In the case of JPMorgan, the argument is that the deal will give Cabot additional takeaway capacity for its natural gas production, granting it the ability to increase production from around 2 billion cubic feet per day in 2016 to around 3.7 billion by the end of 2018. The deal in question should be instrumental in allowing Cabot to pump out free cash flow of around $500 million over the next two years. Despite the lower target price, Susquehanna is even more optimistic, calling for free cash flow generation of $650 million over the same period of time while allowing natural gas production growth to increase meaningfully over a two-year period.
Do these upgrades have any basis in reality?
In order to understand whether or not the approval of the Atlantic Sunrise project will have a good impact on Cabot, we must first understand what the project entails. According to the management team at Williams, the project should cost about $3 billion ($1.9 billion net to Williams) and consists of adding approximately 200 miles of pipelines throughout Pennsylvania. Collectively, this new asset will be responsible, at its max, for the transportation of 1.7 billion cubic feet of natural gas per day and will be enough to cover the natural gas needs of around 7 million homes.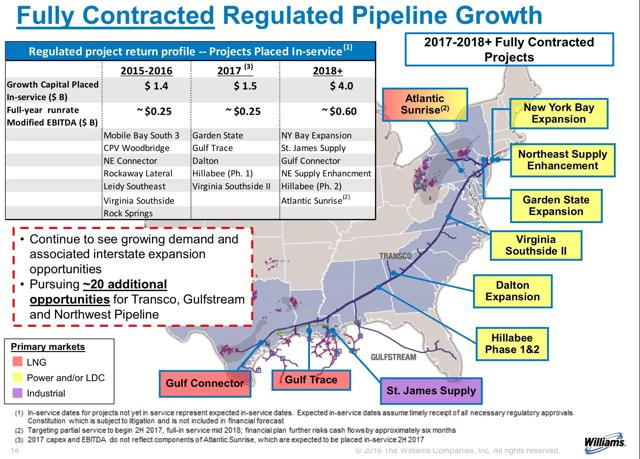 Taken from Williams Companies
As you can see in the image above, the pipelines in question will connect to the Transco pipeline, allowing companies like Cabot to transport natural gas to different markets spread through the mid-Atlantic region of the US as well as the southeastern portions of the U.S. (products could, in theory, even travel to the Gulf of Mexico if so desired). If completed, as it likely will be, Atlantic Sunrise will put Williams on track to increase possible transportation of product from the region by 12 billion cubic feet per day from 24 billion in 2016 to 36 billion in 2020. This would make the largest growth seen by Williams across any of its operating regions.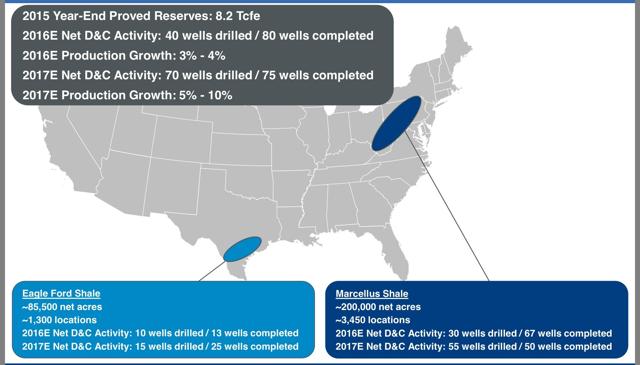 Taken from Cabot
If you look at the image above, you will see that this corresponds nicely with Cabot's exposure. As of the time of this writing, properties in the Marcellus region account for 200,000 net acres and 3,450 locations in Cabot's portfolio. This is almost 2.7 times greater than the company's exposure to the Eagle Ford. What's more is that, as time progresses, Cabot intends to drill even more in the Marcellus, with 55 new wells expected in 2017 compared to just 15 wells planned for the Eagle Ford.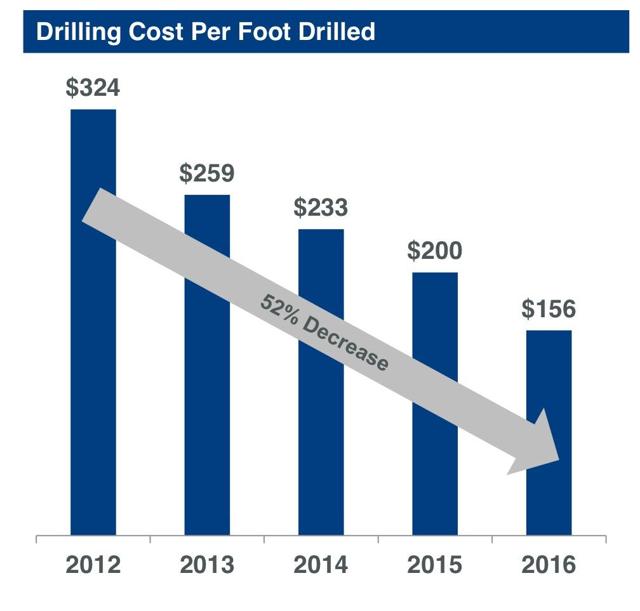 Taken from Cabot
Over time, this will help Cabot increase its production growth, as will the fact that, as pictured above, the company's drilling cost per foot has dropped considerably over time. In that image, you can see that the average cost per foot in the Marcellus has declined by around 52% from $324 in 2012 to just $156 last year. As a result of increased takeaway capacity from companies like Williams and as a result of these improved economics, production growth should climb materially between 2016 and the end of 2018, as you can see in the image below, which shows year-over-year growth during this time frame.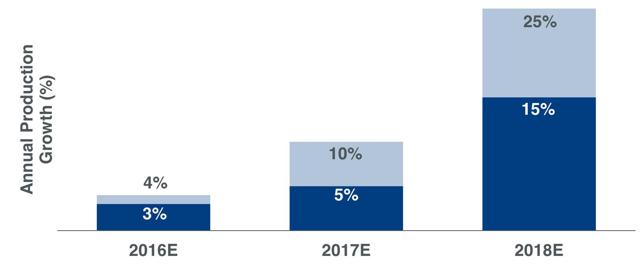 Taken from Cabot
All of this is fine and dandy but is it enough to justify a roughly $1.05 billion increase in the company's market value? In my opinion, the answer is likely yes. As you can see in the image below, Cabot's management team has planned production increases based on expected pipeline projects. This may seem odd but the fact of the matter is that you cannot increase output if you can't find a way to get that output on the market and get paid for it. Now, it should be mentioned that, in the event that energy prices come in too low, the firm may produce below its capacity but so long as cash flow is enough to justify production, they will meet those expectations on a gross basis.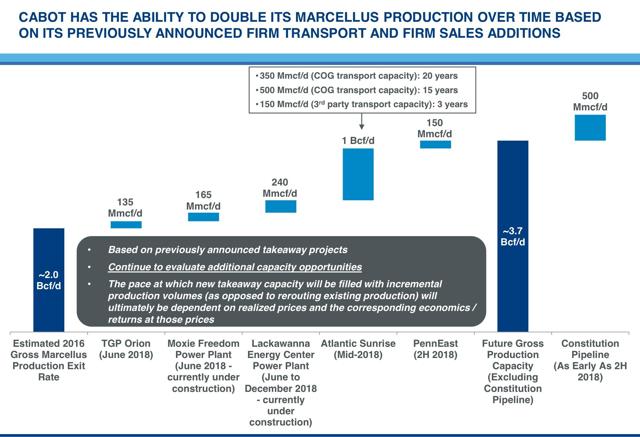 Taken from Cabot
Looking at the image, we can see that the Atlantic Sunrise pipeline project is of the utmost importance for Cabot in reaching its goal. With planned usage totaling 1 billion cubic feet per day, it will account for a whopping 58.8% of its increase in output through 2018. To put this in perspective, the next-largest leading up to 2018, with the exception of the 500 million cubic feet per day capacity Constitution Pipeline project that should begin sometime in 2018, is the Lackawanna Energy Center Power Plant project, which should make up just 14.1% of Cabot's rising output.
Takeaway
Based on the data provided, it seems as though the picture facing Cabot is very attractive following the approval of the Atlantic Sunrise project. Assuming the project gets completed and on time, this will set the stage for the firm to pump out a significant increase in natural gas moving forward and, if analysts are correct, the end result with be a firm generating meaningful amounts of excess cash that investors should find appealing.
Disclosure: I/we have no positions in any stocks mentioned, but may initiate a long position in WMB over the next 72 hours.
I wrote this article myself, and it expresses my own opinions. I am not receiving compensation for it (other than from Seeking Alpha). I have no business relationship with any company whose stock is mentioned in this article.