As one of my portfolio's holdings, Civeo Corp. (NYSE:CVEO) is one of my favorite firms to write about. Despite the extreme volatility the firm has been faced with in this tough energy environment, I've continued to express faith in management's ability and the company's economics to pull through and provide a good opportunity for value creation for its investors moving forward. In this piece, however, I am going to give my own input on one piece of news that came out a few days ago that has shaken my faith a bit in management but it not necessarily a dealbreaker.
Management made a bold statement
On Feb. 1, the management team at Civeo announced that it had elected to commence a share offering involving its common units. According to the press release, the firm will issue 20 million shares, plus it will allow its underwriters to buy a further 3 million shares for a total of 23 million. On Feb. 2, the firm announced that the pricing for the units would come out to $3 apiece, valuing the shares at, in aggregate, $69 million. The purpose of this transaction is to use the cash for reducing payments under its credit facilities and for "general corporate purposes." This last term is a blanket statement for whatever management wants to spend the cash on.
In general, I am open to share issuances but it depends on the circumstances. In the case of Civeo, the firm does have a nice chunk of debt, $378.35 million as of the end of the third quarter of its 2016 fiscal year, but the sad truth is that its highest interest rate debt comes out to just 5.6% and there's only $4.6 million of that outstanding. I believe you would be hard-pressed to find a knowledgeable market participant who would say that that's expensive debt.
In addition to paying down low-interest debt, most likely, instead of doing something else with the capital, there's also the fact that the cost to shareholders is high. With an issuance of $3 per share, it represents a discount of 16.7% compared to the $3.60 per share the stock was going for just prior to the announcement. Not only does this undercut common shareholders by a sizable amount; it also results in a large amount of dilution. Assuming that underwriters exercise their right to buy shares in the offering (and they will), common shareholders will be hit to the tune of 17.5%. That explains the decrease in share price seen following the announcement.
My thoughts on the transaction
As I already stated, the interest rate on Civeo's debt is not really that high. As you can see in the image below, the firm has a lot of different credit facilities and term loans, all of which come at a low rate ranging from 3.7% to 5.6% per year. If we make the assumption that management uses the proceeds from the share issuance to buy back only the credit facility borrowings, the firm will end up reducing the principal on its debt by around $49.2 million and will have $19.8 million in cash left on hand from the deal (this excludes cash that may already be on hand from operations).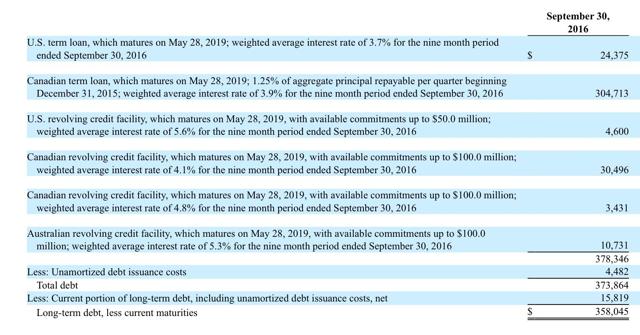 Taken from Civeo
To put this scenario into perspective, the end result of paying $49.2 million to reduce borrowings under their credit facilities to zero would lower annual interest expense by $2.24 million. This is positive in and of itself but not so great when you consider that this implies an effective return on investment, before factoring in the lost tax shield, of 4.55% per year. If management allocates the rest of the capital toward paying down some of its Canadian term loan, which bears a rate of only 3.9% per year as of the time of this writing, interest expense will now be $3.01 million per year lower, a pre-tax effective return for shareholders of 4.36% per year.
Now, if the management team will be forced to pay down the facilities, I understand why the company is doing what it's doing since the alternative is to be pushed into bankruptcy. That said, I have seen no indication that that's the case and haven't heard anything like that from the company. As such, this leads me to hope that the firm will use only the bare minimum of cash that it needs to pay toward debt and will allocate it, instead, toward something that can generate an annual return greater that the aforementioned effective pre-tax rates. What this kind of investment is, I cannot say since the tough energy environment makes the demand for accommodations units lower than it otherwise would be, but even if the firm were to allocate what cash they could into a new business entirely or even investing in some of the firms that utilize their services, the end result could be better than what they are doing right now.
Takeaway
Based on the data provided, it's clear to see that, in any case that does not result in Civeo being forced to pay down some of its debt, the choice made by management in regards to their credit facility borrowings was far from appealing. Yes, it does reduce leverage and increase Civeo's probability of survival in the long run, but the low interest rate on its facilities, combined with the likelihood of management looking elsewhere for investment opportunities suggests to me that the firm is doing shareholders more of a disservice right now than anything.
Disclosure: I am/we are long CVEO.
I wrote this article myself, and it expresses my own opinions. I am not receiving compensation for it (other than from Seeking Alpha). I have no business relationship with any company whose stock is mentioned in this article.