Price Action Over Prior Month
The AUD/USD has been on tear since the low that was struck in December 28th having moved up close to 7.5% in the month of January. Now this 7.5% gain in the pair was certainly impressive and a good signal that we may have struck a longer term bottom. Equally impressive however was the structure of this move up off of those December lows as this pair moved higher with very shallow retraces and in what we can consider impulsive in nature. So this impulsive wave structure along with the strong percentage move gives us two very solid signals that a longer term multi-year low may have indeed been struck with this December 28th low.
Anecdotal and Other Sentiment Indications
Last week The US Federal Reserve decided to leave rates unchanged. This week we have the Reserve Bank of Australia Rate Decision coming up on Tuesday Morning (Australia local time). While the substance of the announcement is not all the important to us the timing of the event may indeed be a catalyst event that we should certainly be aware of especially given our upcoming expectations on this pair.
Price Pattern Sentiment Indications and Upcoming Expectations
In the previous article that I had published here on Seeking Alpha I had noted that the AUD/USD was setting up to see much higher levels. In this article I had noted that "as long as we hold over the 0.7148 low the pair was in a very bullish pattern and should provide us with many longer term bullish trading opportunities over the next several years." Well while the retrace into the December 28th low was certainly much deeper than I would have preferred we did in fact hold that 0.7148 low and have since moved up over 500 pips into our current levels.
The question at hand now is will we continue to move higher directly from our current levels or will we see our first tradeable retrace since we struck the low on December 28th. While I can certainly make the case for a continued move directly higher and back over the 2016 highs, at this point in time I am leaning towards seeing a retrace back down towards the 0.7500-0.7400 area prior to breaking out over the 0.7792 level. There are several signals that suggest that a local top may be close at hand both from a structural standpoint as well as a purely technical point of view.
Structurally we can see that we now have what can be considered a completed impulsive pattern off of the December 28th lows and we closing in the 61.8 extension of the initial move that was formed of the January 2016 lows and into the April 2016 highs.
From a purely technical point of view we are also showing some divergence on the 4 hour MACD from the January 12th high into last weeks highs in addition to moving into overbought territory on the Relative Strength Index of the same timeframe. Giving us two strong purely technical signals that we may also be forming a local top.
Now with all of that being said we do have to keep in mind that we are still in a very bullish pattern and although I would certainly prefer to see a retrace prior to breaking higher, I cannot rule out that we simply continue to move directly higher from current levels without seeing a significant retrace lower. If we do see that local top I would view it as a buying opportunity and a gift in which to either enter or add to existing longer term long positions in the AUD/USD for what is shaping up to be a very strong run over the next several years to come.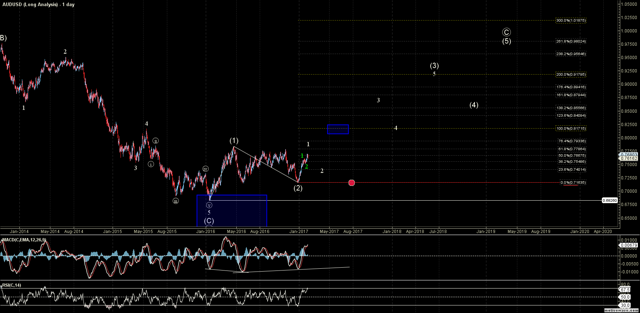 Disclosure: I/we have no positions in any stocks mentioned, and no plans to initiate any positions within the next 72 hours.
I wrote this article myself, and it expresses my own opinions. I am not receiving compensation for it (other than from Seeking Alpha). I have no business relationship with any company whose stock is mentioned in this article.