Last week one of my warnings came true. In an article I wrote at the start of January, I stated that, while Vanguard Natural Resources (NYSE:VNR) had a chance to recover from its financial troubles if management did something and did it fast, there was a very good chance that the firm could declare bankruptcy, making it, perhaps, the last victim of the energy downturn. On Feb. 1, the management team at the firm announced that they were entering bankruptcy in a move that will nearly wipe common shareholders out. In what follows, I will go over my own thoughts on the future of the company and suggest whether now may be a good time to consider buying into the firm.
A look at the news
Another excellent author on Seeking Alpha, WYCO Researcher, wrote last week about the fallout of Vanguard's bankruptcy and what it means for the firm's investors. My piece here is not aimed at rehashing his analysis and, quite frankly, I think his writing on it was at least as good as anything I could have put out regarding how each stakeholder in the firm will be impacted. That said, I will go over a few points he mentioned but I suggest that you also check out his piece for more details as well.
As part of Vanguard's bankruptcy, the firm's credit facility lenders will receive no equity in the new entity but will see a new facility come into play in order to pay down what they currently are owed. The new facility in question will be a $1.10 billion one with a rate of LIBOR plus 2.5%. The firm will also be paid cash of $275 million from a $255.75 million rights offering plus a $19.25 million cash payment from second lien holders for a chunk of the firm. Future cash flow and asset sales may be used to pay down even more of this facility.
Besides this, a $75.6 million new note at 9% to replace a 7% Second Lien Note, and some DIP (debtor-in-possession) financing worth $50 million, all debt will be erased, it seems, from Vanguard. As such, the firm's existing Senior Notes holders will end up with 97% of the company but this is before factoring in all of the dilution associated with the rights offering and other bits and pieces. After all is said and done but before a management incentive plan that is reserving 10% of the new company's shares (it's possible these may not be used but it's hard to tell), then holders of the Senior Notes should end up with 34.7% of the company.
Meanwhile, common shareholders and preferred shareholders will get hammered. Collectively, they will receive a pro rata share of 3-year warrants worth 3% of the company's new stock but, as we can see in the case of the Second Lien Notes, they will likely be hit considerably, seeing almost no value and will certainly end up being negatively affected by any CODI (cancellation of debt income) they receive.
But is there value?
In general, I stay away from saying, one way or the other, whether investors should or should not do something. I keep those statements for only my highest-conviction ideas on the long end or short end. That said, in this case, I feel very comfortable saying that I would not be caught dead owning the common units at this time. This isn't due to the small ownership stake but is driven, instead, by the CODI reality. With that in mind, though, it does seem as though Vanguard has potential moving forward for holders of the Senior Notes.
Senior Notes holders will not be stuck with CODI whatsoever and their ownership stake in the final company, plus the right to participate in the rights offering, gives them a much, much better position than what common shareholders are dealing with. The big question though is whether or not there is actual value worth having in Vanguard to bother buying into the Senior Notes at this time. From what I can see, the answer is probably yes.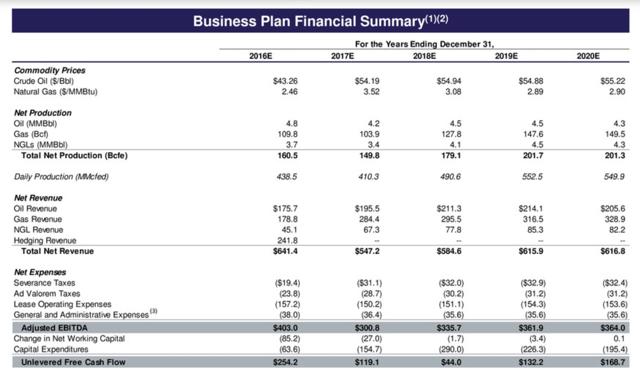 Taken from Vanguard
If you look at the image above, for instance, you can see management's forecast for Vanguard's unlevered cash flow between now and 2020. This assumes the strip prices shown in the image hold true and if operational performance matches expectations. However, we need to also be cognizant of the fine print. This table represents unlevered cash flow, not cash flow. The difference here is that unlevered cash flow assumes that debt, and therefore interest expense, does not come into play.
While it would be nice to imagine this to be the case, it's not. The company should have, by my calculations, around $1.18 billion in long-term debt by the time it's out of bankruptcy (this assumes the $50 million DIP is repaid with cash flow and/or asset sales and is not refinanced). Under agreed-upon terms, the actual cash flow of the company should look a little different, as shown in the table below, after you factor in the interest expense associated with these debts. If management can get the company through 2018, it's likely that the firm could thrive and holders of the Senior Notes today will probably end up fairly happy.

Created by Author
A plan for the future
One thing that has me intrigued by Vanguard at the moment is the company's ability to tap into a particular area called Pinedale Field. As you can see in the image below, the property in question is a long region that the firm has a nice presence in. According to management, the lands in question are not large reservoirs but are, instead, small "compartments" that overlap one another.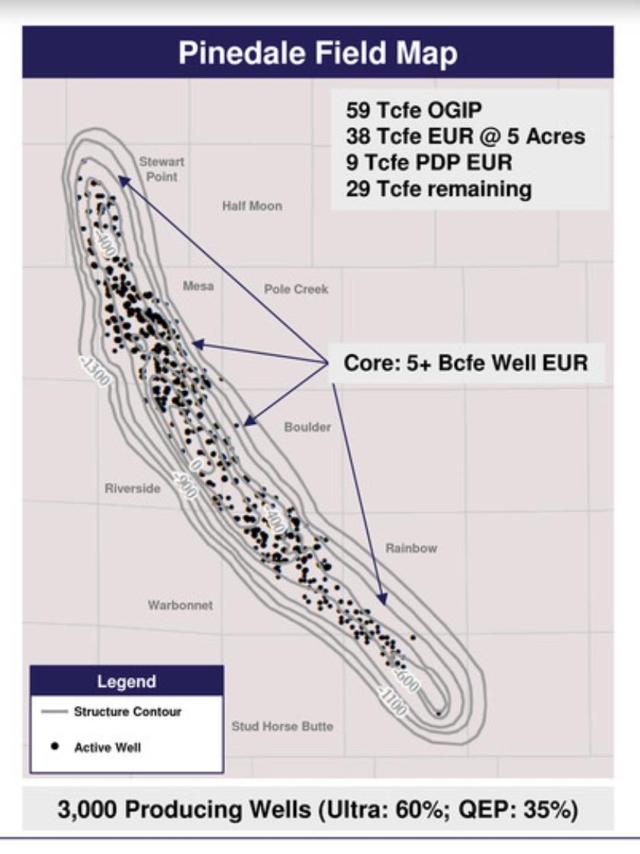 Taken from Vanguard
Despite the fact that the well cost in Pinedale, at $2.6 million apiece, is higher than many of Vanguard's other properties, the ROR (rate of return) is very attractive. As you can see in the image below, the ROR with natural gas at $3 per Mcf is around 37%. If prices increase to approximately $4 per Mcf, the ROR should increase to 50%. This isn't the best ROR area for Vanguard but with initial production for the first month of each well's life at 3.2 MMcf/day compared to something lower like Mamm Creek at 1.2 MMcf/day, it's understandable that management finds this to be an attractive prospect.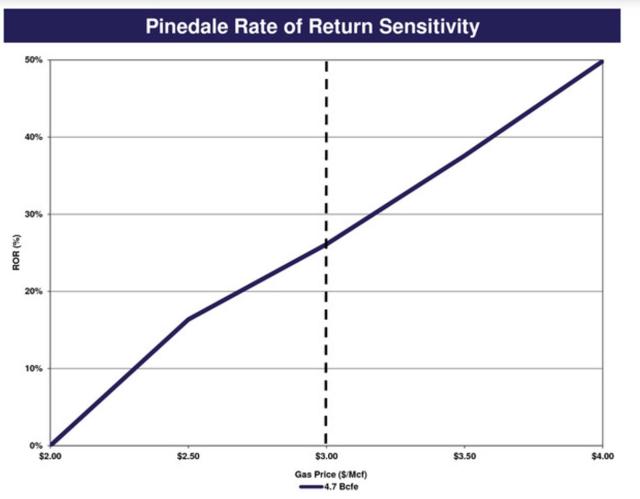 Taken from Vanguard
In fact, as you can see in the image below, if management is able to match its expectations in the years to come, the end result will be a continually-growing budget allocated toward Pinedale and, as a result, a growing amount of output coming from it on the behalf of the firm's new shareholders. This will be a driving force for the firm so long as their own forecasts are correct.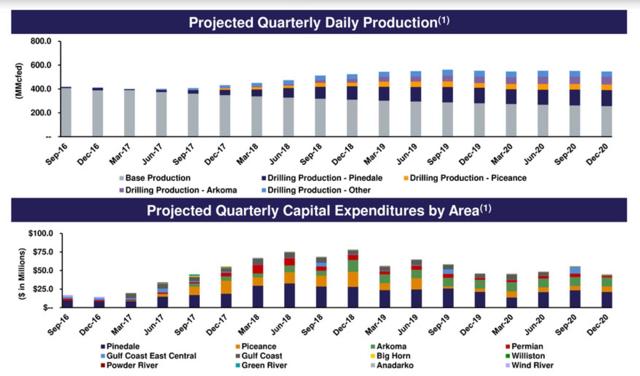 Taken from Vanguard
Takeaway
Based on the data provided, it looks as though my fear was correct --Vanguard is toast. However, just because the company entered bankruptcy does not mean that value is gone for all stakeholders. For existing holders of its Senior Notes and for anybody who buys into the business once it exits bankruptcy, there's a chance for some real value creation but this assumes the energy market remains stable and that investors are OK with cash flow likely being negative next year. That said, for common shareholders who got crunched last week, the sad truth is that there appears to be little in the way of hope.
Disclosure: I/we have no positions in any stocks mentioned, and no plans to initiate any positions within the next 72 hours.
I wrote this article myself, and it expresses my own opinions. I am not receiving compensation for it (other than from Seeking Alpha). I have no business relationship with any company whose stock is mentioned in this article.
Editor's Note: This article covers one or more stocks trading at less than $1 per share and/or with less than a $100 million market cap. Please be aware of the risks associated with these stocks.