With the exception of Allied Nevada and Rubicon Minerals (OTC:RBYCF), there have been few gold stocks as detested as Primero Mining (NYSE:PPP). The stock has fallen $8.40 to a penny stock over the past 3 years, and has barely participated in the rally for gold off the 2015 lows at $1,075/oz. While the Gold Miners Index (NYSEARCA:GDX) has doubled off its 2015 lows, Primero Mining has lost 55% of its value. The good news for Primero investors is that the worst may be behind us. Management is up-beat about 2017 guidance, and the stock has been showing signs of life over the past week. I typically have no interest in bottom-fishing for stocks below their 200-day moving average, but Primero is offering a reasonable risk/reward proposition at these levels. To avoid confusion, all figures are in US dollars unless otherwise stated.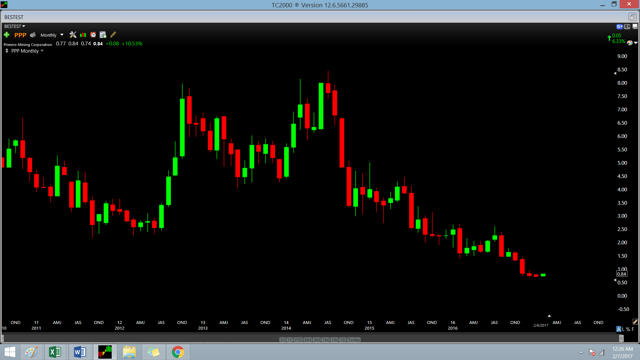 (Source: TC2000.com)
Just three years ago Primero Mining had a market capitalization of over $1.5 billion dollars, and was one of the most sought after miners in the industry. The company has since been plagued with tragedies that have taken the lives of several Primero employees, and a legal claim filed by the Mexican Tax Authorities. The abysmal consolidated all-in sustaining cash costs of $1,300/oz have not helped matters, and the stock has behaved accordingly. Primero is now trading at a market capitalization of a mere $171 million, despite being a 180,000 ounce gold producer. After adding in the company's current liquidity of $56 million and subtracting debt of $125 million, Primero's enterprise value is $241 million.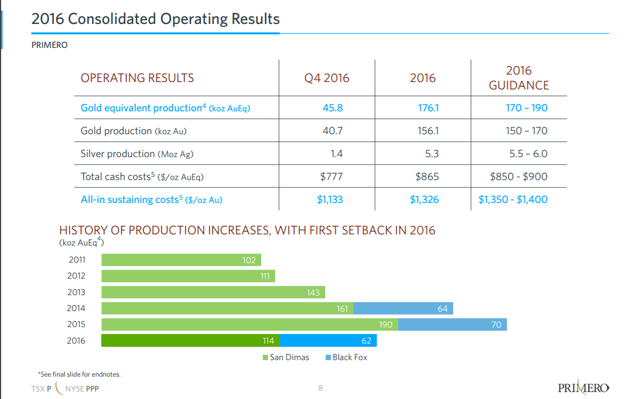 (Source: Company Presentation)
I follow several junior gold companies and know the space quite well, and a $241 million dollar enterprise value is not uncommon at all for an explorer. The fact that an 180,000 ounce producer has an enterprise value this depressed tells me that the market does not see a future for them. While I'm having a very hard time being optimistic on the company, I would argue that almost everyone else is in consensus with this sentiment. The stock is loathed by nearly all investors and no one wants anything to do with it. This is often a good time to go shopping for a company, but only if the technicals are confirming this.
Before moving onto the technicals, I'll briefly discuss what investors are getting for the current $241 million enterprise value.
Primero Mining is a junior producer with 2 operating mines which are located in Canada and Mexico. The company's San Dimas Mine is its largest contributor to production and is located in Mexico, adjacent to the historic mining town of Tayoltita. San Dimas produced 114,000 gold equivalent ounces for 2016, at all-in sustaining cash costs of $1,117/oz. This came in ahead of the company's cost guidance of $1,150/oz, but was nothing to write home about.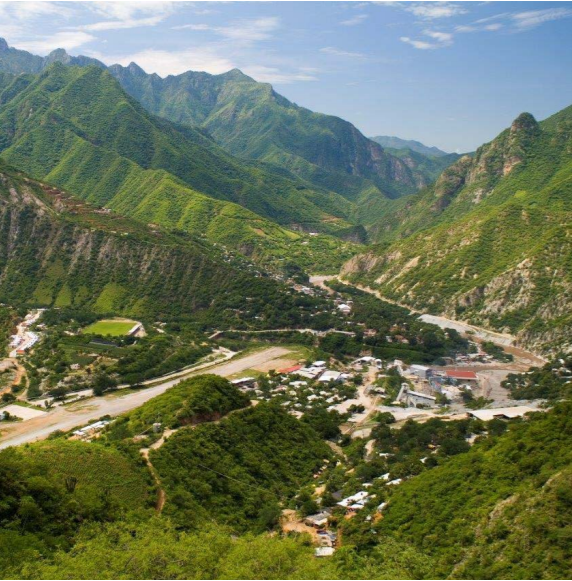 (Source: Company Presentation)
Primero's Black Fox Mine is part of its Brigus Gold acquisition which was completed in early 2014. The Black Fox Mine is an underground operation located in Timmins, Ontario with current production of 62,000 gold-equivalent ounces. Production came in at the low end of 2016 guidance for Black Fox, and at the high end of guided all-in sustaining cash costs. This was not a positive development for the company as they've been working hard to put a lid on costs at Black Fox since they first acquired the mine.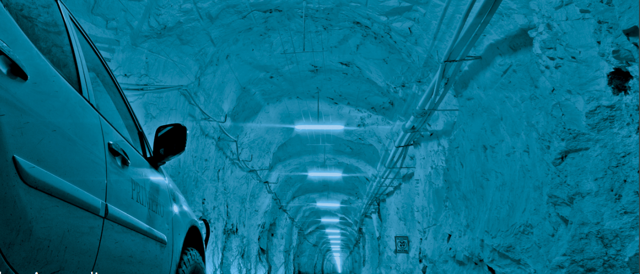 (Source: Company Presentation)
While Primero's margins on gold sales are nothing to be excited about, the recent increase in the price of gold is helping to move the company toward profitability. Primero may finally be cash-flow positive again if they can reduce costs this year, and this would be a welcome turnaround for the company. I don't find it impressive at all that Primero needed a 20% rally in gold prices to become profitable, but the fact remains that this bounce in gold should have an impact.
The company's path to being cash-flow positive again will be determined by the company's ability to deliver on their promises, but the recent rally in gold is giving Primero another out. If the company does falter and lets down investors again from an operational standpoint, the gold price could potentially save them in 2017. Even if Primero were to stay in line with 2016 all-in sustaining cash costs of $1,300/oz, a continuation of this gold rally could rescue the company. I do not think this is a strong investment thesis at all for a company, but there's no denying Primero is in much better shape than it was a month ago.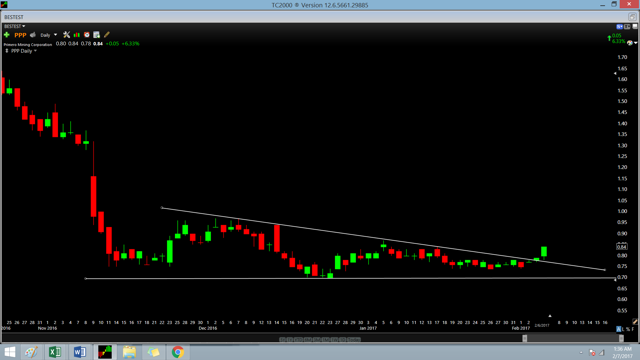 (Source: TC2000.com)
In late December the price of gold was floundering above $1,100/oz and Primero had only one option to become profitable: decrease all-in sustaining cash costs significantly. The $110/oz rally in the price of gold has given them a second out, and seems to have put a potential bottom under the stock.
As you can hopefully tell from my above fundamental analysis, I'm having a hard time being too positive on Primero. The stock is going to need to have a turnaround year in 2017 for costs, or is going to need a lot of help from gold to move back towards profitability. The company is one of my least favorite miners from a fundamental standpoint, but the valuation is beginning to look attractive if either of these scenarios occur. The company seems to be left for dead based on the chart and valuation, and this could be presenting an opportunity to be a contrarian.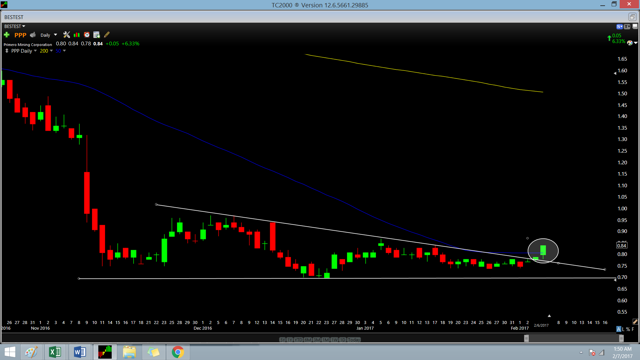 (Source: TC2000.com)
So why am I sticking my neck out here? Those that follow me know that I won't touch anything below the 200-day moving average unless I have good reason to do so. Primero Mining is still a country mile away from its 200-day moving average, but the stock seems to be trying to stabilize. Primero just registered its first close above the 50-day moving average (blue line) in 4 months, and the 50-day moving average has now flattened out. This is not the reason I have taken a position, but it is certainly a silver lining for this beaten and battered stock.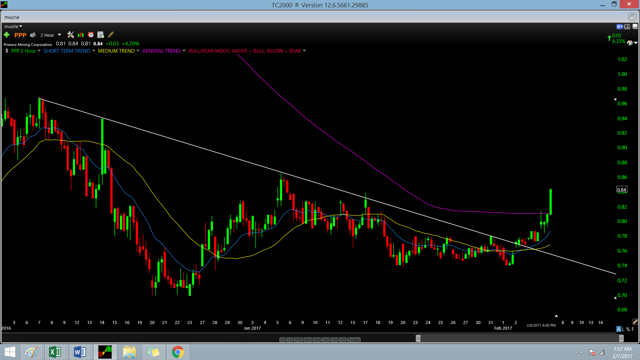 (Source: TC2000.com)
The reason I went long Primero at $0.81 Monday morning was because it triggered a buy signal on my short term trend-following system. This system uses starter positions to catch bottoms in stocks, and was the same strategy I used for buying Osisko Mining (OTC:OBNNF) at $1.66 in late December. As we can see in the above chart, Primero has seen a bullish crossover with its short term moving average (blue line) crossing above its medium term moving average (yellow line). In addition to this, the stock has broken out of a 2-month downtrend in place since early December. Bullish cross-overs typically tell us that a new trend may be beginning, but need confirmation from the 2 longer term moving averages. As of today we can see that price has hopped above the general trend (pink line) for the first time since late October, and will have to face-off against my bull/bear market line in sand (magenta line) if this rally continues.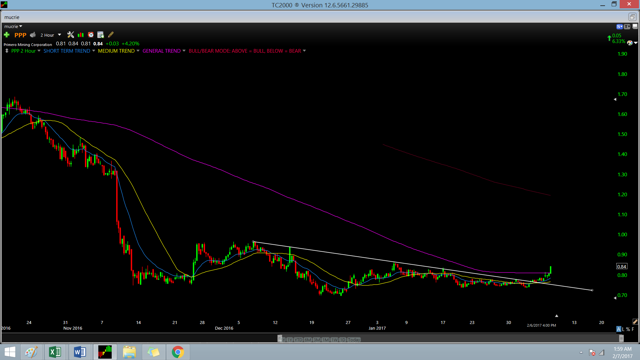 (Source: TC2000.com)
If Primero is going to reverse and this is a failed breakout, we would expect it to do so very soon. The last test of the general trend (pink line) in October was very short lived and lasted only 1 trading day, so another close above the general trend tomorrow would be quite positive.
So how am I playing this trade?
I have gone long Primero at $0.81 cents with a stop on my trade below $0.69 on a closing basis. This represents a risk of $0.12 cents on this trade or roughly 15%. Due to the position risk on this trade and the fact that it's below its 200-day moving average, I am not willing to risk more than 0.6% of my portfolio on this trade. This means that I am using 4% of my total portfolio, with a position risk of 0.15%. This equals out to a total portfolio risk of 0.6%.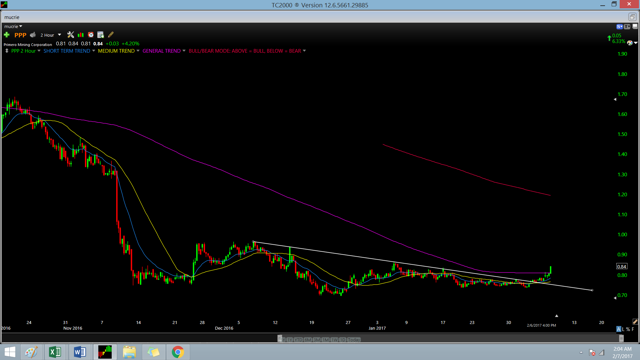 (Source: TC2000.com)
The reason I am putting this trade on is quite simple. If this is a real breakout for Primero here, I do not see any meaningful resistance until the bull/bear line in sand (magenta line) of $1.18. If this resistance is taken out on a closing basis, the next meaningful level of resistance would be the 200-day moving average at the $1.50 level. This means that Primero could easily enjoy a bear market rally of $0.40 - $0.60 cents just to come back to its 200-day moving average. I am by no means predicting this will happen, but this is a decent risk/reward based on my risk of $0.12.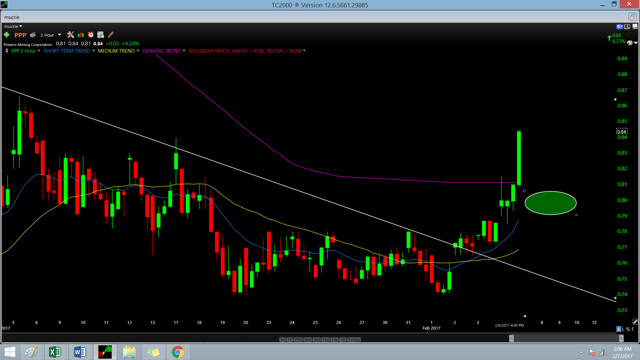 (Source: TC2000.com)
I was hoping to add Primero in a third account for a speculative position, but did not expect it to move like it did today. For this reason I am not chasing the stock, but plan to buy it if I can see a test of the shorter term trend (blue line). The shorter term trend should be at $0.81 cents as of tomorrow, and I would add another speculative position if I am filled here. If I do not get filled, I have no interest in chasing and will stick with the 4% portfolio position I'm currently sitting on. The green circle in the above chart is where I am projecting my short term moving average to provide support on Tuesday or Wednesday, assuming we get a pullback. Typically the first test of this blue line is a buying opportunity, and this give us a clue whether this new trend is for real or another dud like in October.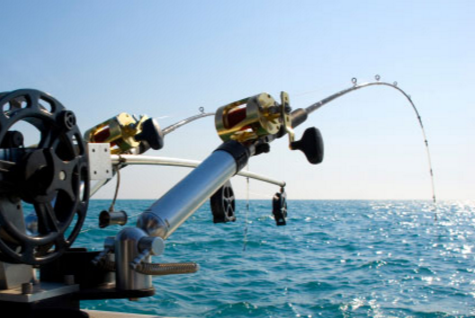 I do not like bottom-fishing and have taken a very small position in Primero as a play on gold, and my short term trend system. I am by no means overly bullish on the company's fundamentals, and have only highlighted them to give a background on the company. Having said that at the current valuation the mediocre fundamentals could already be baked into the price. As long as Primero Mining continues to close above $0.69 cents, I will remain long with a starter position looking for higher prices. I have no price target for this trade, and do not know what will unfold over the coming weeks. I am simply placing myself in a trade with a good risk/reward as this is what my system is telling me to do.
Disclosure: I am/we are long PPP, GLD.
I wrote this article myself, and it expresses my own opinions. I am not receiving compensation for it (other than from Seeking Alpha). I have no business relationship with any company whose stock is mentioned in this article.
Additional disclosure: If you liked this article and found it useful, please feel free to follow me by clicking on my name next to my avatar at the top of this article. I also invite you to follow me at www.twitter.com/TaylorDart01 where I routinely share my entries, exits, and stops on new positions, as well as updating followers on sentiment data on markets I am following.
Editor's Note: This article covers one or more stocks trading at less than $1 per share and/or with less than a $100 million market cap. Please be aware of the risks associated with these stocks.