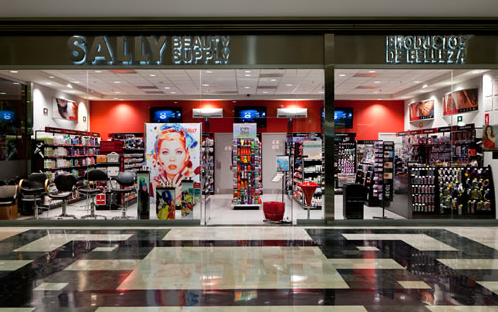 Sally Beauty Supply (NYSE:SBH) has been hammered of late. The retail sector has been tough but SBH also has some company-specific problems with growth as well as forex pressure on revenue. The Q1 report wasn't great and SBH lowered its guidance for 2017 as a result. A new cost savings program should help and while the stock has been crushed and is trading near its lows, is it cheap enough? At 13 times this year's earnings, I'd argue it probably isn't given the challenges ahead.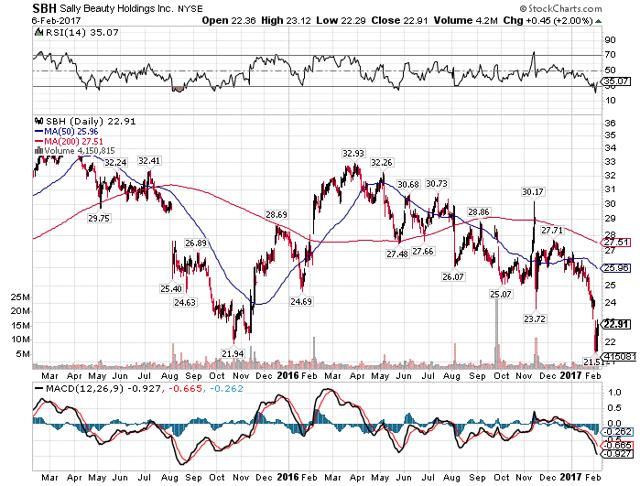 To be clear, it wasn't long ago that I said SBH was cheap relative to expectations. However, since that time, the Q1 report and subsequent guidance reduction has derailed my bullishness. My cheap valuation call was predicated upon SBH continuing to produce 3% or better in comp sales but guidance for 2017 was just reduced to flat to slightly positive. That's not good enough and although the stock is cheaper than it was a month ago, the reduction in comp sales was sizable and big enough that I don't think SBH can grow its way out of it.
Comps were up 40bps in Q1 and while a gain is a gain, SBH had been producing much better than that. Indeed, its guidance from just a few months ago suggested that it would be doing something more like 3% this year but management has abandoned that already after the weak Q1. SBH is still producing positive comps at a time in retail when that's been difficult but it is also way behind Ulta (NASDAQ:ULTA). This was the biggest disappointment for me from this report and without comps moving higher, SBH is too expensive.
In addition, SBH's international business exposes it to the dollar's strength and in Q1 that penalty was 1.6% of total revenue. That's huge and remember that comps were only worth 40bps so combined, forex and comps were down 1.2%. That's a meaningful headwind for revenue and the only way for SBH to make it up is by opening new stores. That's why comps are so critical and why I've essentially abandoned SBH due to the reduction in comps.
Gross margins were close to flat, declining by 30bps. The culprits were mix and higher promotions but as I said, the damage was minimal. The shift in mix is just one of those things that happens so I'm not particularly interested in that but for the promotions piece, I'll be watching in Q2. If SBH begins to discount and promote in order to stem the tide of weak comps, it will show up in gross margins. And if gross margins begin to deteriorate, look out below. We are too early to say that right now but certainly keep an eye on it going forward.
SG&A costs deleveraged 80bps as new stores, new technology and higher payroll expense weighed. The nationwide drive to raise minimum wages has crimped margins from retail to restaurants and SBH is certainly not immune. The problem is that the bump in store payroll expenses is a bit more costly because comps and gross margins were weak. Before, SBH could offset these higher costs but that is no longer the case and operating margins suffered for it. SBH, to its credit, is working on some cost saving initiatives but will they be enough? The plan is only supposed to save $10M or $12M this year so it isn't huge. And while that's real money and a worthy endeavor, it doesn't come close to offsetting the disappointment elsewhere.
Sales growth is now supposed to be just over flat given new store openings and gross margins were guided slightly higher for 2017. But with SG&A deleveraging a bit despite the cost savings initiative, EPS is only slated to grow by 3%. I think there's a bit of upside to that considering SBH still has an enormous buyback program at its disposal but if anything, upside potential is moderate.
And at 13 times earnings, SBH isn't cheap enough to buy given that it has the very major challenges of a strong dollar and waning comp sales. Operating margins should improve slightly this year but I don't think it will be enough. The guidance reduction is a big deal to me and for that reason, I'm out. If SBH rallies from here, it will do so without me.
Disclosure: I/we have no positions in any stocks mentioned, and no plans to initiate any positions within the next 72 hours.
I wrote this article myself, and it expresses my own opinions. I am not receiving compensation for it (other than from Seeking Alpha). I have no business relationship with any company whose stock is mentioned in this article.