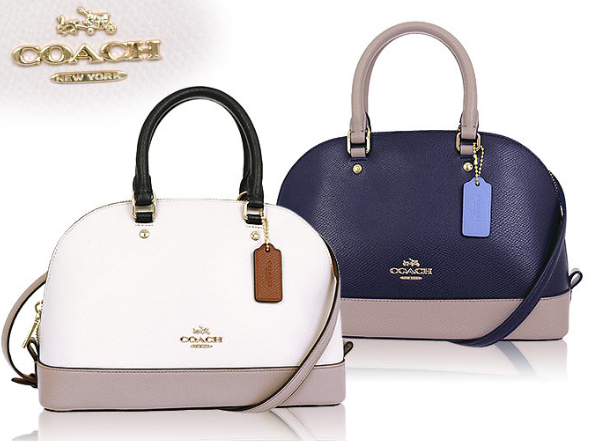 Coach (NYSE:COH) has certainly taken shareholders on a wild ride in the past couple of years and at various times, I've had different feelings about the stock. The yield is enticing at better than 3.5% and the valuation has looked good as well, although at the current 17 times earnings, it is a bit stretched. But a terrific Q2 report has renewed my excitement level with Coach and although the valuation is slightly higher than I'd like, there is clear momentum forward for the back half of FY2017.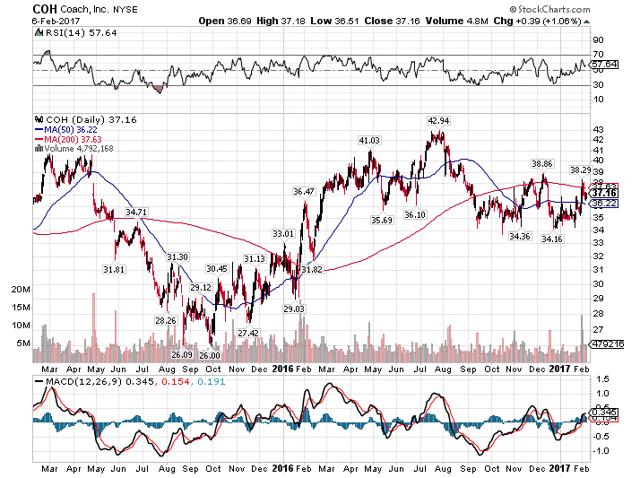 Total sales were up nicely at +4% despite the fact that COH is in the midst of repositioning the North America business, including closing some outlets and reducing promotional events. The North America comp was very strong at +3%, beating consensus estimates and providing upside to its total sales number. The North America business is obviously tremendously important and the momentum Coach has here right now is very bullish. Forex was even a tailwind in Q2, adding 40bps to the top line. In short, the revenue picture really couldn't be much better for Coach than it is right now and people are taking notice.
The reduction in promotional activities and boost in comp sales also sent margins higher by 120bps. That amounts to a roughly 2% gain in gross margins on the high-60s base and this is something Coach has really done a nice job of executing on of late. The reduction in promotional activity - while risky - has certainly paid off in the form of much better pricing and fewer markdowns. There is obvious momentum and consumers are responding positively so I expect we'll continue to see higher margins throughout the back half of the year. Combined with revenue growth, higher margins are a powerful force indeed.
Investments in the Stuart Weitzman brand as well as higher marketing spending did spoil some of the fun, however, as SG&A costs deleveraged 120bps, offsetting gains from gross margins. Obviously, this isn't ideal but the boost in SG&A costs was from concentrated, intentional investments, not due to higher payroll expense or something of that nature. While a cost is a cost, the fact that COH is choosing to boost spending rather than being forced to means it is not only investing for the future, but if needed, it can also pull back. I don't like rising SG&A more than anyone else but if there is a "good" boost in SG&A spending, this is it. That said, one would do well to keep an eye on SG&A spending in the coming quarters not only to make sure it doesn't get out of control but also to make sure it has the desired impact. The Stuart Weitzman brand could use some help so hopefully, the targeted investments will pay off.
Expectations for this year are fairly moderate at 1% sales growth and 8% EPS growth. That implies a bunch of margin expansion but that is certainly possible given the momentum with respect to comps and gross margins. SG&A spending is a bit of a concern but the reasons for higher SG&A are transitory, not recurring, and that means the impact should be fairly limited. There also looks to be the potential for some comp sales upside as Coach continues to charge along on that front. The North America business is responding very well to store closures and fewer promotions and the transformation is still ongoing. In short, I think there are a few ways for COH to continue to progress and I'm still bullish on its future.
At 17 times earnings, it isn't cheap, but it isn't too bad either. I think Coach is fairly priced here so whether or not you buy depends upon how you feel about estimates. If you think Coach is going to come in light, the stock looks pricey, and vice versa. The yield certainly helps at 3.6% and if you're on the fence, perhaps that tips you over to the bullish side. For me, the balance of the facts - higher comps, higher margins, a 3.6% yield - has me bullish still. I don't think there's a huge amount of upside coming because the stock does look fairly priced here. But going forward, Coach still has a long runway for steady growth and that's enticing.
Disclosure: I am/we are long COH.
I wrote this article myself, and it expresses my own opinions. I am not receiving compensation for it (other than from Seeking Alpha). I have no business relationship with any company whose stock is mentioned in this article.