On Thursday of last week, GoPro (NASDAQ:GPRO) reported disappointing earnings and investors sold off its shares accordingly. Although GPRO beat bottom line estimates, Q4 EPS of $0.29 vs. estimates of $0.22 per share, the company missed on the top line, reporting revenue of $540.6 million, which was about $34 million below Wall Street consensus. Moreover, investors were disappointed with Q1 2017 guidance. Management guided for revenue of around $200 million, while analysts were expecting around $265 million. Despite the disappointing results and guidance, I am bullish on GPRO.
Story Behind the Numbers
Although the results were disappointing, the were not as bad as the numbers suggest. By reading the earnings transcript, an investor can see the story behind the numbers, which paints a brighter picture.
CEO Nicholas Woodman discussed some of the unforeseen circumstances leading to revenue growth missing estimates. One of the reasons for revenue coming in below expectations was due to "early production issues [compromising] launch volumes." The production issues not only caused sales to decline from not having the product to ship to retailers, but Mr. Woodman explained that retailers actually had to cancel their marketing efforts because of this early production issue:
The initial scarcity had a knock-on effect, resulting in retailers canceling marketing support for the HERO5 Black launch. While the impact of less marketing is hard to quantify, we believe we missed an important opportunity to capture perishable demand during the holiday. Despite it all, we sold through an estimated two million cameras in the quarter.
With production issues being ironed out, and retailers relaunching marketing support for the HERO5 Black product, revenue will improve markedly in future quarters.
Another negative impact to revenue was from the recall and temporary hiatus of sales of the Karma drone. The Karma drone is now back on the market in the U.S., and will be available in international markets this spring. As I will discuss further below, GoPro will benefit not only from the revenue generated from the drones itself, but also from accessory sales, and licensing of the various types of video content that Karma users create.
Improving Supply Chain
Another positive in the quarter was the improving supply chain results. As shown by the chart below, management is improving on its ability to increase its inventory turnover. This helps from an efficiency perspective as well as reduces the chance that GPRO will have to sell inventory at a discount for products that are older and out-of-date. Q4 of 2016 showed an annualized inventory turnover that was the highest since Q4 of 2014. This marked improvement from the last few quarters is a positive indicator of margins stabilizing in future quarters.

Source: Earnings Call Presentation
Revenue Sources from Karma
GoPro relaunched the Karma drone late last week, which will help generate revenue growth in future quarters. Furthermore, GoPro can generate sales with the Karma Grip, which is a handheld and mountable stabilization solution that was launched in December. Management said sales of this accessory, which retails for $299, are doing well.
In addition to the revenue generated from Karma sales and accessories, GoPro also has other avenues to monetize its Karma drones. By selling drones for the affordable price of $799, GoPro is making them affordable to many new customer segments. These new customers have a number of different uses for the drones. For example, realtors can use the drones to photograph aerial photos of the properties they are selling.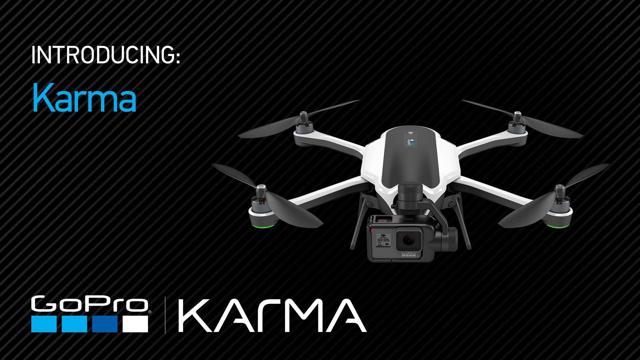 Source: GoPro's Website
Many of these new customers will be generating a ton of new footage and will need a way to easily store and edit this footage. These customers are unlikely to have the necessary skills to edit this footage well, but GoPro launched a product to solve this problem.
In September 2016, GoPro launched a cloud subscription service, called GoPro Plus that allows users to seamlessly upload their footage from their camera to the cloud. After uploading, users can edit the footage using GoPro's suite of mobile and desktop editing applications.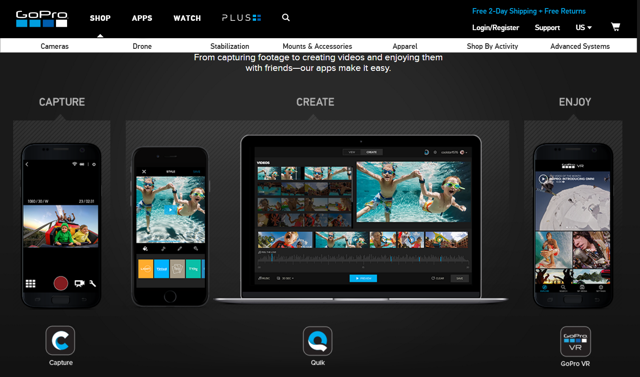 Source: GoPro.com
Management has prudently created a seamless, end-to-end platform where users can easily upload, edit, and display their content. This service offers users a compelling value proposition. Consumers no longer have to buy and keep track of SD cards. This also saves consumers from having the burden of figuring out how to edit and share their videos. GoPro is democratizing valuable content creation.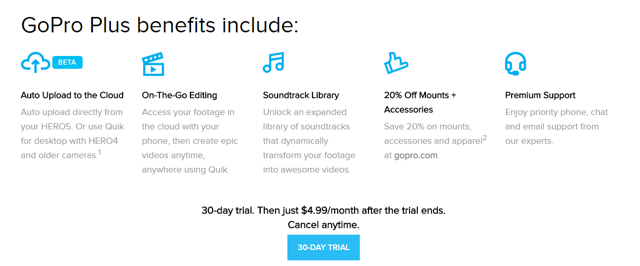 Source: GoPro.com
GoPro will benefit from this service in two material ways. First, and most obvious, it will have a recurring revenue stream in the form of $4.99 per month per user that signs up. Assuming this service gains some traction, it will provide a predictable revenue stream, which will allow the company to generate cash flow to either invest in other endeavors or begin returning money to shareholders in the form of dividends or share repurchases. Secondly, this will create a positive virtuous cycle for GoPro's licensing efforts by enabling users to quickly make content.
GoPro can also generate revenue through licensing the drone footage. In July 2015, GPRO launched a licensing platform to enable global advertising brands and agencies to license video and images. The platform will allow easy access to creators' content with time-saving tools to search, download, and preview content to license for use in advertising, news, and other media and entertainment.
Management has also created a system to incentivize users to create and upload content. It announced an awards program that will compensate users $1,000 if their video clip is selected for an award and $5,000 if an edited video clip is chosen. This award system structure gives users the added push to opt for, and continue with, the subscription service. Thus, GoPro is creating a virtuous cycle in which it gets more subscription users and more content in which it can earn licensing revenue from.
During the quarterly release, management announced some positive indications of its ability to generate this licensable content. For example, management disclosed that there is the equivalent of twenty-two years of content with GoPro in the title, description or keyword that was uploaded to YouTube in 2016, representing a 35% y/y increase.
Although that is not all able to be licensed, it shows that content creation through GoPro is increasing prodigiously. Moreover, from a consumption of video perspective, GoPro is experiencing tremendous growth as well, with hours watched of GoPro content on YouTube in 2016 increasing 86% y/y to approximately 78 million hours.
Moreover, management gave positive color on the subscription service stating:
While it's still early, our GoPro Plus subscriber base is growing nicely and the data indicates that consumers using GoPro Plus share more content than non-subscribers, thereby, getting more out of their GoPro experience. We plan to introduce GoPro Plus to GoPro consumers in EMEA and APAC in the first half of this year.
Other Positives
Current Value = Acquisition Target
At the current trading level, $9.51 per share, GPRO's market capitalization stands at just $1.17 billion. This is a far cry from the roughly $11 billion market capitalization reached in 2014, and is significantly below its IPO price of $24 per share. Historical price should not be considered alone in determining if a security provides a value investment opportunity. However, when considering the value of GoPro's assets, when coupled with its new business opportunities, I believe that the company is currently undervalued.
As of December 30, 2016, GoPro held about $923 million in total assets compared to just $475.7 million in total liabilities, which means shares are trading at just 2x its book value. Management also has not made any borrowing on their credit facility and currently has no debt. Furthermore, its price-to-sales ratio is only .86.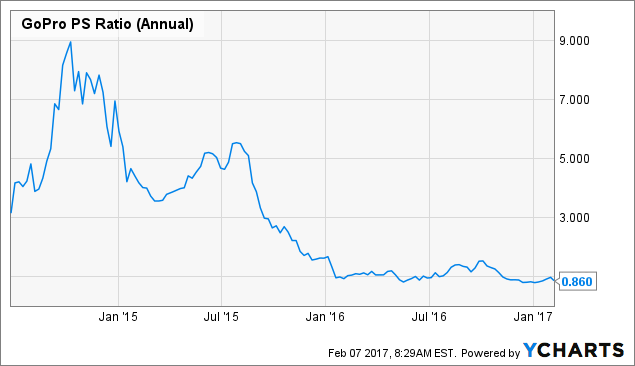 GPRO PS Ratio (Annual) data by YCharts
Moreover, GoPro's current valuation makes it an acquisition target. The company has roughly $218 million of cash on its balance sheet, which effectively reduces the price an acquirer must pay to purchase it through a tender offer. Furthermore, an acquirer may be interested in GoPro's strong brand value, which could be leveraged to brand other products.
Additionally, GoPro reduced its operating expenses to below $650 million in 2016. To achieve this goal, management prudently streamlined its operations by consolidating its leased office facilities, reducing the number of its employees, and closing its entertainment division. This has resulted in one-time restructuring charges in Q4 2016.
Moreover, in the quarterly conference call, management discussed its plan to reduce operating expenses even further, to below $600 million. Although profitability is currently behind stymied from restructuring charges, in subsequent quarters, GoPro should be a more efficient and profitable company. This is especially true if its subscription service and licensing platform begin to take off, as they are a fixed cost to operate and each incremental sale adds to the bottom line.
Tax Loss Harvesting
Another reason I believe GoPro is currently undervalued is due to the selling pressure that likely developed in the latter portion of 2016 from tax loss harvesting. Basically, tax loss harvesting is the practice of selling a security that has experienced a loss in order for an investor to minimize their tax liability. To read a more thorough analysis of this practice, please refer to my article on Glu Mobile (NASDAQ:GLUU), where I discussed tax loss harvesting at a much greater depth.
With GoPro trading at roughly 10% where it traded in 2014, and down about 50% from where it opened in 2016, there are innumerable investors with long-term capital losses as well as short-term losses. The incentive to lock in losses in 2016 was much greater than in any normal year due to the likely reduction in tax rates for both ordinary income and capital gains under a Trump administration.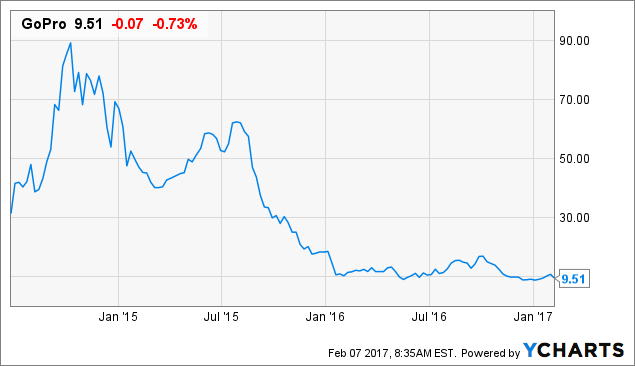 There is a provision in the tax code, called a wash sale, which prevents investors from realizing those losses if they purchase the shares again within a 30-day period. Thus, investors are likely to either wait until the 30-day period passes or purchase a similar type of asset. Therefore, I anticipate that GoPro will benefit from investors who would like to buy back but sold for tax reasons.
Short Squeeze Potential
If there are any positive developments for GoPro, the stock may experience a significant pop. The reason for this is because a substantial portion of shares are currently sold short. GoPro's short interest is nearly 33.5 million shares, or roughly 23% of its total outstanding shares. If there is positive news, such as a tender offer by a competitor, the shorts may attempt to cover and buy back the shares, creating added buying pressure, which could cause a short squeeze, where the stock would ratchet upwards.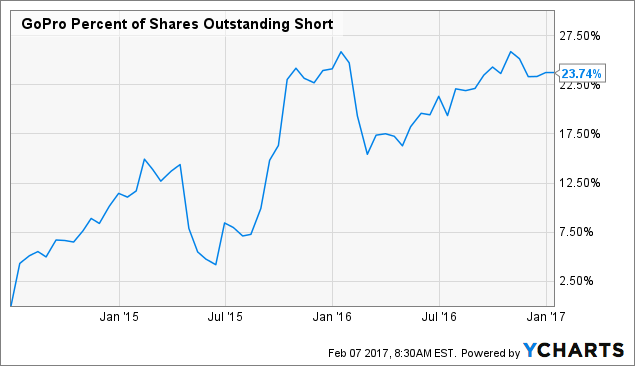 Concluding Remarks
Despite the disappointing earnings release and guidance, GoPro's temporary production issues were the primary driver of the reduced revenue. Nonetheless, with production issues ironed out, and the re-introduction of the Karma drone, coupled with GoPro's licensing and subscription initiatives, I believe GPRO is positioned to generate prodigious returns for patient shareholders.
Quick Update On My Position:
I first purchased shares of GPRO on 1/10 at $9 per share, but sold on 1/30 at $10.55, as I was concerned about a disappointing quarterly report. In hindsight, the shares continued to rise and I could have benefited from holding a bit longer. After the recent sell-off, after the earnings release, I intend to repurchase shares. I'm waiting for sentiment to bottom out and will most likely purchase shares in the next day or so.
Note: To get my latest updates, just click on my profile and hit the "Follow" button.
Disclosure: I/we have no positions in any stocks mentioned, but may initiate a long position in GPRO over the next 72 hours.
I wrote this article myself, and it expresses my own opinions. I am not receiving compensation for it (other than from Seeking Alpha). I have no business relationship with any company whose stock is mentioned in this article.