By Nelson Hem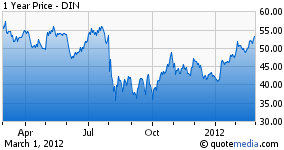 DineEquity (NYSE:DIN) is scheduled to report fourth-quarter 2011 results tomorrow, March 1, before the markets open. The stock is up nearly 20% in the past 90 days.
The company has been reinvesting in the business, is expected to do so through 2012, and speculation has it initiating a dividend in the next two or three years. But the restaurant operator also lowered its same-store sales forecasts for the year when it reported results back in November.
Analysts are looking for DineEquity to report that its per-share earnings came to $0.85 for the quarter and that revenue totaled $242.3 million. In the same quarter of last year, the company posted $0.59 per share and $299.8 million in sales. Note that the EPS estimate was a penny less some 60 days ago. And out of the past six reporting periods, DineEquity topped consensus EPS estimates three times and fell short three times.
Looking back to the previous quarter, DineEquity said adjusted earnings came to $1.04 per share, an 8.6% increase from the same period of the previous year. That topped analysts' expectations, but sales for the quarter dropped 21.2% year over year to $264.5 million. Same-store sales were down from both the Applebee's and IHOP chains, reversing their previous trends. The company attributed the higher quarterly profit in part to lower interest expenses, but it also said it expects food costs to remain high in 2012.
For the full year, the analysts' consensus estimate calls for $4.24 per share earnings, up from $3.50 the previous year. That EPS estimate has also inched up a penny in the past 60 days. DineEquity's full-year revenues are expected to have decreased 19.4% year over year to $1.1 billion.
The Company
Glendale, Calif.-based DineEquity operates about 2,000 Applebee's Neighborhood Grill and Bar locations and around 1,400 IHOP, or International House of Pancakes, restaurants in the U.S. and internationally. Applebee's fits in the casual dining category and IHOP in the family dining category of the restaurant industry. The company was founded in 1976 and has a market cap of $970 million.
Competitors include Brinker International (NYSE:EAT), Cracker Barrel Old Country Store (NASDAQ:CBRL) and Denny's (NASDAQ:DENN). The first two restaurant operators posted fourth-quarter EPS that were better than analysts expected, but Denny's fell short of estimates.
During the three months that ended in December, DineEquity opened its first IHOP Express in San Diego and it named a new vice president in charge of government affairs. IHOP locations were open on Thanksgiving and Christmas days, and Applebee's appointed a new senior vice president of operations.
Performance
DineEquity's forward earnings multiple is less than the industry average P/E, its PEG ratio is less than the industry average, and its operating margin is better than the industry average. Though short interest is 8.4% of the float, half of the eight analysts surveyed who follow the stock rate it a Buy or Strong Buy. None recommend selling shares, but their mean price target on the shares is only 3.4% higher than the current share price.
At Tuesday's close, the share price was 28.4% higher than six months ago but still 12.2% below the 52-week high of $59.64. The share price is well above the 50-day and 200-day moving averages, and the former crossed above the latter last week.
The stock has outperformed Brinker International and Denny's, as well as the broader markets, over the past six months. DineEquity is trading at $53.81 at current levels, up 2.75% from Tuesday's close.
ACTION ITEMS:
Bullish: Investors interested in exchange traded funds invested in DineEquity might want to consider the following trades:
Bearish:
Traders may prefer to consider these alternative positions in the same industry:
Buffalo Wild Wings (BWLD) is up almost 30% year to date.
PF Chang's China Bistro (NASDAQ:PFCB) is up more than 25% year to date.
Red Robin Gourmet Burgers (NASDAQ:RRGB) is up about 25% year to date.
Disclosure: I have no positions in any stocks mentioned, and no plans to initiate any positions within the next 72 hours.
Disclaimer: Neither Benzinga nor its staff recommend that you buy, sell, or hold any security. We do not offer investment advice, personalized or otherwise. Benzinga recommends that you conduct your own due diligence and consult a certified financial professional for personalized advice about your financial situation.