I love it when a thesis comes together. One of the earlier ideas from FIG ideas on Seeking Alpha was to own SVB Financial (NASDAQ:SIVB) over Bank of America (NYSE:BAC) if all you wanted was gearing to interest rates. In fact, I used this argument to emphasize non-rate reasons to own BAC, namely its chances of improving operating leverage.
Since that time we've seen market rates move up and one rate hike. BAC is up 49%, and SVB is up 63%, a 28% outperformance of BAC. Sure, the idea that Trump will in general be better for the innovation economy, as SIVB terms the tech and biotech spheres it services, has been helpful as well. Since Trump won the election, SVB is up 41% vs. 36% for BAC. But higher rates are bound up with that view and are the main driver.
Now, you should still own BAC, but what about SIVB? To what extent is it an act of faith or can we get comfort with the valuation up here through management guidance and our own views of the economy? The reason to ask this is that the stock now trades at about 17x 2018 EPS, which is not as high as First Republic, (NYSE:FRC) a very different kind of U.S. growth bank, but is certainly ahead of many other stocks in the US banks space. SIVB is different of course due to its segment focus, but it's still a bank!
The fourth quarter for 2016 confirmed the growth story is still on track and management is looking for high trends percentage loan growth this year and well as slightly upping the net interest income outlook to low teens. If that sounds a tad disappointing, it's because the company is not factoring in any further rate hikes after the December 2016 hike. I think this is because of the disappointments for rate expectations through the course of 2015-16, when factors mostly external to the U.S. held the Fed back, but whatever the thinking in this outlook, am happy to take management's advice over the volume pipeline, which they have more insight into than I do, and my own about rate hikes where SVB are below consensus and seem too conservative.
In the following chart we see how SIVB's Net interest margin, as measured over average total assets, has increased 30 bps. from 1Q 2015, which is a 12% increase in margin, with just one rate hike occurring, and an increase in the company's loan/deposit ratio from 40-50% evolving in tandem. The improvement in LLP charges shown in the quarter will not be sustained as the low number in 4Q reflects a change in methodology only.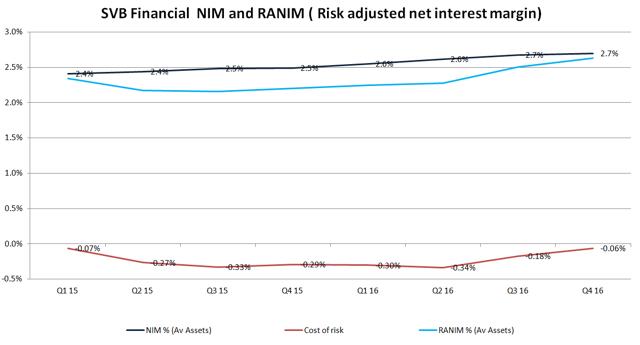 Company data
This chart shows the increase in the bank's loan/deposit ratio and confirms quarterly loan growth remains impressive. The key point there is SVB expects this to accelerate.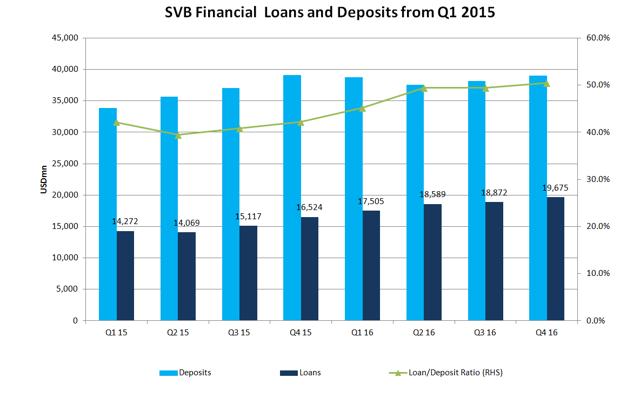 Company data
SVB expects high single digits cost growth. If we run cost growth as high as 10%, after revenue at 15%, then pre-provision income will increase 21%. Asset quality remains very healthy with NPLs less than 1% of the book and the company will continue charging off NPLs at a high level when they occur. Over this I would run LLP costs in line with loan book expansion, given stable guidance and the buoyant consensus on the U.S. economy (from which I find no reason to deviate in terms of my core expectations at the present time).
This is where all of that comes out in terms of forecasts. Yield is zero.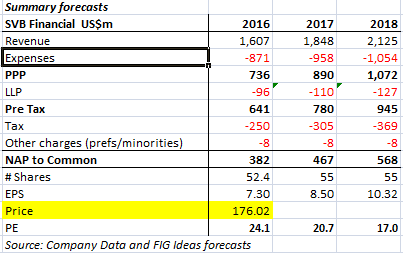 Conclusion
If you think SVB Financial should maintain a 24x trailing PE, then there is 41% in this from simple organic EPS growth to end 2018. If this all feels too rich, then run a 25% tax rate in 2018 (SVB effective tax rate currently is 39%). At that point you are on 13.8x for 2018, and this implies 75% upside to the 24x multiple. Granted, perhaps the stock already prices in a lower tax rate but as I've argued elsewhere, U.S. banks in general are pricing in a stronger operating environment or tax cuts, not both. SVB is a holding in the Fig Ideas U.S. Financials portfolio and we are keeping it for now.
Disclosure: I am/we are long SVIB.
I wrote this article myself, and it expresses my own opinions. I am not receiving compensation for it (other than from Seeking Alpha). I have no business relationship with any company whose stock is mentioned in this article.