The Habit Restaurants (NASD: HABT), started in 1969, is a fast casual restaurant company. The company is famous for its made-to-order char-grilled burgers and sandwiches featuring USDA choice tri-tip steak, grilled chicken, and sushi-grade albacore tuna cooked over an open flame. The Company also prepares salads, sides, shakes, and malts. As of FY2015, the company operated in 140 locations in 9 different states. With its different restaurant formats like end-cap, free-standing, inline and drive-in the company reaches a wide customer base. The Habit Restaurant offers its customers value in the form of good-quality food along with veritable hospitality at a price point starting at $3.75 (for a char-burger with cheese).
| | |
| --- | --- |
| Company name | The Habit Restaurant Inc |
| Reuters / Bloomberg | HABT.OQ / HABT:US |
| CMP ($) | 15.53 |
| Average trading volume | 617,690 |
| One-year return | -32% |
| Market cap ($ mn) | 403 |
| Number of restaurants (3Q16) | 160 |
| Available in | 142 locations in USA |
Growing strong so far
HABT has been growing strong across all the key parameters like number of new restaurant openings, comparable restaurant sales, average unit volumes (AUV), revenue growth, restaurant contribution margin.
Improved geographical reach
In 2009, HABT had presence in only 3 markets which increased to 9 markets in 2015. The number of locations that HABT had its presence also increased from 26 in 2009 to 142 in 2015, a CAGR of 32.7%.
51 consecutive quarters of positive comparable sales growth
Over the last 5 years, HABT has posted strong growth in the comparable sales growth driven by increase in customer traffic. 2011, 2014 and 1st half of 2015 were particularly strong periods for HABT. The Company has maintained a positive comparable sales growth in all of the last 51 quarters. In Q32016, when most of its competitors posted a negative comparable sales growth, HABT maintained its trend of positive growth.

Highly productive restaurants driving the average unit volume
HABT, inspite of its low average customer spend could increase the AUV from $1.2mn in 2009 to $1.9mn in 2015 primarily because of company's ability to generate high traffic. In 2015, Habit restaurant had an average weekly traffic of 4,598 customers visiting per restaurant location.
Sales growth driven by strong growth in number of new restaurants
Number of restaurants increased from 33 in 2010 to 142 in 2015, a CAGR of 34%. The company started franchise model in 2014, which increased from 1 franchise in 2014 to 5 in 2015 and 8 until 3Q2016.

Growth in number of restaurant, along with the comparable sales growth is driving the overall growth in revenue. Revenue grew at a CAGR of 40.6% from $41.8mn in 2010 to $230mn in 2015. FY16 full year revenue is expected to grow at a moderate rate of 23.3% to $284mn.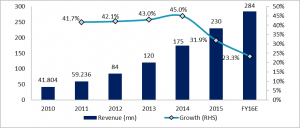 Stable restaurant contribution margin
The Company has maintained a stable contribution margin over the last few years in the range of 21% to 22%. FY16, being a difficult year for the whole of restaurant industry, contribution margin for this year is expected to decline by ~100 basis points to 20.6% - 20.9% (as per management guidance).
2016 was an edgy year for the industry, but Habit held its ground strong
Restaurant industry in US had a difficult year in 2016. As per a restaurant analytics firm TDn2K, comparable store sales growth of restaurant industry declined by 3% in 2016. This was primarily due to decline in traffic driven by the trend in inflation which made eating home cheaper and eating out expensive. As per the data released by Bureau of Labor Statistics (BLS), "food at home" (grocery) prices for 12 month ending Nov 2016 dipped by 2.2%, and "food away from home" (restaurant) prices increased by 2.3%.
Habit Restaurant however has maintained its positive comparable sales growth in all three quarters of 2016. In order to fight back the declining traffic, HABT has introduced LTOs (limited time offerings) to build recurring customer visits. In 2017, the company intends to use the targeted digital strategies to further boost its LTO innovation.
Stock price tumbled down by 32% in the last 1 year
In the last 1 year, the stock price of HABT has gone down by 32% on account of investor's concerns over the declining traffic and minimum wage increase fears. Inspite of growth in the new restaurant addition in the rage of 22 - 25%, Habit Restaurant has not been able impress the investors who have expectations of fast growth from the company.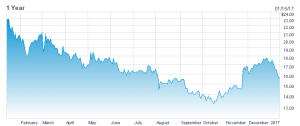 How did the competitors do?
HABT is not the only restaurant whose stock price has fallen in the last year, share price of Red Robin Gourmet Burgers and Zoe's Kitchen has also fallen by 11% and 18% respectively. Although share price of Shake Shack was up 10% in last 1 year, its price now is 15% lower than the price in March 2016.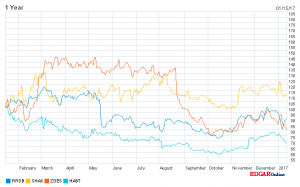 Strong growth expected in future probably justifies the high valuation
When compared to its high growth peers like Shake Shack and Zoe's Kitchen, HABT clearly has higher profitability. While valuation of Habit Restaurant at a 1 year forward P/E of 55.45x is very high, given the high long term growth rate expected, this valuation is justifiable. Compared to its high growth peers, Shake Shack and Zoe's kitchen, P/E of HABT is lower and hence more reasonable.
Company Name
Ticker
M Cap ($mn)
Price
Last 1 year Return
EPS
P/E
Oper-
ating Margin (FY0)
5 Year Earnings growth rate
FY1
FY2
FY1
FY2
PEG
The Habit Restaurant
HABT
403
15.5
-32.4%
0.28
0.31
55.45x
50.08x
2.33
5%
24%
Red Robin Gourmet Burgers
RRGB
662
51.5
-11.4%
3.13
3.65
16.45x
14.11x
1.77
5%
10%
Shake Shack
SHAK
1,288
35.6
10.4%
0.54
0.66
65.91x
53.92x
3.29
4%
24%
Zoe's Kitchen
ZOES
426
22.5
-17.8%
0.10
0.13
225.30x
173.31x
8.67
2%
26%
Disclosure: I am/we are long HABT.
I wrote this article myself, and it expresses my own opinions. I am not receiving compensation for it (other than from Seeking Alpha). I have no business relationship with any company whose stock is mentioned in this article.
Additional disclosure: www.HedgedEquity.com has a long position in HABIT is some or all of its model portfolios. The use of this article is for educational and informational purposes only. NOT investment advice. None of the material presented in this article should be construed as investment advice (neither direct, explicit, or implied). It is strongly suggested and recommend that you do your own due diligence and/or consult a qualified financial advisor for any investment advice based on your situation.