Investment Thesis
Investors that seek out of favor cyclical stocks nearing the bottom of the downturn might do well to consider an investment in Potash Corp. (POT). As it trades off roughly a 50% discount from its highs of 2 years ago. An investment in Potash Corp. has the upside potential of at least 25% with minimal downside from the current share prices.
Overview
Potash Corp. is world's largest fertilizer producer by capacity producing potash (30% of global capacity), nitrogen (2% of global capacity) and phosphate (3% of global capacity). It is the largest producer of potash worldwide by capacity.
As the table below shows, Potash Corp. has a somewhat diversified revenue stream. It is also well diversified geographically, by selling to US, Canada and Canpotex. Canpotex is an export company that is a third owned by Potash Corp. and exports outside the US and Canada, to Latin America, China, India and others.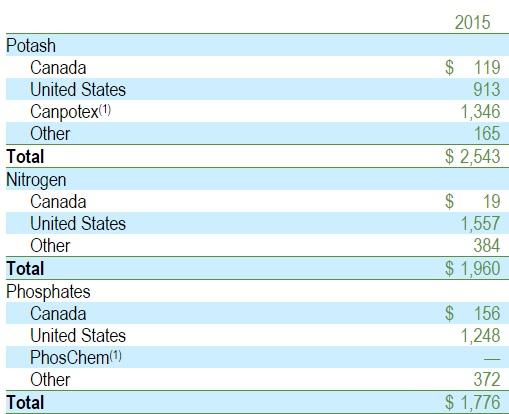 Source: 10-K 2015
In the first half of 2016, the company struggled with weak pricing in potash. However, in the second half, demand started to solidify and there was some small recovery in prices for potash. Its customers were engaging more and farmers were once again seeing value in these nutrients. Potash Corp. says,
"we believe this is the first year in more than a decade where potash industry has had a drawdown in global inventory at both the producer and distributor levels."
This means that Potash Corp. will be in a more favorable environment in 2017 versus 2016. Things are slowly starting to improve but Potash Corp.'s share prices has not fully reflected this turnaround opportunity.
The lower potash prices of 2016 created huge headwinds that compressed Potash Corp.'s gross margins. All 3 nutrients had terrible realized prices in 2016 vs. 2015.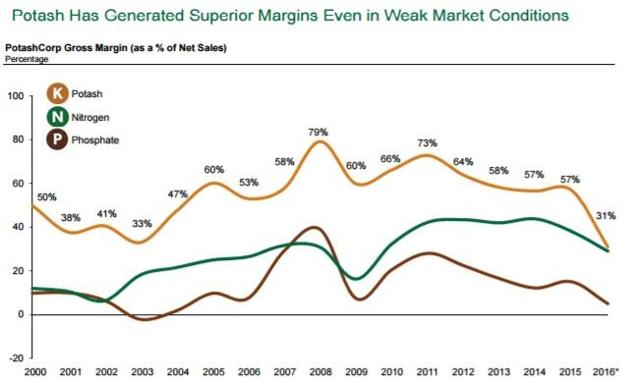 Source: 2016 Q4 Investor Presentation
The company believes that there is significant demand for potash going into 2017 and that favorable economics should develop in 2017. For example, from October 2016 to January 2017, Potash Corp. has witnessed a 17% increase in Chinese wholesale prices and that it expects 2017 to be an improvement upon 2016. Throughout 2016, investors waited the whole year for China's contract that would offer support to potash prices but that never materialized. This year, other countries are already engaging with Potash Corp. without waiting for action from China.
However, it is not all rosy for Potash Corp. because in its phosphate segment, the company feels it will continue to see prices decline in phosphate and the bottom has not yet been found. This will partially offset the gains expected in potash throughout 2017.
Financials

Source: Morningstar.com; author's calculations.
I typically define a good business with pricing power, when it has a FCF margin above 5%, (FCF/Revenue). As you can see above, Potash Corp.'s FCF margin and ROE are absolutely fantastic. Throughout the fertilizer downturn, management has kept cost in check. Kudos to Potash Corp.'s management.
Potash Corp. has grown its top line by a CAGR of 5%, which is not fantastic, but significantly better than inflation. Moreover, in spite of Potash Corp. not growing its top line a lot, it has been actively repurchasing its shares aggressively over the past decade and this has boosted the EPS number to a CAGR of 10.9%.
Valuation
Relative Valuation
In order to confirm that there is a margin of safety, I performed both a relative valuation and a DCF valuation.
Source: Morningstar.com
My favorite metric is P/S. I like it because it is quite a clean metric. I like to compare what investors have been willing to pay for a stock over the past five years and what they are willing to pay for it now. In the past five years, investors were happy to pay 3.8x P/S. Currently, investors are only asked to pay 3.3x P/S. So on a relative valuation, the stock is underpriced.
DCF Valuation
I confirmed the margin of safety when I performed a back-of-the-envelope DCF analysis with a normalized $1275M of FCF, with 4% growth over the next five years (which is certainly below its 10-year average), before leveling off at 3% (which is less than the S&P 500 average and below this business's average). I then discounted this FCF back at 10%. I used 10% because POT is still somewhat cyclical and there are many factors that are outside of management's control. This brings the DCF to roughly $19.5B market cap or at least 20% upside to the current share price.
Competition
Potash Corp.'s stock trades cheaply relative to its potential, especially when you consider that it is a profitable stalwart that has consistently repurchased its shares over the past decade. Nevertheless, let us compare what investors are currently paying for a close competitor, Mosaic (NYSE:MOS).

Source: Morningstar.com
This quick and dirty overview reinforces the view that this sector is currently out of favor. Investors are only willing to paying 1.5x P/S versus the 5-year average of 1.9x P/S, which is noteworthy when one considers that MOS is up ~28% over the past year, significantly outperforming the S&P 500 (~22%) over the same period.
Conclusion
An investment in Potash Corp. is not for everyone. It should take place in a diversified portfolio of long-term patient contrarians. There is a potential upside of 20%.
On the other hand, investors that are interesting in being exposed to the cyclical upturn in potash but demand a bigger margin of safety could do well to look at Intrepid Potash (NYSE:IPI) at its current trading price.
Thank you so much for reading my article. If you have enjoyed reading this article, please click "Follow" to get more articles of mine in real time.
Disclosure: I am/we are long IPI.
I wrote this article myself, and it expresses my own opinions. I am not receiving compensation for it (other than from Seeking Alpha). I have no business relationship with any company whose stock is mentioned in this article.