I have been researching Entercom Communications Corp. (NYSE:ETM) for the last several weeks as a good small-cap business with a prudent, invested management team with a compelling shareholder yield through a 2% dividend and some substantial debt reduction. I had to throw that research largely out the door as Entercom announced a merger on February 2, 2017, with CBS Radio (CBSR). This was somewhat of a surprise move as CBS Radio was well down the path of launching an IPO, which several Seeking Alpha contributors reviewed as an investment opportunity (here and here).
The Details
The merger is being structured as a Reverse Morris Trust transaction, with CBS Corp. (NYSE:CBS) spinning off CBS Radio, which would, in turn, merge with Entercom: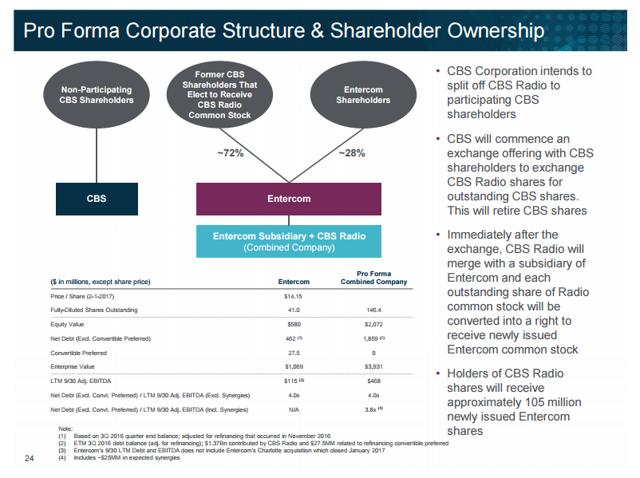 Source: CBS-Entercom Merger Presentation
Prior to this deal, Entercom had a two-class structure equity system, with the Field family holding the higher vote Class B shares. Each Class B share had 10 votes for each share, compared to 1 for each Class A share; the Fields had 95.8% of the Class B shares, which gave them a 72.8% voting interest in the company. The Field family has endorsed the deal so I don't see any significant completion risk, though it does require FCC approval. An S-4 filing is expected to be done shortly, with a vote by Entercom shareholders in Q2 2017, and closing anticipated before the end of the year.
The Radio Business
For many investors, the radio business is a relic from years gone by, replaced by Internet radio, YouTube, and TV. Its growth rate, according to Nielsen, has not been strong, but has been positive, with the addressable listenership of 240m in 2015 up from 230m in 2006. The nature of its broadcasting technology (free access to its users) means that it has a strong ability reach the greatest number of people, currently at 93% of the US population.
Radio is a highly scalable medium. Each additional listener, which helps to drive ad rates, has a very low cost of acquisition since the broadcast infrastructure and content are relatively fixed. As a result, the cost per ad chargeable to customers is quite low at $10.57 per 1,000 for a local spot compared to $24.40 for TV and $14.62 for a one-third page print ad, according to 2016 data from Intermedia Dimensions. This makes radio an ideal medium to hit a broad population.
The Deal Rationale
The combination of the two companies makes sense on several levels. First, the combined station presence increases to 244 total stations with representation in 23 of the top 25 markets, including all of the top 10. Management has estimated that it will need to divest 15 stations in order to comply with FCC requirements; these are located in Los Angeles, Boston, San Francisco, Sacramento and Seattle. These can be divested either through straight sales or in cash, depending on the fit with the existing station portfolio.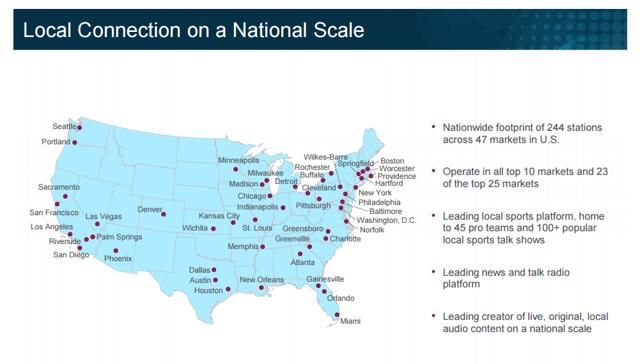 Source: Company Presentation, CBS-Entercom Merger
With a greater national presence, CBS-Entercom will have the ability to run larger national ad campaigns for clients that were previously not available to either company. They will also have a substantial portfolio of sports broadcasting rights: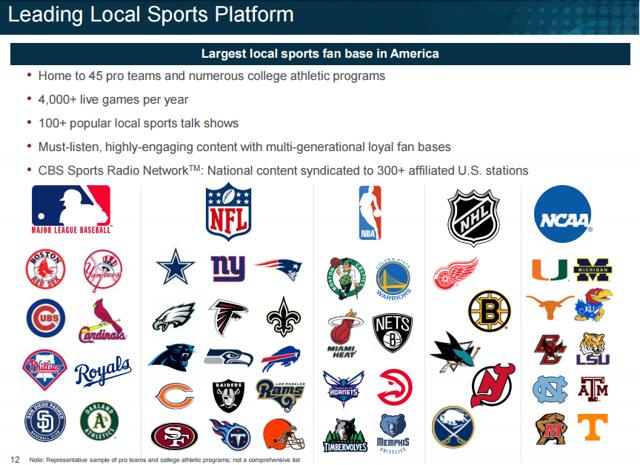 Source: Company Presentation
With the ability for consumers to time shift both viewing and listening through different mediums like podcasts and YouTube, live content that consumers actually consume live has become more and more valuable. Sporting events almost guarantee a listenership since the value to consumers after the event is very little but very high during it. The combined CBS-Entercom has a very strong stable of these broadcasting rights, giving it a baseline of valuable content.
Management has also indicated that there should be cost savings of about $25m annually that it expects to achieve with 18 months of closing. There should be some overlap in both selling expenses (nationally and with duplicate regional offices) as well as in the administration area since there is no need to have infrastructure to maintain two public companies.
The combined CBS-Entercom will have a debt to EBITDA ratio of about 4.0x. This compares very favorably to its competitors: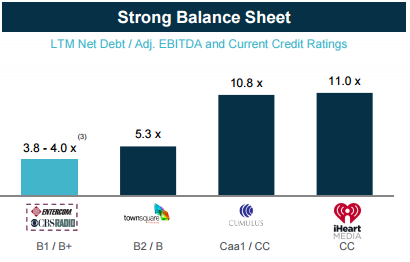 Source: Company Presentation
Looking to the term structure, none of its debt comes due until 2021 at the earliest.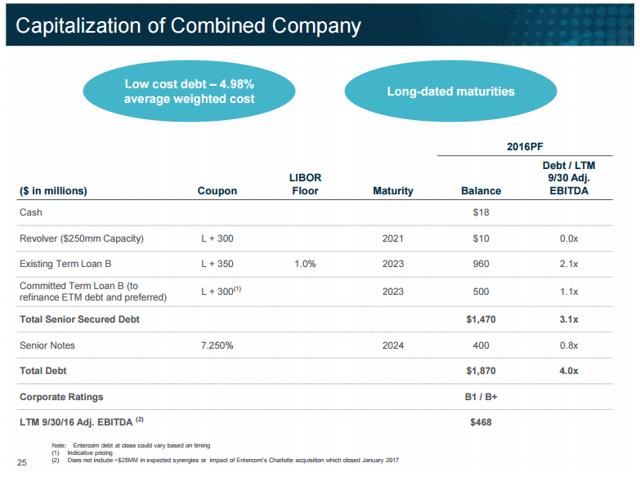 Source: Company Presentation
CBS Radio brings $1.37B in debt to the combined company, while Entercom brings $439m in debt. Management acknowledged that the debt level would be a little high to start with (slightly over 4.0x Debt to EBITDA), with the long-term goal to bring it down to 3.5-4.0x. Entercom's management had a long history of driving down its debt levels and costs, cutting its debt in half over the previous five years as well as going through a refinancing in November 2016 that shaved almost $10m in annual interest costs. I think it is highly likely that it applies this aptitude to the combined company.
The hidden asset in this deal is the Entercom management team. One of the problems for CBS Radio is that it is an orphan unit within the larger CBS Corp. CBS Radio's market capitalization, based on this deal, is $1.5B, a very small fraction of CBS's $28.5B total market capitalization. CBS's CEO, Les Moonves, is more of a "TV Guy", with the company more focused on developing visual content than dealing with the slow-growth radio business. The rumored merger with Viacom (NASDAQ:VIAB) also gives the impression that CBS is more focused on getting further into content thus marginalizing the radio business.
The danger CBS was facing with the standalone spin-off of CBS Radio was the recent historical results did not have very good optics for investors, with sales, EBITDA and cash flow all trending down:

Source: CBSR S-1 Filing
Going through with an IPO would likely have been a disappointing exercise due to this downward trend. CBS Radio would have needed to add administration to support being a stand-alone company, reducing its performance further. The IPOed CBS Radio would also be burdened with almost $1.4B in debt.
The choice of the Reverse Morris transaction for this deal tells us a lot, since it gives a lot of latitude for Entercom to retain control of the new entity. For one, the Board of Directors will be a majority ex-Entercom, with five directors being nominated by it and four from CBS. David Field, CEO of Entercom, will also remain in charge, with the Field family having 8% of the outstanding shares and 25% of the voting, to begin with, reflecting the control it had in the legacy Entercom. As noted in the presentation, the management team will be then filled out with the "best and brightest" from both companies.
How this will unfold still remains to be seen, but the trends in Entercom's performance give me a feeling that a lot of Entercom management will likely continue on in the merged company. Entercom had been growing its overall business with a combination of acquisitions (most recently, four stations in Charlotte, NC) and organic growth. In its most recent 10-Q, Entercom's sales were up 15%. Factoring out its recent acquisitions, Entercom's organic growth was between 4% and 6%, according to its Q3 conference call. While this is not eye-popping, in an industry that is relatively flat, it is relatively strong. Entercom's management should be able to install some of its techniques in CBS Radio which could not only arrest the sales declines but potentially catalyze them through cross-selling within the larger station base and enhancing their digital properties.
The Takeaway
Prior to the merger announcement, I was very attracted to Entercom with its strong focus on shareholder yield (both through debt repayment and its $0.30 annual dividend) with a relatively inexpensive valuation. With a market cap of $584m before the announcement plus its net debt of $429m per its Q3 10-Q, Entercom's enterprise value sat at $1.013B pre-merger. With an EBITDA of $115m over its last TTM, Entercom was trading at an EV/EBITDA multiple of just 8.8X. Considering its growth rate of revenues was over 15% and its operating income was in the high 20% range, this was a very reasonable valuation for the company.
If we consider the combined CBS-Entercom entity, its pro forma market capitalization is $2.283B at Entercom's current share price. Adding in the expected debt-load of $1.87B, we come to an enterprise value of $4.153B. Taking management's estimated EBITDA (including $25m in annual synergies) of $493m, the revised multiple sits at 8.4x EV/EBITDA, less than when I looked at the standalone and including the 10% pop post-announcement.
Part of this discount is likely due to CBSR's negative financial trends. The fact that it is a much larger entity than Entercom could make it difficult to turn around ("large boats turn slowly"), depending on the culture fit between the two organizations. On a valuation basis, the combined entity will be at a lower EV/EBITDA than most comparative companies (Cumulus (NASDAQ:CMLS) has a market cap of just $35m), while having a substantially less risky balance sheet: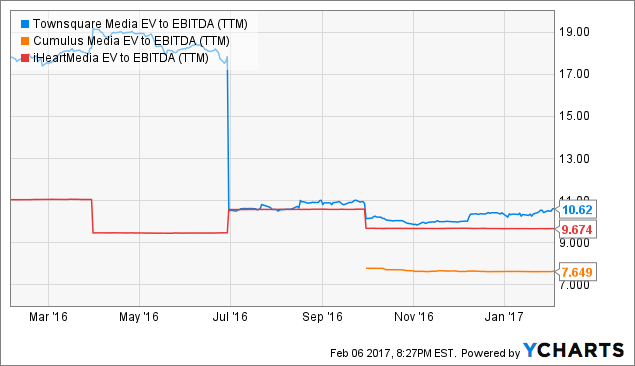 Source: TSQ EV to EBITDA (TTM) data by YCharts
Management has committed to the current dividend of $0.30 per share, a 1.9% yield at these levels, but noted that increases would be balanced with debt reduction and future acquisitions.
I think this merger will be a winner for both shareholder bases. For CBS, instead of trying to flog an unappealing IPO, it is able to outsource the restructuring of CBSR by combining it with a very successful smaller player. For Entercom, shareholders get a chance for management to add value to a very large revenue base. If it can get CBS's revenue run rate of $1.23B to increase in-line with Entercom's organic growth rate of 5%, this should add an extra $60m in revenue and $15m in EBITDA annually, just from the CBS business, let alone any potential revenue synergies, such as boosting its digital properties, new national ad campaigns or additional acquisitions.
Should the deal gain approval by the FCC, shareholders can expect to see the disposition, either by sale or swap, of the 15 stations noted earlier. This could serve as a further near-term catalyst, depending on what they are able to monetize them for; Entercom's deal history is fairly strong, with the Charlotte acquisition it's most recent. Improved performance from CBSR could also serve to propel the shares up as well. The release of the S-4 will also provide further clarity on the deal details.
I wish I had taken action on Entercom when I first looked at it, but it looks potentially more compelling at these levels as a market leader rather than just a well-run small-cap player.
If you see something in this article that you agree with or, even better, disagree with, please take the time to comment below. This makes all of us better investors. If you like what I'm doing, you can follow me by hitting the "Follow" button at the top of this article. Plus, you can follow me in real time by selecting that option.
It might give you somewhat of a head start whenever I write an article, what actions I am taking and why. I spend most of my time analyzing small-cap companies, but occasionally venture out into other areas as well (such as short positions). Thank you for reading!
Disclosure: I/we have no positions in any stocks mentioned, but may initiate a long position in ETM over the next 72 hours.
I wrote this article myself, and it expresses my own opinions. I am not receiving compensation for it (other than from Seeking Alpha). I have no business relationship with any company whose stock is mentioned in this article.