Reading headlines has usually been a very poor way to judge companies, and that is increasingly true in a world where headlines are decided based off of how many clicks they will generate. Still, let's take a look at a few headlines from recent months regarding Twitter (NYSE:TWTR). These are not selected to make a point, these are simply the main headlines I've kept about Twitter in the past few months: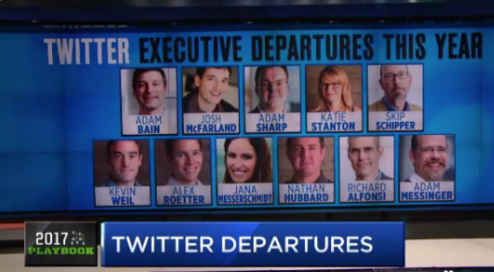 If we take a quick look, the two headline categories we've been seeing are employee/exec departures and product improvements. The big problem is that those improvements (increasing 140 character limit, making the product easier to use, decreasing abuse/trolling) are exactly the same headlines that the company had 4-5 years ago. Abuse, lack of user growth, CEO and exec team turnover have been problems for at least 10 years if not the entire lifespan of Twitter. Nick Bilton's "Hatching Twitter" certainly presents even the very first few years of Twitter as full of problems.
All of that while Facebook (NASDAQ:FB) makes headlines with its new "stories" feature in Instagram, developments of its virtual reality division Oculus, and artificial intelligence. Snapchat (NYSE:SNAP), which just filed its S-1 to go public has been introducing spectacles, new ad concepts, working with content producers that are starting to develop customized content for its platform, etc. Google (NASDAQ:GOOG) (NASDAQ:GOOGL) and Amazon (NASDAQ:AMZN) are working on an ever-increasing list of products and features.
Twitter's "Lack Of" Innovation
Because of the fact that Twitter has been so reluctant to take risks with its product, it has been left behind by a competitor that was much more willing to make big changes. Just take a look at users. Not only is Twitter still losing ground to Facebook, but other products that started much later have crushed Twitter.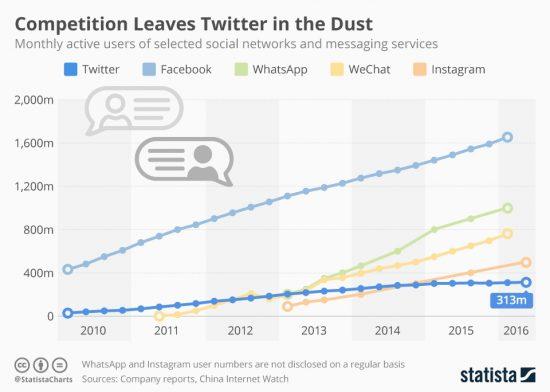 Credit: SmartInsights
It doesn't look clear what Twitter's plan is. In many ways, it reminds me of Yahoo (YHOO), which has been looking for over a decade for direction, and in many ways, is unable to even answer if it's a technology or a media company. When Twitter starts paying for NFL broadcast rights, investing in SoundCloud, it looks to me like the company is desperate for a direction.
The Twitter "Product" Is Not The Problem
Twitter is a unique product that I personally use more than any other on my phone but it remains difficult to explain or introduce to new users. That being said, I don't believe that is the core problem. Just look at how Twitter was able to screw up other products such as Vine or Periscope, which in many ways, were the early leaders in their niche. Periscope had a great product, but Twitter took an eternity to integrate it on its platform and ended up letting Facebook Live take over.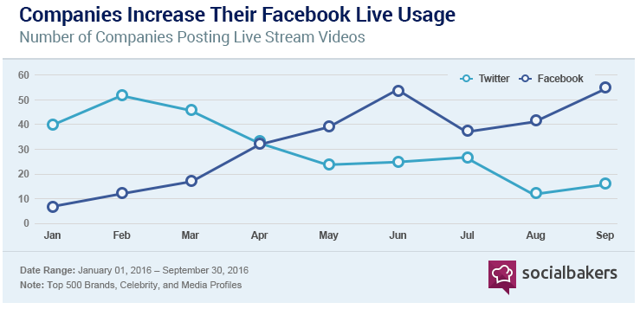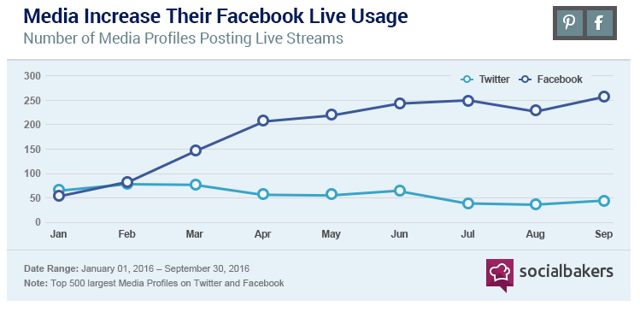 Credit: SocialBakers
The fact that President Trump, perhaps the most famous Twitter user on Twitter decided to stream his Supreme Court nomination on Facebook live rather than Periscope is a clear sign. Like Vine, that race does seem lost.
So what's the problem? It's impossible to avoid blaming CEO Jack Dorsey who, as you'll remember, is only working part time at Twitter. Twitter has not been brave enough to address problems that have handicapped the company for a decade and that have easy solutions. Would some users be upset? Yes. But not acting and keeping a stale product is not a better solution. Take user abuse for example? Like Facebook, Twitter should move quickly towards using real identity. It's also impossible to look at this chart of exploding costs and not blame Dorsey. What is all of this spending going towards?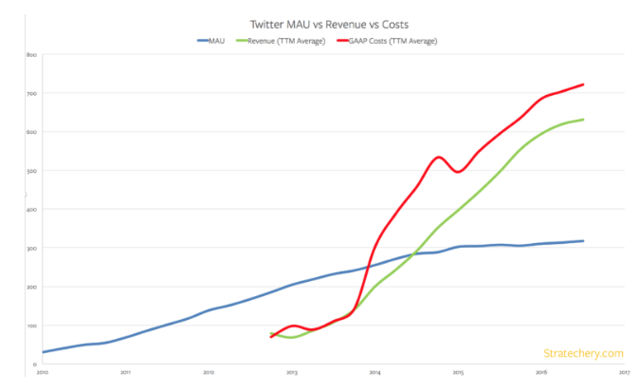 Credit: Stratechery.com
The Only Option Is Selling
Twitter has stalled in terms of usage and user growth, and has major problems in its executive team. All of this plus more has led to disappointing earnings and a depressed stock. You would think that finding a buyer would be its only option and that would probably be correct, but there seems to be very little interest with the last rumored bidder (Salesforce (NYSE:CRM) backing out a few months ago. Several other media buyers (such as Disney (NYSE:DIS)) could potentially be interested, but rumor has it that the trolling problems are a turn-off.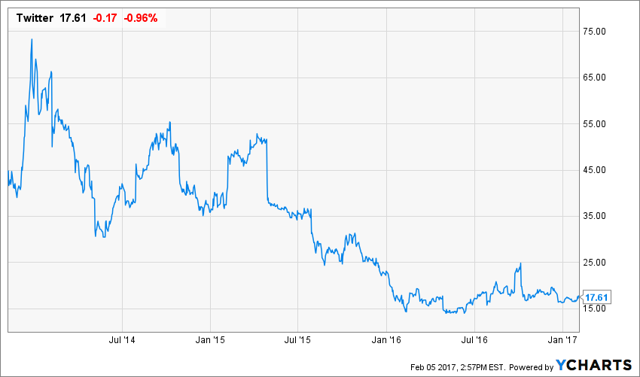 Frankly, I do not see anything that leads me to believe a turnaround will happen in the near future or even that the company will be able to either successfully compete in the market or fix its financials to, at the minimum, become profitable.
The Only Possible Conclusion
I don't see any alternative to ending this article by recommending selling/shorting Twitter. The company has been able to sustain rapid growth in revenues ,but that does not seem sustainable. While Facebook is growing its user base, Twitter isn't. In terms of a forward P/E multiple, Twitter is trading at higher ratios than companies such as Baidu (NASDAQ:BIDU), Priceline (NASDAQ:PCLN) and even Facebook, which I don't think is warranted by the company's history.
If I asked you what's next for Twitter in the next 5-10 years, what would your answer be?
Disclosure: I am/we are short TWTR.
I wrote this article myself, and it expresses my own opinions. I am not receiving compensation for it (other than from Seeking Alpha). I have no business relationship with any company whose stock is mentioned in this article.