Even now as I approach my mid-30s I still remember watching Disney movies as a kid. I also remember when we went to Disney World when I was 5. As a new father, I'm looking forward to watching movies with my daughter and eventually taking her to Disney World to create memories for her.
That's the power of The Walt Disney Company (NYSE:DIS). They're a well-oiled machine in the media industry that is built upon families creating and sharing in memories together for generations.
Dividend History
If I could only use one metric to assess a company's quality their dividend history would be high on the list. You won't find low quality companies that just wander their way into a lengthy dividend growth streak; rather it takes the combination of a management that is willing to reward investors with cash and most importantly a quality company that can protect and grow their business.
Most of the companies that I own have dividend growth streaks of at least 10 years. While those companies are great they and I consider them part of my core portfolio, they typically come with the tradeoff of higher starting yields, but lower annual growth. That's why I like to look to companies that are in the beginning stages of potentially a lengthy dividend growth streak. These companies are usually poised for higher growth in the future while also paying out a small portion of their cash flow as dividends. That gives the potential for dividend growth to be supercharged with the combination of earnings that grow quickly in addition to a rising payout ratio.
Disney has paid an increased dividends for 7 consecutive years, giving them the title of Dividend Challenger. The following chart shows Walt Disney's dividend payout history. A full screen interactive version of this chart can be found here.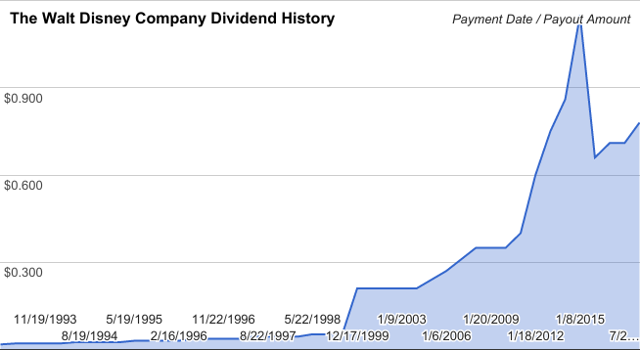 *Image Source: Author / Data Source: Walt Disney SEC filings
Disney's dividend history is confusing to say the least. While it appears that there was a cut recently in 2015, it's actually due to management changing the dividend payment structure. Disney has gone from quarterly payouts, to annual payouts and is now making semi-annual payments.
Disney's dividend history isn't the cleanest although they have amassed a 7-year long streak of rising dividends. They've also paid the same or higher dividend since at least 1993. If you look at the following table there appears to be a dividend cut from 2015 to 2016; however, 2015 includes an extra dividend payment due to Disney's switch from annual to semi-annual dividends.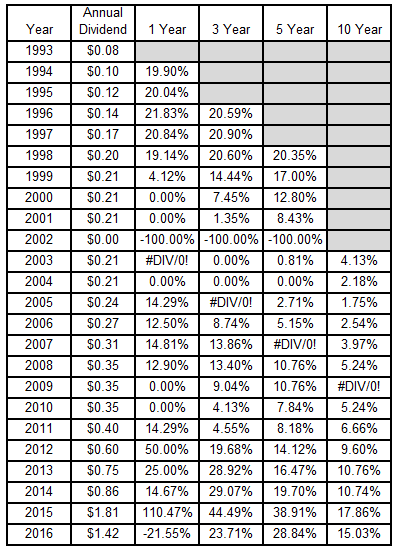 *Image Source: Author
A full screen interactive version of this cart can be found here.
While Disney's dividend payout history is a bit muddled, the growth has nevertheless been fantastic despite the few hiccups to their dividends.
Quantitative Quality
As investors, though, we luckily aren't limited to using just one metric when analyzing companies. We're allowed free range to use any number of metrics we desire. Determining the quality of a company is highly subjective, but my own preference is to examine companies through their cash flow.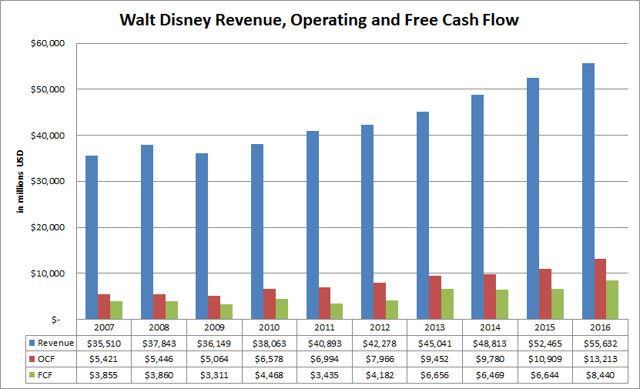 *Image Source: Author / Data Source: Walt Disney SEC filings
Disney has done an excellent job, moving the company forward since coming out of the recession in 2009. In fact, revenues have only declined once year-over-year since 2007 and that was during the depths of the recession. From the end of fiscal year 2007 to the end of fiscal 2016, revenue grew 5.1% per year which is good for a 57% increase over the entire period.
Even more encouraging is the improvement in cash flow from operations over that same period. Operating cash flow grew by a total of 144% from 2007 through 2016 or 10.4% per year.
Free cash flow hasn't quite matched the growth in operating cash flow although Disney has still managed impressive growth. Annual free cash flow increased a total of 119% or 9.1% per year.
Since operating and free cash flow have both far outpaced revenue growth, we see a subsequent increase in Disney's cash flow margins.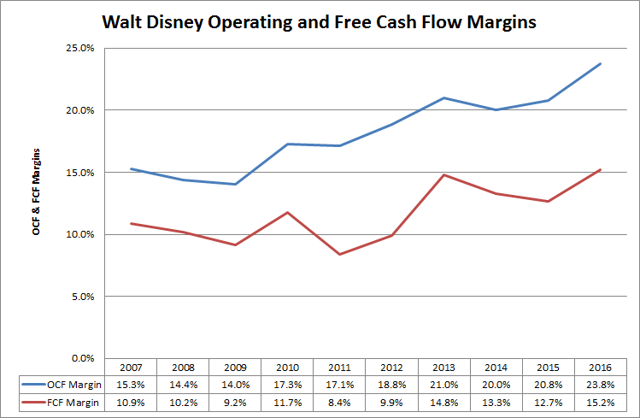 *Image source: Author / Data Source: Walt Disney SEC filings
Operating cash flow margins expanded from 15.3% up to 23.8% for fiscal year 2016. Likewise, free cash flow margins improved from 10.9% to 15.2%. Capital expenditures increased over the period, which explains the widening gap between operating and free cash flow.
Cash flow margins represent the amount of cash generation for every dollar of revenue that Disney generates. Looking at it from a different perspective, I like to see how much cash Disney generates per dollar of equity and total capital invested in the business. Ideally both of these values would be above 10%.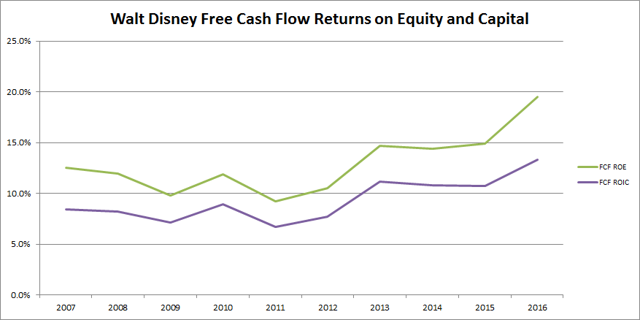 *Image Source: Author / Data Source: Walt Disney SEC filings
Similar to the free cash flow margin, Disney has managed solid improvement in their free cash flow returns on equity. The 10% threshold is a fairly standard qualitative measure that signifies a company being a cash cow. Disney's free cash flow return on equity has been above the 10% threshold more often than not, with a noticeable jump in both fiscal year 2013 and again in fiscal 2016. The average free cash flow return on equity for the entire period is a solid 12.9%.
Disney's free cash flow return on invested capital has seen a similar improvement as well although it hasn't consistently been above the 10% threshold. However, it has been above 10% for each of the last 4 fiscal years. The average free cash flow return on invested capital for the entire period is 9.3%.
Free cash flow is the lifeblood of any company. Unlike earnings it is cold, hard cash in the company's bank accounts. It represents the excess cash above and beyond the required capital expenses to both operate and grow the business. That surplus cash can then be used to buffer the balance sheet, repurchase shares, or pay a dividend to shareholders. In order to understand how Disney uses their free cash flow I examine 3 variations of the metric.
Free Cash Flow (FCF) - The traditional calculation of operating cash flow less capital expenditures.
Free Cash Flow after Dividend (FCFaD) - FCF less the total cash spent on dividends.
Free Cash Flow after Dividend and Buybacks (FCFaDB) - FCFaD less net cash used on share buybacks.
Cash cow businesses generate excess cash above and beyond what's needed to run, defend and grow the business. The truly great companies are the ones that generate positive cash flow even after accounting for dividend payments and share buybacks.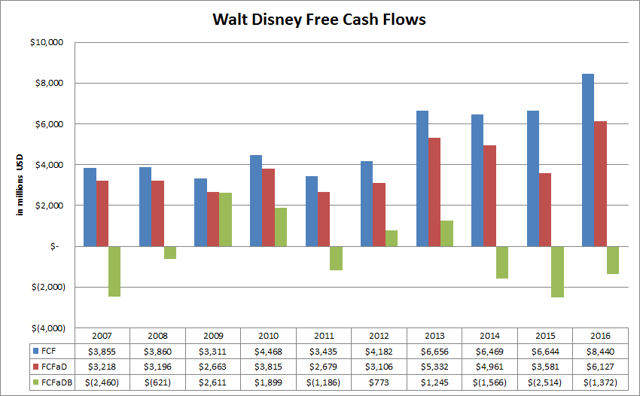 *Image Source: Author / Data Source: Walt Disney SEC filings
Disney's free cash flow variation chart isn't the prettiest that I've seen; however, there's still a lot to like here. For starters traditional free cash flow has been positive every single year which is a great start. That gives management the ability to move further down the capital allocation chain.
FCFaD has been positive every year as well. The dividend is well covered by free cash flow with the free cash flow payout ratio averaging just 23.2% from 2007 through 2016. The positive free cash flow after paying the dividend is what has allowed Disney to continue to grow the dividend as well as employ a share buyback program.
For dividend paying companies, one of the best things you can see is a positive FCFaDB. That means the company is able to fully fund the growth and operations of the business, the dividend as well as share buybacks with excess cash to spare. A company that routinely has positive FCFaDB has room to increase the dividend or continue with share buybacks without having to access the capital markets.
Unfortunately, Disney's FCFaDB is lacking a bit with negative FCFaDB in 6 of the last 10 fiscal years. In aggregate Disney has spent $3.191 B more on share buybacks than the internally generated and available cash flow. In order to fund the buybacks Disney has had to access the debt markets with long-term debt increasing $4.591 B over that period. This will not be sustainable over the long term without deteriorating the balance sheet.
Buy, Hold or Sell?
Sadly, identifying great companies is only part of the battle when it comes to investing. The other half is investing in them when you find them trading at a discount to their fair value in order to make a good investment a truly great one. Disney's trailing twelve month P/E ratio is currently sitting at 19.2x with the forward valuation, based on the current fiscal year, is sitting at 18.5x.
One method I like to use to identify price targets for a specific company is the minimum acceptable rate of return analysis. This requires estimating the future earnings and dividends and then applying a reasonable expected future valuation.
On average, analysts expect Disney to earn $5.91 in the current fiscal year, $6.67 in fiscal year 2018 and to grow earnings at 10.85% per year through the next 5 years. For the subsequent 5 years, I've assumed that earnings growth will slow to 6% per year.
The annual dividend payment for fiscal year 2016 amounted to $1.42 per share with $5.73 of earnings supporting it. That puts the payout ratio at 25%. Assuming Disney sticks with their dividend raise schedule, Disney's annual dividend for fiscal 2017 will come to $1.56 per share with $5.91 of estimated earnings or a payout ratio of 26%. I've assumed that Disney will continue to grow dividends at the same rate as earnings to maintain a payout ratio of 26%. Dividends will be paid and increased at Disney's recent periods.
The following table shows the price targets assuming a purchase on February 7th with varying P/E multiples and a 12% minimum acceptable rate of return. Returns are calculated as internal rates of return.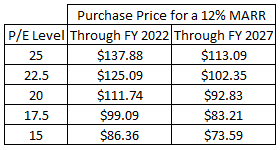 *Image Source: Author
The price targets show the most that you could pay per share in order to generate a 12% internal rate of return through then of calendar 2022 and 2027, respectively, based on the growth playing out as assumed. Returns include estimated dividend payments.
Currently, the share price is sitting at just over $109 suggesting that an investment in Disney would generate at least a 12% internal rate of return if the valuation at the end of 2022 was 20x which is right around the current valuation. However, with the slower growth period from 2022 through 2027 the current share price would only give a 12% internal rate of return assuming the valuation expands to 25x.
Although, if you're willing to accept investment returns that match the business performance, a lower return threshold might be appropriate. I've re-run the calculations using a 10% minimum acceptable rate of return. The revised price targets can be found in the following table.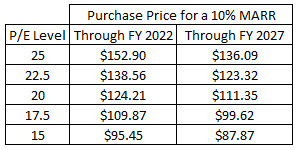 *Image Source: Author
With all else being equal, it makes sense that a lower acceptable rate of return leads to a higher price that you can pay today. If your hurdle rate for an investment in Disney is 10% then the current share price would be an attractive investment. At today's price near $109 a 10% return would still be generated even in the case where the P/E contracts down to 17.5 by the end of 2022. Assuming a stable valuation to the end of 2022, you could be willing to pay up to $124.21 today in order to generate a 10% rate of return.
However, moving out to the end of 2027 you could only generate a 10% rate of return if the valuation stays flat. That's not a horrible assumption since the current valuation at 19.2x is reasonable.
Conclusion
My biggest concerns regarding Disney are the media networks, primarily the cash cow that is ESPN, as well as a potential decline in the profits from the studio entertainment division. The studio segment has been firing on all cylinders over the past several years with multiple blockbusters from Marvel, Star Wars and Pixar. That's not to say that the studio division will tank, but it's something to be wary of since it has been running at peak performance.
With regards to the media networks segment, the big concern is what happens if/when cable providers swap to a la carte purchasing. Disney does have a lot of sway with the providers since ESPN and the Disney channel are two of the bigger reasons that we have yet to see the swap. Since the media networks division accounted for 42% of fiscal 2016's revenue and 49% of fiscal 2016's operating income, a drastic change to the profitability would have an adverse effect on Disney and their investment returns.
That being said the current valuation of Disney seems fair, marking it as a potential purchase. It's not at a level where investors should back up the proverbial truck, but an investment at today's price is reasonable. There's also the likely tailwind of a rising payout ratio over the next 5-10 years that would allow investors to pick up even more return.
Disclosure: I am/we are long DIS.
I wrote this article myself, and it expresses my own opinions. I am not receiving compensation for it (other than from Seeking Alpha). I have no business relationship with any company whose stock is mentioned in this article.
Additional disclosure: I am not a financial professional. Please consult an investment advisor and do your own due diligence prior to investing. Investing involves risks. All thoughts/ideas presented in this article are the opinions of the author and should not be taken as investment advice. In addition to owning shares in The Walt Disney Company I am currently short one put contract on the company.