Transurban Group (OTCPK:TRAUF), an Australian-based manager and developer of toll roads in Australia and the US, reported strong earnings earlier today. The company also provided guidance for a higher distribution in 2017, which will be the 8th consecutive year of increasing its distribution.

Readers should note that all figures are referenced in AUD unless the contrary is indicated or reference is made to the US ticker symbol. The following note on the tax treatment of the distribution is meant as an aid to readers and subject to the caveat that I am not a tax practitioner. In short, 86% of the latest distribution was paid by the Transurban Holding Trust, a managed investment trust for purposes of Subdivision 12-H of the Taxation Administration Act and hence subject to a 7.5% withholding tax for US citizens. The second component consists of a partially franked dividend paid by Transurban Holding; the unfranked portion thereof will be subject to a 15% dividend withholding tax.
Rising Rates
It may be worth considering the impact of rising rates on Transurban Group should these materialize. The prospect of rising rates has seen some expressing concerns that investors will sell off higher-yielding stocks in a rising rate environment as they are no longer willing to pay a premium for dividend stocks. These concerns are not without merit and should be considered a key risk factor to investing in Transurban.
The second concern that arises in terms of a rising rate environment is the fact that infrastructure players such as Transurban generally have higher debt levels. In a rising rate environment, the cost of funds (COF) will generally increase. This potential increase should, however, be considered with the company's interest rate hedges in mind.
Transurban's latest investor presentation indicates that 99.8% of the interest rate is hedged as of the end of December with 97% of the hedging tenor matched to the tenor of the debt. This reduces the impact of future rate increases on the company's current debt. The company also reported a 20 basis point QoQ improvement in its FFO/Debt ratio.
Earnings
The company reported a 26.3% YoY increase in total revenue, which was positively impacted by a 12.3% increase in toll revenue. The company has continued to see increasing toll revenues on its major routes in Australia. I expect this positive trend to be maintained in the near term in light of Australia's generally positive demographic trends.
The distribution for the first half of 2017 was also adequately covered by free cash flow and FFO leading to the conclusion that the updated guidance is reasonable, and that the dividend is likely to increase further over the course of the next few years.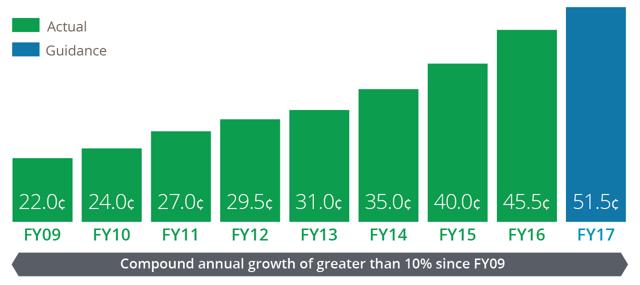 (Source: Transurban)
Management has also indicated that the company is likely to benefit from increased infrastructure spending in the US should President Trump's infrastructure programme become a reality. I did not give significant consideration to this potential, given the fact that it is by no means a certainty, but should the infrastructure programme be implemented, it is likely to further enhance the company's long-term growth potential.
Valuation and Conclusion
If considering the stock based purely on the basis of its P/E ratio of around 72, one is likely to conclude that the stock is tremendously overvalued. It is, however, generally accepted that investors in companies such as Transurban are better served by considering the price to funds from operations (FFO). The stock is trading close to 19 times FFO, which does not give rise to substantial concern.
The historical dividend yield in comparison to the current yield has also increasingly become a popular method for dividend investors to value a stock. I am, however, of the view that although this metric is valuable, it should be interpreted with caution. Transurban is likely to yield close to 4.7% in 2017 based on the updated guidance, which is above its 5-year average yield of 4.51%.
I do not currently consider the stock to be a good value play. I do, however, believe that the company has good growth potential, and is likely to continue increasing its dividend in the near term.
Disclosure: I/we have no positions in any stocks mentioned, and no plans to initiate any positions within the next 72 hours.
I wrote this article myself, and it expresses my own opinions. I am not receiving compensation for it (other than from Seeking Alpha). I have no business relationship with any company whose stock is mentioned in this article.
Editor's Note: This article discusses one or more securities that do not trade on a major U.S. exchange. Please be aware of the risks associated with these stocks.