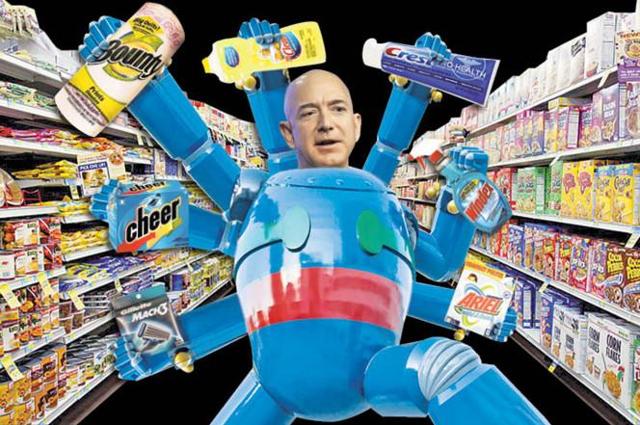 Source: New York Post
There has been a lot of rumors concerning the strategy Amazon (NASDAQ:AMZN) may employ to launch a series of physical retail stores, with seemingly as many denials from Amazon concerning how the stores will be fitted with workers, as the news lead is focused on robots running the stores, with few humans being utilized as workers.
Since the story started to circulate, Amazon has repeatedly said the idea of predominately robot-run retail grocery stores isn't true. What hasn't been denied is a physical grocery store with a lot of automation to improve the customer experience over traditional stores.
These types of stories are always interesting, but from an investor's point of view, what's most important to me, no matter what the percentage of human versus robot workers ends up being, is the fact Amazon has the ability to start moving in this direction, with the ultimate goal of widening margins while enhancing customer experience with select items.
My thought is the data accumulated on customers from their buying habits is the engine behind their eventual introduction of physical stores, and I believe the products offered will be those that don't sell as well on the Internet because of the desire for consumers to handle and see them before buying, and thus, won't significantly cannibalize e-commerce sales at any meaningful level, contrary to a company like Wal-Mart (NYSE:WMT), which in general, does take away from physical store sales when it increases online sales.
I see Amazon's future strategy in regard to physical sales continuing to focus on ways to get more share from hard-to-sell online items, with the additional slicing of costs normally associated with physical stores, which in turn would widen margins.
Known plans at this time
Since Amazon has denied some of the stories being put forth by the media concerning "Amazon Go," I'm going to primarily focus on what is known, and the nuts and bolts behind the data driving the initiative.
One wise thing Amazon has done is call this a beta testing period for the stores, which means it has a lot of plausible deniability about anything, which is of course part of the reason for putting out a trial balloon and letting the story get some legs to see what the response from the media and the public would be.
For the most part, because of the robot worker theme, it is presented as a business endeavor, which would have limited impact on the work force; meaning there would be far less workers at these stores than at similar competitors' stores. Again, Amazon has repeatedly denied this is how the stores will be designed and worked.
What does appear to be accurate at this time, and one part of the story I believe because of having managed multimillion-dollar retail stores in the past, is the company has put together a list of products from its database which focuses on, as mentioned above, products consumers like to interact with physically and with their senses.
This is highly probable because it would be what would determine the level of cannibalization of e-commerce sales. There is no doubt in my mind the company won't include its fast-moving online goods at these physical stores.
The grocery industry specifically, and the retail industry in general, has a lot of data which reveals these types of items. I believe Amazon has a data edge in that regard, because of its robust system which captures more information than its competitors in my opinion, mostly because of the amount of sales it generates when measured against its competitors.
Amazon Go
This is how the company describes Amazon Go on its website:
"Four years ago we asked ourselves: what if we could create a shopping experience with no lines and no checkout? Could we push the boundaries of computer vision and machine learning to create a store where customers could simply take what they want and go?"
Where the website differs with most news reports concerning the physical store concept for Amazon Go, is it says the stores will be about 1,800 square feet. Think of a little over four two-car garages to get an idea of the size. This is far under the 10,000 to 40,000 square foot figures being reported.
These smaller stores make a lot more sense from a management perspective, as it would include highly targeted items that are more desirable to interact with and probably have wider margins than other products.
That said, according to Amazon consultant Brittain Ladd, he is the person that designed the storage/retrieval system for the e-commerce giant, and says this:
"Based on my analysis, I was able to achieve margins of between 22 percent to 40 percent depending on the size and configuration of the multi-format store design and merchandising assortment. Such margins are unheard of even in the best-managed grocery retailers operating today."
First, he is correct with the margins concerning grocery stores; they are very low. More importantly, it appears the reason news outlets are getting this story wrong may be because there were a variety of models being experimented with by Amazon, and Ladd may have been asked to design a storage/retrieval system for each store size being considered. This is probably why sources are offering different stories to media, and why there have been numerous denials by Amazon in regard to them.
Even with the denials, it doesn't mean some parts of the stories aren't true. Yet because these store concepts are still in beta, the company has a lot more room to deny reports than it will when a final decision is made on the roll out of the concept.
Competitive advantage
What Amazon is attempting to do with this overall concept, whether or not it offers varying store sizes, is to eliminate the need for cashiers and checking out in the traditional manner, which in and of itself would relieve one of the most aggravating parts of shopping in physical stores: the time it takes in the checkout line.
That alone, even if there was no improvement in margins, could take share away from its competitors relying primarily on physical stores to generate sales. If it is able, through automation superiority and some robot workers, to widen its margins, it would be a huge improvement for the company, and it would make its retail business one that isn't considered a break-even business. It would almost be like finding another earnings stream outside of its e-commerce business.
With infrastructure around the U.S. and some other mature markets already in place, it wouldn't take an immense amount of spending to make this profitable fairly rapidly.
In that sense, the smaller stores make a lot of sense to start off with, as there wouldn't be much opposition or negative press because there is rarely very many people working a convenience store in the first place. It could fly under the radar and focus on the types of products consumers prefer to buy in person.
This in and of itself means this is going to be a different type of store, more than likely offering products not thought of as being for sale in similar-sized stores.
Conclusion
According to Ladd, these stores will have automation in place where an app would allow products to be acquired and then retrieved without the need to be checked out. This would really add "convenience" in a way never seen before by consumers.
There is no doubt this could also alleviate some of the pressure it has on its delivery system, which it has struggled to improve in a way that can offer even quicker delivery than it already has. If desirable products are rolled out at a neighborhood level, as is suggested by Amazon Go, it would remove the need for immediate delivery, as consumers would interact with the stores in a similar way they would with existing convenience stores. The difference would be they could get in and out much quicker; just taking their orders and going.
That is the major benefit and attraction for consumers. On the Amazon side, the margins is what is really interesting. If Ladd is correct in his analysis, margins would jump to a range of 22 percent to 40 percent, potentially significantly improving margins and earnings for the tech giant. That would be a game changer.
Once the concept is put into motion, the rapidly-moving company could scale it before its competitors have time to respond. It should give them an extraordinary lead in automated convenience stores that are made with the best customer experience in mind.
Most important to me, in all of this is the data and technology that Amazon already has in place to make this work. What that tells me is whatever direction Amazon wants to take in the future, it has a good chance of quickly leading the market in it, leaving their competitors far behind.
I like the idea of Amazon Go, but like more the fact Amazon can use its knowledge base and technical expertise to experiment with a lot of concepts and ideas, which have the potential to increase revenue and earnings. This, more than anything else, is what separates Amazon from the majority of its competitors.
Disclosure: I/we have no positions in any stocks mentioned, and no plans to initiate any positions within the next 72 hours.
I wrote this article myself, and it expresses my own opinions. I am not receiving compensation for it (other than from Seeking Alpha). I have no business relationship with any company whose stock is mentioned in this article.