Investment Thesis
I believe this KB Home provides an interesting investment opportunity. The company is well-established, has decent fundamentals and scores well in comparison to other companies in the same industries. Furthermore KB Home has a well-defined management strategy which can help it improve its efficiency in the future. Although it seems as a strong firm to invest in, there are arguments to be made in favor of other homebuilding companies as well.
Company description
"There is no place like home" and KB Home (NYSE:KBH) provides just that, a home. KB Home is specialized and distinguished in personalized home construction in the United States. Since it was founded in 1957 the company has reportedly constructed over 600.000 homes and can presently be considered a strong player in the US homebuilding sector. Most of its buyers (over 50%) are first time homeowners and its geographical distribution clearly shows the appeal of a the American dream, a big ranch or an ocean view mansion.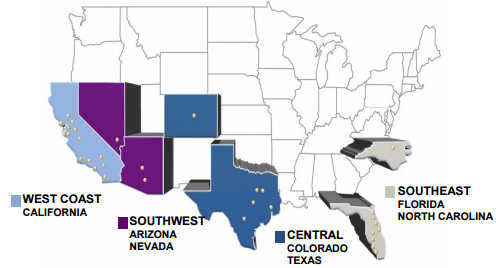 Source: Company Data
Fundamentals over three year period
Over a three year period the total assets of KB Home have increased from 4.93 billion to 5.31 billion while its total liabilities have increased from 3.34 billion to 3.59 billion. This means its net assets have increased from 1.59 billion to 1.72 billion which equates to an increase of approximately 8%. Revenue has increased significantly but so did its costs of revenue. The gross revenue however, has still increased by 33.5%. The developments concerning net income are initially worrying, which has decreased from 918 million in 2014 to 106 million in 2016. The reason behind this is that the net income in 2014 is attributable to a negative tax expense of 823 million which distorts the overview.
Industry
To assess the performance of KB Home it's important to have an understanding of the overall fundamentals of the industry. For this comparison the Price/tangible book value, P/E, ROE and debt to equity ratio will be compared as of February 7th, 2017. KB Home (mkt cap 1.4 billion) will be compared to the first 4 homebuilding companies registered on the NYSE on alphabetical order being: Beazer Homes USA Inc. (NYSE:BZH) with a mkt cap of 468 million, CalAtlantic Group Inc. (NYSE:CAA) with a mkt cap of 4.01 billion, Century Communities Inc. (NYSE:CSS) with a mkt cap of 223 million and D.R. Horton Inc. (NYSE:DHI) with a mkt cap of 11.01 billion.
| | | | | |
| --- | --- | --- | --- | --- |
| Company | Tangible P/B | Return on equity | P/E ratio | Total Debt-to-equity |
| Beazer Homes USA Inc. | 0.72 | 0.82% | 99.71 | 207.18 |
| CalAtlantic Group Inc. | 1.28 | 13.27% | 11.99 | 90.52 |
| Century Communities Inc. | 1.06 | 4.76% | 17.40 | 0.00 |
| D.R. Horton Inc. | 1.60 | 14.35% | 11.89 | 46.09 |
| KB Home | 0.90 | 6.15% | 14.60 | 153.22 |
Source: Seeking Alpha
From the comparison KB Home scores decently with a strong tangible P/B as well as decent return on equity and P/E ratio. In my opinion the total debt-to-equity ratio is its weak point but no other values are significantly subpar although I would prefer to see higher ROE as well as a lower P/E ratio. Note that although Beazer Homes USA Inc. has the lowest tangible P/B it lacks behind on all the other fronts and while D.R. Horton Inc. has the highest price to book it has both the strongest ROE and has the strongest P/E ratio.
Revenues
An important part of staying ahead of the competition is revenue generation and with gross revenue having increased by 33.5% over the last 3 years the firm seems to do fine on this part. KB Home generates most of its revenues from the West Coast. The average house sold in the West coast in fiscal year 2016 was $580.000 while this was less than half at an average of $270.000 for the central United States. This explains why the revenues are largely attributed to the West Coast even though more homes are delivered in the Central area.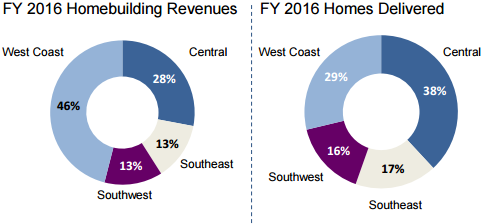 Management Strategy
KB Home's investor presentation clearly describes its strategy which consists of 4 pillars namely: The customer, the land, the product and operations.
KB Home's clientele consists mostly of first time homeowners. The firms strategy seems to be a provide an explanation for this distribution as it intends to: "Target first-time and first move-up buyers with products that are affordably priced for the median household income of the submarket."
The result is apparent from the buyer distribution.
Source: Company Data
The second pillar is one of the most important one's for the future performance of the company: Land. KB Home invests and develops land positions to acquire a 2-3 year supply of land and lots per community. A thorough analysis of the acquired land means that although the company trades at a discounted price to book value, the assets are still high quality.
The third and fourth pillars contain product and operations. KB Homes wants to deliver the best product at the lowest costs/highest efficiency. To increase efficiency the company has set key three-year targets for 2019.
For (potential) shareholders it's important to know what the company will do to try to fulfill its strategy now and in the long term as well. The shareholder presentation provides a detailed overview of the matter. The three year targets are to grow revenues, expand the operating margin, accelerate earning, increase ROIC to over 10% and to increase the net debt-to-capital ratio by 10%. What the strategy tells us is that the company is trying to increase its efficiency. And while every investor promotes increases in efficiency, the question arises whether KB Homes is operating at efficient levels at the moment. From the comparison and taking its P/E into account shows that KB Home does not operate at subpar efficiency levels but I believe there is still room for improvement.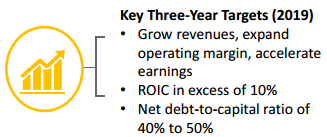 Source: Company Data
Conclusion
KB Home is a promising player in the homebuilding market. Its fundamentals look great although there is some room for improvement concerning efficiency. However, management has picked up on this and has formulated targets to increase efficiency. Although KB Home looks like a decent investment I would encourage investors to look at other players as well and invest according to which value they personally attribute to certain fundamentals. That being said, KB Home is a decent investment which will likely yield positive returns in the future. This is why my advice is to Buy/Hold KB Home.
Disclosure: I/we have no positions in any stocks mentioned, but may initiate a long position in KBH over the next 72 hours.
I wrote this article myself, and it expresses my own opinions. I am not receiving compensation for it (other than from Seeking Alpha). I have no business relationship with any company whose stock is mentioned in this article.