There is not much to be said about Altria's (NYSE:MO) value for long-term dividend investors apart from its impeccable dividend track record, its paramount total return light years ahead of the S&P 500 (NYSEARCA:SPY) and its pristine growth path that shows no weaknesses whatsoever. Another rock solid Q4 earnings now in the bag, the stock hit new all-time highs and its yield dropped to 3.4%. With Altria's yield hovering around 50% lower compared with its 5-year average and the stock potentially overbought, what should dividend investors who are in it for the long run do now?
This chart shows Altria's long-term total returns compared with the S&P 500.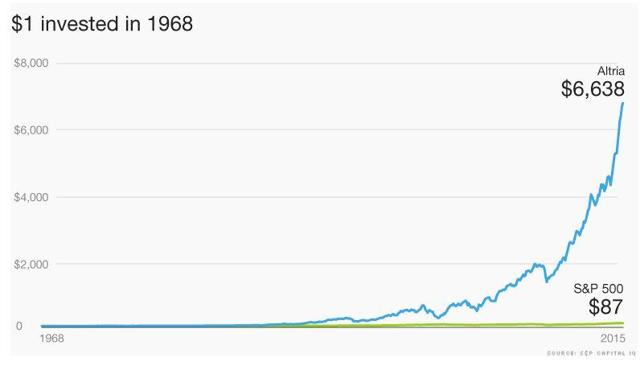 Source: CNN Money
What is going on at Altria?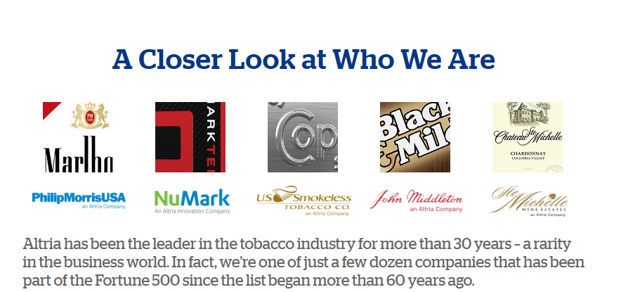 Source: Altria Investor Relations
Altria reported Q4/2016 adjusted EPS of $3.03, up 8.2% Y/Y. I am using the adjusted EPS figure here as the unadjusted EPS number of $7.28 is not useful given it is massively inflated by one-time effects associated with the balance sheet and income sheet recognition of the closed SABMiller - Anheuser Busch Inbev (NYSE:BUD) mega merger. MO is aiming for long-term EPS growth rates between 7% and 8%, and the way it consistently delivers is second to none. In fact, it comes with the reliability and precision of a Swiss clockwork. Altria's FY2017 guidance is in line with its long-term targets as it projects EPS in the range of $3.26-$3.32.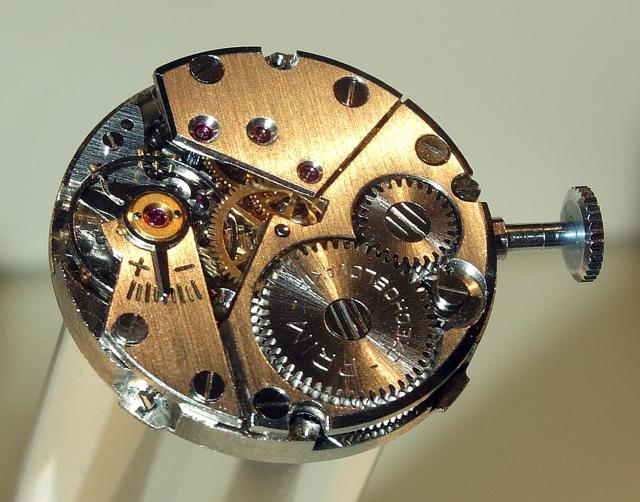 Source: Wikipedia - Movement (clockwork)
Alongside a 2.5% drop in cigarette shipment volumes, the company also reported a 1.2% Y/Y revenue increase. In fact, over the last decade shipments have decreased by a whopping 34%, yet Altria's revenue and particularly profits have climbed remarkably.
So on the one hand, we have a consistent downward trend in shipment volumes...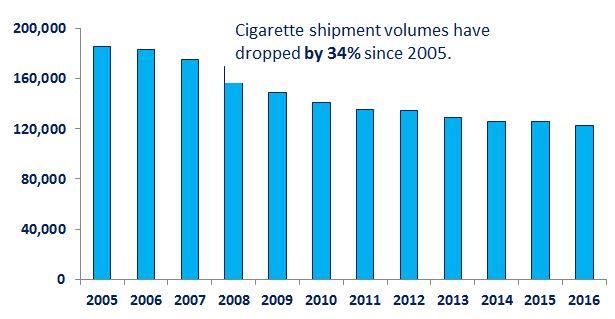 Source: Altria Investor Relations - SEC Filings
... yet on the other hand, Altria's profitability and cash flow metrics are rising.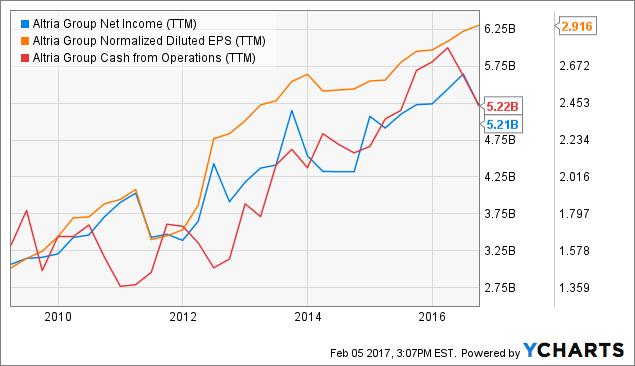 How is that possible?
The driving force for higher sales are inelastic demand for premium tobacco products, especially as far as the iconic Marlboro brand is concerned. As customers are very loyal to the company's products and stay with them, Altria can increase prices. The net gain from higher prices is more than sufficient to offset declines in volumes.
Moreover, it becomes blatantly obvious that Altria is managing to grow its bottom-line results and EPS figures by a large distance compared with overall sales. This emphasizes two things:
1) The company's ability to discipline itself on cost
2) The company's ability to prevent expensive litigation appeals. Back in the late '90s, in 1998, Big Tobacco, of which Altria is a part, agreed on the "Tobacco Master Settlement Agreement." This settlement contains an agreement from Big Tobacco to pay a minimum of $206 billion over the first 25 years of the agreement. Although there is still a lot of money flowing related to this court ruling, it will eventually phase out completely in 2025. Currently, it only impacts cash flow but neither the profit situation nor Altria's EPS figures.
When Altria released its latest Q4 earnings, initial pre-market reaction sent the stock 4.4% down amid downbeat revenue for smokeable products and, as shown above, lower overall cigarette shipment volumes. However, retail investors attempting to benefit from that sharp drop were left stranded as a major part of that pre-market drop had already been made up for when the market opened. I could not get a finger on hit below $71.
What to make out of all this for dividend investors?
Altria's recent full-year 2017 guidance of $3.26-$3.32 can easily be converted into an estimated dividend amount per share. If we apply Altria's target dividend payout ratio of 80% in terms of earnings, this gives us an estimated full-year dividend between $2.60 and $2.64 per share. Based on this, Altria's quarterly dividend should be hiked to $0.65-$0.66 per share in late summer 2017. This 8% hike would translate into a forward yield of around 3.7%, which is already more enticing than the current 3.4%.
Thanks to the higher cash share in the SABMiller transaction, Altria's 2016 year-end liquidity stands at $4.6B, up $2.2B from 2015. The company has paid out $4.5B in 2016 in dividends. With no detailed cash flow figures yet disclosed for 2016, we are assuming that regular FCF shall be about 8% higher compared with 2015. This derived $6.3B is already sufficient to pay for Altria's expected 2017 dividends (1.22 coverage factor). Hence, what shall Altria do with all that cash? (See "Will Altria Make Investors a 'Belated' Christmas Gift?")
But wait, there could be more in store for investors.
With Altria sitting on a large cash pile and FCF to dividend ratio in line with Altria's target payout ratio, the company's $4.5B liquidity pile won't get less. Interestingly, so far, the company has said nothing regarding this. The company has lots of options what to with this, e.g. lowering long-term debt, increasing the stake in BUD, buying back more shares, giving the dividend an extra boost to push the stock into even more attractive yield levels or employ it for further diversification.
Every $1B the company spends on dividends translates to an extra dividend of around $0.48 per share and translates to a hypothetical forward yield (8% dividend increase vs. 2016 + $0.48 extra dividend) of 5.3%. Now that is what I call attractive albeit potentially a bit too ambitious. If we are aiming for an extra amount of $500M to be spent on dividends, this still ends up in a forward yield of 5%, which is more in line with Altria's 5-year average dividend yield.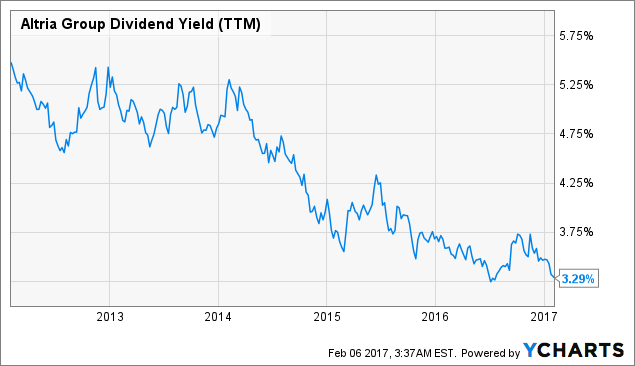 What this shows is that even with Altria's elevated share price it remains a buy for dividend investors seeking consistently and reliably rising income for years or even decades to come.
Regardless of any special dividends, if the company continues growing its dividend by 8% annually, which is based on its long-term EPS growth guidance, the expected yield on cost could climb to over 5% by 2022. Factoring in a consistent stream of buybacks would push the yield substantially higher.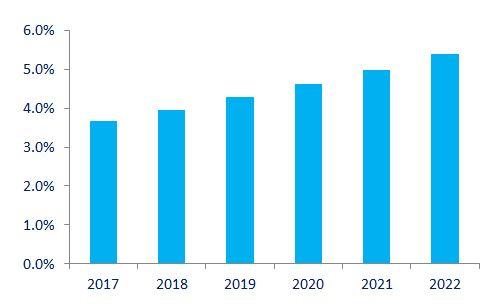 Source: Author's calculations and visualization
Investor takeaway
Prospective Altria investors should not just ignore the stock despite its elevated valuation at 25-times earnings (excludes the special effect from BUD). With the company's long-term growth prospects intact (7-8% EPS growth), its dividend would already reach a yield on cost level of 5% by 2022. Factoring in additional buybacks and growth in non-smokeable products allows for even higher yields.
Beyond that, investors can also speculate on a potential tax reform under the Trump administration, which given Altria's very high tax rate of almost 35% would have substantial effects. In fact, a corporate tax rate of 15% would have resulted in $3.1B higher net earnings for Altria in 2016. The company itself is not planning for this, hence there is a lot of potential upside incorporated in both the stock and its dividend.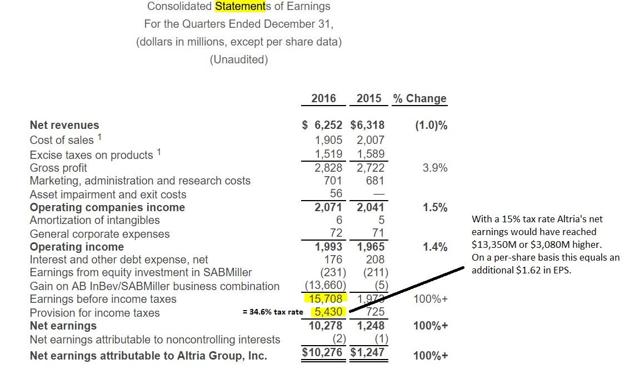 Looking beyond the currently rather low yield, Altria remains one of the best stocks for dividend investors seeking reliable and consistently rising income.
What do you think? Do you still buy Altria or wait for a pullback? Is a pullback likely to come?
If you like this article and want to read more, please click the "Follow" button on top of the page.
Disclosure: I am/we are long MO.
I wrote this article myself, and it expresses my own opinions. I am not receiving compensation for it (other than from Seeking Alpha). I have no business relationship with any company whose stock is mentioned in this article.