Michael Kors (NYSE:KORS) reported relatively weak Q3 results. While the bad results did not surprise me, the stock fell by more than 14% following the news. The main reasons behind the decline were two - disappointing comparable store sales and lowered guidance. I think that, despite the weakness, the current valuation is not fair.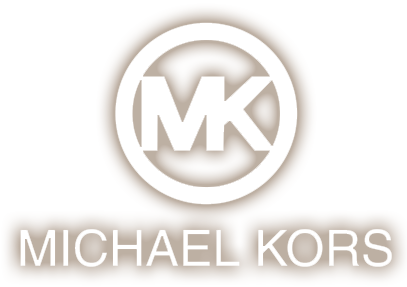 The market reaction is exaggerated
Michael Kors reported disappointing earnings on February 7. Actually they did not, or better said, earnings were one of the few things that did not disappoint.
Sales fell 3.6% to $1,350 million. Consider that revenue was just $10 million below consensus, which means a revenue miss of 0.7%. Earnings were actually $0.01 above consensus, but it looks like the market doesn't care much.
Let's see what happened in the different segments. Retail sales were up 9.2% in comparison to Q3 2016, and up 10% in constant currency. The results are a clear consequence of the company's expansion in Asia, an in China and South Korea in particular.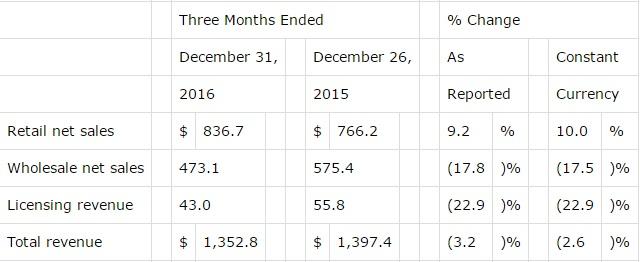 Wholesale net sales declined by 17.8% (17.5% in constant currency) and confirmed the negative trend that has affected the company during the last few quarters. Licensing revenue declined by almost 23%, which means twice as fast as in Q2.
The performance in the retail segment was a bit worse than in Q2, when the segment rose 12.1%, while the decline was a little bit slower than in Q2.
I think we should not be so surprised. We knew that the YoY performance would have been weak, and what happened in Q3 is not so different than what happened in Q2.
There is only one thing that surprised me. It's the decline in the licensing segment. It's strange because the company should have benefited from strong sales of Michael Kors smartwatches, since in Q3 conference call, management said it was the second top-selling smartwatch. I can't imagine how the third and fourth are performing, if these are the results. I expected at least a modest acceleration in licensing revenue, while it was the worst performing segment.
Comparable store sales declined 6.40% on a constant currency basis, missing the consensus for a 5.40% drop. This is one of the two main reasons why the stock has fallen so sharply, with the lowered guidance being the second.
Management now expects Q4 revenue of $1.035B-$1.055B vs. $1.11B consensus and Q4 EPS of $0.68-$0.72. CEO John Idol declared:
Overall, we were disappointed with our North American and European comparable store sales performance during the quarter. We believe that headwinds in these markets will continue throughout the Spring season as we face reduced traffic trends in shopping malls, currency fluctuation, uncertainty surrounding certain political changes in European countries and the implementation of our reduced promotional cadence in North America.
The strange thing of this earnings release is that I was not surprised by the comps decline, or by the lowered guidance. After all, I have always said that I expected further weakness in North America and maybe even Europe, but I was shocked by the market different perception.
I am afraid that the market is only interested in the trend in comps, and doesn't have any idea of how much KORS could be worth. Don't misunderstand me, comparable store sales are a key metric in this business, and you can't avoid analyzing their trends if you want to invest in a retail stock.
The problem is that when a company starts to trade at such low multiples, analyzing the company and the stock from other perspectives may become equally or more useful.
Basically, the market is saying that after Q4, the stock deserves to trade at a TTM P/E ratio of 8 and a Forward P/E below 9. It doesn't matter what the current valuation is, with lower comps goes a lower price. I have been long KORS for less than a year, so I am very far from losing my patience with this stock. I can hold for 4 more years without problems, as long as I keep seeing these exaggerated market reactions. Actually I bought more when I saw the stock falling 14.5%.
Will it fall more than Coach?
Something that I don't find fair in KORS current valuation is the valuation gap with Coach (NYSE:COH). Not the current Coach, which has posted the third quarter of rising comps, but the old one, the one that between 2013 and 2015 saw a revenue decline of 17% and EPS falling 60%. During that time, the stock fell by more than 60%, reaching a bottom in September 2015.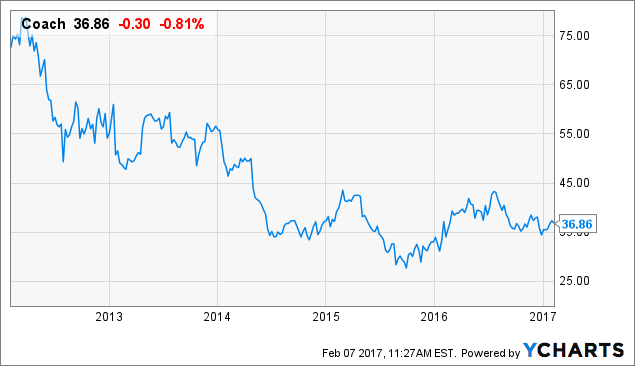 COH data by YCharts
Many investors think KORS has a similar destiny, and the market is actually treating the stock as it was going to experience a perpetual decline. The stock has fallen by more than 60% from the top reached in February 2014, and the current multiples are much lower than COH's multiples during the worst years.
Let's look at the P/E chart. If we exclude a short-lasting selling climax occurred in 2014, COH has never traded at a P/E below 12.50. While comps were declining, earnings and sales were shrinking fast. KORS is currently trading at about 8 times TTM earnings, while earnings are just slightly below the all-time high. In terms of P/E, The market is already pricing KORS at a 36% discount to COH during the worst years.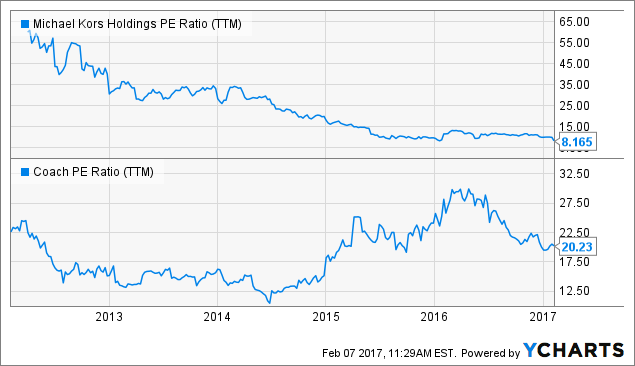 KORS PE Ratio (TTM) data by YCharts
I know that intertemporal comparisons are tough, but comparing KORS to COH gives us an idea of the kind of expectations that are currently priced in the stock.
The difference can be due to the general state of the retail industry, and in that case, I think the gap will be slowly closed as the situation in the industry improves. I think this could happen in less than 2 years. The reason is that in this time frame, I expect a few important factors to play a role.
- We will have more clarity on the government plans to introduce an import tariff, which I think will probably not pass. If it doesn't, fashion and retails stocks will recover most of the decline of the last 2 months.
- The effect of rising tourist spending from China will start to be seen. Let's not forget that up to 30% of sales of luxury items depends on tourist spending (Bain & Co.).
- Retailers reduce their divestures while overcapacity shrinks. Retailers such as Macy's (NYSE:M), Nordstrom (NYSE:JWN), JC Penney (NYSE:JCP) and Sears (NASDAQ:SHLD) are all dealing with high levels of overcapacity in the industry. After the numerous store closures that will take place in 2017, I expect the market to reach a better equilibrium.
The reasons why I am long KORS remain the same. I think the stock valuation is not fair and the company's performance is affected by some short-term weakness that could start to fade away anytime. Michael Kors as a brand could decline more than Coach did, or it could not. But the current valuation seems to be pricing that it will. I still think the stock offers an asymmetric risk/reward here. I added to my position and I have a long-term horizon.
Thanks for taking the time to read the article. If you liked it, click on the follow button at the top of the page. You will get my articles as soon as they are published.
Disclosure: I am/we are long KORS.
I wrote this article myself, and it expresses my own opinions. I am not receiving compensation for it (other than from Seeking Alpha). I have no business relationship with any company whose stock is mentioned in this article.