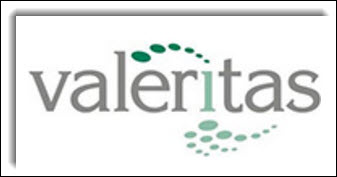 Quick Take
Medical device maker (OTCQB:VLRX) has filed an S-1 registration to raise up to $50 million in an IPO.
The company sells a wearable, disposable insulin delivery device to Type 2 diabetes patients.
Financial performance to date has been lackluster, with moderately growing sales, relatively low gross margins and high cash burn.
Company
Bridgewater, New Jersey-based Valeritas' predecessor entity was founded 2008 to develop a wearable insulin delivery device.
The company is focused on selling its disposable V-Go device to Type 2 diabetes patients, who can use the system to receive up to 24 hours of continuous insulin per attachable device.
V-Go began commercial sales in the United States during 2012. The company estimates that 'as of December 31, 2016, over 10 million V-Go's had been dispensed to patients and used for over 10 million cumulative patient days.'
Below is a brief video about the V-Go device:
(Source: WearableInsulin YouTube)
The advantages of a wearable, disposable device like V-Go over other delivery systems such as syringes, pens, and programmable insulin pumps are greater convenience which leads to better patient adherence, improved diabetes management and patient outcomes.
A disadvantage of V-Go is that compared to syringes, it is a more expensive treatment option, although the company says it is comparable in cost to pens and programmable insulin pump delivery systems.
The company is developing two additional device improvements:
V-Go Prefill - insulin already included in the device eliminating the insulin filling process
V-Go- Link - bluetooth communication of device tracking to user's phone or tablet
Market and Competition
According to the National Diabetes Statistics Report 2014 (PDF) by the U.S. CDC, 29.1 million people had diabetes in 2012 or 9.3% of the U.S. population.
Diabetes was the seventh leading cause of death in the U.S. in 2010 and was listed as a contributing cause of death in over 234,000 deaths.
Direct medical costs equaled $176 billion in 2012, according to the report.
According to a 2016 Grand View Research report, the global diabetes devices market is forecast to reach $35.4 billion by 2024, with North America accounting for 32% of the current market size.
The market is expected to grow at 5.9% CAGR, with the Asia Pacific region achieving the high growth in the condition and required treatment purchases.
Major competitors in diabetes management include:
Abbott Laboratories (NYSE:ABT)
Bayer Healthcare (OTCPK:BAYRY)
Johnson & Johnson (NYSE:JNJ)
F. Hoffmann La-Roche
Becton Dickinson (NYSE:BDX)
Medtronic (NYSE:MDT)
Novo Nordisk (NYSE:NVO)
Sanofi (NYSE:SNY)
Financials
Valeritas' recent financial results can be summarized as follows:
Growing revenues at a moderate pace
Significantly increased gross margin
Lessening, but significant use of cash in operations
Below are the company's operational results for the past one and ¾ years (Audited GAAP for full year):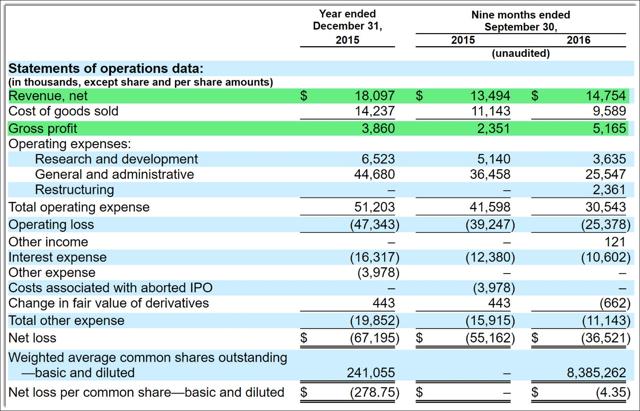 (Source: Valeritas S-1)
Revenue
To 3Q 2016: $14.7 million, 8.9% increase versus prior
2015: $18 million
Gross Margin
To 3Q 2016: 35%
2015: 22%
Cash Flow from Operations
To 3Q 2016: $31 million cash used in operations
2015: $41 million cash used in operations
As of September 30, 2016, the company had $15.5 million in cash and total liabilities of $69 million.
IPO Details
Valeritas intends to raise $50 million in its IPO but has not provided a proposed share price range or post-IPO market valuation.
The predecessor company, Valeritas, Inc., previously filed to go public in February 2015, intending to raise $92 million at that time but withdrew its registration in March 2016 citing market conditions.
The company intends to use the proceeds to:
support ongoing sales and marketing activities for V-Go and to expand our sales and marketing infrastructure. We anticipate we will use approximately $ million of the net proceeds received by us to fund research, development and engineering activities and manufacturing capabilities, which we expect to include the further development of our V-Go Prefill and V-Go Link products, although we expect that we will need to seek additional capital to complete its development and commercialization.
Joint book-running managers are listed as Cowen and Company and Wedbush PacGrow.
Commentary
As previously indicated, the company has not provided an expected share price range or valuation, so my opinion will necessarily hinge on those factors once they become available.
Valeritas has four full years of device sales under its belt and is currently operating at a revenue run rate of $19.7 million.
If the company achieves $19.7 million in full year 2016 sales, that will represent a 9.4% increase vs. prior.
That's a respectable increase, but management is not exactly setting the world on fire.
In addition, the company laid off a significant number of sales reps during the year, 'in order to reduce our expenses.'
Combined with an inside sales group to focus its efforts on 'select healthcare providers with the most revenue potential, management bluntly says 'our profitability will depend on the success of this new sales model.'
Its gross margin, currently at 35%, is low for a medical device maker. Consider iRhythm Technologies (NASDAQ:IRTC) which sells a cardiac biosensor that achieves a 66% gross margin.
To be fair, the company has increased its gross margin in 2016 vs. 2015, but management needs to do more work in that area.
So, the picture as I see it is a company that is growing sales at a reasonable but not fast rate while achieving relatively unimpressive gross margins and burning through cash as a result of its bloated G&A cost structure.
Further, the company says it will need additional funding even beyond the IPO in order to complete commercialization of its next-generation device which avoids the patient having to manually fill the device with insulin.
While I grant that the pre-fill device would be an improvement over the current generation device, I wonder if even that would be enough to deliver the stronger performance necessary for me to recommend this IPO.
I'll provide a final opinion when we receive further details about the IPO, but given the company's current financial performance I'm not favorably disposed at this point.
I write about technology IPOs, M&A, follow-ons and secondaries. If you want to receive future articles automatically, click the +Follow link next to my name at the top of this article.
Disclosure: I/we have no positions in any stocks mentioned, and no plans to initiate any positions within the next 72 hours.
I wrote this article myself, and it expresses my own opinions. I am not receiving compensation for it (other than from Seeking Alpha). I have no business relationship with any company whose stock is mentioned in this article.
Editor's Note: This article covers one or more stocks trading at less than $1 per share and/or with less than a $100 million market cap. Please be aware of the risks associated with these stocks.