I recently sold half positions in two of my long-time favorite European holding companies and used the proceeds to add to positions in the Canadian utility sector. I sold Pargesa (PRG.SW, OTCPK:PRGAF) and Investors AB (INVSB.STO, OTCPK:IVSBF) and bought Algonquin Power (NYSE:AQN), AltaGas (ALA.TO, OTCPK:ATGFF) and Emera (EMA.TO, OTCPK:EMRAF). I made a strategic decision to reduce European exposure and increase Canadian utilities with cross-border holdings. I also decided to keep the portfolio's international allocation the same, while upgrading the exposure to Canada. This article will explore several aspects, including outlook for the US dollar, that will affect the value of both, and the reasoning behind these three utilities specifically.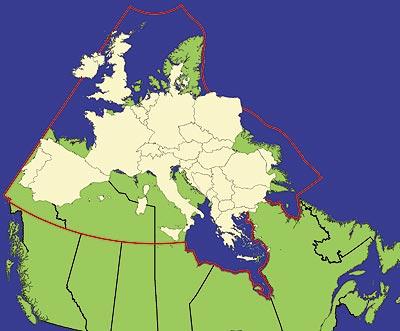 First off, who are these guys I sold? Pargessa is a Swiss publicly-traded holding company whose assets are mainly 50% ownership and 52% of voting power in another holding company located in Brussels, Groupe Bruxelles Lambert (GBL.BR, OTCPK:GBLBF). GBLBF owns a concentrated portfolio of European firms such as oil giant Total (NYSE:TOT), liquor distiller Pernod Ricard (RI.PA, OTCPK:PDRDY), and Swiss testing firm SGS (SGS.SS, OTCPK:SGSOY). Groupe Bruxelles Lambert was founded in 1953, is a major component of the Brussels stock exchange, and is the second largest holding company in Europe. It has a NAV of over 16.6 billion euros ($17.9 billion) and a market cap 12.7 billion euros ($13.6 billion), as of last Sept. 30.
Pargesa was formed as a joint venture between Brussels financial mogul Albert Frere, Canadian financier Paul Demarais, and the French bank PNB Paribas during the rise of socialism in France in the early 1980s. Known as the Buffett of Brussels, Frere and PNB, through Pargesa, took over voting control of GBL during a time of financial stress and has directed its portfolio investments ever since. I wrote an article on Pargesa/GBL in 2010 and Dr. Clemens Scholl offers an interesting history as well here and here. Pargesa is 50% owned by the Frere family and financial firm Power Corporation of Canada (POW.TO, OTCPK:PWCDF) managed by the Desmarias family, along with a minor share by PNB.
More information on Pargesa can be found here, on GBL here, and on Power Corp. here. There remains the potential for Pargesa to be taken private by the Frere family, similar to their move in 2011 to purchase Pargesa's sister holding company CNP Compagnie Nationale à Portefeuille, or by Power Financial. These two owners have a standstill agreement expiring in 2029, whereby either can gain control with the mutual agreement of the other.
Investors AB is another holding company focused on Nordic-based firms. Founded 100 years ago, by the Wallenberg family in Stockholm, Investors AB also offers a concentrated portfolio of company holdings including Atlas Copco (ATCO-B.ST), ABB Ltd. (NYSE:ABB), AstraZeneca (NYSE:AZN), and NASDAQ (NASDAQ:NDAQ). In 2013, I wrote an article explaining Investors AB.
Overall, I prefer to invest in actively managed holding companies, whose positions many times comes with board representation, then the more popular European mutual funds or ETFs. Many of these holding companies trade at a decent discount of 20% or more to their respective NAV and offer dividend yields at 3.5% and higher.
2017 could be a very turbulent time for European politics. As shown by the ground swell that became Brexit and the underpinnings of the Trump Administration, populism and nationalism is on the rise globally. Across the pond, border security and overreaching regulations from Brussels will be major topics this election season. Not to comment on the controversial aspects of this societal move to the right, it is safe to say that political elections in Europe in 2017 could provide uncertainty in the minds of many investors, both European and US investors looking abroad. Investors will be watching the March parliamentary election in The Netherlands, the April/May presidential election in France coupled with June French parliamentary election, followed by the September federal election in Germany. The political uncertainty, coupled with the financial stress of Greece and Italy, very likely will overshadow an improving Euro region economy. Investor uncertainty usually leads to poor performing equity markets.
The Canadian economy is rooted in commodities and resources. Wheat, a big Canadian export, declined in price by 13% in 2016. In mid-December, Barron's published the opinion of Bob Abercorn, senior market strategist at RJO Futures. Abercorn thinks wheat, which trades near its lowest levels in a decade, suffered due to last year perfect conditions for growing crops and this boosted global stockpiles of wheat. Now, "We've pulled back to some levels that are pretty attractive and we should get some bounce," he says. CNBC's prognostication for wheat is similar, citing Terry Reilly, a senior commodity analyst at Chicago brokerage firm Futures International. "The wheat price has the best chance for appreciation out of the major [ag] commodities given that they hit multi-year lows recently," Reilly said. The analyst adds that recent dryness in the Great Plains region could trigger higher ag prices, and a chance the USDA may report winter wheat seeding down slightly compared with a year ago. Soybeans rallied last year by 16% but a switch in acreage from corn to soybeans could put pressure on prices this year.
Oil is the other big commodity for Canada. Improving global oil prices coupled with lower operating costs of approximately 20% below 2014 relative costs per barrel should be attractive for free cash flow growth. Improving pipeline capacity for oil sands production will help improve the spread between oil sand price and WTI, advancing the economics of oil sand production.
Economic growth for 2017 is estimated to be as follows, per focus-economics.com and Scotia Bank projections: Canada 1.9% to 2.0%; EU 1.5% to 1.7%; and US 2.3% to 2.5%. While economic growth is fairly similar, current 10-yr government yields are quite diverse. According to RBC Wealth Management, current 10-yr yields are 1.73% for Canada, 0.47% for Germany, and 2.47% for the US. The interesting aspect is the spread between 10-yr government yields and expected economic growth is over 1.0% for Germany vs. 0.17% to 0.27% for Canada and -0.17% to 0.03% for the US. This would indicate the pressure will increase for higher rates in Europe relative to where they are currently.
One of the major drivers of the strength of the USD since 2014 has been an interest rate divergence, or the difference between our yields and theirs. As shown above, investors looking for higher 10-yr government yields would prefer US Treasuries over German notes, and even our meager rates of under 2.5% is attractive when compared to less than 0.5%. The increased demand for US Treasuries also drives demand for US dollars, making for a stronger USD.
However, this rate divergence is relative and is the difference between our rates and their rates. If the Euro economy improves, their rates will increase, decreasing the spread and the demand for US Treasuries and USD. It's important to consider that U.S. dollar strength over the past few years has been based largely on expectations for continued interest rate divergence. In other words, the strong dollar was not so much a function of actual higher U.S. interest rates, but of prospects that US rates would continue to rise relative to those of our trading partners.
As shown, if Europe's underlying economy continues to strengthen, leading to higher rates, and is not upended by 2017 politics, investors could reasonably expect a weakening of the USD. For example, according to Invesco (linked below), the Swedish central bank - the Riksbank - surprised markets on Dec. 21 when three of six voting members voted to halt quantitative easing. Since then, the U.S. dollar has fallen more than 3% versus the krona in anticipation of the end to the Riksbank's quantitative easing program. A decline in the USD would make foreign stock holding worth more when converted back to USD. Just as foreign-generated dividend income converted to USD was reduced during the strength of the dollar, weakness will favor income generated overseas.
A review of the weak dollar thesis can be found in a SA article by Jason Bloom, Global Market Strategist, PowerShares by Invesco on Jan 30. Recapping the article:
It has been my team's position for the past 12 months - contrary to most analysts - that the U.S. dollar holds limited near-term upside potential. In fact, the Federal Reserve's own minutes have painted a self-defeating paradigm for a strengthening U.S. dollar.
My conclusion is that 1) politics in Canada will not generate the same level of populism uncertainty as Europe, the Canadian resource-based economy should continue to improve, and 2) the USD will decline over the year.
Based on this, I sold half my European holdings and moved the proceeds to Canada. The investment choices were Canadian utilities with substantial and growing businesses in the US, along with firms focused on the benefits of our regulated utility returns. Three existing positions were increased - midstream and gas utility AltaGas, diversified Algonquin Power and Utilities, and electric utility Emera (OTCPK:EMRAF). Over time, the USD should fall off its sky-high perch and come back to a more "normal" level, adding to potential income and share price gains. However, a rebalancing of the USD to the Canadian Dollar will not happen overnight. Investors will reap the income benefits of a 6.3% yield for AltaGas (paid in Cn$), 4.9% yield for Algonquin (paid in USD), and 4.6% yield for Emera (paid in Cn$). These compare very favorably to the 3.4% yield of the S&P utility ETF (NYSEARCA:XLU).
AtlaGas and Emera trade on both the Toronto Exchange and on the Nasdaq pink sheet, and limit orders are always strongly suggested. Dividends paid to US shareholders are subject to a 15% Canadian withholding tax, unless held in a tax-advantaged account. To recoup the "foreign tax paid", it is taken as a credit against total US taxes owed on Form 1040, up to $300 for single filers and $600 for married. At a 5% yield, $600 in withholding tax paid would equate to holdings of around $80,000. Always check with your tax preparer concerning these issues.
Author's Note: Please review disclosure in Author's profile.
Disclosure: I am/we are long PRGAF, IVSBF, AQN, ATGFF, EMRAF.
I wrote this article myself, and it expresses my own opinions. I am not receiving compensation for it (other than from Seeking Alpha). I have no business relationship with any company whose stock is mentioned in this article.
Editor's Note: This article discusses one or more securities that do not trade on a major U.S. exchange. Please be aware of the risks associated with these stocks.