Investment case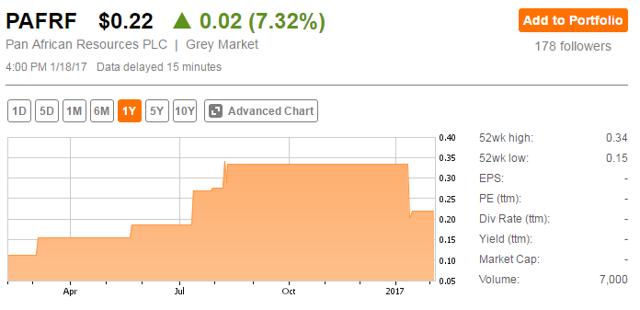 Source: Seeking Alpha
Pan African Resources (OTC:PAFRF) is one of the less known South African gold producers but it's a diamond in the rough by many measures, including dividend yield (5.15%), gold reserves (10 Moz), P/E ratio (just 11.8), all-in sustaining costs - AISC (USD 870 per oz) and life of mine - LOM (at or over 14 years for most projects). Not to mention that the company completed a large share buyback in 2016. Pan African is also advancing one of the largest gold tailings retreatment projects in the world - the 50 koz Elikhulu project.
Almost a quarter of the company's gold sales of 205 koz in its FY ended 30 June 2016 came from gold tailings retreatment projects. I recently covered the world's largest producer of gold from tailings - DRDGold (NYSE:DRD) here. But Pan African is very different in the sense that it processes its own tailings and at a much lower cost - at cash costs of below USD 600 per oz. I think that the company presents a very compelling investment case but there are some headwinds - most of them associated with operating in South Africa. I will focus on analyzing Pan African's gold projects (the company also has small coal and platinum projects).
Finances and multiples
Pan African Resources has very low liquidity in the U.S. so I'll be using data from the London Stock Exchange as well as figures in GBP: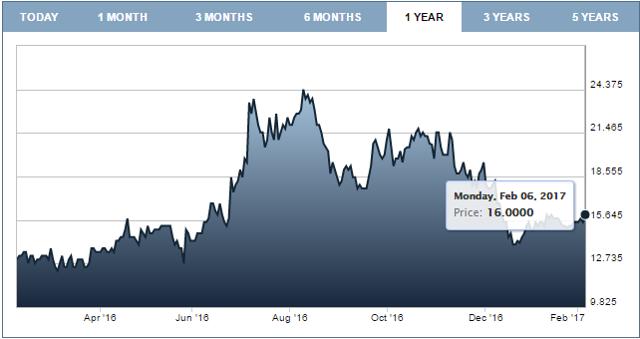 Source: London Stock Exchange
Regarding capitalization, the company has 1,943,206,554 shares and uses 1,506,848,496 shares in its calculations. However, I think that it would be more accurate to use 1,722,845,735 shares for calculating multiples. I'll explain.
In February 2016, Pan African agreed to acquire a 16.9% stake in Shanduka Gold, its primary black economic empowerment shareholder. Shanduka Gold held a 23.8% stake in Pan African, meaning that the firm was indirectly buying a 4% stake of its own shares. In May 2016, one of Shanduka's shareholders exercised a tag-along right meaning that Pan African had to acquire a total of 50.5% of Shanduka's shares. In order to finance the purchase of the additional Shanduka shares, Pan African issued 111.7 million new shares. This means that in the end Pan African indirectly bought shares equal 11.34% of its enlarged share capital:

Source: Pan African Resource's presentation for FY ended 30 June 2016
Pan African Resources calculates some multiples such as EPS using 1,506,848,496 shares, but I'll use 1,722,845,735 shares (total shares - indirect stake held through Shanduka) since I believe it's not logical to exclude the shares indirectly held by other Shanduka shareholders. Using this assumption, the GBP 0.16 (USD 0.20) closing price on 6 February 2017 gives Pan African Resources a market capitalization of GBP 275.6mn (USD 344.3mn).
Now, let's take a look at the highlights from the FY 2016 financial report: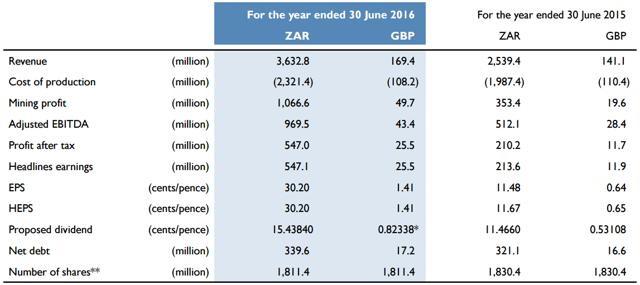 Source: Pan African Resource's presentation for FY ended 30 June 2016
Using the closing price from 6 February 2017, Pan African has a dividend yield of 5.15% and a P/E ratio of 10.81. However, I consider the EV/EBITDA ratio to be a much better indicator for valuations than P/E. I calculated Pan African's as 6.75x using the adjusted EBITDA from the FY 2016 financials. Also, group AISC dropped by 20.4% y/y in FY 2016 to USD 870 per oz.
Other important indicators for me include price/P2 reserves and EV/P2 reserves. With P2 gold reserves of 10 Moz, Pan African definitely excels - price/P2 reserves stands at USD 34.43 per oz and EV/P2 reserves equals USD 36.58 per oz. Add to that 34.9 Moz of gold resources and we get: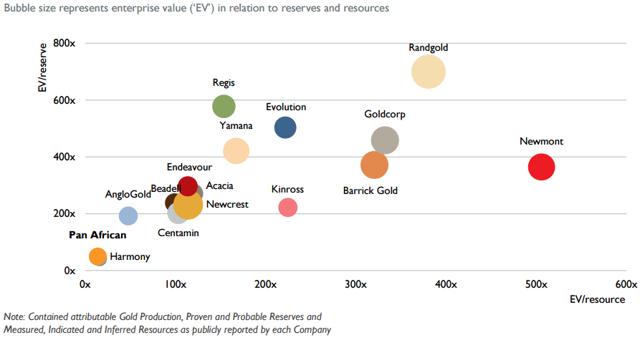 Source: Pan African Resource's presentation for FY ended 30 June 2016
Also, the group has 0.2 Moz of platinum reserves and 0.4 Moz of platinum resources, as well as 12.6 Mt of coal reserves and 23.3 Mt of coal resources.
Projects
Pan African Resources currently has four projects - two gold projects with tailings retreatment facilities (Barberton and Evander), a colliery (Uitkomst) and a platinum tailings retreatment project (Phoenix):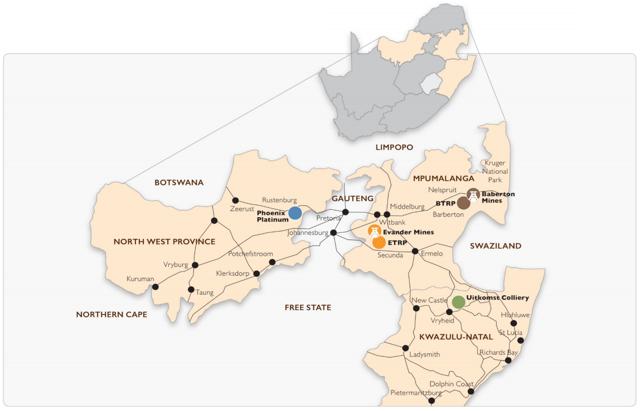 Source: Pan African Resource's presentation for FY ended 30 June 2016
As of 30 June 2016, all of these projects had impressive LOM: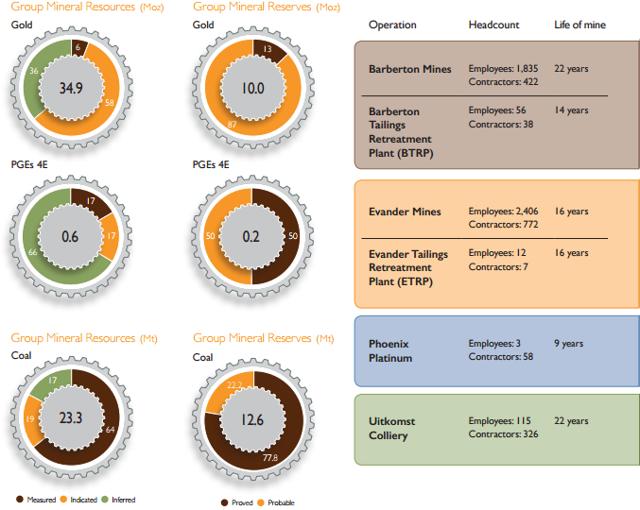 Source: Pan African Resource's FY 2016 Mineral Resource & Mineral Reserve report
I really value the fact that the management is very conservative and targets projects with very high rate of return - only Phoenix is a miss:

Source: Pan African Resource's presentation for FY ended 30 June 2016
But let's take a look at Elikhulu, Pan African's new tailings retreatment project. The project envisages a 12 Mtpa gold tailings retreatment plant and three existing tailings storage facilities will be reclaimed - over 1.7 Moz of reserves:

Source: Elikhulu Project presentation, December 2016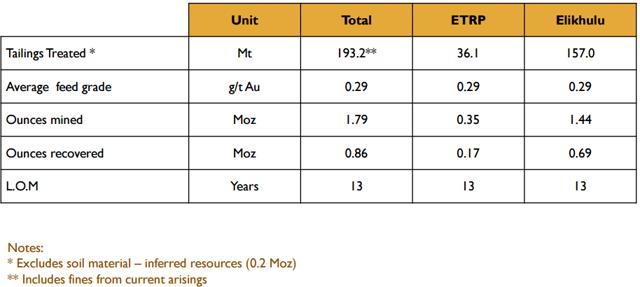 Source: Elikhulu Project presentation, December 2016
Elikhulu has a net present value of USD 75.9mn using a 9% discount rate. The initial capital cost stands at USD 119.9mn (LOM capital costs of USD 149.3mn). The project has a real IRR (post-tax) of 23.1% as well as a nominal IRR of 30.6% at gold prices of USD 1,180 per oz.
The Elikhulu project has a life of mine of 13 years and is scheduled to produce 0.69 Moz of gold, an average of 53 koz per year. The first gold pour is forecast for the last quarter of 2018 and full commissioning in scheduled for December 2018.
Gold production between 2019 and 2022 is expected to be higher: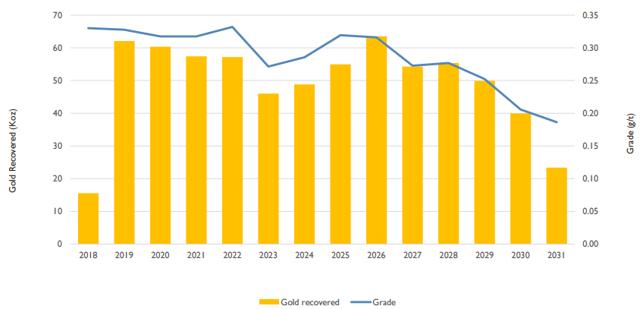 Source: Elikhulu Project presentation, December 2016
I consider Elikhulu to be is a low-cost project with a high rate of return even at gold prices of USD 1,180 per oz. What worried me at first was how was Pan African going to finance it since it's such a huge step for a company of its caliber. Well, the company said in December 2016 that it had secured approvals for a ZAR 1bn (USD 75.3mn) underwritten five-year debt facility. The funds will be used to fund the development of Elikhulu and the facility will be repaid from the project's cash flows. Pan African also has a ZAR 800mn (USD 60.3mn) revolving credit facility, which can be extended to ZAR 1.1bn (USD 82.9mn).
This means that Pan African can fully finance the project with debt and avoid stock dilution. In addition, the company said that the repayment profile of the five-year debt facility is matched to Elikhulu's cash flow generation profile and is not expected to impact its existing dividend policy. The company currently has a target pay-out ratio of 40% of annual free cash flow.
Risks
Pan African Resources faces the same headwinds as the other South African gold mining companies - uncertain regulatory framework (including the new mining charter and new black economic empowerment rules among other), labor unrest as well as deep and labor-intensive mines. The rand is also up in the last few months which has been squeezing margins.
Ever heard of the Lily Mine disaster of 2016? That mine is located in Mpumalanga province close to Pan African's Barberton project. Deep mines are dangerous and considering that Pan African mines at 2.5 km underground, it's remarkable that its fatality injury frequency rate stood at 0.07 in FY 2016 (one fatality).
Another problem with old deep mines is that they require a lot of employees and electricity, keeping their AISC very high. While Pan African's AISC is USD 870 per oz, the profiles of the company's conventional mines and tailings retreatment operations are very different. Compare the cash costs of Barterton mines and its tailings operations: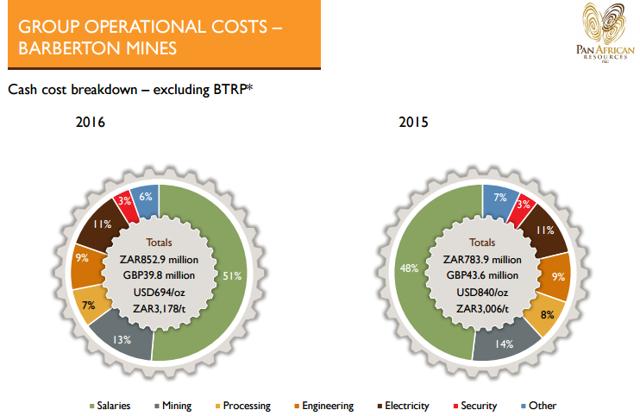 Source: Pan African Resource's presentation for FY ended 30 June 2016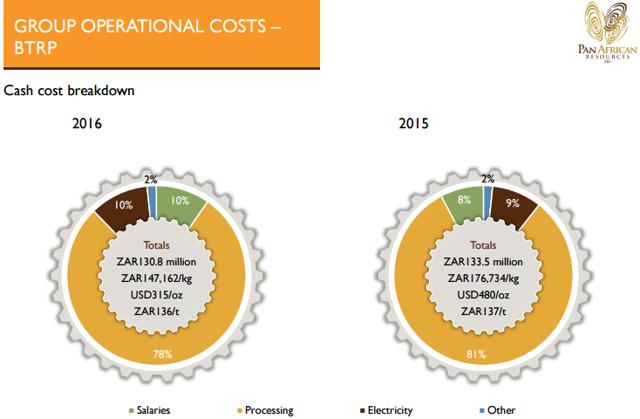 Source: Pan African Resource's presentation for FY ended 30 June 2016
South Africa is notorious in regard to employer unrest and sometimes even issues with neighboring projects can lead to problems. The Lily mine closed after the accident and the nearby Barbrook mine has been behind on wage payments. Unrest in the region followed late into 2016, affecting Pan African Resources too. Roads were blocked and people marched to Barberton mines to demand work, leading to a disruption in production. Also, unemployment caused by troubled projects in the area has led to higher illegal mining activity.
"In the past three months we have arrested 29 people here for illegal mining. We are spending ZAR 1.5mn every month on security to try and curb illegal mining," Barberton Mines general manager Casper Strydom said in an interview in January 2017.
The disruptions to production and some other problems have led Pan African to revise its gold production guidance for FY 2017 to 195,000 oz. In the six months ended 31 December 2016, gold output was down by 10% y/y to 91,613 oz. Still, the margins look good. The financial report for H1 2017 will be published soon and Pan African indicated that EPS in GBP terms will be between 0.87 pence to 0.99 pence. However, the company uses 1,506,848,496 shares to make the calculations. This means that the total profit is between GBP 13.1mn and GBP 14.9mn, which I think is still a very decent result.
Conclusion
Pan African Resources hits many boxes on every precious metals investor checklist - low EV/EBITDA multiple, high dividend yield, long life of mine, low net debt and cheap oz valuation among other. AISC are decent overall and are great for the tailings retreatment operations - the new Elikhulu tailings project looks especially impressive. I also really like the management as they target projects with high rates of return and finance them through debt instead of new shares. Moreover, Pan African indirectly bought a significant part of its own shares in 2016 - share buybacks in the PM space are really rare.
However, Pan African operates in South Africa and shares many problems with local gold producers - uncertain regulatory framework, old deep mines and labor unrest. Also, the company's stock is not very liquid - very hard to buy or sell in the U.S., a bit easier in London and Johannesburg. This means that every large investor will in essence be like an elephant in a swimming pool - large buying and selling will move the price of the stock a lot.
Despite all risks, I think that Pan African Resources looks very good at these prices and is a buy. The completion of the Elikhulu project at the end of 2018 will certainly add a lot of scale and improve margins.
Disclosure: I am/we are long PAFRF.
I wrote this article myself, and it expresses my own opinions. I am not receiving compensation for it (other than from Seeking Alpha). I have no business relationship with any company whose stock is mentioned in this article.