I invest in companies that are integral to my day-to-day life. My top holdings include: Apple (NASDAQ:AAPL), Verizon (NYSE:VZ), and Dominion Resources (NYSE:D). I'm a customer for a reason, and if I am paying for a product or service, I want a piece of the pie. Maybe I need to look up from the ground every once in a while, because based on the short list above - it looks like I'm the dude walking with his head down on the sidewalk using 4G scrolling on my iPhone, which needs to be recharged every few hours due to excessive usage.
When I do look up, I am happy to report the ubiquity of these three businesses in my neighborhood and I want to look closer at Dominion Resources today. As a newcomer to Richmond, Virginia (Dominion's headquarters), it's impossible to ignore Dominion's footprint in the city. From owning a big part of downtown, to a prominent theater, to sponsorship of major festivals and events, to substations and power lines, which supply the city and most of the state's electricity, Dominion is everywhere.
I prefer to invest in wide-moat industries, which by definition have big barriers of entry for competitors. Since retail solar power has yet to seriously challenge Dominion's eminence in the space, most consumers of power are dutifully paying the utility company each month for their electricity.
Legislative Support:
Having a wide moat is not limited to legacy advantages like existing infrastructure. A wide moat also includes carving out an immutable grasp of the government, which has its hands in just about everything and can make or break a company's financial future. I like to know that companies I invest in garner widespread bipartisan consensus, which insulate it from any potential adverse legislation. Political landscapes shift quickly, and I rest assured that these companies are offered a seat at the table regardless of administration.
Utilities are particularly sensitive to legislative changes as their core business is typically regulated. For example, Wyoming recently debated whether to pass a bill that would fine utilities from generating energy from solar or wind. Even though Wyoming is home to strong winds, which make it an ideal candidate for wind investment, the government is able to inhibit any renewable progress with a stroke of a pen.

Now let's turn to the Commonwealth of Virginia to see just how entrenched Dominion is to the state's government. The most notable bill impacting Dominion had this headline a couple of weeks ago: "Bill that would have meant millions for utility ratepayers snuffed out in Senate." I'll spare you the details and summarize the article, which highlights a (now dead) bill allowing the State Corporation Commission to reduce rates for consumers.
The article includes many quotes from one outspoken critic of Dominion, legislator J. Chapman Petersen. A quote to demonstrate his opposition toward Dominion says: "The fact that we would allow a monopoly to just earn a profit, without any regulatory oversight, particularly when this monopoly spends so much money in the halls of this building, that's just disturbing."
Despite outspoken criticism from Mr. Petersen toward Dominion, the article notes that he received $21,519 from dividends via ownership of the stock. He explains this seemingly contradiction as: "I put it in the bank, and I vote against them regardless." Sounds to me a bit like the fox guarding the henhouse.
A secondary article in the Richmond Times-Dispatch further expounds the peculiar relationship as Petersen introduced a campaign finance bill that would limit the influence of big companies like Dominion. Dominion spokesman responded to the campaign finance bill (and showcased their massive impact to the state in the process) by saying, "Our 16,200 employees - 9,000 of whom work in Virginia - are proud of the role we play in helping the commonwealth grow and improve."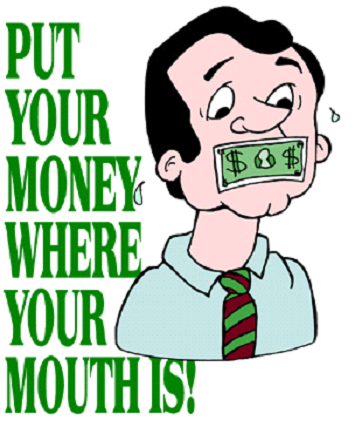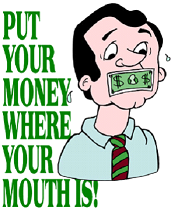 As for whether or not Petersen will put his money where his mouth is and not accept the funds he receives from Dominion himself… well… his political director said he would only if Dominion makes a demand in writing.
Something tells me Dominion doesn't need the money, and Petersen probably doesn't want to relinquish it. But if he did, Dominion would probably want it sent via email so they can collect their electricity toll. While I focused on Petersen, he is a fairly rogue critic; his peers in the General Assembly take a much more agreeable stance toward the state's largest utility - voting rolls confirm that.
One of the primary reasons I invest in Dominion is its large dividend of $0.755 per share per quarter. At the current share price of $71.51, that equates to an annual yield of 4.2%. Compare that to the paltry 10-Year Treasury Note offering 2.43%. With forecasted FY2017 EPS of $3.40-$3.90 (the annual dividend is $3.02), the dividend is safely covered and will continue to grow each year. The chairman confirmed in the last earnings release, "We anticipate being able to increase the dividend at greater than 8 percent beginning in 2018." Very few utilities (and certainly no treasury notes) will beat that.
Dominion earned $3.44 per share in 2016 compared to $3.20 in 2015. But while EPS is increasing, leverage is as well, so let's examine the debt situation.

While the debt has inched up year over year, the interest rate has decreased to 3.1% from 3.3% despite a run up in market rates, which is a testament to Dominion's strong coverage and credit. Total 2017 debt maturities run $1.7B, which is just less than the $1.9B it will pay in dividends. With cash flow over $4B, both expenses are covered.
Capital expenditures, another large investment for any utility, is forecasted to drop slightly from $5.8B in 2017 to $5.2B by 2019. But with large investment comes large growth opportunities. $4B of capex is allocated to growth expenditures vice non-growth. Dominion's investments in natural gas, such as its acquisition of Questar Gas last year, demonstrate management's savviness in navigating to the forefront of trends in energy. Dominion is on solid financial footing, and I expect moderate EPS growth going forward.
Geography:
Dominion's geographic footprint includes a chunk of the mid-Atlantic along with California and Utah. Looking at the top 20 fastest-growing states in the nation, I find that Virginia, California, South Carolina, Utah, North Carolina, Tennessee, Georgia, and Washington D.C. are included. Dominion will be a major beneficiary of that growth which highlights management's foresight of expanding in the right places.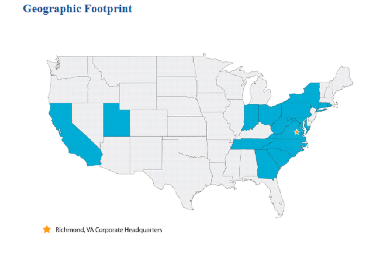 Conclusion:
I pay my Dominion bill each month and so do all of my neighbors. Thankfully for me, Dominion pays me back handsomely each quarter. Dominion's revenue is as dependable as the current pulsing through the James River. The client base is expansive, growing and the government rubber stamps its continued success.
This is the definition of a wide-moat stock and it is a core holding of my portfolio. At its current price of $71.51 and a bit over 19 times 2017 earnings, Dominion is a buy and hold and forget about it.
Disclosure: I am/we are long D, VZ, AAPL.
I wrote this article myself, and it expresses my own opinions. I am not receiving compensation for it (other than from Seeking Alpha). I have no business relationship with any company whose stock is mentioned in this article.