We closed our gold short positions in late December and early January in anticipation of a bounce in gold. We considered the bounce in gold to be a correction within an ongoing bear-trend, so we took-on a small short position (4% allocation) in gold when it failed to break $1200. Gold has closed above $1225 so we are taking a close look at the precious metals and reassessing.
As we have frequently stated, gold follows, not leads, the big markets; Treasury rates, the dollar, the USD/JPY FOREX ratio, and inflation. Even though gold has shot past the $1225 level, we need to look at these markets as the fundamental drivers of gold. If these markets have changed their biases, then gold's move carries some long-term significance. But if these markets are still within their trends, then gold's move can be viewed as not fundamentally supported, and the upside from current levels as limited. Gold is not going to make the big markets change their trends, but the big markets can/will bring gold back in line.
The dollar and rates, as is evident from the chart below, continue to be in a corrective phase within an upward bias. All three Treasury rates have their 38.2% Fibonacci retrace line close-by as support; the dollar has bounced off its 61.8% retrace line; and gold has its 61.8% line at $1240 as over-head resistance.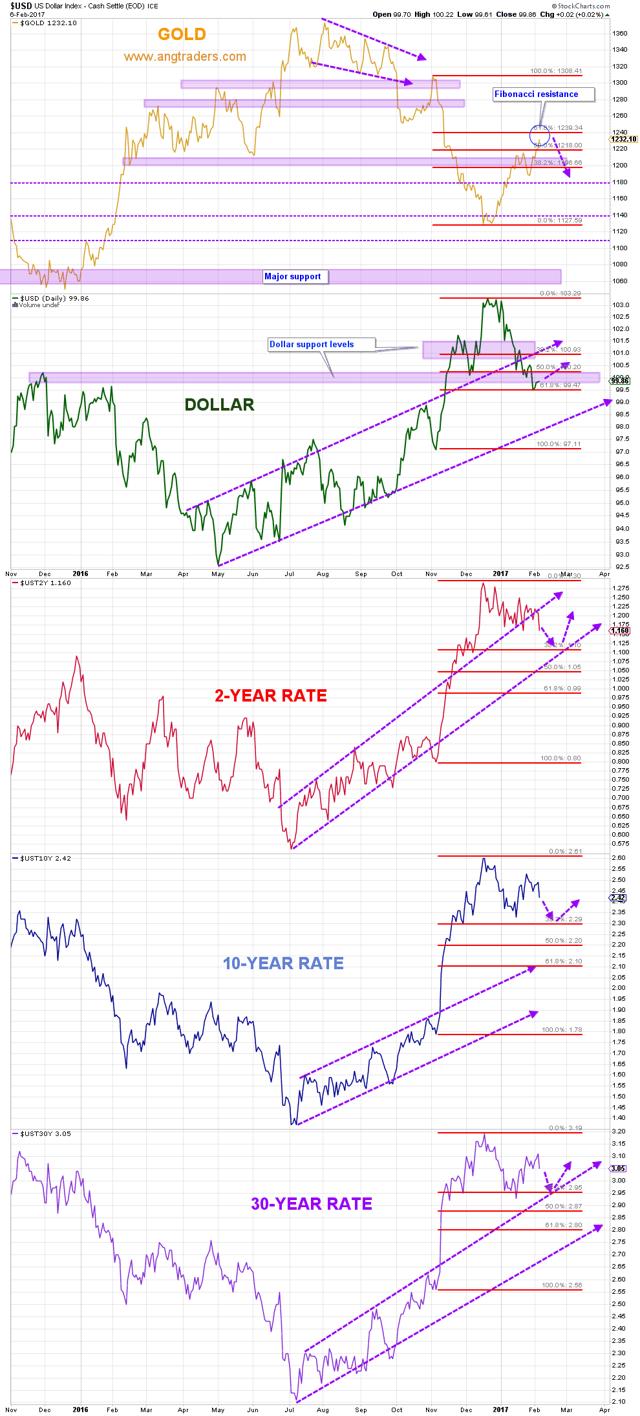 The USD/JPY pair (chart below) can still be considered in a corrective phase. It has the 38.2% Fibonacci retrace line as support from which to bounce--like it did in 2014 (red ovals).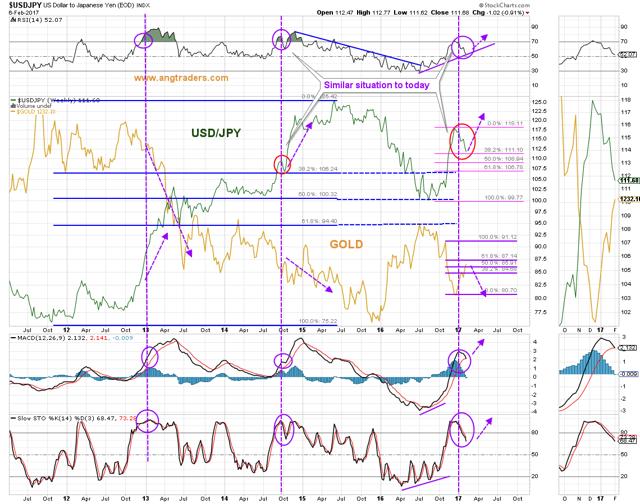 The next two charts show an enlarged view of the 2014 and 2017 trading.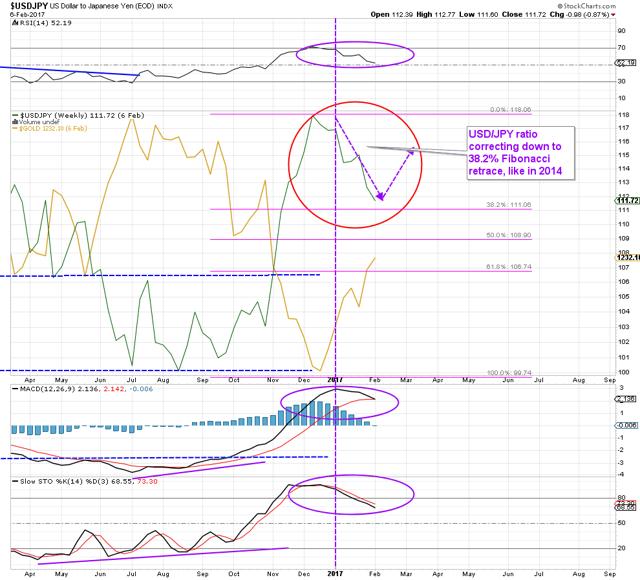 Inflation, while having risen in the past couple of months, as measured by the Pring Inflation index (chart below), is unlikely to go much higher, since the FED has a stockpile of rate hikes to pour on any inflation that pokes above 2%. Having said that, inflation still has some room to move up, and gold could rise further, especially if the FED holds off on a rate hike and risks getting behind the curve.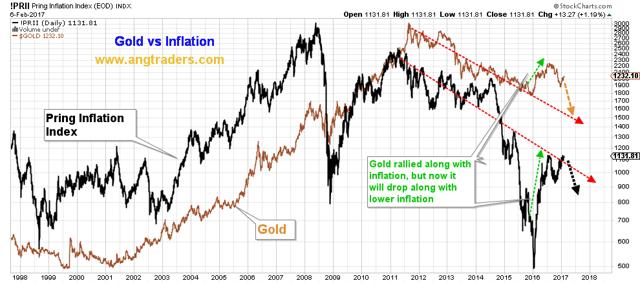 In conclusion:
At this point, because rates, the dollar, the USD/JPY ratio, and inflation have yet to signal a change in trend, we continue to regard gold's rally as a correction in an on-going bear market.
If gold fails at the resistance lines discussed above, we will take on further short positions in gold, gold miners, and silver.
If the uptrend biases of the big markets that drive gold break down, then we will go long gold. We will continue to follow the 'big-dog markets', not the tail.
Disclosure: I/we have no positions in any stocks mentioned, but may initiate a short position in GLD, GDXJ over the next 72 hours.
I wrote this article myself, and it expresses my own opinions. I am not receiving compensation for it (other than from Seeking Alpha). I have no business relationship with any company whose stock is mentioned in this article.