Thesis
With inflation expected to pick up and the Federal Reserve set to raise rates more and more, utilities seem like the wrong place to be right?
But what happens if the Fed continues to be conservative and only raises 25 basis points once each year for the next three or four years.
Many have commented that utilities appear overvalued in variety of ways, mostly based on their historical price to earnings ratios, but in a continued low interest rate environment with slow raises, are they a good retirement income generate and portfolio anchor?
Let's take a look at a utility in the heart of America and find out.
Introduction
Alliant Energy(NYSE:ALLE) is a regulated utility operating in Wisconsin and Iowa.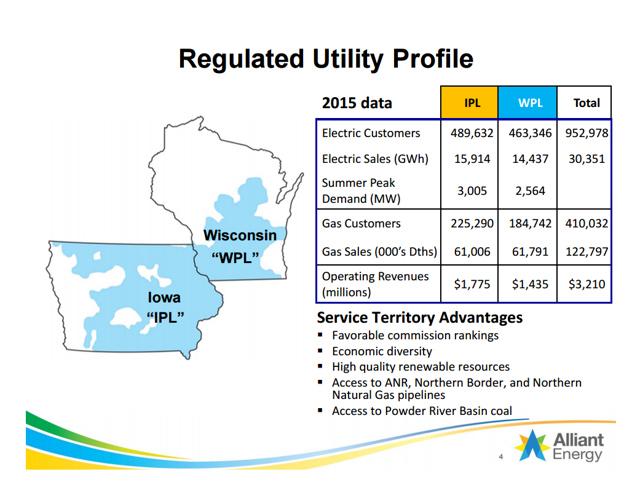 The company has been publicly traded since the 1970s. It generates power from natural gas, coal, and clean energy projects like wind farms.
Weather
What shocks me when researching some utilities is that many investors view these companies, especially the regulated ones, as companies that are stable, predictable, slow growing, and strong performers in an economic downturn.
Those superlatives contrasts with the first line of most recent quarterly press release from Alliant addressing the weather as "normal" and citing this as a positive. Obviously colder weather helps and warm winters hurt the company. About average is good though as it is predictable.
The company provides more details on this and shows us that 2015 was a weak year and below average weather wise. 2013 and 2014 were strong and above average.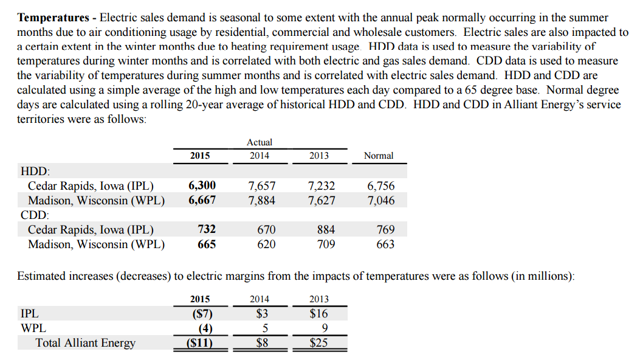 This is not the kind of thing you can trade on but is rather something a potential long term investor needs to understand that can influence results. Stocks that are tradable based on nat gas and weather might be those producing the commodity that are levered up and therefore will swing more with the price and supply and demand of nat gas.
Capital Expenditures & Clean Energy
The company expects higher Capex the next two years and a leveling out after that. This is due to an increased investment in renewable projects once their riverside expansion is complete.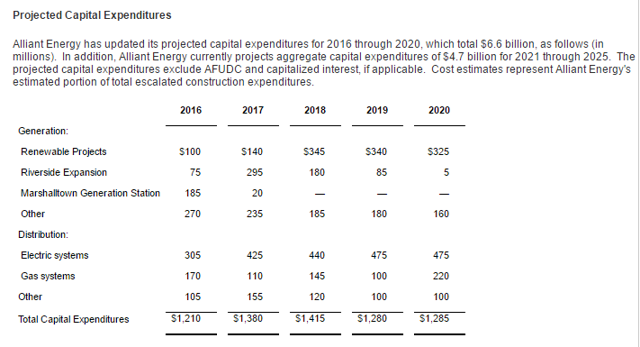 Hand in hand with these capital expenditures are the companies changing mix of fuel sources. Whether caused by the previous administrations EPA rules or by the cheap natural gas the US now has in abundance, or maybe both, many utilities including Alliant have shifted away from coal.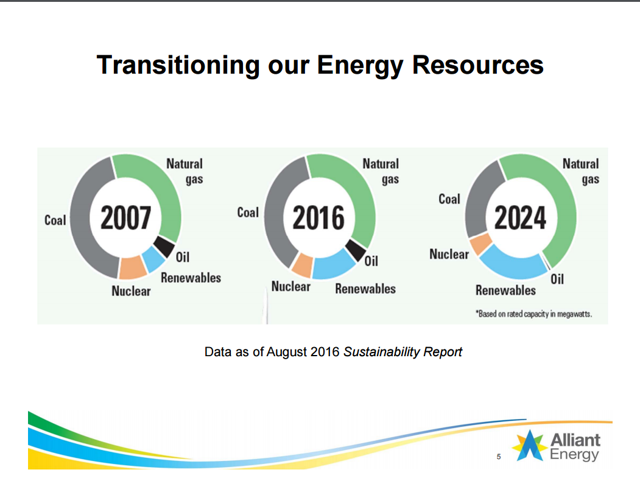 This shift raises costs in the short and medium term but helps them to stay compliant, is good for the environment, and may help in the long term. It is still unclear to me how this seismic shift will affect the long term profitability and attractiveness of utilities as it is still too early to tell.
Whether the new EPA relaxes some of these rules or not it will be interesting to see if utilities continue with their clean energy plans or delay or forego those in favor of short term profits.
Dividend
The 2017 dividend was just raised to $.315 per quarter or $1.26 per year. The dividend has grown just under 7% in the past 5 years. The dividend was $.70 per year in 2008.
My broker shows the payout ratio at 80%. Based off 2015 earnings the payout ratio is 74.5% and 68.4% based off 2016 expected full year earnings.

That is certainly a high ratio but looking around the sector it is not unusual. WEC Group(NYSE:WEC), formerly Wisconsin Energy, is the other major Wisconsin utility and has a payout ratio of 70%. AEP(NYSE:AEP), my new utility here in Ohio, is at 60%.
This does however mean that future dividend raises are unlikely to exceed 7% and are more likely to be closer to 4-5%, depending on how earnings improve. And earnings most certainly have to continue to trend higher or the dividend will soon run into a wall.
Alliant Cash Flows and Debt Growth
Combining the cap ex requirements listed above with a 3 year cash flow statement reveals something interesting.
The company has been spending almost all their operating cash flow on Capex. Debt was needed to cover the gap.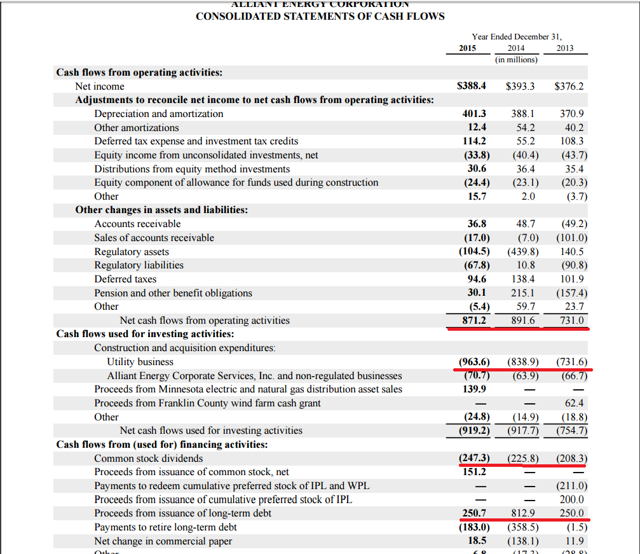 This concerns me. I understand Utilities are one of the most heavily indebted sectors, debt is cheap, so pile it on. Sure, maybe this debt is helping improve the environment and keep the company in regulatory graces for the future, but what can I say, I like my cash flow to look clean and tidy. This is not that.
As we saw above, the next five years have cap ex at 1.2b rising to 1.4b and back down again.
Now to look at the balance sheet. Debt to equity stands at 218% already. The two utilities cited above for comparison are at 236% and 260%. So the company may still have room to pile on more debt and they will need to, but not much.
Again, I look for the new administration to relieve some regulatory burden on utilities and will watch closely to see if projects are delayed. This could be advantageous for Alliant as they could take on less debt as rates rise and slow their cap ex spending to improve cash flow.
Valuation
Alliant yields 3.35%. Alliant's earnings yield, the inverse of the PE ratio, is 4.05%. The 10 year treasury yields 2.42% at publication.
Alliant therefore yields 38.4% more than a treasury on a cash basis.
This premium comes with advantages in that the dividend and underlying earnings of the company can grow and we have shown above how they have historically and where they are likely to go going forward.
Another thing to consider is volatility. This is assumed to be backed into any premium stocks have over bonds. For example, in 2015 Alliant experienced a drop from $35 to $27 for whatever reason.
That is a 22.8% drop. An investment in a utility today is based on if you are comfortable with the reward you gain from taking the risk above bonds and other stocks. This can be influenced by a variety of factors.
Personally, as an investor still in his 20s I am more attracted to companies with lower capital requirements and more room to grown organically and through acquisitions.
Therefore, an industrial like one of my favorites Stanley Black and Decker(NYSE:SWK) appears more attractive at the current moment. It is not cheap just like utilities are not, but it has much lower capital requirements and a ton of M&A opportunities which I believe can lead to more long term growth with increased volatility to match.
If I was retired I would be much inclined to utilize some utilities to increase my portfolio yield with the understanding that they make experience some volatility as if rates rise or rate rumors increase.
Falling prices can be good for the long term investor if they reinvest to buy more shares but prices falling too face can be bad as it can take years to recover and cause psychological issues that lead to increased trading of one's portfolio.
Conclusion
Utilities are certainly more expensive then they have been historically but still have a strong risk premium compared to the 10 year treasury bond with some upside in terms of population growth, base rate increases, and general earnings growth.
Interest rate increases can close this gap potentially bringing utilities down but with very low historical volatility a drop of more than 20% seems unlikely, especially from a pure valuation standpoint which is often only a soft catalyst for stocks.
Disclosure: I am/we are long SWK.
I wrote this article myself, and it expresses my own opinions. I am not receiving compensation for it (other than from Seeking Alpha). I have no business relationship with any company whose stock is mentioned in this article.