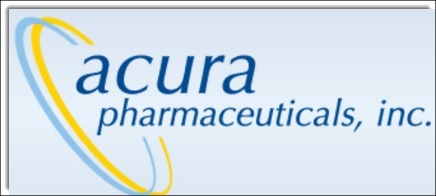 Quick Take
Acura Pharmaceuticals (NASDAQ:ACUR) has filed an S-1 registration to raise up to $5 million in common stock and warrants.
Acura is commercializing tamper-resistant products through licensing deals which have provide uneven revenues to-date.
The company has announced it is exploring "strategic alternatives" including sale, this financing transaction, and other potential asset sales.
Given Acura's questionable revenue prospects and uncertain future, my opinion is to AVOID the offering and stock.
Company
Palatine Illinois-based Acura has developed various tamper-resistant products that help to reduce medication abuse and misuse.
The company is headed by Pres. and Chief Executive Officer Robert Jones, who is been with the firm since 2008 and owns 2.5% of its common stock. He was previously a senior executive at Adolor Corporation.
Major stockholders include Galen Partners (18.5%), Essex Woodlands Health Ventures (16.5%), Deerfield Special Situations (8.6%).
As of January 31, 2017 the company had 11.9 million shares of common stock outstanding.
Technology
Acura has developed three product lines to reduce medication misuse or abuse:
AVERSION - Oxaydo tablets to discourage opioid abuse
IMPEDE - NEXAFED polymer matrix that limits extraction of PSE to create methamphetamine
LIMITX - limits release of active ingredient when multiple tablets are ingested or abused
Below is a brief video about the company's Nexafed product line:
(Source: Nexafed YouTube)
On the development front, the company is focused on its lead product candidate Limitx LTX-04 and says it will use the proceeds from the offering primarily to fund continued development of its family of Limitx candidates.
On the commercial side, Acura has out-licensed its Oxaydo product to Egalet and AVERSION technology to KemPharm, and says that it will rely on royalty payments under the Egalet agreement to fund its continued operations in the near term.
Market and Competition
With the unfortunate rise in opioid, oxycontin and other forms of addictions and abuse, the need for tamper-resistant medication technology has also grown.
According to 2015 summary by Talbott Recovery, 52 million Americans over the age of 12 abuse prescription drugs non-medically.
The United States consumes 75% of the world's prescription drugs. The number of women who lost their lives to opioid pain reliever overdoses rose 415% between 1999 in 2010, 250% for men.
According to CLAAD, The Center for Lawful Access and Abuse Deterrence, in 2012, overdose deaths involving prescription opioids increased to almost 17,000 deaths in the US.
So, the U.S. market size for tamper-resistant medications that can minimize drug abuse, diversion or patient misuse is significant.
Acura's existing or potential future competitors in the tamper-resistant market include:
Pain Therapeutics (NASDAQ:PTIE)
Pfizer (NYSE:PFE)
Purdue Pharma
Atlantic Pharmaceuticals
Egalet Corporation (NASDAQ:EGLT)
KemPharm (NASDAQ:KMPH)
Shionogi
Nektar Therapeutics (NASDAQ:NKTR)
Signature Therapeutics
QRx Pharma (OTCPK:QRXPF)
Tris Pharma
Psgah labs
Teva Pharmaceuticals (NYSE:TEVA)
Sun Pharmaceuticals
Collegium Pharmaceuticals (NASDAQ:COLL)
Financials
Acura's recent financial results can be summarized as follows:
Revenues have gyrated wildly, with 2015's high revenues apparently an anomaly due to its Egalet license agreement
Gross margin has been generally high but very uneven
CFFO has been significantly negative
Below are the company's operational results for the past nine months (Unaudited):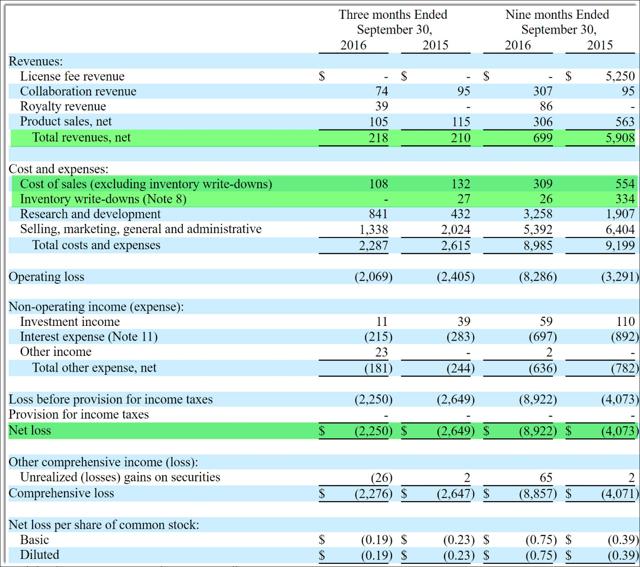 (Source: Acura Pharmaceuticals S-1)
Revenue
To Q3 2016: $699,000
2015: $8.6 million
2014: $751,000
Gross Margin
To Q3 2016: 52%
2015: 92%
2014: 70%
Cash Flow from Operations
To Q3 2016: $7.3 million cash used in operations
2015: $3.7 million cash used in operations
2014: $11 million cash used in operations
As of September 30, 2016, Acura had $4.3 million in cash and $8.2 million in total liabilities.
Registration Details
Acura intends to raise $5 million in a combination offering of common stock and an unknown ratio of warrants to stock.
The company's stock is currently quoted at $.89 per share, down from a 52-week high of $3.43 per share, in highly volatile trading.
Acura intends to use the proceeds from the funding to continue development of its Limitx.
Commentary
On January 3, 2017, management announced it is "exploring a full range of financing and strategic alternatives, including a possible sale of the company."
Additionally, it has retained Roth Capital Partners to effect a beneficial deal, which may include the current capital raising transaction, other licensing transactions or sales of certain assets.
Financially, the company is highly dependent on the success of its Oxaydo licensing deal with Egalet, which provided significant revenues in 2015 but only minimal fees in the first three quarters of 2016.
So, Acura's financial performance has been disappointing, especially so in light of its accumulated deficit of $376 million.
Also, the company has significant debt covenants that it is in danger of breaching, or perhaps has already done so.
My best guess at this point is that the company's major shareholders have effectively thrown in the towel and seek to salvage what little they can from a motivated buyer who has the staying power to continue product development.
The stock has been showing significant volatility in the past two days as it experiences 100% swings from unknown market participants possibly jerking the stock around based on rumor or "momentum."
I write about technology IPOs, M&A, follow-ons and secondaries. If you want to receive future articles automatically, click the +Follow link next to my name at the top of this article.
Disclosure: I/we have no positions in any stocks mentioned, and no plans to initiate any positions within the next 72 hours.
I wrote this article myself, and it expresses my own opinions. I am not receiving compensation for it (other than from Seeking Alpha). I have no business relationship with any company whose stock is mentioned in this article.
Editor's Note: This article covers one or more stocks trading at less than $1 per share and/or with less than a $100 million market cap. Please be aware of the risks associated with these stocks.