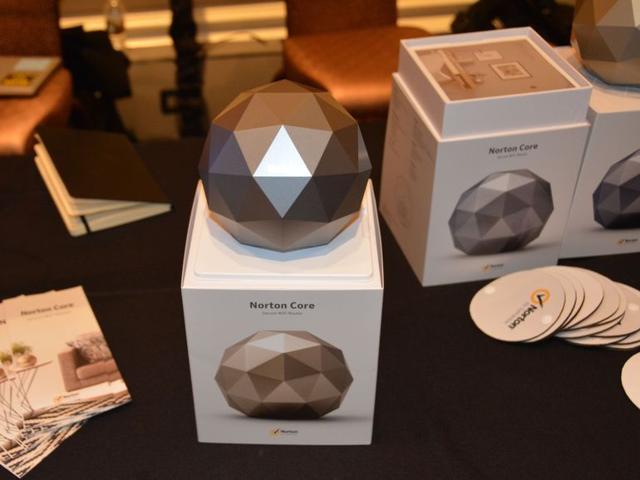 Source: cnet.com
The uncertainty for investors in Symantec (NASDAQ:SYMC) is the decline of the consumer security segment. At the heart of this segment is the Norton suite of security services, driven by the Norton Antivirus.
As explained in my earlier article, the deficiency and limitation of traditional AVs have been the reason for this decline.
In light of this, the AV segment of the cyber security industry has been consigned to the back seat. It is expected that PCs running the inbuilt Microsoft (NASDAQ:MSFT) Windows Defender anti-malware solution coupled with the general decline in PC shipments will plant the final nail in the coffin for the AV industry.
Add that to the growing trend of next-generation security solutions and we can say good-bye to Symantec's consumer security division.
Of course, management knows this and I don't think the leadership team is folding its arms. In fact, if there is any sign that management is indeed unconcerned about this, that is enough trigger for all investors to pull their money and find better investments elsewhere.
The death of the Norton Antivirus will be driven by three things:
Threat from substitutes
Loss of market share to competitors
Zero demand
I will be testing each of the hypothesis stated above to model the demise of Norton after which I will determine how much risk is too much to stomach.
Threat from Substitutes
Substitutes for antivirus products for cloud, endpoint and mobile security abound in the cyber landscape. We have mobility solutions for data encryption, file integrity, email security and advanced endpoint protection offerings that are marketed with the capabilities to prevent zero days.
These substitutes have continued to pound at the AV market, giving it a bad reputation for its somewhat limited capabilities.
Add to this, the inbuilt windows security solution and we have a compelling case for people never to buy AVs again. Regardless, PCs and mobile devices are consistently getting hacked when unprotected, regardless of the inbuilt security measure as demonstrated by the wave of ransomware attacks that rocked 2016.
This might be an indication that AVs for PCs might not be done yet. However, a Google trend for global interest in AVs proves otherwise.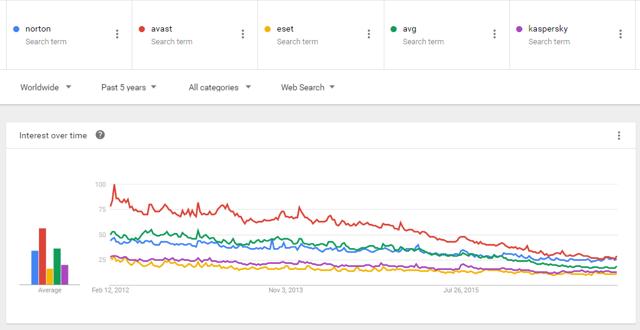 The straight conclusion here is that AVs are indeed losing market share to substitute next-generation security products.
Loss of market share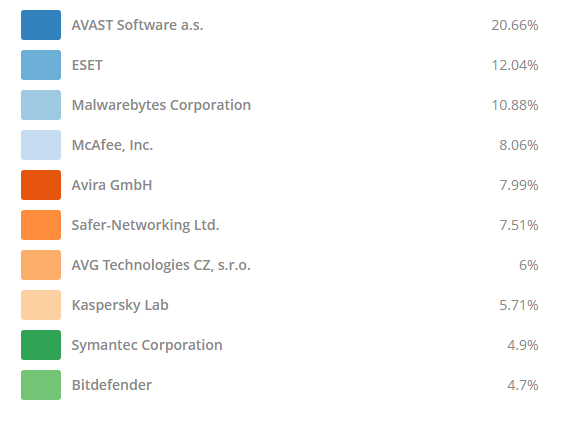 There are a number of players in the AV industry that keep gnawing at Symantec's market share. They include Avast, AVG , MacAfee and Kaspersky.
The table above shows Symantec's most recent (2017) market share according to OPSWAT.
Compared to the result from September 2016 there was a significant market share decline.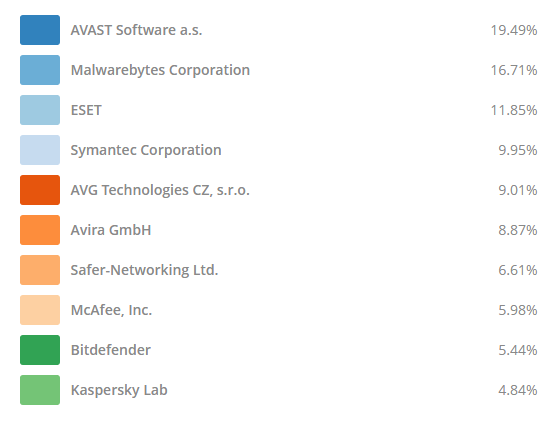 This indicates that Symantec is indeed losing out on the competitive side.
Zero demand
The AV industry is expected to grow at a CAGR of 10% from 2016-2020. I don't see much demand side problem for true innovators that can set themselves apart from competition. And I believe this will only be driven by a strong rebranding of the few players left in the market into mobile-centric and IoT-centric solution providers.
Symantec is already innovating for the future with the recent release of Norton Core, a Wi-Fi solution for connected homes. However, according to the graph highlighted earlier, Symantec seems to be having a hard time stacking up to competitors. This might have driven the continuous expectation of a revenue decline, QoQ.
If Symantec ramps up its product offering and fires up its sales efficiency, there is no reason it won't stabilize market share.
The consumer security segment = zero, scenario
For the consumer security segment to go to zero, Symantec must have surrendered all its market share (if the AV market still exists) to competitors like Avast and Kaspersky.
Since the Lifelock division is under the consumer security division, it also has to record a rapid decline in revenue and in fact perform so woefully that Symantec has no choice but to offload it for consumer security revenue to reach a bottom.
Since the consumer security division is the driver of Symantec's operating profit, this means there will be a huge disaster given Symantec's current debt level. It will have no choice but to command a premium on Bluecoat or go bust.
Buying Symantec means buying an experiment that management will sustain operating profit by cross-selling Lifelock and Norton services.
It's hard to believe that Symantec will continue to command a premium on Norton given that most AVs are shifting to freemium plans.
Conclusion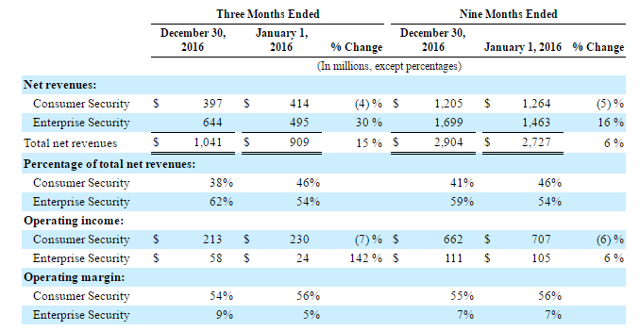 Source: Symantec
While I strongly believe in the enterprise division, I see the need to separate myself from confirmation bias by overlooking the huge mountain to be surmounted as Symantec transitions its huge operating profit from consumer security to enterprise security. Essentially, I feel the urge to hedge this volatility by not hoping for outsized upsides in the short term.
I've had an informative discussion on this and I feel the need to revise my thesis.
As a result, I maintain my PT of $28, however with a hold rating above the PT due to unpredictable volatility that might ensue on the profitability side.
If you like my article and would like to stay up-to-date on the next one, you can click the "Follow" button next to my profile.
Disclosure: I/we have no positions in any stocks mentioned, and no plans to initiate any positions within the next 72 hours.
I wrote this article myself, and it expresses my own opinions. I am not receiving compensation for it (other than from Seeking Alpha). I have no business relationship with any company whose stock is mentioned in this article.