It's been a while since I wrote about Gilead Sciences (NASDAQ:GILD) but I thought now would be a good time to return to the stock after the company's fourth quarter earnings report on Tuesday. To absolutely no one's surprise, the stock is currently down after hours to the tune of 4%. In an article I penned on GILD back on August 1st, 2016, I claimed that the stock was dead money until further notice and that waiting for signs of a turnaround before buying shares would be the best strategy. That article can be found here. Since then the stock has fallen from $80 per share down to about $70 per share after hours.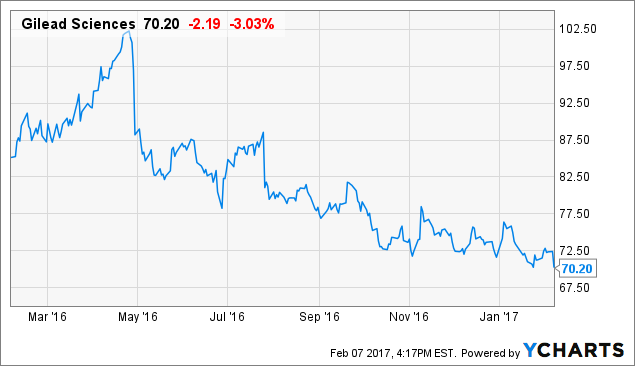 Why has GILD struggled so significantly since recovering to triple digits in late April? In my opinion there were and are two fairly simple negative catalysts dragging down the stock:
1. Substantial year-over-year ("YoY") revenue declines
2. No concrete strategy to renew revenue growth
For those wondering why GILD is dropping after beating results, I believe the answers lies in those two points above, neither of which has been addressed and alleviated.
Gilead reported revenue of $7.3 billion, which beat consensus estimates by $150 million but declined more than 14% YoY, and EPS of $2.70, which beat by 9 cents but was down 62 cents from Q4 2015. For FY2016, net income was $4.6 billion lower than FY2015, which understandably sows some confusion among investors. On one hand, that's a ton of money! On the other hand, that's a 25% decline YoY in bottom line results. As GILD investors know, the decline of Gilead's hepatitis C franchise is the culprit for this decrease.
Q4 Harvoni sales fell more than 50% YoY and Sovaldi sales fell a whopping 66%. These losses were slightly offset by the success of other drugs such as Epclusa and the company's HIV line, but there can be no denying that the HCV franchise is hemorrhaging badly. This is understandably worrying the market. Yes, P/E ratios are infinitesimal, but this is not the whole story. Share repurchases have engineered an artificially low ratio and those shares were bought at prices much higher than current price levels.
Regarding point 1 above, revenue is down 14.2% and so the decline is not leveling out, and HCV continues to bleed revenue to competition and pricing pressure. Sure, investors aren't exactly paying a premium for GILD shares right now, but it has become painfully evident for longs that the only thing that will boost the share price is growth of some kind. Could be organic, could be through M&A, but it has to be something. HIV is growing steadily and looks poised to be a boon for Gilead, but it alone cannot carry this company and this stock.
Perhaps HBV will be a contributor, perhaps NASH, but as it stands, investors don't seem too excited about Gilead's near-term growth prospects. This is part of the reason for my thesis on GILD, which I will detail after discussing the second negative catalyst keeping the stock price suppressed.
Regarding point 2, Gilead has still yet to inspire confidence in the market when it comes to growing revenue in the future. Now is the time to bring in guidance, which wasn't pretty. FY2017 sales are expected to be between $22.5 billion and $24.5 billion, which is fairly alarming a 23% YoY decline from FY2016. The culprit is, once again, HCV revenues which are expected to be between $7.5 billion and $9 billion, which is dwarfed by non-HCV revenues, which are expected between $15 billion and $15.5 billion. The decline in Gilead's HCV sales has been drastic and perhaps sharper than expected, which has been the core of GILD's struggles. What FY2017 guidance shows is that, if growth, or even stabilization, is coming from the company, it is certainly not coming in 2017.
This ties into my thesis on GILD: avoid the stock until a turnaround becomes apparent. Until the company can show the market it has growth catalysts, it will continue to remain stagnant. Maybe it won't fall much further from where it is now, but it certainly won't be going much higher either. If you wait for the turnaround, sure you may miss out on some upside, but the opportunity cost here is much too high considering GILD's inability to show an upward movement, much less momentum. In my opinion, for the time being and the foreseeable future, GILD shares are dead money.
If you want to stay up-to-date on my articles, you can "Follow" me by clicking "Follow" at the top of this page or by going to my author page.
Thanks for reading!
Disclosure: I/we have no positions in any stocks mentioned, and no plans to initiate any positions within the next 72 hours.
I wrote this article myself, and it expresses my own opinions. I am not receiving compensation for it (other than from Seeking Alpha). I have no business relationship with any company whose stock is mentioned in this article.