The growth of wireless data is in the US is largely independent of tariffs, global headline risk or even unemployment - since a smartphone has become a crucial tool for job seekers. Meanwhile, social media platforms, e-commerce, streaming video content and the sheer number of connected mobile devices all continue to grow by leaps and bounds.
In a world which seems to become more chaotic each week, many investors could be searching for the equivalent of comfort food.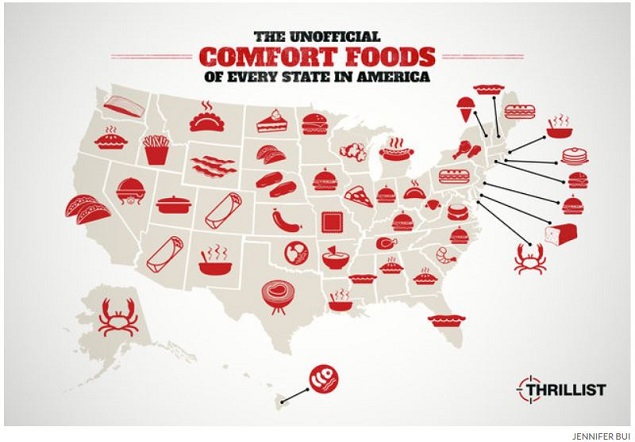 Source: Thrillist.com
Crown Castle International (NYSE: CCI) is a fairly boring REIT. I mean that in the nicest way. Think BBQ, or meat and potatoes. Mac and cheese. Apple pie. You get the idea.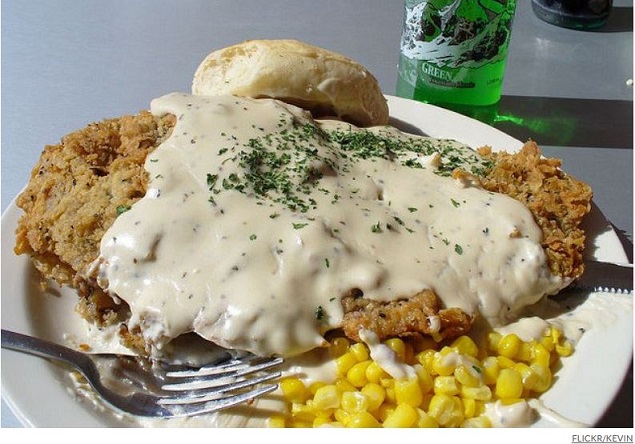 Source: Thrillist.com
OK, I can't leave out chicken fried steak and gravy.
Investment Headline Risk
A recent Washington Post article details how global uncertainty, as measured by an index which essentially tracks headline sentiment for the 20 largest countries measured by GDP, is now literally off the charts.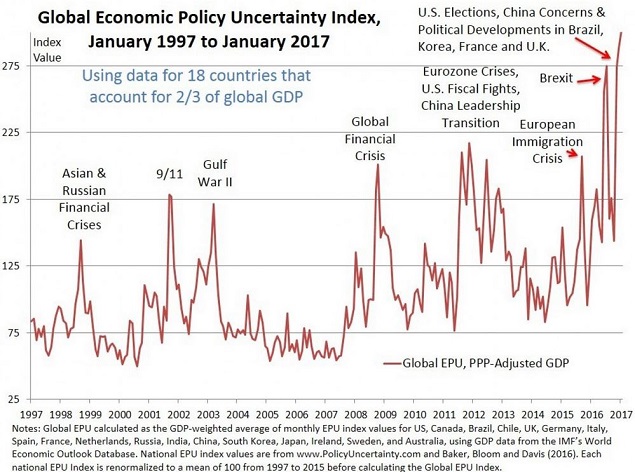 Source: WashingtonPost.com
Notably, countries outside of the US are major contributors to this sentiment index, due to policy uncertainty surrounding the Trump administration, threats posed by ISIS attacks and increased Russian aggression.
"Uncertainty about the policy environment leads to a lot of business decisions being put on pause. Moreover, research has found that big shocks in policy uncertainty - such as what we're seeing now around the world - foreshadowed declines in investment, output and hiring.

Reversing an investment or hire is expensive, after all. When there's more uncertainty about whether laws and political leadership will change, businesses are more likely to stand pat. Even if fully committed to hiring and expanding, they may still be less nimble because banks are reluctant to extend financing when they're unsure what the rules of the road or economic conditions will look like."
When you combine this with business decisions which may have been put on hold during Q4 2016 due to election uncertainty, it could portend a slowdown in economic activity across multiple countries, sectors and industries.
Why Crown Castle Feels Comfy
If you are not familiar with the third-party shared infrastructure wireless tower business model, it is elegant, especially when executed on a large scale. There are initially decent margins with having a single wireless carrier lease space on a tower.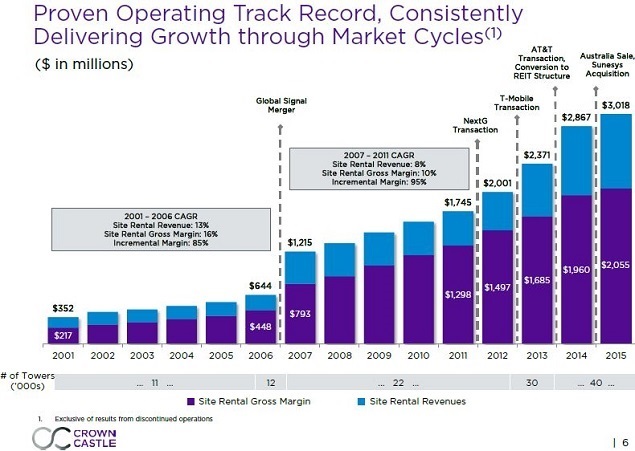 Source: CCI presentation
Notably, the returns for a given macro tower site are boosted into double digits when the second tenant is added, and a third, or even a fourth customer collocated onto the same tower can generate eye-popping returns.
In most respects, Crown Castle has a simple strategy compared to its cousins American Tower (NYSE: AMT) and SBA Communications (NASDAQ: SBAC). All of CCI revenue is derived in the US, where AFFO per share growth is not dinged by any FX headwinds from a strong dollar.
American Tower operates in many faster-growing EMEA markets, while SBAC derives a lot of revenue from Latin America. These wireless markets are less mature and provide a longer runway for future growth. However, double-digit constant currency growth rates internationally can be buffeted by forex headwinds. Recently, cash AFFO per share growth has been hit by adjustments due to a strong dollar.
CCI shares currently yield 4.3%. Crown Castle grew its AFFO per share by 10% in 2016 and has guided to 6-7% dividend growth for the next couple of years. That is what I call DGI comfort food.
What About Small Cells?
One arena which might be considered a bit more complex for Crown Castle is its multi-billion investment in small cell and fiber backbone. The company continues to invest in owning fiber networks in some of the largest US metros. American Tower and SBA Communications are heavily invested in wireless tower masts (meat and potatoes), and for the most part, have avoided investing in the small cell arena.
However, in urban environments, it is often impossible to permit additional towers to ease network congestion.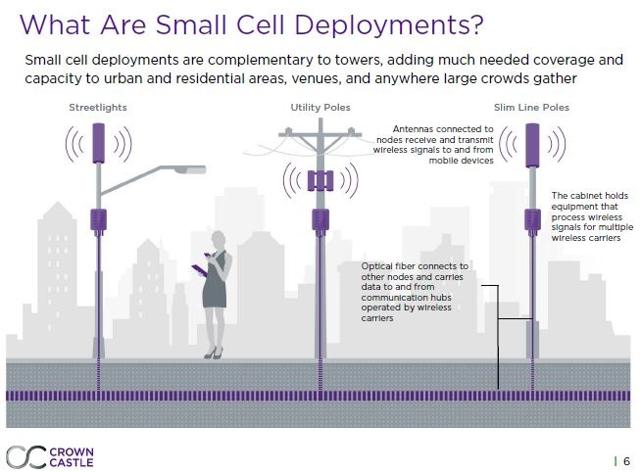 Source: CCI presentation
When Crown Castle acquires an existing fiber optic network in an urban market, it is relatively inexpensive to add the small cell equipment. It is about a 90/10 cost ratio.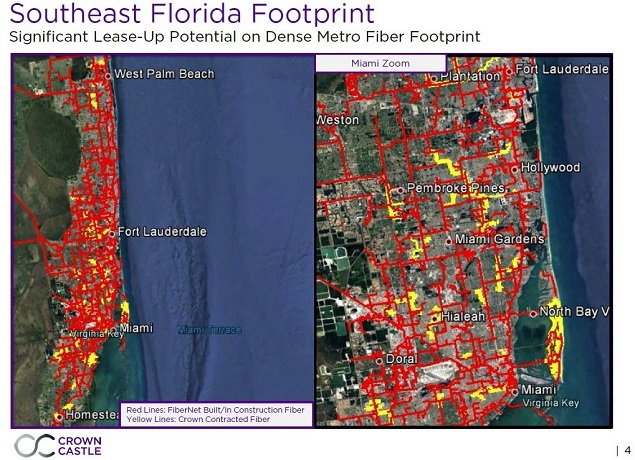 Source: CCI (recently acquired FiberNet S. FL network)
The easiest way to conceptualize this part of the CCI wireless infrastructure business would be to think about fiber in the ground as a wireless mast laid down horizontally where carrier nodes can be added to support network performance, as needed, along the way.
The good news for CCI shareholders is that the initial yields reported by management for these small cell fiber networks are higher compared with the returns for buying a portfolio of towers from a wireless carrier.
If you are not familiar with CCI or the wireless tower business model, here are links to prior SA focus articles which discuss them in more detail:
Customer quality of experience for streaming video content, music and sports is crucial to attract and retain users. Wireless carriers must continue to invest in their networks to increase bandwidth required to satisfy this insatiable hunger for "unlimited data" (as defined by each of the wireless carriers in small print).
Sprint/T-Mobile Merger Risk?
There are usually three or four major carriers that operate in most markets worldwide. This adds to the simplicity of the CCI business model. However, tenant concentration also can be viewed as a risk factor, as carrier capex spending for a given quarter or fiscal year can be lumpy for new deployments.
Notably, in any given year, this risk is offset by Crown Castle having a large portfolio of 40,000 US towers and thousands of miles of fiber which are delivering contracted revenues with annual escalations.
Last year, there was quite a bit of investor concern surrounding a potential merger of the number three and number four US wireless carriers. Basically, the US shared infrastructure landscape would lose one of its four legs and become a three-legged stool. This possibility was addressed by all of the tower firms last year in press releases and 8-K filings.
During the recent Q4 2016 earnings call, CFO Dan Schlanger reiterated:
"So for Sprint (NYSE:S), T-Mobile (NASDAQ:TMUS) around 6% on overlapping sites and we have about five to six years left on both of those contracts. So what we think is that if two of them were to get together the implication would be that they want to compete on network quality and to do so, they would have to increase their investment in their networks, not try to minimize the number of towers they would be on."
SA news editor Jason Aycock recently reported Barclays analyst Amir Rozwadowski viewed a potential merger as being healthy for long-term wireless carrier profitability. The inference could be made that this would bode well for future infrastructure investments.
Business Model Predictability
The shared infrastructure approach is less expensive for carriers than funding solo new builds and frees up capital to invest in their core business.
A portfolio of long-term carrier leases provide stability of revenue and earnings visibility, which are straightforward for CCI management to forecast. There also are contractual rent increases, lease amendments and opportunities for portfolio acquisition each year to bolster growth. However, existing contractual revenues from the base business dwarf new activity in any given year
Back in October 2016, along with announcing solid Q3'16 results and a 7.3% dividend increase to $0.95 from $0.885 per share, Crown Castle updated guidance for FY2016 and released initial guidance for FY2017. Notably, most REITs simply do not have the predictability of revenues required to release detailed guidance at such an early date.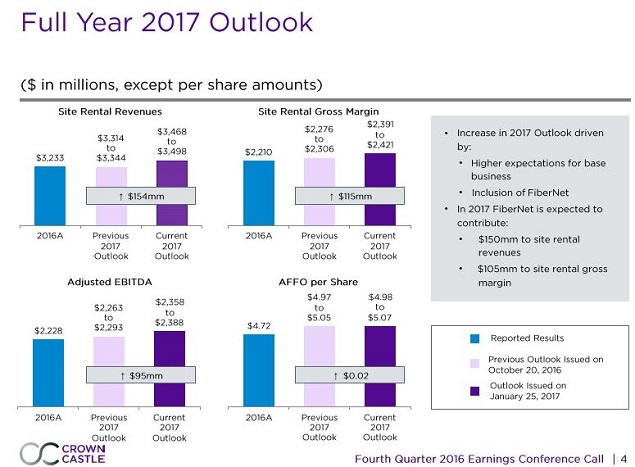 Source: CCI Q4'16 earnings presentation
Fast forward a few months and CCI has already boosted guidance slightly when Q4/FY2016 results were announced. The bump was in large part due to the accretive nature of the FiberNet acquisition, as well as a positive outlook for the "base business."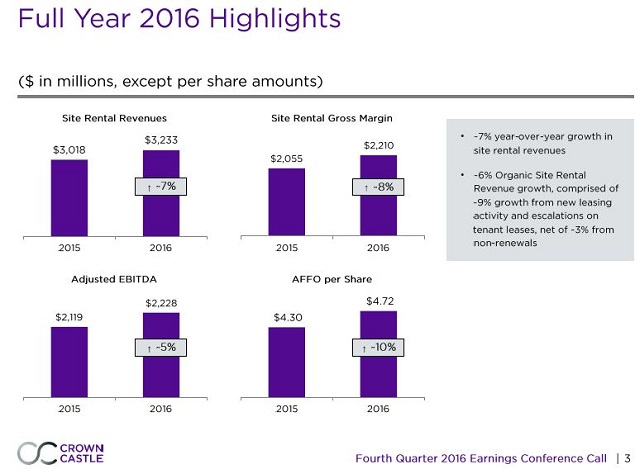 The 10% AFFO per share growth in 2016 continued to fuel the CCI dividend growth engine.
Tale Of The Tape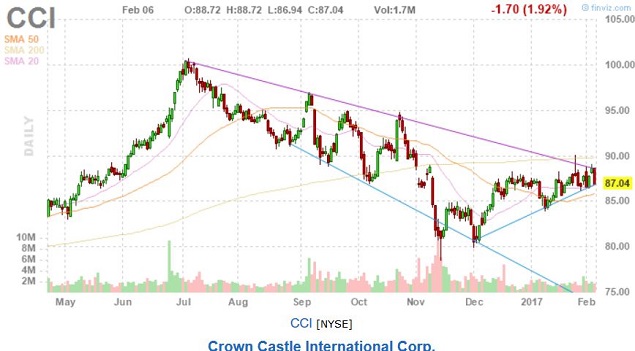 During the past 52 weeks, Crown Castle has traded in a range of $76.82-100.11 per share.
F.A.S.T. Graph - Valuation Analysis
It's time to use the F.A.S.T. Graphs tool to check under the hood. The black line is price. It is a visual comparison relative to the blue line, which is "normal" P/FFO for any time period. The red line corresponds to the dividend yield on the far right of the chart.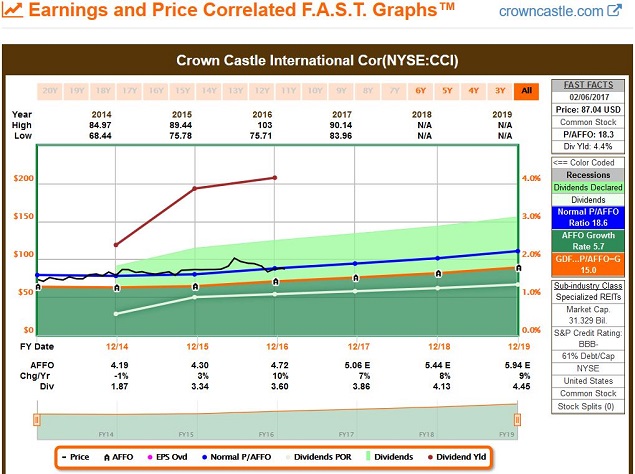 CCI's ability to grow AFFO per share in high single digits going forward represents comfort food for the DGI income-focused investor.
The current price point of 18.3x AFFO is slightly below, but very close to normal valuation, for this shared wireless infrastructure REIT. A total return of ~11-12% annually in a very uncertain world is looking mighty fine to me.
Investor Takeaway
Since Crown Castle began reporting as a REIT, this $31.3 billion large-cap tower REIT has never really offered investors a screaming bargain to initiate a buy. Given the steady, repeatable business model, this should come as no great surprise.
Going forward, all of the wireless REITs will benefit from additional data traffic generated by new spectrum auctions, the future roll-out of 5G in the US and the Internet of Things (machine-to-machine communication between wirelessly connected devices). The ability to lease existing sites for modular micro data centers to help support applications like self-driving vehicles could bode well for future revenue streams as well.
Crown Castle has the added advantage of the urban fiber networks which could prove lucrative in the future to support both of these new technology roll-outs. Meanwhile, the company's 100% focus on US assets remains comforting to me in an uncertain world.
I am contemplating whether to launch a Seeking Alpha Marketplace Premium subscription service. I would appreciate any feedback from readers who may be interested. Feel free to share them in the comment thread below, or send me an Inbox message.
I relentlessly hunt for diamonds in the rough and rising stars, in addition to closely following data centers, covering REIT blue-chips and breaking news. Please consider following me as a Seeking Alpha author if you would like to be notified when my future articles are published.
Disclosure: I/we have no positions in any stocks mentioned, but may initiate a long position in CCI over the next 72 hours.
I wrote this article myself, and it expresses my own opinions. I am not receiving compensation for it (other than from Seeking Alpha). I have no business relationship with any company whose stock is mentioned in this article.