Thesis
Spinoffs can be a great place to look for value as investors will often sell spinoffs assuming the main company is dumping its worst assets or business unit on the public and reinvest in the main company or elsewhere.
Today, we look at an industrial spinoff that has risen nicely since its spin but is one of the few in the sector that has not sky-rocketed since President Trump was elected. Is there reasonable value here?
Introduction
Allegion (NYSE:ALLE) was spun off from industrial conglomerate Ingersoll-Rand (NYSE:IR) back in 2013. It focuses on safety and security products for homes and businesses. Its principal products include:

Many of its brands like Schlage and CISA date back over 75 years while others are new, the company having made five acquisitions in 2015.
In 2015, 89% of its product sales were in the United States and Western Europe. Asia Pacific, Africa, India, the Middle East, and the rest of the globe accounted for the other 11%. Therefore, it is safe to say, Allegion is heavily exposed to the most developed economies in the world and dependent on their overall economic growth and new construction markets, both residential and commercial. 75% of its business is in the USA.
US Housing Market
There is a myriad of housing-related statistics from official and unofficial sources. A commonly used one is housing starts. Housing starts measure when construction begins on a new house. This statistic obviously took a strong dive during the Great Recession, but has made a steady rise ever since. It's still far away from reaching its prior peak but has been making progress.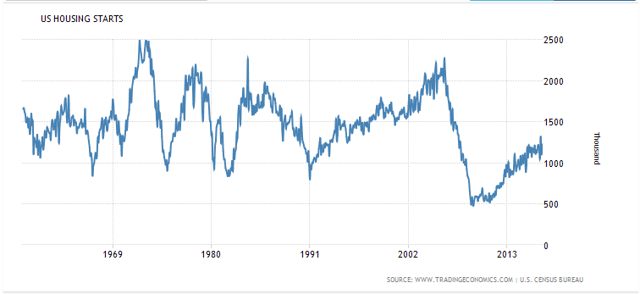 The more new houses, the more Allegion's products are needed. Residential business can also come from remodeling activities and homeowners upgrading or replacing their existing system.
On the commercial side, non-residential construction has also recovered nicely since its GR blues.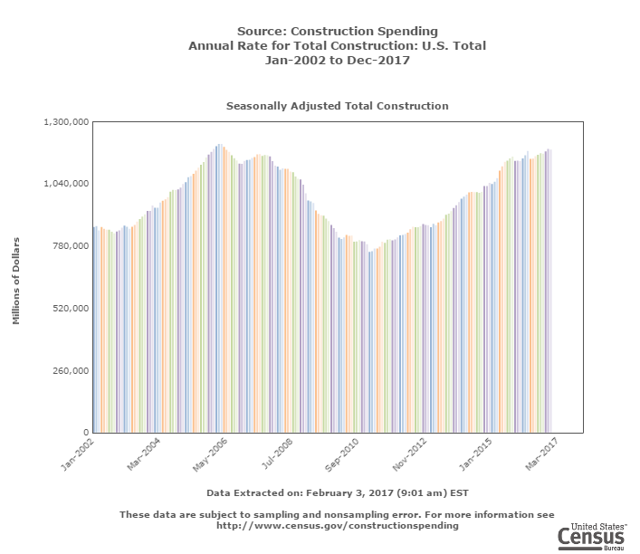 (Source)
New Products and Innovation
All across Allegion's provided materials and website, there is much lip service given to innovation and how important new products are to the company. These new products still make up a small percentage of revenue, although it is growing. Its "vitality index" indicates that new products are now low teens and growing.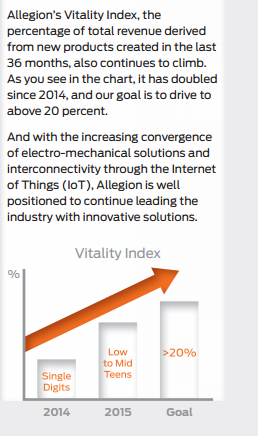 I say this is small percentage wise because my gold standard is 3M's (NYSE:MMM) healthcare segment which, while in a completely different industry, has around 25% new products at any given time.
I do like the focus on innovation, though, because even if it is not as numerous as the presentations and other material might have you think, clearly, there is attention being paid to it and efforts to ramp it up. I think Allegion has a great opportunity to maintain its position as the industry leader as it moves more of its offerings over to digital and mechanical hybrids with new features like Bluetooth, GPS, and other internet of things offerings.
Past Results
| | | | | | |
| --- | --- | --- | --- | --- | --- |
| Allegion | | | | | |
| Year | 2012 | 2013 | 2014 | 2015 | 2016 est |
| Revenues | 2046.6 | 2093.5 | 2118.3 | 2068.1 | 2233-2254 |
| Operating Income | 368.6 | 235.8 | 326.3 | 358.6 | N/A |
| EPS | 2.32 | 0.33 | 1.92 | 1.59 | 2.40 - 2.45 |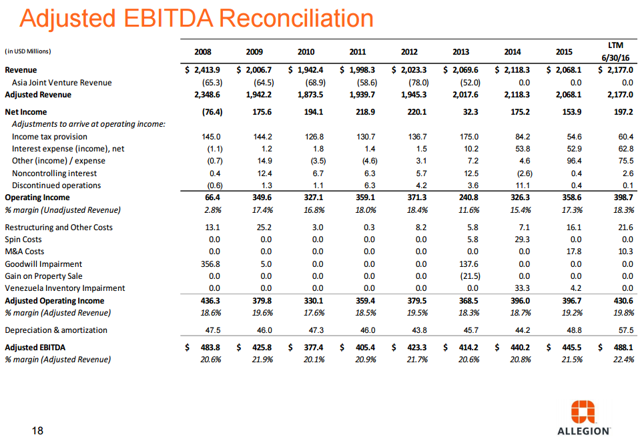 Allegion's long-term results have been rather poor. Revenue is barely above 2009 levels and still $300 million below 2008. Operating income and EBITDA, even when adjusted, show no growth the past 10 years. A case could be made that this is part of the reason Ingersoll-Rand spun off the business in hopes that it might succeed better independently. Its independence has allowed it to make some smart acquisitions, which have fueled impressive 2016 results.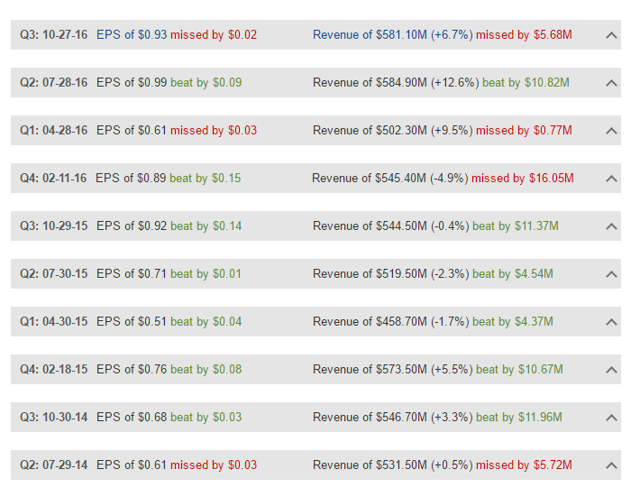 Looking Forward
The problem for me is that while 2016 was impressive, especially on the headline number, that was largely due to the boost from its acquisitions. Organic growth did improve and reached 4-5% in some quarters, but I have little confidence that can continue.
I expect the company to return to its growth rate of 1-2% long term in 2017 unless the US economy starts to overheat and new construction goes bananas like it did before the Great Recession. A falling dollar against most other currencies could help Allegion as well even though, as mentioned above, the majority of its business is US based.
Valuation
Allegion trades at $67 against forward expected EPS of $3.72 for a forward P/E of 18.01. It has a .95% dividend yield and pays out 27% of earnings. The company trades at a very, very high 29.14 times free cash flow. Since the spin off the company is up over 36.7%.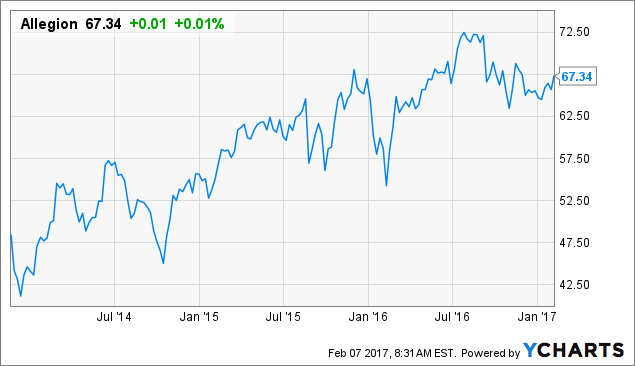 I can describe Allegion's current valuation with one word, optimistic. Despite being an industrial, the company does appear to only have a slight hint of cyclicality. It helped us very well during 2009 when almost every US company saw sharp drops in revenue and net earnings.
Its current valuation matches the broader market very closely. The S&P 500 trades at around 18 to 19 times forward earnings depending on when you look and how the analysts move their projections around.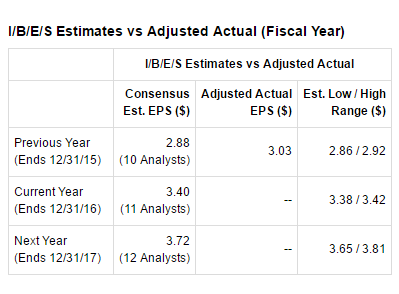 Assuming $300 million in 2017 cash flow, the company will have $239 million left after paying dividends to use in other ways. Assuming it buys back no shares, which it has been doing, that is what it will have for future acquisitions along with new debt.
Other catalysts that stem from the president's proposed policies are also of little help to Allegion. Its effective tax rate was 26% in the current year. Despite having majority of its sales in the US, it is not among the highest paying companies, which are up above 35%. It may see a benefit after all but it will be small relatively.
The president's other policies may create a faster growing economy, which can definitely indirectly help Allegion, although in the past 10 years of historically accommodative monetary policy fueling the economy the company has little to show for it.
My take is that 2016 was a one-time kind of thing where acquisitions and strong organic growth aligned like a lunar eclipse and long-term Allegion is priced way too high for what it can actually achieve.
Q4 Outlook
Allegion reports Q4 earnings on 2-9-16. Last Q4, the company had -4.9% decrease in revenue but beat earnings with EPS of $.89.
After posting negative top-line growth in all of 2015, the company has been showing impressive revenue growth the past three quarters, helped in large part by its acquisitions. I expect a revenue increase in the 6-12% range given the weak comparative quarter and the performance in the previous three quarters.
As stated above this is likely the last really strong quarter as the acquisition benefits get factored in. 2017 will also have a hard comparison to the 2016 numbers and the most important metric will be organic growth and any improvements in costs and synergies from integration.
If Allegion can grow FCF, I can make a better argument about the current valuation being appropriate but at this time, I cannot.
Conclusion
Allegion is an interesting spinoff that has strong brands and a good market position within its locks and security niche. Growth has been very lackluster and 2016 seems to be an outlier. 2017 and beyond organic growth needs to remain near or above 5% to justify the current valuation concurrent with some improvements in cash flow generation.
If I owned the company in the spin off, I would not make any moves yet as there is little reason to trade the stock here but am not interested in initiating a new position as an investor who did not participate originally.
Disclosure: I/we have no positions in any stocks mentioned, and no plans to initiate any positions within the next 72 hours.
I wrote this article myself, and it expresses my own opinions. I am not receiving compensation for it (other than from Seeking Alpha). I have no business relationship with any company whose stock is mentioned in this article.