Diamond Offshore Drilling (NYSE:DO) recently published its fourth-quarter results and it's high time to look at the situation in one of the leading offshore drilling companies. I assume that the majority of readers have already looked at the headline numbers and the fleet status report, so I'll focus on forward-looking topics rather than on repeating what you have already read elsewhere.
Diamond Offshore is really lucky to have its Gulf of Mexico drillship fleet contracted up until 2019-20 at high dayrates. UDW rigs are a pure liability for many companies now as the UDW segment is under serious pressure, but for Diamond Offshore these rigs are cash cows. Thanks to them, the company will be cash flow positive this year and will build its cash position from $156 million at the end of 2016. I expect to see Diamond Offshore's cash solidly above $500 million at the end of 2017, unless some catastrophe happens.
Also, I would like to note that Diamond Offshore's active fleet is favorably positioned geographically. In the overcrowded Gulf of Mexico the company's rigs have long-term contracts, while they are also present in the UK, Australia (where we've seen some activity recently), and Brazil (the perma-hope of the offshore drilling industry). The active fleet currently consists of 14 rigs, while 10 rigs are cold stacked and one rig is classified as held for sale. During the earnings call, the company indicated that it had no intention to scrap any of the cold stacked rigs, so Diamond Offshore's scrapping activity will end with the sale of Ocean Spur.
The company's management continues to see opportunities for old rigs sometime in the future, and expects that the market for these rigs will improve by itself as competition scraps such rigs. Once again, scrapping takes more time than many observers originally expected as companies tend to believe they will be the last man standing and want to profit from future market recovery.
It turns out that only dissolution, like in the case of Hercules Offshore, can put rigs out of the market en masse. Current troubles at Paragon Offshore should also lead to scrapping. Established companies that view themselves as survivors won't be active on the scrapping front.
Diamond Offshore's management team remains very cautious on recovery prospects and prepares for hard times in both 2017 (which are already guaranteed) and 2018. The shield created by the Gulf of Mexico drillship fleet looks sufficient enough to bring the company into 2019, where it will have to meet $500 million in debt repayments.
Contrary to peers Ensco (NYSE:ESV), Noble Corp. (NYSE:NE), Rowan (NYSE:RDC), Transocean (NYSE:RIG) and Atwood Oceanics (NYSE:ATW), the company did not turn to equity or debt market during the window of opportunity provided by the OPEC/non-OPEC deal. Creditors feel safe enough and there's no opportunity to decrease debt at a discount. Also, there is hardly any reason to take on more debt as there is no use for the additional money. Gamblers might argue that it is high time to buy distressed assets now, but I don't think that a prudent management team will do this when almost half of their own fleet is stacked and more rigs can join this "party" when their current contracts end.
In light of all this, I think we should not expect any expansive moves from Diamond Offshore -- despite the relative safety of its balance sheet and available borrowing capacity. The management team will continue to play defense and focus on the contracts for existing rigs.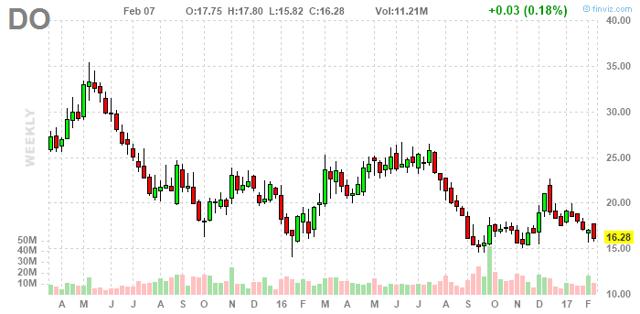 Diamond Offshore shares are gravitating toward lows near $15 where bottom-pickers will surely try to establish their positions. However, if OPEC/non-OPEC deal results fail to impress markets, Diamond Offshore shares could test new lows along with other drilling stocks, which would also fall under pressure. The problem is that any recovery in the offshore drilling market is yet to show up. All that the OPEC/non-OPEC deal has provided to date for offshore drillers is the access to debt/equity markets. This is a tangible bonus, but the industry needs much more: more contracts, more scrapping and, ultimately, better dayrates. The journey to better dayrates has not even started yet, as contracts are scarce and rig utilization continues to decline.
Diamond Offshore remains one of the industry leaders and is a primary survival candidate. The company's shares will present an interesting buying opportunity closer to $15, but general trends should be watched at that point. That's because the stock could easily slip below $15 and trigger selling from disappointed investors and momentum short-sellers.
Disclosure: I/we have no positions in any stocks mentioned, and no plans to initiate any positions within the next 72 hours.
I wrote this article myself, and it expresses my own opinions. I am not receiving compensation for it (other than from Seeking Alpha). I have no business relationship with any company whose stock is mentioned in this article.
Additional disclosure: I may trade any of the abovementioned stocks.