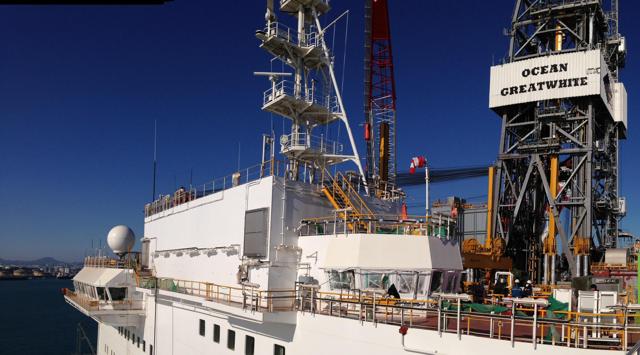 Picture: Ocean GreatWhite courtesy of PESA.
This article is an update of my preceding article on Diamond Offshore Drilling (NYSE:DO) published on November 2, 2016.
To access the Q4'16 conference call transcript click here
Q4 2016 Results Snapshot. (9 consecutive Quarters.)
Q4 2016
Q3 2016
Q2 2016
Q1 2016
Q4 2015
Q3 2015
Q2 2015
Q1 2015
Q4 2014

Total revenues

$ million

391.87
349.18
388.75
470.54
555.6
609.7
634.0
620.06
675.3

Contract drilling expense

$ million

174.34
186.65
357.41
212.84
256.39
277.94
342.87
350.66
358.7

Impairment charge after tax

$ million

0
0
612
0
499
3
0
358.53
0

After-tax net Income

$ million

73.06
13.93
(589.94)
87.43
(245.38)
136.4
90.39
(255.71)
98.8

G&A

$ million

14.79
15.24
18.14
15.40
15.57
16.89
16.5
17.45
19.9

Cash on hand and marketable securities

$ million

156.27
81.38
103.34
134.06
130.55
141.13
111.81
184.8
233.62

Long-term debt

$ million

1,981
1,981
1,980
1,980
1,995
1,995
1,995
1,995
1,9945

Earnings per share

$

0.53
0.10
(4.30)
0.64
(1.79)
0.99
0.66
(1.86)
0.72

Adjusted Earnings per share

$

0.27
0.10
0.16
0.64
0.89
-
-
-
-

Dividend

$/share

0
0
0
0
0
0.125
0.125
0.125
0.125

Shares Outstanding

million

137.26
137.25
137.20
137.21
137.16
137.20
137.16
137.15
137.21
Kelly Youngblood, CFO, said in the conference call:
Although we will remain focused on innovative ideas to further streamline the organization, we are not anticipating material changes to our base cost trends in the coming quarters, with the exception of cost movements related to ramping up or winding down contracts, as outlined in our Rig Status Report.
Part 1 - Fleet Status as of 11/1/2016.
Revenue Per Rig Segment (8 consecutive quarters).
Segment

Q4 2016

in $ million

Q3 2016

in $ million

Q2 2016

in $ million

Q1 2016

in $ million

Q4 2015

in $ million

Q3 2015

in $ million

Q2 2015

$ million

Q1 2015

$ million

Q4 2014

$ million

Floaters
UDW
231.82
217.28
214.10
325.96
395.80
376.20
315.67
251.4
182.7
Deepwater
64.68
66.01
67.19
59.12
92.13
136.67
181.10
138.8
115.8
Mid-water
88.13
56.35
56.69
47.67
44.77
69.50
96.93
176.4
231.9
Jackups
0.02
0
19.42
10.77
11.44
16.67
23.74
33.1
40.7
TOTAL
384.65
339.64
357.41
443.52
544.13
599.04
617.44
599.6
674.4
Average Day rate Comparison Quarter to Quarter in 2016.
Q4 2016
Q3 2016

Average day-rate

$K

Ut.

%

Oper.

efficiency

%

Average day-rate

$K

Ut.

%

Oper.

efficiency

%

Floaters

UDW

456
49
92.0
452
48
87.1
Deepwater
287
39
92.1
303
34
94.5
Mid-water
478
35
99.9
311
33
98.4
Jackups
0
0
0
0
0
0
Fleet Status as of 2/7/2017. Please see Part I here.

Noticeable changes this quarter:
During the quarter, the Company executed a new contract for the Ocean Monarch with BHP Billiton in Australia, which is scheduled to commence at the end of the second quarter of 2017. The new contract runs through late third quarter of 2017.

As of September 30, 2016, the Company's total contracted backlog was $4.1 billion, which represents 27 rig years of work. Approximately 96% of the Company's available ultra-deepwater rig days for the remainder of 2016 are contracted with top tier customers.
Commentary
Diamond Offshore released its earnings results for Q4'16, with total revenues of $391.87 million, up 11.2% quarter-over-quarter. Adjusted net income was $73.06 million or 0.53 per share (Includes a $0.26 per diluted share benefit attributable to a contract dispute settlement with a client in the North Sea).

Capital Expenditure 2017 guidance:
The company indicated that sustaining CapEx was $153 million for 2016 and Newbuild Capex (Ocean GreatWhite final payment including) will be $500 million. The Total CapEx will be $653 million in 2016.
For our capital expenditure guidance, we estimate that we will incur maintenance capital cost of approximately $135 million for the full-year 2017.
Note: The Ocean Scepter is about to be sold for ~$400k.
The semi-submersible Ocean GreatWhite status
I was happy to learn that an agreement with BP (NYSE:BP) was made. However, the company did not disclose the standby day rate that BP is actually paying. This episode is a strong reminder that customers such as BP are important when it comes to such large expense. The Semisubmersible GreatWhite has been exclusively constructed for the Bight Project in Australia, which has been trashed by BP after numerous problems, and despite abandoning the project remained committed to Diamond Offshore. Marc Edwards said:
In summary, the Ocean GreatWhite has commenced a three-year contract at a revised dayrate that protects our original contract margins.
On the other hand, we have Brazil and Petrobras that seem used to cancelling firm's contracts without compensation. The Ocean Valor is still on a standby rate.
Turning to Brazil, the Ocean Valor remains on a standby rate, as we progress our dispute with Petrobras. We announced last August that Petrobras had notified us of the cancellation of the contract. However, we were successful in obtaining injunctive relief against the contract cancellation, and a court order remains in place today upholding the contract. Last quarter, Petrobras lodged an appeal against the injunction, which is still progressing through the Brazilian courts. As it relates to our other in-country operations and opportunities, our working relationship with Petrobras remains sound.
I have commented on October 21, 2016, about Niko Resources (OTCPK:NKRSF), which settled with Diamond Offshore following a three-year long dispute over the Ocean Lexington and the Ocean Monarch.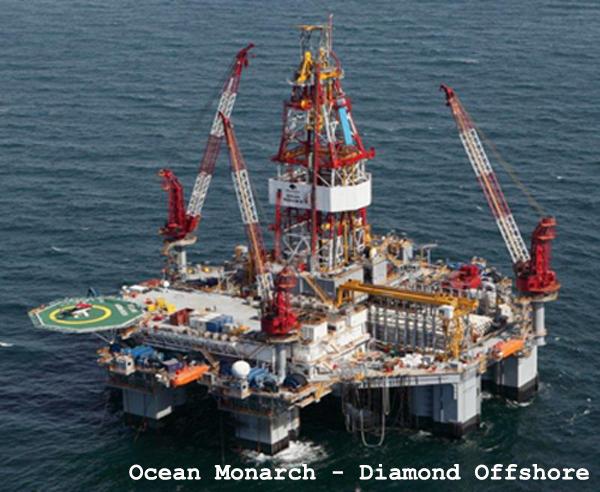 The amount disputed was $20 million plus interest and costs. DO will receive a lump sum in cash and other payments later.
I am guessing that the $36 million received is from this settlement, which increased revenues from $356 million to $392 million.
Long-term debt is $1.981 billion
This part is the most impressive and it is why a potential long-term investment should be considered with DO. The only question remains the timing. If we assume that the offshore industry is not near any recovery, then it is wise to wait until the end of the second quarter 2017 which will be difficult. CEO Kelly Youngblood said in the conference call:
We are comfortable with our balance sheet and liquidity and do not see a need at this time to raise additional equity. Our next debt maturity is May of 2019 for $500 million, and these bonds are trading at a premium to par.

We will continue to monitor the debt markets and interest rate dynamics as we navigate this downturn. But for the foreseeable future, we believe we have ample liquidity from cash and our currently undrawn revolver, which is in place through October 2020.
Conclusion: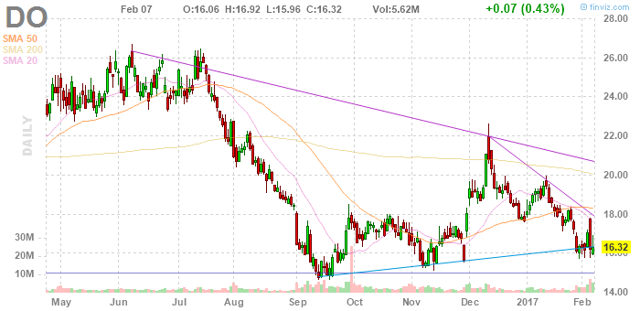 DO is fundamentally sound, as I have depicted above, and presents one of the strongest balance sheets in the industry and an impressive backlog of $3.3 billion as of now.
With four new drill ships (Black series) and the new semi-submersible GreatWhite, the company is showing a stronger state-of-the-art fleet as well with an age average around 10 years now.
Furthermore, DO has no more rig under construction and CapEx 2017 will go down significantly. In this respect, we can compare DO to Noble (NYSE:NE). This is an issue of paramount importance as we are advancing in 2017-2018. If we look at Ensco (NYSE:ESV) for example, the company has still one Jack-up and one drillship to worry about, and I do not comment on the Transocean (NYSE:RIG) new build program.
In short, DO is a long-term investment and should belong to the survivors club which is Transocean, Noble, Ensco and Rowan Companies (NYSE:RDC).
However, DO is not immune to the bad effects of this terrible market and it is evident that the company will struggle its way through 2017.
Technically, the stock is trading in a falling wedge pattern which is often a weak bullish pattern, which means we could be trading at support which is $15-16, right now. The (32/15) tells that DO has a 32% chance to go up and 15% chance to go down from here.
I recommend a cautious accumulation in the low $15s, with a long-term investment perspective. Waiting for the second-quarter results would be prudent.
Important note: Do not forget to follow me on DO and other offshore drillers. Thank you for your support.
Disclosure: I/we have no positions in any stocks mentioned, but may initiate a long position in DO over the next 72 hours.
I wrote this article myself, and it expresses my own opinions. I am not receiving compensation for it (other than from Seeking Alpha). I have no business relationship with any company whose stock is mentioned in this article.
Additional disclosure: I own RIG, ESV and RDC as well and waiting for a better entry with NE.