It has been a very busy year for Shell (NYSE:RDS.A) (NYSE:RDS.B) in the aftermath of the merger with BG. The $70-billion deal was followed by a divestment and consolidation strategy, envisaging total asset sales of $30 billion. The divestment process has been coming along very well, with Shell announcing its latest sale of about half its North Sea assets for $3.8 billion. In addition, it sold $1.7 billion worth of downstream assets, as well as a few smaller none-core asset stakes, which are set to be finalized at the beginning of this year.
This slimming down process is meant to transform Shell into a completely different company. One of its main aims seems to be to become a dominant player in liquefied natural gas (LNG), which as I stated many times, is something that I see as a great long-term strategy. LNG is what will make natural gas a viable global leader in driving energy growth, which will be in keeping with the goals set out by global leaders at the Paris climate conference. As I pointed out numerous times in the past, recent history shows that emissions growth reduction and increased natural gas consumption are directly correlated, whether we are talking about Europe or the US. It really has been a story of restricting coal in favor of natural gas, rather than the much-trumpeted transition to renewables.
As I pointed out in a recent article on the subject, Germany, which is a leader in wind and solar, is increasingly realizing that higher electricity prices, expensive subsidies, as well as very volatile and unpredictable fluctuations in electricity production, are making an increase in these sources of electricity far beyond this point undesirable. Germany currently gets about 20% of its electricity from wind and solar. On some days, it approaches 100%, while on other days it drops into single digit rates, making management of electricity supply very difficult. The fact that Germany is seeking to have a second Nord Stream gas pipeline built, despite the loud calls for reducing dependence on Russian natural gas in the EU, says a lot about where Germany sees things going in terms of Europe's energy future in coming decades. Natural gas pipelines have decades-long strategies in mind when they are planned.
No matter how much planning will go into organizing the supply of a natural gas dominated economy, fact is that there needs to be a great deal of flexibility in terms of supply. In 2014, natural gas provided 22% of total global electricity production. Coal, which is much easier to ship around the world, with far fewer long-term infrastructural investments needed and therefore much easier to be flexible in terms of supplies to any particular country or region, is by far the most important single source of electricity production currently.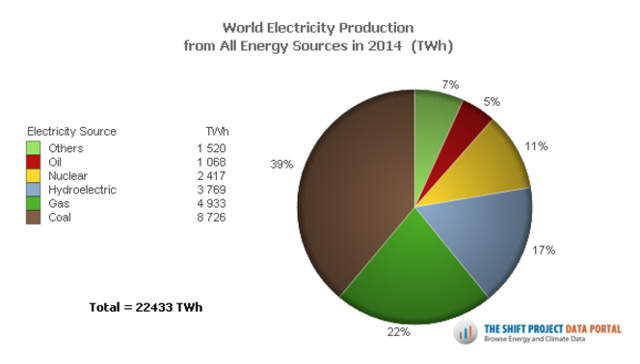 Source: The Shift Project.
While I don't believe that global coal demand will decline in the longer term, in fact I expect there will be a slight increase, I do believe that demand growth will be flat in relative terms, with coal's share of the global energy mix continuing to shrink. Nuclear and renewables such as wind and solar will see continued growth, but as we can see, the base these sources are growing from is relatively low, therefore the impact it will have will be relatively small as well, especially given the context of constantly growing demand for electricity. It is up to natural gas then to fill the void.
For natural gas to be able to play the role of dominant fuel source for electricity production, which it will have to do if we are to prevent coal demand from continuing to explode higher as it did in past decades, it will need to have in place some supply flexibility, which in my view means that LNG demand will outpace overall global demand growth for natural gas, which itself is set to be robust.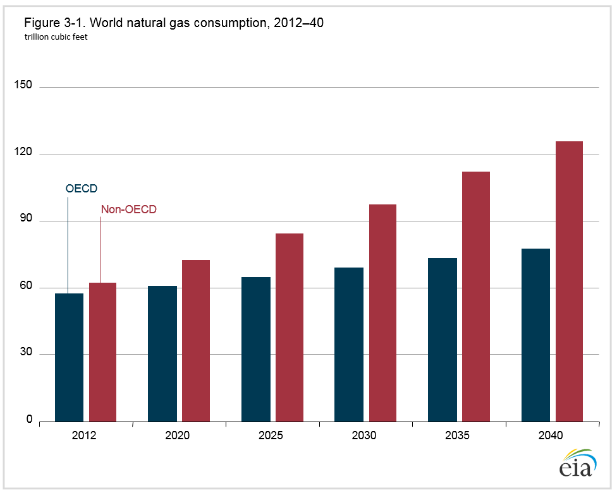 Source: EIA.
Reality is that some regions which are likely to increase natural gas demand may not have the opportunity to secure adequate natural gas pipeline supplies, in the absence of domestic resources. India, for instance, is set to become increasingly dependent on natural gas pipelines connecting it to Iran, with no other geographically or geopolitically viable route for other resources. I doubt it will want to commit the mistake of becoming completely dependent on Iran for natural gas, which is why it will have to, among other things, rely on LNG.
Europe is also set to become increasingly dependent on LNG as domestic supplies continue to shrink, while other regions which could provide significant supplies, such as North Africa, are becoming increasingly unstable. Despite all the talk about reducing dependence on Russia, 2016 saw a new record in Russian gas exports to the EU.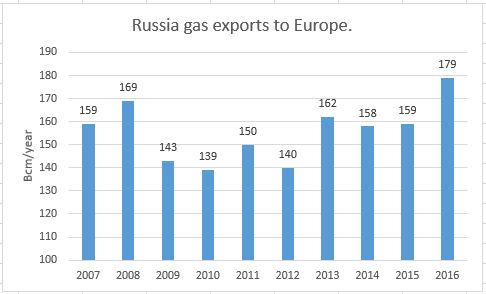 Data source: Gazprom.
While I expect European demand for Russian gas to continue increasing in coming years, I also think that Europe is set to become one of the main customers for global LNG supplies. It already has significant LNG import capacity in place as an emergency measure and an EC study in 2014 recommended that Europe should prevent becoming overly dependent on Russia as its sole supplier of natural gas, because Europe risks economic devastation as a result of any major disruption of imports from Russia. Global LNG import data for 2015 suggests that there is already a trend of increasing LNG demand in a number of European countries, even though it has been a period of LNG stagnation overall globally.

Source: International Gas Union.
Most indicators suggest that global LNG demand will pick up again in coming years, at which point the underestimated value of the BG acquisition that Shell was largely criticized for doing, at a price perceived to have been too high, will become clear. For 2016 as a whole, Shell sold 57.11 million tonnes of LNG, compared with 39.24 million tonnes in 2015, according to its Q4 and full year report. This represents about a fifth of all global LNG sales for the year. This increase is in addition to an oil & gas reserve replacement ratio of 208% achieved, thanks in large part to the addition of BG assets. It is a significant improvement compared with the previous year when Shell did not manage to replace its produced reserves as a result of a combination of lack of new acquisitions, new discoveries, as well as having to write down reserves due to a decline in oil prices.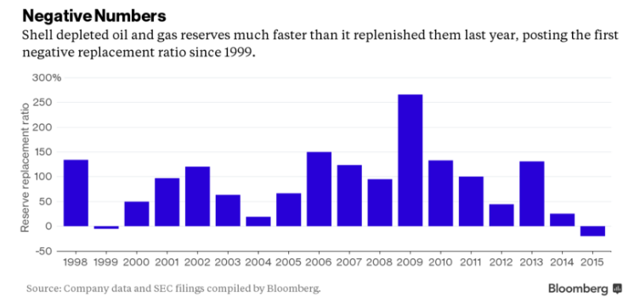 Source: Bloomberg.
As I continue to watch Shell's strategy play out in the aftermath of the BG deal, I am more and more convinced that the shorter-term downside of doing a deal that the market viewed as overpriced at the time will, in the end, prove to have been worth it in the longer term. The benefits, aided in large part by what I see as very favorable market conditions, which will help prove Shell's strategy to have been right, will make it worth holding on to this stock for the longer term.
Disclosure: I am/we are long RDS.A.
I wrote this article myself, and it expresses my own opinions. I am not receiving compensation for it (other than from Seeking Alpha). I have no business relationship with any company whose stock is mentioned in this article.