Church & Dwight (NYSE: CHD) offers an opportunity to invest in the ongoing consumer product dividend grower trend without the hype and attention focused on other names. The company's smaller market cap and lower dividend deflect attention from its fundamentals, which should allow it perform at least in line with and perhaps over and above its peers over the medium term.
Three articles were published on the stock on Seeking Alpha in the last quarter of 2016, which all spelled out a similar bear case: that the stock is expensive and overvalued right now. But that argument is not surprising given the incredible run Church & Dwight and its three main competitors have had: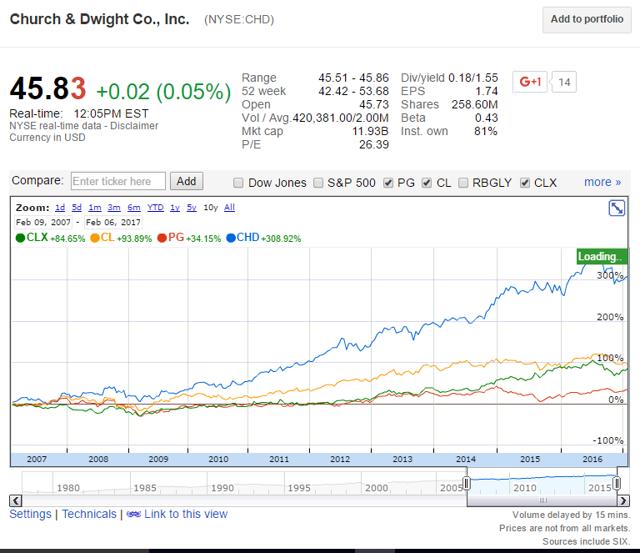 The company's incredible run over 10 years reveals that it has outperformed its more visible peers by a wide margin, with more than triple the gain of Colgate-Palmolive (NYSE: CL) and Clorox (NYSE: CLX) and more than nine times the gain of Procter & Gamble (NYSE: PG), the most-watched and highest-profile name in this space. So while I wish I could write this article today with the basic argument that Church & Dwight is extremely undervalued, that is simply not true. The market assigns a high multiple for the kind of outperformance seen on the chart above.
The high multiple takes the form of P/E, of course, and while Church & Dwight is not wildly out of sync with the three peers I am comparing it to, it is commanding the highest P/E multiple of 26.82 versus 25.12 for Clorox, 24.12 for Colgate-Palmolive, and 25.32 for Procter & Gamble. What I do hope to demonstrate is that these types of stocks are rarely cheap, and Church & Dwight stands out relative to these companies on certain metrics. The earnings report on February 7, 2017, provides an opportunity to act on this thesis.
Also, the P/E, while not cheap, has come down a fair bit lately and is not much above its long-term historical average: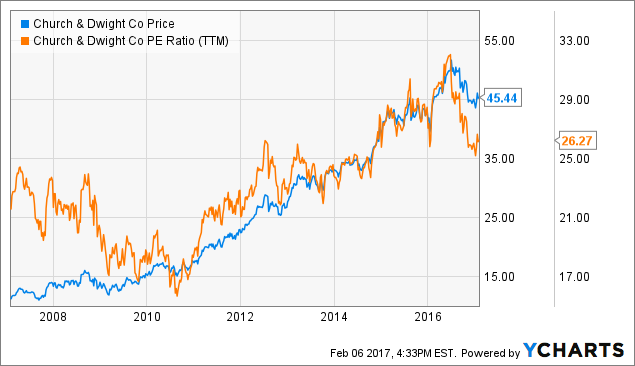 I have wanted to publish about Church & Dwight for a long time, not only to examine it from an investment perspective, but also because I am an avid user of Arm & Hammer products. While emotions should not guide our investment decisions, it always feels better to invest in a company that you "believe in" beyond the vagaries of seeking a profit, as many Apple (NASDAQ: AAPL) investors have learned to their benefit and many Under Armour (NYSE: UAA) investors have learned to their detriment. While this is not a sound methodology for making an investment on its own, it can provide clues to a company's competitive advantage. Let's review the advantage that I perceive in four Arm & Hammer products that I frequently use: laundry detergent, deodorant, toothpaste, and baking soda.
The products are reliable (they efficiently and powerfully clean what I want them to clean).
The products are understandable (mainly using the power of baking soda without excessive chemicals).
The products are recognizable when you see them (pale orange background with red and blue logo).
The products are not offensive to the senses (no overpowering perfumes or fake synthetic scents).
The products are cheaper relative to better-known brands and are often on sale.
While I do not want to delve into a discussion of millennial consumer preferences or the concept of "brand loyalty" (why Tide is more expensive even though it does the exact same thing as other laundry detergent), the current obsession with "moats" often includes something tantamount Tide's "brand loyalty", which we know is, in fact, ephemeral and vulnerable to fickle consumer preferences. I discuss Church & Dwight because I am someone who is deeply skeptical of marketing and has very little brand loyalty (which, I suspect, is the case for most people my age), yet I find myself picking up the company's products again and again for the utilitarian reasons I have discussed.
For the moat seekers, Church & Dwight nonetheless has domination covered in several categories, including the all-important sodium bicarbonate, a.k.a., baking soda: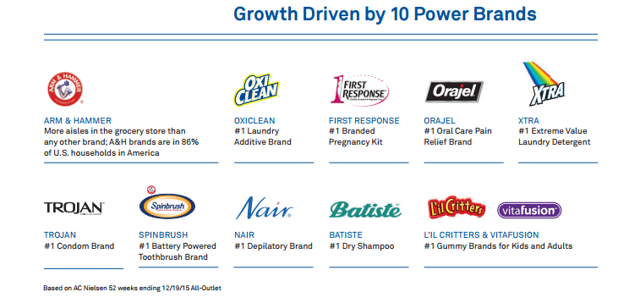 (Source: Company website)
Earning Power
This is a very competitive space, and it would not take much for one of Church & Dwight's big competitors like Procter & Gamble (20x its size) or Colgate-Palmolive (5x its size) to swallow it up. The company does not outperform these behemoths, but interestingly, it holds its own against them on earning metrics despite operating on a much smaller scale:

(Source: My spreadsheet created with Mergent Online data)
While the company owns the poorest gross margin, it owns the second-best EBITDA margin and second-highest net income as a percentage of EBITDA. I only focused on 4 US-based companies since I wanted to avoid food products as much as possible in this analysis, though there are other international conglomerates whose activities cross over into Church & Dwight's space, like Unilever (NYSE:UL) and Nestle (OTCPK:NSRGY).
It may not look like there is a lot of light between these companies, but what we can establish based on these data is that Church & Dwight earns margins comparable to its competitors, and it is not wildly overpriced relative to them.
There is more bad news on this front. Church & Dwight has the second richest PEG (Price to Earnings Growth) of the group, undervalued only compared to Clorox on this metric. Since every stock should theoretically have a PEG on 1, the market is underestimating Colgate-Palmolive and Procter & Gamble's earnings growth potential and overestimating Clorox and Church & Dwight's.
Valuation
Where it gets interesting with this company is in the valuation as it relates to cash flow. While the numbers look the same, I only took the results available for Procter & Gamble and Church & Dwight, which is through three quarters versus annual figures for Colgate-Palmolive and Clorox. This means barring a Q4 disaster, these two companies are generating superior amounts of free cash flow.

(Source: My table made with data from Mergent Online and Google Finance data)
I have commented on Church & Dwight's EBITDA as it relates to margins and Net Income. On this basis, the business is being priced at a greater multiple than Clorox and Procter & Gamble but for significantly less than Colgate-Palmolive. This is where I believe the company offers the most compelling investment case. While it has a premium on it to be sure, it is significantly less indebted than Clorox and Colgate-Palmolive and has 50% less of its cash flow committed to a dividend. These two companies also, not surprisingly, have sky-high price to books as the reach for yield has pushed up demand for their shares. Church & Dwight has fallen further despite being less leveraged and less constrained by its dividend.
Procter & Gamble, meanwhile, is clearly firing on all cylinders, since the market responded well to its most recent earnings report. It is priced similar to Church & Dwight on most metrics, but as a bond proxy will continue to have eyes on its 3.06% dividend and the annual raises that come with it. Meanwhile, Church & Dwight is in line for its annual increase, but the dividend, currently sitting at 18 cents, has a lot more room to grow, in my opinion.
The yield
As today's positive earnings report shows, the last five years have shown that this stock is usually a good pickup when it reaches the upper end of its yield range, just under 2%. After today's beat, CHD sits at a 1.62% yield following the dividend increase, which management has committed to continue raising and keep at an under 40% payout ratio, making it extremely safe.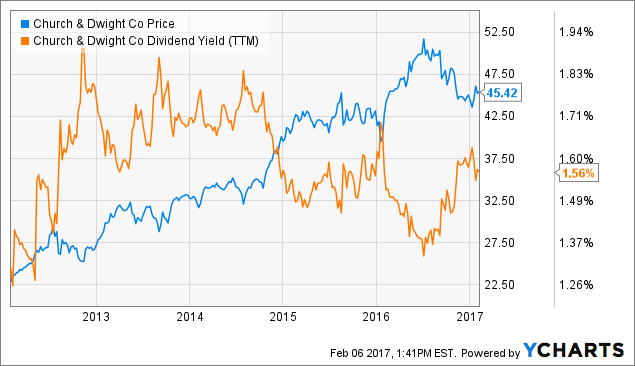 Since Church & Dwight beat, that precise buy zone may be gone for some time. As I write this, a March 2017 $45 cash secured put option can be sold for approximately 50 cents, allowing the owner to be assigned 100 shares of the stock with a $44.50 cost base in case of assignment, which will be just as the new 19 cent dividend is kicking in if it happens before March 1st. Otherwise, it is good for 1.1% yield in 6 weeks (29.2% annualized) on committing to own a relatively under-followed company that should produce recession-proof earnings on the backs of baking soda, condoms, pregnancy tests, and many other unglamorous must-have items for years to come.
Disclosure: I/we have no positions in any stocks mentioned, but may initiate a long position in CHD over the next 72 hours.
I wrote this article myself, and it expresses my own opinions. I am not receiving compensation for it (other than from Seeking Alpha). I have no business relationship with any company whose stock is mentioned in this article.
Additional disclosure: I may trade CHD puts in the next seven days.