Every time Apple (NASDAQ: AAPL) launches a new product, the product is put under intense scrutiny to figure out if it can replicate the monumental success of the iPhone. I do not like this comparison, but for those who do, even though Apple Watch will not mirror the success of the iPhone, it can easily prove to be a resounding success for the company in the next 3-5 years.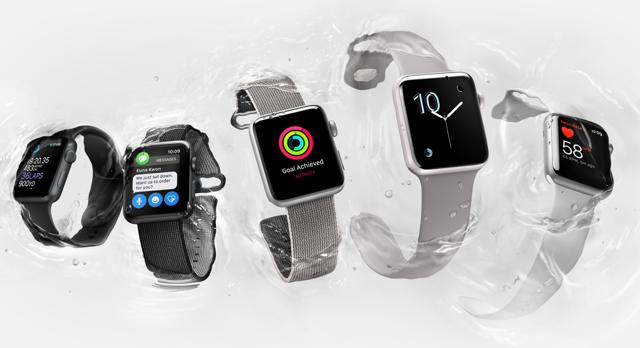 (Source: Apple)
While discussing the performance of Apple Watch in Q1, CEO Tim Cook said:
It was also our best quarter ever for Apple Watch, both units and revenues, with holiday demand so strong that we couldn't make enough. Apple Watch is the best-selling smartwatch in the world and also the most loved, with the highest customer satisfaction in its category by a wide margin. Apple Watch is the ultimate device for a healthy life, and it is the gold standard for smartwatches. We couldn't be more excited about Apple Watch.

With Siri and a new Home app in iOS 10, everywhere you go, you can easily and securely control all of your home accessories with your iPhone, iPad, or your Apple Watch.
This clearly indicates that management does not believe the Apple Watch has to be the next iPhone, or any other product for that matter. The company's strategy is to bring new products into its highly connected ecosystem, where several products are intelligently linked to serve multiple purposes.
Regarding estimating the growth of Apple Watch sales, analysts only have third-party estimates to go with, since the company does not release unit sales for the smartwatch. Apple Watch revenue is included in the company's Other Products segment.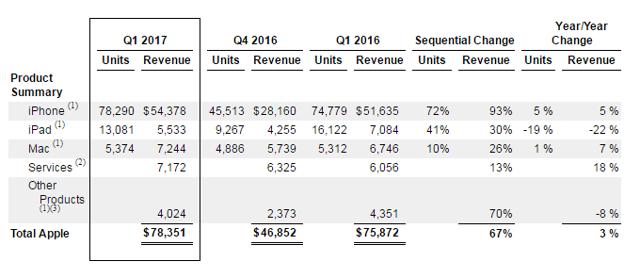 (Source: Apple 8-K)
From the latest 8-K, it can be seen that Other Products revenue had registered a positive change of 70 percent sequentially and a decline of 8 percent year on year. For Q1 2017, Other Products revenue stood at $4,024 million.
Note: Other Products includes sales of Apple TV, Apple Watch, Beats Products, iPod and Apple-branded and third-party accessories.
Last week, Strategy Analytics released a report in which it estimated Apple to have sold a record 5.2 million smartwatches worldwide in Q4 2016 and captured a leading 63 percent market share, a rise of 2 percent annually from 5.1 million units in Q4 2015.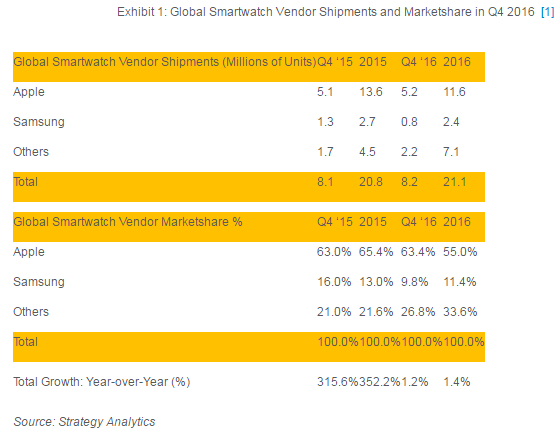 Cliff Raskind, Director at Strategy Analytics, said:
"Demand for Apple's new Watch Series 2 as a holiday-season gift in Western markets was surprisingly strong and it enabled Apple to clear a large backlog of smartwatch inventory during the quarter."
From an extremely conservative point of view, even if we assume that a majority of 5.2 million smartwatches sold were from Apple Watch Series 1 and consider the lowest price of $269 for the Series 1 model, Apple received $1.4 billion in Q4 sales. This is already more than one-third of the company's Other Products revenues. It also tells us that the other components (Apple TV?) in this segment are not performing so well.
There are several reasons why I encourage practicing conservatism in this case.
Although the demand for Watch Series 2 was strong in the holiday season, we do not know whether the sales were majorly of the new smartwatches or the refurbished ones. A refurbished Apple Watch Series 2, 38 mm Rose Gold Aluminum Case with Pink Sand Sport Band is available for $309 - $60 less than for the new one. The demand is also boosted by the discounts and deals at Target (NYSE:TGT), where a buyer can get a Series 1 for less than $200.
Secondly, these sales occurred during the holiday season, and Apple had an extra week this quarter. It would be prudent to adopt a "wait and watch" approach to see if the trend can be sustained in the next couple of quarters as well. Because if it does, then it would be a strong, undeniable signal that Apple Watch can be a huge success. In Q4 2016, the company's Other Products segment recorded total revenue of $2.37 billion. If Apple Watch can gather the same traction in future quarters, it would provide a helpful pump to the company's sales numbers.
Apple Watch's Revenue Contribution Can Double By 2022
I conservatively estimated Apple Watch revenue at $1.4 billion. However, there is very encouraging news for investors. This product can see twice the sales in the next five years.
In mid-2016, Strategy Analytics estimated:
"By 2022, Strategy Analytics forecasts total wholesale wearable devices revenues will top US$45 billion, driven primarily by smartwatches that will be aided by the major operating systems and their sponsors. Despite declining smartwatch prices and the growing impact of smartglasses offering more understated designs by 2022, analysts predict smartwatches will still command more than a 50 percent share of both wearables volume and value."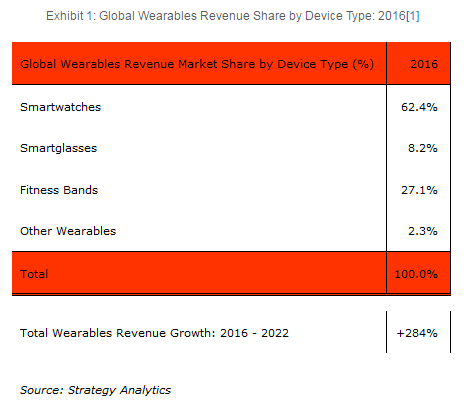 Going by this prediction, smartwatches should command revenue of at least $22.5 billion. Apple has been maintaining a market share of over 50 percent since it entered the scene, and there is a high probability that the lead can be maintained in the coming years as well. This means Apple Watch can bring in annual revenues of more than $11 billion (= 50 percent of $22.5 billion) by 2022. Analyst group Juniper is also estimating Apple Watch revenues of $10 billion over the next five years.
The $11 billion figure is not at all shabby given that iPad's revenue for Q1 2017 stood at $5.5 billion, and its revenue contribution has been declining for some years now. In 2014, iPad revenue stood at $30.28 billion, but deteriorated by 23 percent to $23.23 billion in 2015. 2016 also failed to provide any relief, since the revenue declined by another 11 percent to $20.63 billion.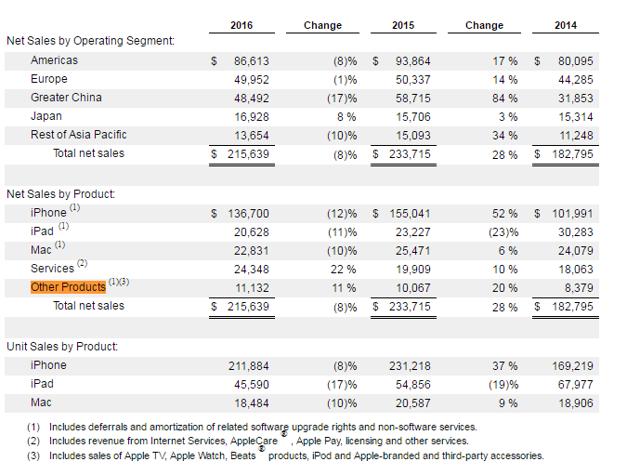 (Source: Apple 10-K)
So in the next five years, Apple Watch can easily generate more than 50 percent of iPad's annual revenue.
I am counting on the company to bring in more exciting features and not focus solely on fitness tracking. Focusing on only fitness tracking and health monitors would be severely limiting to the growth of the smartwatch and akin to putting all the eggs in one basket. Users would eventually want more complex uses from the product apart from just notifications and health checks. Additionally, there have often been complaints about the inaccuracies of the health monitors and the activity trackers. This is to say that a lot of refinement is required in this field as well, but it is still early days, and the quality will be improved in newer models.
Since Tim Cook is trying to build Apple's IoT ecosystem, more computing power (faster processors) and better batteries should be introduced in smartwatches. Launching less expensive models without compromising on the features can substantially aid the growth of the overall smartwatch ecosystem as well as Apple Watch.
While Apple is currently far ahead of its rivals in the smartwatch market, it cannot risk being complacent. Samsung (OTC:SSNLF) has already seen its market share erode from 13 percent in 2015 to 11.4 percent in 2016, with several smaller players, including Garmin (NASDAQ: GRMN), Fitbit, Inc. (NYSE: FIT), and Huawei, rapidly attracting more customers. The combined market share of these small players has jumped from 21.6 percent in 2015 to 33.6 percent in 2016, with their shipments growing 57.78 percent in 2016 to 7.1 million.
And the smaller players deserve a greater pie of the market, since they are offering more bang for the buck they are taking. For example, Garmin Forerunner 235 offers a battery life of 9 days, while Apple Watch Series 2 offers a battery life of just 18 hours. Garmin Forerunner 235 has several advanced functions, including High-sensitivity Receiver, Find My Phone, VIRB Control, Virtual Pacer, V02 Max Estimate, Recovery Advisor, Race Predictor, Personal Records, Virtual Partner, Virtual Racer, Auto Pause, Auto Lap, Auto Scroll, and Advanced Workouts, Automatic Sync. On the other hand, Apple Watch Series 2 has just basic functions, such as Activity Tracking with Three Rings (Stand, Move, Exercise), Workout App (Elapsed Time, Distance, Calories, Pace and Speed, Goals, Progress Updates, Workout Summary), Strava Cycling, Runtastic Six Pack, Individual Feedback, Achievements, and Activity History.
Finally, a new Garmin Forerunner 235 is now available on Amazon for $269.95, while the refurbished one is up for $229.99. These prices are 25-30 percent lower than that of the Apple product.
So, Apple has to provide several advanced features, much better battery life, higher computing power, and needs to vastly increase its stock supply to cater to the rising demand, all while keeping the price in reach of the masses. Apple Watch Series 0 had earlier failed to ignite consumers' interests because it missed on all of these requisites. Even Series 1 failed to provide important specifications such as GPS, which the company included in the Series 2. The smaller players have already acknowledged the fact that since they are focusing on fitness-centric individuals, they must provide as many useful features as they can.
But the fitness-focused crowd will soon be covered at this rate, and the companies must look beyond this niche space. Apple has the advantage here, since it already has an ecosystem where the Apple Watch can be of immense use to the customer. It has the upper hand at branching out into several others areas apart from activity tracking and fitness.
If Apple can accomplish this in a quicker time frame and at reduced costs, then Apple Watch can surely become a huge success.
Note: I cover several stocks in different sectors as well as S&P 500, crude oil, gold and silver, U.S. dollar, etc. So, if you liked this update, and would like to read more of such informative articles, please consider hitting the "Follow" button above. Thank you for reading!
Disclosure: I/we have no positions in any stocks mentioned, and no plans to initiate any positions within the next 72 hours.
I wrote this article myself, and it expresses my own opinions. I am not receiving compensation for it (other than from Seeking Alpha). I have no business relationship with any company whose stock is mentioned in this article.
Editor's Note: This article discusses one or more securities that do not trade on a major U.S. exchange. Please be aware of the risks associated with these stocks.